Abstract
The microturbellarian Prorhynchus stagnalis quells prey with a venom apparatus that also serves as its copulatory organ when the animal is mature. While it has long been known to comprise a tubular, sharp-pointed stylet surrounded concentrically by two mantles of longitudinally aligned rods, our examination of it by electron microscopy and confocal microscopy reveal unexpected details of its structure and mode of operation. The stylet actually has two distinct pieces, of two kinds of extracellular matrix (ECM): a sheet rolled into a tube with a sharp-pointed tip, and a sheet folded into a torus that fits into the proximal end of the tube to create a broadened base on which muscles and the male canal insert. The supporting rods are yet other phases of ECM in the mesenchyme. The six inner ones merge distally to ensheath the stylet, and that sheath bears five channels conducting the secretions of gland cells flanking the stylet to minute pores around the stylet tip. Confocal microscopy of the stylet apparatus in different phases of protrusion show that the outer rods are retracted from a protective position around the tip as the apparatus is protruded by protractors. The stylet is likely then protruded farther by contraction of the penis bulb, so that the stylet pore is exposed to allow the flow of secretions from the prostatic vesicle. The venom could be those secretions, as has been assumed, or secretions of the newly discovered gland cells of the inner mantle.
This is a preview of subscription content, log in to check access.
Access options
Buy single article
Instant access to the full article PDF.
US$ 39.95
Price includes VAT for USA
Subscribe to journal
Immediate online access to all issues from 2019. Subscription will auto renew annually.
US$ 199
This is the net price. Taxes to be calculated in checkout.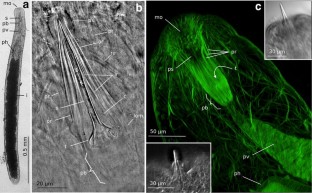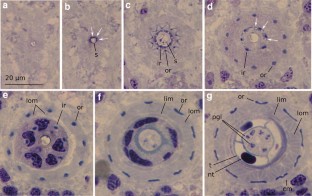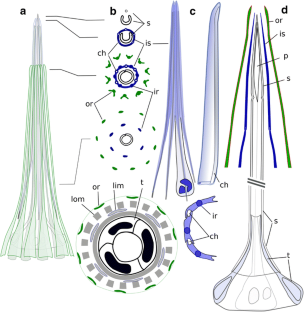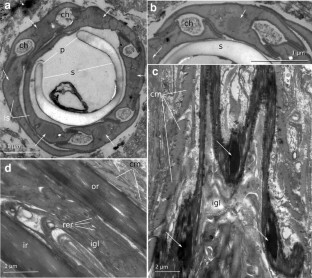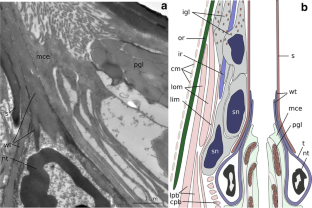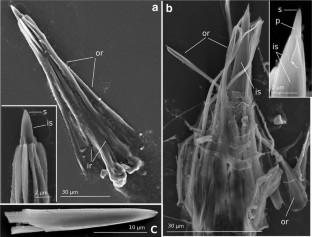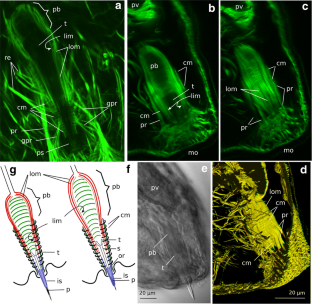 References
Beauchamp P de (1940) XII. Turbellaries et rotiferes. In: Croisiere du Bougainville aux Iles Australes françaises. Mem Mus national d'hist nat N S 14:313–326 (cited in Timoshkin, 1991)

Doe DA, Smith JPS (2016) Structure of the male copulatory apparatus in Prognathorhynchus busheki (Platyhelminthes, Kalyptorhynchia). Invertebr Biol 135(2):150–162

Laumer CE, Giribet G (2017) Phylogenetic relationships within Adiaphanida (phylum Platyhelminthes) and the status of the crustacean-parasitic genus Genostoma. Invertebr Biol 136:184–198. doi:10.1111/ivb.12169

Marcus E (1955) Turbellaria. In: Hanström-Brinck-Rudebeck, South African Animal Life, Volume I Results Lund Univ Exxp 1950–1951 Vol I(3), t. 1–12, pp 101–151. Stockholm. (cited in Timoshkin, 1991)

Preibisch S, Saalfeld S, Tomancak P (2009) Globally optimal stitching of tiled 3D microscopic image acquisitions. Bioinformatics 25(11):1463–1465. doi:10.1093/bioinformatics/btp184

Reisinger E (1923) Turbellaria. In: P. Schultze's Biologie de Thiere Deutschlands, Lief 6(4), pp 1–64

Reisinger E (1968) Xenoprorhynchus ein Modellfall für progressiven Funktionswechsel. Z zool Syst Evolutionsforsch 6:1–55

Smith JPS III, Litvaitis MK, Gobert S, Uyeno T, Artois T (2015) Evolution and functional morphology of the proboscis in Kalyptorhynchia (Platyhelminthes). Integr Comp Biol 55(2):205–216. doi:10.1093/icb/icv056

Smith JPS, Tyler S (1984) Serial sectioning and staining of resin-embedded material for light microscopy: recommended procedures for micrometazoans. Mikroskopie 41:259–270

Sorensen MV (2000) A SEM study of the jaws of Haplognathia rosea and Rastrognathia macrostoma (Gnathostomulida), with a preliminary comparison with the rotiferan trophi. Acta Zool 81:9–16

Stefanini M, De Martino C, Zamboni L (1967) Fixation of ejaculated spermatozoa for electron microscopy. Nature 216:173–174

Steinböck O (1924) Eine neue Gruppe allöocöler Turbellarien: Alloeocoela Typhlocoela (Familie Prorhynchidae). Zool Anz 58:233–242

Steinböck O (1927) Monographie der Prorhynchidae (Turbellaria). Z Morphol Ökol Tiere 8:538–662. (cited in Reisinger 1968)

Steinböck O, Reisinger E (1924) On Prorhynchus putealis Haswell, with a description of a new species of the genus. Q J Microsc Sci 68:443–451

Timoshkin OA (1991) Turbellaria of Lake Baikal. 1. Turbellaria Prorhynchidae: Morphology, systematics and phylogeny Lecithoepitheliata. [In Russian] In: AA Linevich, ZL Afanaseva (eds): Morphology and Evolution of Invertebrates. Novosibirsk Nauka (ISBN 5-02-029555-8), pp 63–185

Timoshkin OA, Grygier MJ, Kawakatsu M (2004) New and rare taxa of Turbellaria Prorhynchida from Lake Baikal (Russia) and Lake Biwa (Japan), with short notes on their ecology. In: Timoshkin OA (ed), Index of animal species inhabiting Lake Baikal and its catchment area. Vol. 1. [In Russian with English summary] Novosibirsk: Nauka Publ., pp 1279–1302
Ethics declarations
Conflict of interest
The authors declare that they have no conflict of interest.
Ethical standard
We neither used endangered species nor were the investigated animals collected in protected areas. All applicable international, national, and institutional guidelines for the care and use of animals were followed.
About this article
Cite this article
Tyler, S., Varjabedian, A. & Hamami, E. Functional morphology of the venom apparatus of Prorhynchus stagnalis (Platyhelminthes, Lecithoepitheliata). Zoomorphology 137, 19–29 (2018). https://doi.org/10.1007/s00435-017-0382-7
Received:

Revised:

Accepted:

Published:

Issue Date:
Keywords
Stylet

Venom

ECM

Musculature

Turbellarian