Abstract
The drumstick-like organs of the marine interstitial gastrotrich Pleurodasys helgolandicus Remane, 1927 were studied using optical and electron microscopy, in order to widen our knowledge of the sensory organs among gastrotrichs. The drumstick-like sensory organs are paired, symmetrical structures located on the dorsal side of the post-cephalic region of the body. Each sensory organ is formed by an outgrowth of the lamellar exocuticle covering the body surface, and it consists of an elongated, cylindrical hollow stalk surmounted by a hollow bulbous tip, housing in its cavity a dense spherical body. Compared with the three main sensory structures recognized among Gastrotricha, i.e., mechanoreceptors, photoreceptors, and chemoreceptors, the organization of the drumstick-like sensory organ matches that of mechanoreceptors. In particular, we suggest that the drumstick-like sensory organs of P. helgolandicus are gravireceptor organs, analogous to the orthopteran "plumb bob-like" receptors. This is the first description of a putative gravireceptor organ among gastrotrichs.
This is a preview of subscription content, log in to check access.
Access options
Buy single article
Instant access to the full article PDF.
US$ 39.95
Price includes VAT for USA
Subscribe to journal
Immediate online access to all issues from 2019. Subscription will auto renew annually.
US$ 199
This is the net price. Taxes to be calculated in checkout.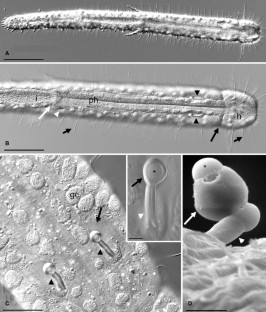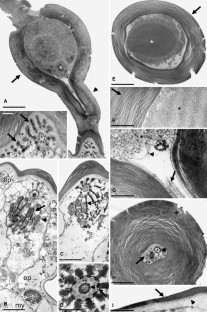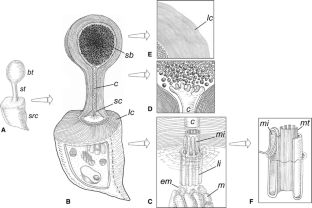 References
Barber VC (1968) The structure of mollusc statocysts, with particular reference to cephalopods. Symp Zool Soc London 23:37–62

Bischof HJ (1975) Die keulenförmigen sensillen auf den cerci der grille Gryllus bimaculatus als schwererezeptoren. J Comp Physiol 98:277–288

Boaden PJS (1963) Marine Gastrotricha from the interstitial fauna of some North Wales beaches. Proc Zool Soc London 140:485–502

Ehlers U (1991) Comparative morphology of statocysts in the plathelminthes and the Xenoturbanellida. Hydrobiologia 227:263–271

Ermak TH, Eakin RM (1976) Fine structure of the cerebral pygidial ocelli in Chone ecaudata (Polychaeta: Sabellidae). J Ultrastruct Res 54:243–260

Ferrero EA, Bedini C, Lanfranchi A (1985) An ultrastructural account of otoplanid Turbellaria neuroanatomy II. The statocyst design: evolutionary and functional implications. Acta Zool 66:75–87

Gagné GD (1980) Ultrastructure of the sensory palps of Tetranchyroderma papii (Gastrotricha, Macrodasyida). Zoomorphologie 95:115–125

Gillespie PG, Walker RG (2001) Molecular basis of mechanosensory transduction. Nature 413:194–202

Govindankutty AG, Nair NB (1969) The marine Gastrotricha from the interstitial fauna of the south-west coast of India. Bull Nat Inst Sci India 38:623–640

Hartman HB, Walthall WW, Bennett LP, Stewart RR (1979) Giant interneurons mediating equilibrium reception in an insect. Science 205:503–505

Hochberg R (2001) A special form of sensory cilia in Lepidodermella squamata (Gastrotricha: Chaetonotida). Ophelia 55:137–139

Hochberg R, Litvaitis MK (2003) Ultrastructural and immunocytochemical observations of the nervous systems of three macrodasyidan gastrotrichs. Acta Zool 84:171–178

Hummon WD (1974) Some taxonomic revisions and nomenclatural notes concerning marine and brackish-water Gastrotricha. Trans Am Microsc Soc 92:194–205

Hummon WD (ed) (2007) Global database for marine Gastrotricha. http://132.235.243.28 at http://nas.biosci.ohio.edu or Google snap 818560

Keil T (1997) Functional morphology of insect mechanoreceptors. Microsc Res Techniq 39:506–531

Kristensen RM (1981) Sense organs of two marine Arthrotardigrades (Heterotardigrada, Tardigrada). Acta Zool 62:27–41

Kristensen RM (1991) Loricifera. In: Aschelminthes IV, Harrison FW, Ruppert EE (eds) Mycroscopic anatomy of invertebrates. Wiley-Liss, New York, pp 351–375

Kristensen RM, Higgins R (1991) Kinorhyncha. In: Aschelminthes IV, Harrison FW, Ruppert EE (eds) Mycroscopic anatomy of invertebrates. Wiley-Liss, New York, pp 377–404

Liesenjohann T, Neuhaus B, Schmidt-Rhaesa A (2006) Head sensory organs of Dactylopodola baltica (Macrodasyida, Gastrotricha): a combination of transmission electron microscopical and immunocytochemical techniques. J Morphol 267:897–908

Neuhaus B (1997) Ultrastructure of the cephalic sensory organs of adult Pycnophyes dentatus and of the first juvenile stage of P. kielensis (Kinorhyncha, Homalorhagida). Zoomorphology 117:33–40

Pfannkuche O, Thiel H (1988) Sample processing. In: Higgins RP, Thiel H (eds) Introduction to the study of meiofauna. Smithsonian Institution Press, Washington, pp 134–145

Remane A (1927) Neue Gastrotricha Macrodasyoidea. Zool Jahrb Abt Syst Oekol Geogr Tiere 54:203–242

Rieger RM, Ruppert EE, Rieger GE, Schoepfer-Sterrer C (1974) On the fine structure of gastrotrichs with description of Chordodasys antennatus sp. n. Zool Scr 3:219–237

Roth LM, Slifer EH (1973) Spheroid sense organs on the cerci of the polyphagid cockroaches (Blattaria: Polyphagidae). Int J Insect Morphol Embryol 2:13–24

Ruppert EE (1991) Gastrotricha. In: Aschelminthes IV, Harrison FW, Ruppert EE (eds) Microscopic anatomy of invertebrates. Wiley-Liss, New York, pp 41–109

Storch V (1991) Priapulida. In: Aschelminthes IV, Harrison FW, Ruppert EE (eds) Microscopic anatomy of invertebrates. Wiley-Liss, New York, pp 333–350

Teuchert G (1977) The ultrastructure of the marine gastrotich Turbanella cornuta Remane (Macrodasyoidea) and its functional and phylogenetical importance. Zoomorphologie 88:189–246

Todaro MA, Hummon WD, Balsamo M, Fregni E, Tongiorgi P (2001) Inventario dei Gastrotrichi marini italiani: una checklist annotata. Atti Soc Tosc Sci Nat Mem Series B 107:75–137

Todaro MA, Leasi F, Tongiorgi P (2006) I Gastrotrichi del Mare di Alboran. 67° Congresso Nazionale dell'Unione Zoologica Italiana. Napoli, 12–15 settembre 2006

Vinnikov YA (1974) Sensory reception. Cytology, molecular mechanisms and evolution. Springer, Heidelberg

Walthall WW, Hartman HB (1981) Receptors and giant interneurons signaling gravity orientation information in the cockroach Arenivaga. J Comp Physiol 142:359–369

Wright KA (1991) Nematoda. In: Aschelminthes IV, Harrison FW, Ruppert EE (eds) Mycroscopic anatomy of invertebrates, vol 4. Wiley-Liss, New York, pp 111–195
Acknowledgments
We are indebted to M. Curini-Galletti, F. Leasi and P. Tongiorgi for helping us during the collection of the Gastrotricha. M Curini-Galletti and E. Ferrero provided part of the literature on flat-worm statocysts. We are grateful to R.M. Kristensen for reading an early version of the manuscript. The Eclipse 90i Nikon microscope was funded by "Fondazione Cassa di Risparmio di Modena." The research benefited also from a MIUR grant to M.A.T. (PRIN-2004—Diversità e zoogeografia dei Gastrotrichi del Mediterraneo). We are also grateful to Laura Valenti for accurate ink drawings, and to both anonymous reviewers for their constructive feedbacks and suggestions.
About this article
Cite this article
Marotta, R., Todaro, M.A. & Ferraguti, M. The unique gravireceptor organs of Pleurodasys helgolandicus (Gastrotricha: Macrodasyida). Zoomorphology 127, 111–119 (2008). https://doi.org/10.1007/s00435-008-0056-6
Received:

Revised:

Accepted:

Published:

Issue Date:
Keywords
Sensory organ

Gastrotricha

Microscopy

Gravireceptors