Abstract
Non-coding RNAs (ncRNAs) are reported to be regulators of signaling pathways that are involved in colorectal cancer (CRC) progression. Aiming at finding ncRNAs (miRNAs) that are differentially expressed in tumor versus normal colorectal tissue samples, online RNA-seq data were analyzed. Of between 18 candidate miRNAs, hsa-miR-29b-1 (miR-29b-1) represented the highest fold change of expression level. Hsa-miR-29b-1 is encoded from the third intron of LOC646329 long ncRNA gene. Surprisingly, two miR-29b sponging sites were predicted within exons of LOC646329 gene. Then, dual luciferase assay supported the interaction of miR-29b-1 with LOC646329-variant D transcript. Also, a direct indication of miR-29b-1 with 3′UTR sequence of SMAD3 gene was verified through dual luciferase assay and RT-qPCR analysis. Furthermore, a reverse pattern of expression was detected between miR-29b-1 and LOC646329-variant D transcript in about 25 pairs of CRC tumor samples, detected by RTqPCR. Consistently, overexpression of LOC646329-variant D transcript was followed by increased SMAD3 and p21 genes expression level and downregulation of CyclinD1 genes in HCT116 cells, detected by RT-qPCR, and western analysis. Also, overexpression of it was followed by increased G1 cell population of HCT-116 cells. All of these data suggested a tumor suppressor effect for LOC646329-variant D in CRC tumor tissue samples, consistent to its reduced expression level at late stages of CRC progression. Data also indicated that LOC646329-variant D exerts its suppression effect on CRC progression through sponging miR-29b, which in turn regulates Wnt and TGFB signaling pathways. This makes LOC646329-variant D transcript as a novel potential therapy target.
This is a preview of subscription content, log in to check access.
Access options
Buy single article
Instant access to the full article PDF.
US$ 39.95
Price includes VAT for USA
Subscribe to journal
Immediate online access to all issues from 2019. Subscription will auto renew annually.
US$ 199
This is the net price. Taxes to be calculated in checkout.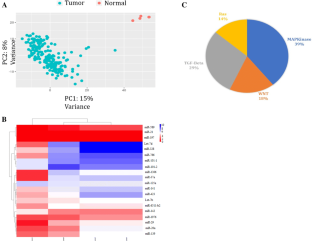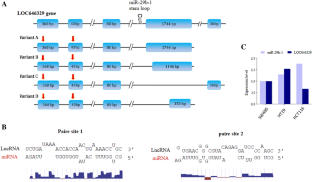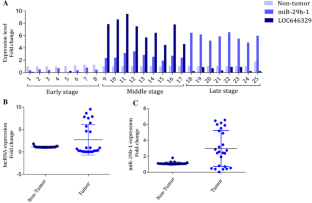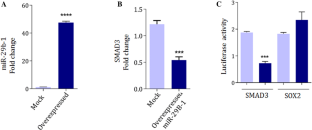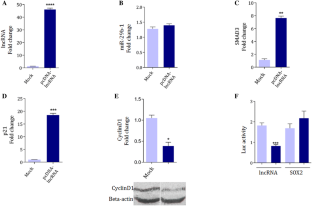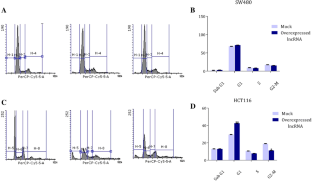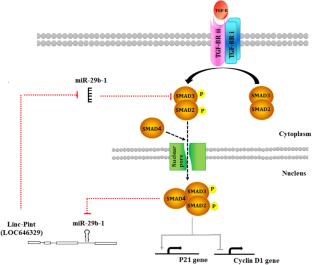 References
Abedini BE, Soltani BM (2018) Regulatory effect of hsa-miR-5590-3P on TGFbeta signaling through targeting of TGFbeta-R1, TGFbeta-R2, SMAD3 and SMAD4 transcripts. Biol Chem

Ahmed D, Eide PW, Eilertsen IA, Danielsen SA, Eknaes M, Hektoen M et al (2013) Epigenetic and genetic features of 24 colon cancer cell lines. Oncogenesis 2:e71

Anders S, Huber W (2010) Differential expression analysis for sequence count data. Genome Biol 11(10):R106

Bakhshmand EA, Soltani BM (2019) Regulatory effect of hsa-miR-5590-3P on TGFβ signaling through targeting of TGFβ-R1, TGFβ-R2, SMAD3 and SMAD4 transcripts. Biol Chem 400(5):677–685

Das S, Ghosal S, Sen R, Chakrabarti J (2014) lnCeDB: database of human long noncoding RNA acting as competing endogenous RNA. PLoS ONE ONE 9(6):e98965

Dokanehiifard S, Yasari A, Najafi H, Jafarzadeh M, Nikkhah M, Mowla SJ et al (2017) A novel microRNA located in the TrkC gene regulates the Wnt signaling pathway and is differentially expressed in colorectal cancer specimens. J Biol Chem 292(18):7566–7577

Domingo-Gonzalez R, Wilke CA, Huang SK, Laouar Y, Brown JP, Freeman CM et al (2015) Transforming growth factor-beta induces microRNA-29b to promote murine alveolar macrophage dysfunction after bone marrow transplantation. Am J Physiol Lung Cell Mol Physiol 308(1):L86–95

Eyholzer M, Schmid S, Wilkens L, Müller BU, Pabst T (2010) The tumour-suppressive miR-29a/b1 cluster is regulated by CEBPA and blocked in human AML. Br J Cancer 103(2):275

Fang Y, Fullwood MJ (2016) Roles, functions, and mechanisms of long non-coding RNAs in cancer. Genom Proteom Bioinform 14(1):42–54

Fang F, Huang B, Sun S, Xiao M, Guo J, Yi X et al (2018) miR-27a inhibits cervical adenocarcinoma progression by downregulating the TGF-betaRI signaling pathway. Cell Death Dis 9(3):395

Fasihi AM, Soltani B, Atashi A, Nasiri S (2018) Introduction of hsa‐miR‐103a and hsa‐miR‐1827 and hsa‐miR‐137 as new regulators of Wnt signaling pathway and their relation to colorectal carcinoma. J Cell Biochem 119(7):5104–5117

Guo Q, Zhao Y, Chen J, Hu J, Wang S, Zhang D et al (2014) BRAF-activated long non-coding RNA contributes to colorectal cancer migration by inducing epithelial-mesenchymal transition. Oncol Lett 8(2):869–875

Inamura K (2018) Colorectal cancers: an update on their molecular pathology. Cancers (Basel) 10(1)

Inoue A, Yamamoto H, Uemura M, Nishimura J, Hata T, Takemasa I et al (2015) MicroRNA-29b is a novel prognostic marker in colorectal cancer. Ann Surg Oncol 22(Suppl 3):S1410–S1418

Kim C, Kim WR, Kim KY, Chon HJ, Beom SH, Kim H et al (2018) Predictive nomogram for recurrence of stage i colorectal cancer after curative resection. Clin Colorectal Cancer 17(3):e513–e518

Marin-Bejar O, Marchese FP, Athie A, Sanchez Y, Gonzalez J, Segura V et al (2013) Pint lincRNA connects the p53 pathway with epigenetic silencing by the polycomb repressive complex 2. Genome Biol 14(9):R104

Marin-Bejar O, Mas AM, Gonzalez J, Martinez D, Athie A, Morales X et al (2017) The human lncRNA LINC-PINT inhibits tumor cell invasion through a highly conserved sequence element. Genome Biol 18(1):202

Masuda T, Hayashi N, Kuroda Y, Ito S, Eguchi H, Mimori K (2017) MicroRNAs as biomarkers in colorectal cancer. Cancers (Basel) 9(9):124

Michael MZ, O'Connor SM, van Holst Pellekaan NG, Young GP, James RJ (2003) Reduced accumulation of specific microRNAs in colorectal neoplasia. Mol Cancer Res 1(12):882–891

Militello G, Weirick T, John D, Doring C, Dimmeler S, Uchida S (2017) Screening and validation of lncRNAs and circRNAs as miRNA sponges. Brief Bioinform 18(5):780–788

Moez MJ, Bjeije H, Soltani BM (2019) Hsa-miR-5195-3P induces downregulation of TGFβR1, TGFβR2, SMAD3 and SMAD4 supporting its tumor suppressive activity in HCT116 cells. Int J Biochem Cell Biol 109:1–7

Najafi H, Soltani BM, Dokanehiifard S, Nasiri S, Mowla SJ (2017) Alternative splicing of the OCC-1 gene generates three splice variants and a novel exonic microRNA, which regulate the Wnt signaling pathway. RNA 23(1):70–85

Qin W, Chung AC, Huang XR, Meng XM, Hui DS, Yu CM et al (2011) TGF-beta/Smad3 signaling promotes renal fibrosis by inhibiting miR-29. J Am Soc Nephrol 22(8):1462–1474

Rafiemanesh H, Pakzad R, Abedi M, Kor Y, Moludi J, Towhidi F et al (2016) Colorectal cancer in Iran: Epidemiology and morphology trends. EXCLI J 15:738–744

Saleh AJ, Soltani BM, Dokanehiifard S, Medlej A, Tavalaei M, Mowla SJ (2016) Experimental verification of a predicted novel microRNA located in human PIK3CA gene with a potential oncogenic function in colorectal cancer. Tumor Biol 37(10):14089–14101

Shan Y, Ma J, Pan Y, Hu J, Liu B, Jia L (2018) LncRNA SNHG7 sponges miR-216b to promote proliferation and liver metastasis of colorectal cancer through upregulating GALNT1. Cell Death Dis 9(7):722

Strubberg AM, Madison BB (2017) MicroRNAs in the etiology of colorectal cancer: pathways and clinical implications. Dis Model Mech 10(3):197–214

Subramanian M, Rao SR, Thacker P, Chatterjee S, Karunagaran D (2014) MiR-29b downregulates canonical Wnt signaling by suppressing coactivators of beta-catenin in human colorectal cancer cells. J Cell Biochem 115(11):1974–1984

Tauriello DVF, Palomo-Ponce S, Stork D, Berenguer-Llergo A, Badia-Ramentol J, Iglesias M et al (2018) TGFbeta drives immune evasion in genetically reconstituted colon cancer metastasis. Nature 554(7693):538–543

Wang B, Li W, Liu H, Yang L, Liao Q, Cui S et al (2014) miR-29b suppresses tumor growth and metastasis in colorectal cancer via downregulating Tiam1 expression and inhibiting epithelial-mesenchymal transition. Cell Death Dis 5:e1335

Wu ZB, Cai L, Lin SJ, Lu JL, Yao Y, Zhou LF (2013) The miR-92b functions as a potential oncogene by targeting on Smad3 in glioblastomas. Brain Res 1529:16–25

Xiang JF, Yin QF, Chen T, Zhang Y, Zhang XO, Wu Z et al (2014) Human colorectal cancer-specific CCAT1-L lncRNA regulates long-range chromatin interactions at the MYC locus. Cell Res 24(5):513–531

Yan B, Guo Q, Fu F, Wang Z, Yin Z, Wei Y et al (2015) The role of miR-29b in cancer: regulation, function, and signaling. Onco Targets Ther 8:539

Yan X, Hu Z, Feng Y, Hu X, Yuan J, Zhao SD et al (2015) Comprehensive genomic characterization of long non-coding RNAs across human cancers. Cancer Cell 28(4):529–540

Yang MH, Hu ZY, Xu C, Xie LY, Wang XY, Chen SY et al (2015) MALAT1 promotes colorectal cancer cell proliferation/migration/invasion via PRKA kinase anchor protein 9. Biochim Biophys Acta 1852(1):166–174
Acknowledgements
Authors are thankful to the helps and advices of all lab mate in room 4402 at Genetics Dept. TMU, Tehran, Iran.
Funding
This work was supported by TMU and NIMAD (grant number 943387).
Ethics declarations
Conflict of interest
The authors declare that the research was conducted in the absence of any commercial or financial relationships that could be construed as a potential conflict of interest.
Additional information
Publisher's Note
Springer Nature remains neutral with regard to jurisdictional claims in published maps and institutional affiliations.
About this article
Cite this article
Javanmard, A., Dokanehiifard, S., Bohlooli, M. et al. LOC646329 long non-coding RNA sponges miR-29b-1 and regulates TGFβ signaling in colorectal cancer. J Cancer Res Clin Oncol (2020). https://doi.org/10.1007/s00432-020-03145-6
Received:

Accepted:

Published:
Keywords
Colorectal cancer

lncRNA

miR-29b

Tgfβ signaling pathway

SMAD3