Abstract
Purpose
To investigate the role of sonic hedgehog (Shh) signaling and epithelial–mesenchymal transition (EMT) in bladder cancer progression and invasion.
Methods
We cultured three bladder cancer cell lines, muscle-invasive T24 and 5637, and non-muscle-invasive KK47, in the presence of a recombinant-Shh (r-Shh) protein or cyclopamine, a Shh signaling inhibitor, to investigate proliferation and expression of EMT markers. Wound-healing assays and transwell assay were performed to evaluate cell invasion and migration. Mice were then inoculated with bladder cancer cells and treated with cyclopamine. Mouse tumor samples were stained for Shh signaling and EMT markers.
Results
R-Shh protein enhanced cell proliferation, whereas cyclopamine significantly suppressed cell proliferation, especially in invasive cancer (5637 and T24) (p < 0.05). R-Shh protein promoted EMT, suppressed E-cadherin and enhanced N-cadherin and vimentin and Gli1, an Shh downstream molecule, while cyclopamine blocked EMT, especially in 5637 and T24. Cyclopamine also inhibited cell invasion and migration in vitro. In the animal study, intraperitoneal injection of cyclopamine significantly suppressed tumor growth in 5637 and T24 in mice (p = 0.01 and p = 0.004, respectively) and slightly suppressing KK47 tumor growth (p = 0.298). Significant cyclopamine-induced suppression of Gli1 in 5637 and T24 mouse tumors (both p = 0.03) was seen, suggesting that muscle-invasive bladder cancer may be more dependent on Shh signaling than non-muscle-invasive bladder cancer.
Conclusions
Shh signaling and EMT were especially enhanced in muscle-invasive bladder cancer progression and invasion, and suppressed by the inhibition of Shh signaling.
This is a preview of subscription content, log in to check access.
Access options
Buy single article
Instant access to the full article PDF.
US$ 39.95
Price includes VAT for USA
Subscribe to journal
Immediate online access to all issues from 2019. Subscription will auto renew annually.
US$ 199
This is the net price. Taxes to be calculated in checkout.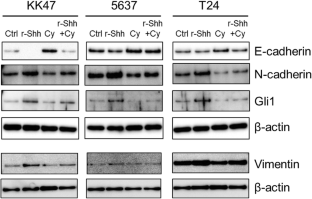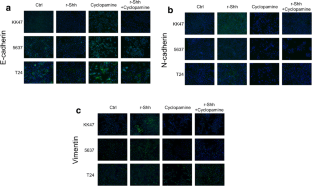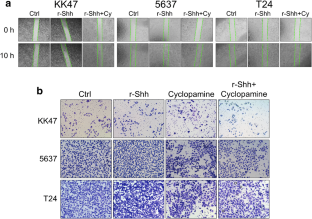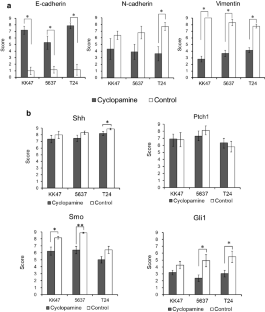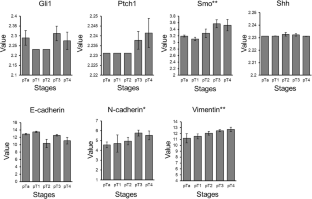 References
Adhim Z, Matsuoka T, Bito T, Shigemura K, Lee KM, Kawabata M, Fujisawa M, Nibu K, Shirakawa T (2011) In vitro and in vivo inhibitory effect of three Cox-2 inhibitors and epithelial-to-mesenchymal transition in human bladder cancer cell lines. Br J Cancer 26(105):393–402

Behnsawy HM, Shigemura K, Meligy FY, Yamamichi F, Yamashita M, Haung WC, Li X, Miyake H, Tanaka K, Kawabata M, Shirakawa T, Fujisawa M (2013) Possible role of sonic hedgehog and epithelial–mesenchymal transition in renal cell cancer progression. Korean J Urol 54:547–554

Bermudez O, Hennen E, Koch I, Lindner M, Eickelberg O (2013) Gli1 mediates lung cancer cell proliferation and Sonic Hedgehog-dependent mesenchymal cell activation. PLoS One 8:e63226

Chen M, Tanner M, Levine AC, Levina E, Ohouo P, Buttyan R (2009) Androgenic regulation of hedgehog signaling pathway components in prostate cancer cells. Cell Cycle 8:149–157

Fei DL, Sanchez-Mejias A, Wang Z, Flaveny C, Long J, Singh S, Rodriguez-Blanco J, Tokhunts R, Giambelli C, Briegel KJ, Schulz WA, Gandolfi AJ, Karagas M, Zimmers TA, Jorda M, Bejarano P (2012) Hedgehog signaling regulates bladder cancer growth and tumorigenicity. Cancer Res 72:4449–4458

Gupta S, Takebe N, LoRusso P (2010) Targeting the Hedgehog pathway in cancer. Ther Adv Med Oncol 2:237–250

He HC, Chen JH, Chen XB, Qin GQ, Cai C, Liang YX, Han ZD, Dai QS, Chen YR, Zeng GH, Zhu JG, Jiang FN, Zhong WD (2012) Expression of hedgehog pathway components is associated with bladder cancer progression and clinical outcome. Pathol Oncol Res 18:349–355

Imao T, Koshida K, Endo Y, Uchibayashi T, Sasaki T, Namiki M (1999) Dominant role of E-cadherin in the progression of bladder cancer. J Urol 161:692–698

Islam SS, Mokhtari RB, Noman AS, Uddin M, Rahman MZ, Azadi MA, Zlotta A, van der Kwast T, Yeger H, Farhat WA (2016) Sonic hedgehog (Shh) signaling promotes tumorigenicity and stemness via activation of epithelial-to-mesenchymal transition (EMT) in bladder cancer. Mol Carcinog 55:537–551

Kalluri R, Weinberg RA (2009) The basics of epithelial–mesenchymal transition. J Clin Invest 119:1420–1428

Larue L, Bellacosa A (2005) Epithelial-mesenchymal transition in development and cancer: role of phosphatidylinositol 3′ kinase/AKT pathways. Oncogene 24:7443–7454

McConkey DJ, Choi W, Marquis L, Martin F, Williams MB, Shah J, Svatek R, Das A, Adam L, Kamat A, Siefker-Radtke A, Dinney C (2009) Role of epithelial-to-mesenchymal transition (EMT) in drug sensitivity and metastasis in bladder cancer. Cancer Metastasis Rev 28:335–344

McGarvey TW, Maruta Y, Tomaszewski JE, Linnenbach AJ, Malkowicz SB (1998) PTCH gene mutations in invasive transitional cell carcinoma of the bladder. Oncogene 17:1167–1172

O'Brien T, Cranston D, Fuggle S, Bicknell R, Harris AL (1995) Different angiogenic pathways characterize superficial and invasive bladder cancer. Cancer Res 55:510–513

Peinado H, Olmeda D, Cano A (2007) Snail, Zeb and bHLH factors in tumour progression: an alliance against the epithelial phenotype? Nat Rev Cancer 7:415–428

Pignot G, Vieillefond A, Vacher S, Zerbib M, Debre B, Lidereau R, Amsellem-Ouazana D, Bieche I (2012) Hedgehog pathway activation in human transitional cell carcinoma of the bladder. Br J Cancer 106:1177–1186

Rhim AD, Mirek ET, Aiello NM, Maitra A, Bailey JM, McAllister F, Reichert M, Beatty GL, Rustgi AK, Vonderheide RH, Leach SD, Stanger BZ (2012) EMT and dissemination precede pancreatic tumor formation. Cell 148:349–361

Riester M, Taylor JM, Feifer A, Koppie T, Rosenberg JE, Downey RJ, Bochner BH, Michor F (2012) Combination of a novel gene expression signature with a clinical nomogram improves the prediction of survival in high-risk bladder cancer. Clin Cancer Res 18:1323–1333

Shigemura K, Fujisawa M (2015) Hedgehog signaling and urological cancers. Curr Drug Targets 16:258–271

Shin K, Lim A, Odegaard JI, Honeycutt JD, Kawano S, Hsieh MH, Beachy PA (2014a) Cellular origin of bladder neoplasia and tissue dynamics of its progression to invasive carcinoma. Nat Cell Biol 16:469–478

Shin K, Lim A, Zhao C, Sahoo D, Pan Y, Spiekerkoetter E, Liao JC, Beachy PA (2014b) Hedgehog signaling restrains bladder cancer progression by eliciting stromal production of urothelial differentiation factors. Cancer Cell 26:521–533

Singh R, Ansari JA, Maurya N, Mandhani A, Agrawal V, Garg M (2017) Epithelial-to-mesenchymal transition and its correlation with clinicopathologic features in patients with urothelial carcinoma of the bladder. Clin Genitourin Cancer 15:e187–e197

Southgate J, Hutton KA, Thomas DF, Trejdosiewicz LK (2016) Normal human urothelial cells in vitro: proliferation and induction of stratification. Lab Investig 71:583–594

Syed IS, Pedram A, Farhat WA (2016) Role of Sonic Hedgehog (Shh) Signaling in bladder cancer stemness and tumorigenesis. Curr Urol Rep 17:11

Thayer SP, di Magliano MP, Heiser PW, Nielsen CM, Roberts DJ, Lauwers GY, Qi YP, Gysin S, Fernández-del Castillo C, Yajnik V, Antoniu B, McMahon M, Warshaw AL, Hebrok M (2003) Hedgehog is an early and late mediator of pancreatic cancer tumorigenesis. Nature 425:851–856

Xu X, Zhou Y, Xie C, Wei SM, Gan H, He S, Wang F, Xu L, Lu J, Dai W, He L, Chen P, Wang X, Guo C (2012) Genome-wide screening reveals an EMT molecular network mediated by Sonic hedgehog-Gli1 signaling in pancreatic cancer cells. PLoS One 7:e43119

Yamamichi F, Shigemura K, Behnsawy HM, Meligy FY, Huang WC, Li X, Yamanaka K, Hanioka K, Miyake H, Tanaka K, Kawabata M, Shirakawa T, Fujisawa M (2014) Sonic hedgehog and androgen signaling in tumor and stromal compartments drives epithelial–mesenchymal transition in prostate cancer. Scand J Urol 48:523–532

Zhang Y, Liu W, He W, Zhang Y, Deng X, Ma Y, Zeng J, Kou B (2016) Tetrandrine reverses epithelial-mesenchymal transition in bladder cancer by downregulating Gli-1. Int J Oncol 48:2035–2042

Zhao J, Dong D, Sun L, Zhang G, Sun L (2014) Prognostic significance of the epithelial-to-mesenchymal transition markers e-cadherin, vimentin and twist in bladder cancer. Int Braz J Urol 40:179–189
Funding
Ito-chu funding (Grant no. 2017502) supported this study.
Ethics declarations
Conflict of interest
The authors declare that they have no competing interests.
Ethical approval
All procedures performed in studies involving animals were in accordance with the ethical standards of the institution or practice at which the studies were conducted. This article does not contain any studies with human participants performed by any of the authors.
Additional information
Publisher's Note
Springer Nature remains neutral with regard to jurisdictional claims in published maps and institutional affiliations.
About this article
Cite this article
Kitagawa, K., Shigemura, K., Sung, S. et al. Possible correlation of sonic hedgehog signaling with epithelial–mesenchymal transition in muscle-invasive bladder cancer progression. J Cancer Res Clin Oncol 145, 2261–2271 (2019). https://doi.org/10.1007/s00432-019-02987-z
Received:

Accepted:

Published:

Issue Date:
Keywords
Sonic hedgehog

Epithelial–mesenchymal transition

Bladder cancer

Basic study

Oncology