Abstract
Purpose
Cervical cancer metastases to the ovary may occur with advanced tumor stage, deep cervical stromal involvement and corpus involvement. Endocervical adenocarcinoma in situ (AIS) with ovarian involvement is exceptionally rare with about twelve reported cases.
Methods
Here we present a case of endocervical AIS with ovarian and pulmonary involvement 39 months after the initial diagnosis. The characteristics of that case were compared and summarized with the eleven previously published cases.
Results
The patients' age ranged between 30 and 40 years (median 37.4 years). The time interval between the diagnosis of AIS and ovarian involvement was 26.7 months (range 2–84 months). Majority of the patients are alive without evidence of disease after a median time of 63.4 months (range 9–156 months). All reported cases were positive for high-risk HPV which was associated with strong p16 expression on immunohistochemistry.
Conclusions
The ovarian involvement by endocervical AIS suggests the concept of a transtubal spread of the neoplastic cervical cells with or without previous colonization within the endometrium without evidence of invasive growth, suggesting a seed and soil spread of the disease. In cases with ovarian involvement by the AIS and without additional extragenital spread, the prognosis may be favorable.
This is a preview of subscription content, log in to check access.
We're sorry, something doesn't seem to be working properly.
Please try refreshing the page. If that doesn't work, please contact support so we can address the problem.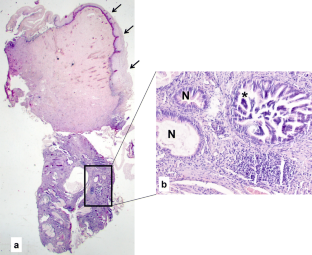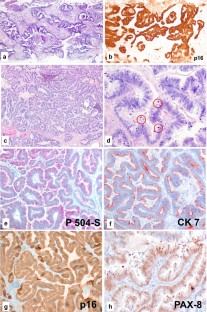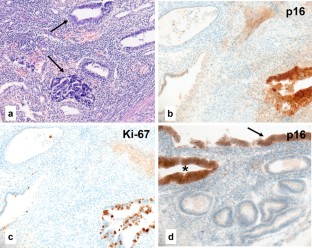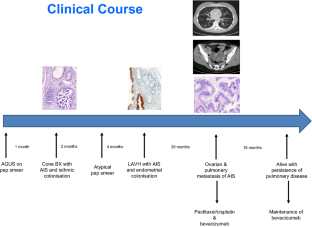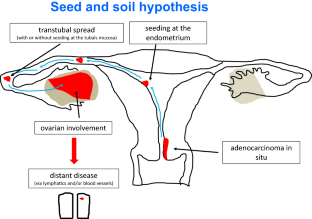 References
Agashe SR, Kulkarni MP, Momin YA, Sulhyan KR (2007) Superficial extension of squamous cell carcinoma in situ of cervix involving endometrium, bilateral fallopian tubes and ovaries: a case report. Indian J Pathol Microbiol 50(2):375–377

Ashton KA, Scurry J, Tabrizi SN, Garland SM, Otton G, Bowden NA (2015) The problem of late ovarian metastases from primary cervical adenocarcinoma. Gynecol Oncol Rep 11(13):23–25

Banet N, Kurman RJ (2015) Two types of ovarian cortical inclusion cysts: proposed origin and possible role in ovarian serous carcinogenesis. Int J Gynecol Pathol 34(1):3–8

Chang MC, Nevadunsky NS, Viswanathan AN, Crum CP, Feltmate CM (2009) Endocervical adenocarcinoma in situ with ovarian metastases: a unique variant with potential for long-term survival. Int J Gynecol Pathol 29(1):88–92

Elishaev E, Gilks CB, Miller D, Srodon M, Kurman RJ, Ronnett BM (2005) Synchronous and metachronous endocervical and ovarian neoplasms: evidence supporting interpretation of the ovarian neoplasms as metastatic endocervical adenocarcinomas simulating primary ovarian surface epithelial neoplasms. Am J Surg Pathol 29(3):281–294

Gungor T, Altinkaya SO, Ozat M, Akbay S, Mollamahmutoglu L (2011) Unusual form of superficial spreading squamous cell carcinoma of cervix involving the endometrium, bilateral tubes and ovaries: a case report with literature review. Arch Gynecol Obstet 283(2):323–327

Horn LC, Einenkel J, Handzel R, Höhn AK (2014) Morphology of secondary ovarian tumors and metastases. Pathologe 35(4):336–347

Hu J, Khalifa RD, Roma AA, Fadare O (2018) The pathologic distinction of primary and metastatic mucinous tumors involving the ovary: a re-evaluation of algorithms based on gross features. Ann Diagn Pathol 37:1–6

Landoni F, Zanagnolo V, Lovato-Diaz L, Maneo A, Rossi R, Gadducci A, Cosio S, Maggino T, Sartori E, Tisi C, Zola P, Marocco F, Botteri E, Ravanelli K, Cooperative Task Force (2007) Ovarian metastases in early-stage cervical cancer (IA2-IIA): a multicenter retrospective study of 1965 patients (a Cooperative Task Force study). Int J Gynecol Cancer 17(3):623–628

Leen SL, Singh N (2012) Pathology of primary and metastatic mucinous ovarian neoplasms. J Clin Pathol 65(7):591–595

Park KJ, Kiyokawa T, Soslow RA, Lamb CA, Oliva E, Zivanovic O, Juretzka MM, Pirog EC (2011) Unusual endocervical adenocarcinomas: an immunohistochemical analysis with molecular detection of human papillomavirus. Am J Surg Pathol 35(5):633–646

Pinto PB, Derchain SF, Andrade LA (2012) Metastatic mucinous carcinomas in the ovary: a practical approach to diagnosis related to gross aspects and to immunohistochemical evaluation. Int J Gynecol Pathol 31(4):313–318

Rabban JT, Vohra P, Zaloudek CJ (2015) Nongynecologic metastases to fallopian tube mucosa: a potential mimic of tubal high-grade serous carcinoma and benign tubal mucinous metaplasia or nonmucinous hyperplasia. Am J Surg Pathol 39(1):35–51

Reyes C, Murali R, Park KJ (2015) Secondary involvement of the adnexa and uterine corpus by carcinomas of the uterine cervix: a detailed morphologic description. Int J Gynecol Pathol 34(6):551–563

Ronnett BM, Yemelyanova AV, Vang R, Gilks CB, Miller D, Gravitt PE, Kurman RJ (2008) Endocervical adenocarcinomas with ovarian metastases: analysis of 29 cases with emphasis on minimally invasive cervical tumors and the ability of the metastases to simulate primary ovarian neoplasms. Am J Surg Pathol 32(12):1835–1853

Shimada M, Kigawa J, Nishimura R, Yamaguchi S, Kuzuya K, Nakanishi T, Suzuki M, Kita T, Iwasaka T, Terakawa N (2006) Ovarian metastasis in carcinoma of the uterine cervix. Gynecol Oncol 101(2):234–237

Singh R, Cho KR (2017) Serous tubal intraepithelial carcinoma or not? Metastases to fallopian tube mucosa can masquerade as in situ lesions. Arch Pathol Lab Med 141(10):1313–1315

Sutton GP, Bundy BN, Delgado G, Sevin BU, Creasman WT, Major FJ, Zaino R (1992) Ovarian metastases in stage IB carcinoma of the cervix: a Gynecologic Oncology Group study. Am J Obstet Gynecol 166(1 Pt 1):50–53

Turashvili G, Farmer P, Colgan T, Childs T (2015) Human papillomavirus-related ovarian metastasis with endocervical adenocarcinoma: report of 2 cases and review of literature. J Low Genit Tract Dis 19(4):e60–e63

Vang R, Gown AM, Farinola M, Barry TS, Wheeler DT, Yemelyanova A, Seidman JD, Judson K, Ronnett BM (2007) p16 expression in primary ovarian mucinous and endometrioid tumors and metastatic adenocarcinomas in the ovary: utility for identification of metastatic HPV-related endocervical adenocarcinomas. Am J Surg Pathol 31(5):653–663

Wu HS, Yen MS, Lai CR, Ng HT (1997) Ovarian metastasis from cervical carcinoma. Int J Gynecol Obstet 57(2):173–178

Yamamoto R, Okamoto K, Yukiharu T, Kaneuchi M, Negishi H, Sakuragi N, Fujimoto S (2001) A study of risk factors for ovarian metastases in stage Ib-IIIb cervical carcinoma and analysis of ovarian function after a transposition. Gynecol Oncol 82(2):312–316

Yemelyanova A, Vang R, Seidman JD, Gravitt PE, Ronnett BM (2009) Endocervical adenocarcinomas with prominent endometrial or endomyometrial involvement simulating primary endometrial carcinomas: utility of HPV DNA detection and immunohistochemical expression of p16 and hormone receptors to confirm the cervical origin of the corpus tumor. Am J Surg Pathol 33(6):914–924
Funding
The authors declare that there was no funding for the study.
Ethics declarations
Conflict of interest
The authors declare that they have no conflict of interest.
Ethical standards
All procedures performed in studies involving human participants were in accordance with the ethical standards of the institutional and/or national research committee and with the 1964 Helsinki Declaration and its later amendments or comparable ethical standards.
Informed consent
Informed consent from the patient was obtained by presenting the data in the case report.
Additional information
Publisher's Note
Springer Nature remains neutral with regard to jurisdictional claims in published maps and institutional affiliations.
About this article
Cite this article
Horn, L., Höhn, A.K., Stark, S. et al. Endocervical adenocarcinoma in situ (AIS) with ovarian and pulmonary involvement: report of a case and review of the literature suggesting a "seed and soil hypothesis". J Cancer Res Clin Oncol 145, 2061–2069 (2019). https://doi.org/10.1007/s00432-019-02966-4
Received:

Accepted:

Published:

Issue Date:
Keywords
Adenocarcinoma in situ

Cervix

Ovarian metastases

p16

HPV