Abstract
Purpose
Small cell lung cancer (SCLC) is considered a systemic disease and surgery is generally not recommended to treat it. High heterogeneity within the tumor and preoperative diagnostic capabilities can sometimes fail to identify SCLC correctly, leading to a subset of unexpected SCLC patients that are diagnosed only after pulmonary resections.
Methods
We retrospectively reviewed the clinical records of patients who were diagnosed as having SCLC only after surgery between 2008 and 2015 at a single institution.
Results
A total of 125 unexpected SCLC patients were identified, including those with pure (p-SCLC; n = 76, 60.8%) and combined (c-SCLC; n = 49, 39.2%) SCLC. Highly differential diagnoses were observed between pre- and postoperative tissue examinations. Sixty-nine (55.2%) patients with postoperatively pathological-proven SCLC, including 31 with p-SCLC and 38 with c-SCLC, were diagnosed preoperatively with poorly differentiated carcinoma (n = 23), squamous carcinoma (n = 14), adenocarcinoma (n = 10), malignant cells with necrosis (n = 10), large cell carcinoma (n = 8), or carcinoid (n = 4). Also, inconsistencies between the clinical (c-) and pathological (p-) stages were found in this cohort, which were less common in patients with preoperative PET examination than those without (24.4% vs. 43.8%; p = 0.032). Multivariable analyses showed that higher p-stage (hazards ratio (HR) = 1.7349, p = 0.0025), sub-lobar resection (HR = 1.9078, p = 0.0395), and a lack of prophylactic cranial irradiation treatment (PCI, HR = 0.3873, p = 0.0057) were unfavorable prognostic factors for overall survival.
Conclusion
Non-resection approaches reveal an inadequate diagnosis of SCLC. PET examination facilitates the evaluation of the clinical staging of SCLC. For unexpected SCLC undergoing resection, favorable outcomes can be achieved if radical resection and postoperative PCI are performed.
This is a preview of subscription content, log in to check access.
Access options
Buy single article
Instant access to the full article PDF.
US$ 39.95
Price includes VAT for USA
Subscribe to journal
Immediate online access to all issues from 2019. Subscription will auto renew annually.
US$ 199
This is the net price. Taxes to be calculated in checkout.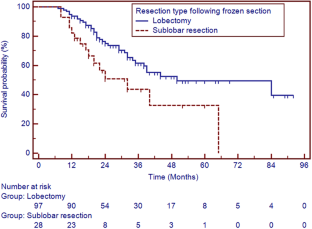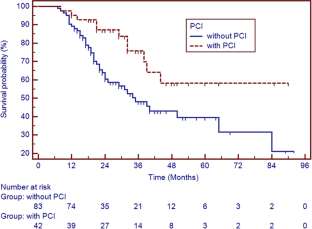 References
Adelstein DJ, Tomashefski JF Jr, Snow NJ, Horrigan TP, Hines JD (1986) Mixed small cell and non-small cell lung cancer. Chest 89:699–704

Bradley JD, Dehdashti F, Mintun MA, Govindan R, Trinkaus K, Siegel BA (2004) Positron emission tomography in limited-stage small-cell lung cancer: a prospective study. J Clin Oncol 22:3248–3254

Chen J, Gao YD, Cao Y, Yang J, Luo GW (2015) Surgical specimen histology revealed inadequacy of conventional transbronchial needle aspiration sample in the diagnosis of adenosquamous lung carcinoma. J Thorac Dis 7:680–686

Combs SE, Hancock JG, Boffa DJ, Decker RH, Detterbeck FC, Kim AW (2015) Bolstering the case for lobectomy in stages I, II, and IIIA small-cell lung cancer using the National Cancer Data Base. J Thorac Oncol 10:316–323

Iwata T, Nishiyama N, Nagano K, Izumi N, Mizuguchi S, Tsukioka T et al (2012) Role of pulmonary resection in the diagnosis and treatment of limited-stage small cell lung cancer: revision of clinical diagnosis based on findings of resected specimen and its influence on survival. Gen Thorac Cardiovasc Surg 60:43–52

Kwon SH, Hyun SH, Yoon JK, An YS, Oh YT, Choi JH et al (2016) The highest metabolic activity on FDG PET is associated with overall survival in limited-stage small-cell lung cancer. Medicine 95:e2772

Kyritsis I, Krebs B, Kampe S, Theegarten D, Aigner C, Welter S (2017) Erroneous diagnosis of small cell lung cancer based on small biopsies with far-reaching consequences: case report of a typical carcinoid tumor. J Thorac Dis 9(2):E99–E102

Lad T, Piantadosi S, Thomas P, Payne D, Ruckdeschel J, Giaccone G (1994) A prospective randomized trial to determine the benefit of surgical resection of residual disease following response of small cell lung cancer to combination chemotherapy. Chest 106(6 Suppl):320s–323 s

Marchevsky AM, Wick MR (2015) Diagnostic difficulties with the diagnosis of small cell carcinoma of the lung. Semin Diagn Pathol 32:480–488

Meuwissen R, Linn SC, Linnoila RI, Zevenhoven J, Mooi WJ, Berns A (2003) Induction of small cell lung cancer by somatic inactivation of both Trp53 and Rb1 in a conditional mouse model. Cancer Cell 4(3):181–189

Mitchell MD, Aggarwal C, Tsou AY, Torigian DA, Treadwell JR (2016) Imaging for the pretreatment staging of small cell lung cancer: a systematic review. Acad Radiol 23(8):1047–1056

Nicholson SA, Beasley MB, Brambilla E, Hasleton PS, Colby TV, Sheppard MN et al (2002) Small cell lung carcinoma (SCLC): a clinicopathological study of 100 cases with surgical specimens. Am J Surg Pathol 26:1184–1197

Nobashi T, Koyasu S, Nakamoto Y, Kubo T, Ishimori T, Kim YH et al (2016) Prognostic value of fluorine-18 fludeoxyglucose positron emission tomography parameters differs according to primary tumour location in small-cell lung cancer. Br J Radiol 89:20150618

Song TN, Zhang JH, Li B, Zhou H, Jiang P, Yang JB et al (2015) Misdiagnosis of a small cell lung cancer resulting from inaccurate pathology. Ann Thorac Surg 99:e125–e127

Stish BJ, Hallemeier CL, Olivier KR, Harmsen WS, Allen MS, Garces YI (2015) Long-term outcomes and patterns of failure after surgical resection of small-cell lung cancer. Clin Lung Cancer 16(5):e67–e73

Takenaka T, Takenoyama M, Inamasu E, Yoshida T, Toyokawa G, Nosaki K et al (2015) Role of surgical resection for patients with limited disease-small cell lung cancer. Lung Cancer 88:52–56

Thomas JS, Lamb D, Ashcroft T et al (1993) How reliable is the diagnosis of lung cancer using small biopsy specimens? Report of a UKCCCR Lung Cancer Working Party. How reliable is the diagnosis of lung cancer using small biopsy specimens? Report of a UKCCCR Lung Cancer Working Party. Thorax 48(11):1135–1139

Thomas DC, Arnold BN, Rosen JE, Salazar MC, Blasberg JD, Detterbeck FC et al (2017) Defining outcomes of patients with clinical stage I small cell lung cancer upstaged at surgery. Lung Cancer 103:75–81

Vallieres E, Shepherd FA, Crowley J, Van Houtte P, Postmus PE, Carney D et al (2009) The IASLC lung cancer staging project: proposals regarding the relevance of TNM in the pathological staging of small cell lung cancer in the forthcoming (seventh) edition of the TNM classification for lung cancer. J Thorac Oncol 4:1049–1059

Varlotto JM, Recht A, Flickinger JC, Medford-Davis LN, Dyer AM, DeCamp MM (2011) Lobectomy leads to optimal survival in early-stage small cell lung cancer: a retrospective analysis. J Thorac Cardiovasc Surg 142(3):538–546

Yang CJ, Chan DY, Speicher PJ, Gulack BC, Tong BC, Hartwig MG et al (2017a) Surgery versus optimal medical management for N1 small cell lung cancer. Ann Thorac Surg 103(6):1767–1772

Yang CJ, Chan DY, Shah SA, Yerokun BA, Wang XF, D'Amico TA et al (2017b) Long-term survival after surgery compared with concurrent chemoradiation for node-negative small cell lung cancer. Ann Surg. https://doi.org/10.1097/SLA.0000000000002287

Yu JB, Decker RH, Detterbeck FC, Wilson LD (2010) Surveillance epidemiology and end results evaluation of the role of surgery for stage I small cell lung cancer. J Thorac Oncol 5:215–219

Zhang C, Yang H, Zhao H, Lang B, Yu X, Xiao P et al (2017) Clinical outcomes of surgically resected combined small cell lung cancer: a two-institutional experience. J Thorac Dis 9(1):151–158

Zhang C, Yang H, Lang B, Yu X, Xiao P, Zhang D et al (2018) Surgical significance and efficacy of epidermal growth factor receptor tyrosine kinase inhibitors in patients with primary lung adenosquamous carcinoma. Cancer Manag Res 10:2401–2407
Acknowledgements
The authors are indebted to Keke Yu and Jie Xing (Department of Pathology of Shanghai Chest Hospital, Shanghai Jiaotong University) for pathological re-assessment.
Ethics declarations
Conflict of interest
The authors declare that they have no competing interests.
Ethical approval
All procedures performed in studies involving human participants were in accordance with the ethical standards of the institutional and/or national research committee and with the 1964 Helsinki Declaration and its later amendments or comparable ethical standards. This study has been examined and approved by the Institutional Ethics Committee of Shanghai Chest.
Informed consent
Informed consent was obtained from all individual participants included in the study.
About this article
Cite this article
Yang, H., Xu, J., Yao, F. et al. Analysis of unexpected small cell lung cancer following surgery as the primary treatment. J Cancer Res Clin Oncol 144, 2441–2447 (2018). https://doi.org/10.1007/s00432-018-2766-6
Received:

Accepted:

Published:

Issue Date:
Keywords
Small cell lung carcinoma

Surgery

Diagnosis

Stage

Survival