Abstract
Purpose
Allogeneic hematopoietic stem cell transplantation (HSCT) is a curative approach for a variety of hematological diseases; however, it is still associated with substantial morbidity and mortality. Transplant-related mortality (TRM) after HSCT depends mainly on the toxicity of the conditioning regimen, infections, and graft-versus-host disease. The purpose of this study was to identify the association between CTLA-4 single nucleotide polymorphisms and TRM in children undergoing allogeneic HSCT.
Methods
153 donors and 153 children with acute lymphoblastic leukemia, acute myeloid leukemia or juvenile myelomonocytic leukemia who had undergone allogeneic HSCT were genotyped of CTLA-4 gene for rs3087243 (CT60G>A), rs231775 (+ 49 A>G) and rs4553808 using TaqMan real-time polymerase chain reaction.
Results
We observed a significant association between the donor's CLTA-4 genotype of rs3087243 and TRM in children undergoing allogeneic HSCT. Genotype AG was found in 78 donors (51%), GG in 44 donors (29%) and 31 donors (20%) were homozygous for AA. 30 patients died as a result of transplant-related causes. Interestingly, we observed a significantly reduced TRM in children who were transplanted from a donor with the CTLA-4 genotype GG in comparison to genotype AG or AA (9 versus 19 versus 36%, P = 0.013). In addition, we found significant differences of event-free survival (EFS) depending on the donor's genotype. The EFS was 64, 46 or 32% if the patient was transplanted from a donor with CTLA-4 genotype GG, AG or AA, respectively (P = 0.043). In multivariate analysis, CTLA-4 genotype of rs3087243 was an independent risk factor for TRM (P = 0.011) and EFS (P = 0.035).
Conclusion
This study provides first evidence that the CTLA-4 polymorphisms are significant risk factors for TRM and survival in children undergoing allogeneic HSCT and should be evaluated in further trials.
This is a preview of subscription content, log in to check access.
Access options
Buy single article
Instant access to the full article PDF.
US$ 39.95
Price includes VAT for USA
Subscribe to journal
Immediate online access to all issues from 2019. Subscription will auto renew annually.
US$ 199
This is the net price. Taxes to be calculated in checkout.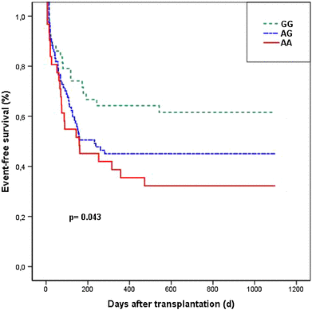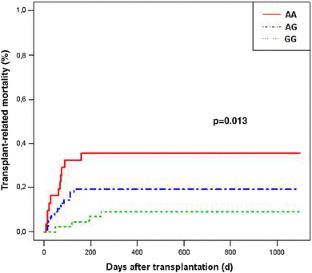 References
Alatrash G, Daver N, Mittendorf EA (2016) Targeting immune checkpoints in hematologic malignancies. Pharmacol Rev 68:1014–1025

Bosch-Vizcaya A, Pérez-García A, Brunet S, Solano C, Buño I, Guillem V, Martínez-Laperche C, Sanz G, Barrenetxea C, Martínez C, Tuset E, Lloveras N, Coll R, Guardia R, González Y, Roncero JM, Bustins A, Gardella S, Fernández C, Buch J, Gallardo D (2012) Donor CTLA-4 genotype influences clinical outcome after T cell-depleted allogeneic hematopoietic stem cell transplantation from HLA-identical sibling donors. Biol Blood Marrow Transpl 18:100–105

Egen JG, Allison JP (2002) Cytotoxic T Lymphocyte Antigen-4 accumulation in the immunological synapse is regulated by TCR signal strength. Immunity 16:23–35

Fife BT, Griffin MD, Abbas AK, Locksley RM, Bluestone JA (2006) Inhibition of T cell activation and autoimmune diabetes using a B cell surface–linked CTLA-4 agonist. J Clin Investig 116:2252–2261

Gray RJ (1988) A class of K-sample tests for comparing the cumulative incidence of a competing risk. Ann Statist 16:1141–1154

Hoffmann GF, Lentze MJ, Spranger J, Zepp F (2015) Pädiatrie: Grundlagen und Praxis. Springer, New York

Jagasia M, Clark WB, Brown-Gentry KD, Crawford DC, Fan KH, Chen H, Kassim A, Greer JP, Engelhardt BG, Savani BN (2012) Genetic variation in donor CTLA-4 regulatory region is a strong predictor of outcome after allogeneic hematopoietic cell transplantation for hematologic malignancies. Biol Blood Marrow Transpl 18:1069–1075

Karabon L, Markiewicz M, Partyka A, Pawlak-Adamska E, Tomkiewicz A, Dzierzak-Mietla M, Kyrcz-Krzemien S, Frydecka I (2015) A CT60G>A polymorphism in the CTLA-4 gene of the recipient may confer susceptibility to acute graft versus host disease after allogeneic hematopoietic stem cell transplantation. Immunogenetics 67: 295–304

Krummel MF, Allison JP (1995) CD28 and CTLA-4 have opposing effects on the response of T cells to stimulation. J Exp Med 182: 459–465

Laurent S, Carrega P, Saverino D, Piccioli P, Camoriano M, Morabito A, Dozin B, Fontana V, Simone R, Mortara L, Mingari MC, Ferlazzo G, Pistillo MP (2010) CTLA-4 is expressed by human monocyte—derived dendritic cells and regulates their functions. Hum Immunol 71: 934–941

Linsley PS, Wallace PM, Johnson J, Gibson MG, Greene JL, Ledbetter JA, Singh C, Tepper MA (1992) Immunosuppression in vivo by a soluble form of the CTLA-4 T cell activation molecule. Science 257: 792–795

Linsley PS, Bradshaw J, Greene JA, Peach R, Bennett KL, RS Mittler (1996) Intracellular trafficking of CTLA-4 and focal localization towards sites of TCR engagement. Immunity 4: 535–543

Magistrelli G, Jeannin P, Herbault N, Coignac ABde, Gauchat J-F, Bonnefoy J-Y, Delneste Y (1999) A soluble form of CTLA-4 generated by alternative splicing is expressed by nonstimulated human T cells. Eur J Immunol, 29: 3596–3602

Metaxas Y, Bertz H, Spyridonidis A, Spyroupoulou-Vlachou M, Porzelius C, Finke J (2012) CT60 single-nucleotide polymorphism as a surrogate marker for donor lymphocyte infusion outcome after allogeneic cell transplantation for acute leukemia. Bone Marrow Transpl 47: 411–415

Mossallam GI, Samra MA (2013) CTLA-4 polymorphism and clinical outcome post allogeneic hematopoietic stem cell transplantation. Hum Immunol 74:1643–1648

Murase M, Nishida T, Onizuka M, Inamoto Y, Sugimoto K, Imahashi N, Murata M, Miyamura K, Kodera Y, Inoko H, Naoe T (2011) Cytotoxic T-lymphocyte antigen 4 haplotype correlates with relapse and survival after allogeneic hematopoietic SCT. Bone Marrow Transpl 46:1444–1449

Olsson C, Riebeck K, Dohlsten M, Michaëlsson E (1999) CTLA-4 ligation suppresses CD28-induced NF-κB and AP-1 activity in mouse T cell blasts. J Biol Chem 274:14400–14405

Orrù S, Orrù N, Manolakos E, Littera R, Caocci G, Giorgiani G, Bertaina A, Pagliara D, Giardini C, Nesci S (2012) Recipient CTLA-4* CT60-AA genotype is a prognostic factor for acute graft-versus-host disease in hematopoietic stem cell transplantation for thalassemia. Hum Immunol 73: 282–286

Perez-Garcia A, De la Camara R, Roman-Gomez J, Jimenez-Velasco A, Encuentra M, Nieto JB, de la Rubia J, Urbano-Ispizua A, Brunet S, Iriondo A, Gonzalez M, Serrano D, Espigado I, Solano C, Ribera JM, Pujal JM, Hoyos M, Gallardo D, G. VHD/Immunotherapy Committee of the Spanish Group of Hematopoietic Stem Cell Transplantation (2007) CTLA-4 polymorphisms and clinical outcome after allogeneic stem cell transplantation from HLA-identical sibling donors. Blood 110: 461–467

Pui C-H, Pei D, Raimondi SC, Coustan-Smith E, Jeha S, Cheng C, Bowman WP, Sandlund JT, Ribeiro RC, Rubnitz JE, Inaba H, Gruber TA, Leung WH, Yang JJ, Downing JR, Evans WE, Relling MV, Campana D (2017) Clinical impact of minimal residual disease in children with different subtypes of acute lymphoblastic leukemia treated with response-adapted therapy. Leukemia 31: 333–339

Purohit S, Podolsky R, Collins C, Zheng W, Schatz D, Muir A, Hopkins D, Huang Y-H, She J-X (2005) Lack of correlation between the levels of soluble cytotoxic T-lymphocyte associated antigen-4 (CTLA-4) and the CT-60 genotypes. J Autoimmun Dis 2:8–8

Qin XY, Wang Y, Li GX, Qin YZ, Wang FR, Xu LP, Chen H, Han W, Wang JZ, Zhang XH, Chang YJ, Liu KY, Jiang ZF, Huang XJ (2016) CTLA-4 polymorphisms and haplotype correlate with survival in ALL after allogeneic stem cell transplantation from related HLA-haplotype-mismatched donor. J Transl Med 14:100

Salama AKS, Stephen Hodi F (2011) Cytotoxic T-lymphocyte–associated antigen-4. Clin Cancer Res 17:4622–4628

Sansom DM, LSK Walker (2006) The role of CD28 and cytotoxic T-lymphocyte antigen-4 (CTLA-4) in regulatory T-cell biology. Immunol Rev 212: 131–148

Schwartz RH (2003) T cell anergy. Annu Rev Immunol 21: 305–34

Seggewiss R, Einsele H (2010) Immune reconstitution after allogeneic transplantation and expanding options for immunomodulation: an update. Blood 115:3861–3868

Sellami MH, Bani M, Torjemane L, Kaabi H, Ladeb S, Othmane TB, Hmida S (2011) Effect of donor CTLA-4 alleles and haplotypes on graft-versus-host disease occurrence in Tunisian patients receiving a human leukocyte antigen–identical sibling hematopoietic stem cell transplant. Hum Immunol 72: 139–143

Teft WA, Kirchhof MG, Madrenas J (2006) A molecular perspective of CTLA-4 function. Annu Rev Immunol 24:65–97

Tivol EA, Borriello F, Schweitzer AN, Lynch WP, Bluestone JA, Sharpe AH (1995) Loss of CTLA-4 leads to massive lymphoproliferation and fatal multiorgan tissue destruction, revealing a critical negative regulatory role of CTLA-4. Immunity 3: 541–447

Ueda H, Howson JMM, Esposito L, Heward J, Snook H, Chamberlain G, Rainbow DB, Hunter KMD, Smith AN, Genova GD, Herr MH, Dahlman I, Payne F, Smyth D, Lowe C, Twells RCJ, Howlett S, Healy B, Nutland S, Rance HE, Everett V, Smink LJ, Lam AC, Cordell HJ, Walker NM, Bordin C, Hulme J, Motzo C, Cucca F, Hess JF, Metzker ML, Rogers J, Gregory S, Allahabadia A, Nithiyananthan R, Tuomilehto-Wolf E, Tuomilehto J, Bingley P, Gillespie KM, Undlien DE, Ronningen KS, Guja C, Ionescu-Tirgoviste C, Savage DA, Maxwell AP, Carson DJ, Patterson CC, Franklyn JA, Clayton DG, Peterson LB, Wicker LS, Todd JA, Gough SCL (2003) Association of the T-cell regulatory gene CTLA4 with susceptibility to autoimmune disease. Nature 423: 506–511

Valk E, Rudd CE, Schneider H (2008) CTLA-4 trafficking and surface expression. Trends Immunol 29: 272–279

Waterhouse P, Penninger JM, Timms E, Wakeham A, Shahinian A, Lee KP, Thompson CB, Griesser H, Mak TW (1995) Lymphoproliferative disorders with early lethality in mice deficient in CTLA-4. Science 270: 985–988

Xiao H, Luo Y, Lai X, Fu S, Shi J, Tan Y, He J, Xie W, Zheng W, Wang L-M, Zhang L, Liu L, Ye X, Yu X, Cai Z, Lin M, Huang H (2012) Genetic variations in T-cell activation and effector pathways modulate alloimmune responses after allogeneic hematopoietic stem cell transplantation in patients with hematologic malignancies. Haematologica 97:1804–1812

Zhang C, Hou W-H, Ding X-X, Wang X, Zhao H, Han X-W, Wang W-J (2016) Association of cytotoxic T-lymphocyte antigen-4 polymorphisms with malignant bone tumors risk—a meta-analysis. Asian Pac J Cancer Prev 17:3785–3791
Ethics declarations
Conflict of interest
The authors have no potential conflicts of interest to declare.
Ethical standard
All procedures were in accordance with the ethical standards of the institutional and/or national research committee and with the 1964 Helsinki declaration and its later amendments or comparable ethical standards. The study has been approved by the Jena University Hospital Ethics Committee (5154-05/17). Informed consent was obtained from all individual participants or the responsible persons included in the study.
About this article
Cite this article
Hammrich, J., Wittig, S., Ernst, T. et al. CTLA-4 polymorphisms: influence on transplant-related mortality and survival in children undergoing allogeneic hematopoietic stem cell transplantation. J Cancer Res Clin Oncol 144, 587–592 (2018). https://doi.org/10.1007/s00432-018-2578-8
Received:

Accepted:

Published:

Issue Date:
Keywords
CTLA-4

Single nucleotide polymorphism

Allogeneic hematopoietic stem cell transplantation

Children

Transplant-related mortality