Abstract
Purpose
Colorectal cancer (CRC) is one of the leading causes of cancer death worldwide, and many oncogenes and tumor suppressor genes are involved in CRC. MicroRNAs (miRNAs) are small non-coding RNAs that can negatively regulate gene expression. Previous studies have revealed that miRNAs regulate the development and progression of many cancers. In this study, we investigated the role of microRNA-30a-5p (miR-30a) in CRC and its unknown mechanisms.
Methods
qRT-PCR was used to detect miR-30a and TM4SF1 mRNA expression in CRC specimens and cell lines. CRC cell migration and invasion were assessed after transfection with miR-30a or TM4SF1 using wound healing and trans-well migration and invasion assays. Transmembrane-4-L-six-family protein (TM4SF1) was validated as a target of miR-30a in CRC through luciferase reporter assay and bioinformatics algorithms. Moreover, two EMT regulators, E-cadherin and VEGF, were also identified using Western blotting and immunohistochemistry.
Results
We found that miR-30a was down-regulated in CRC tumor tissues and cell lines, and miR-30a was inversely associated with advanced stage and lymph node metastatic status compared with normal tissues. miR-30a decreased migration and invasion in CRC cell lines, and miR-30a overexpression not only down-regulated TM4SF1 mRNA and protein expression, but also inhibited the expression of VEGF and enhanced expression of E-cadherin. We also showed that TM4SF1 was up-regulated in CRC tumor specimens compared with adjacent normal tissues, and TM4SF1 expression was significantly associated with advanced stage and lymph node status compared with adjacent normal tissues.
Conclusions
These results suggest that miR-30a is an important regulator of TM4SF1, VEGF, and E-cadherin for CRC lymph node metastasis, a potential new therapeutic target in CRC.
This is a preview of subscription content, log in to check access.
Access options
Buy single article
Instant access to the full article PDF.
US$ 39.95
Price includes VAT for USA
Subscribe to journal
Immediate online access to all issues from 2019. Subscription will auto renew annually.
US$ 199
This is the net price. Taxes to be calculated in checkout.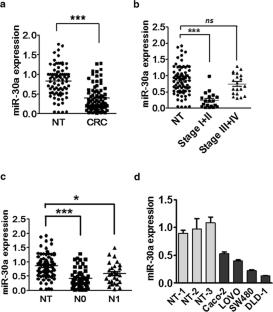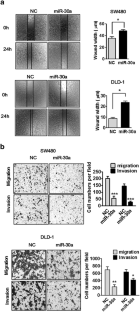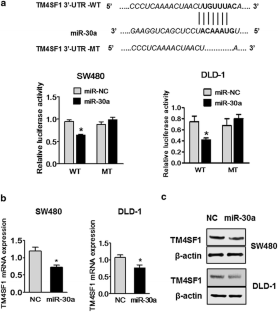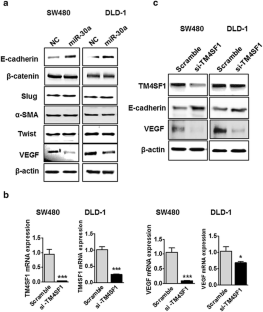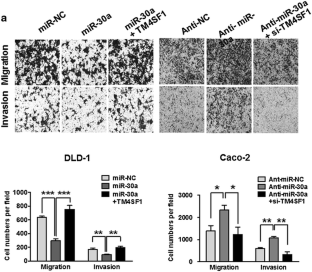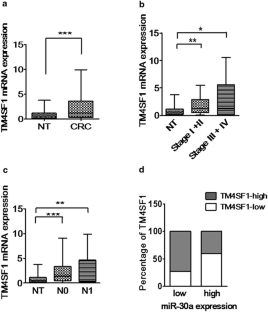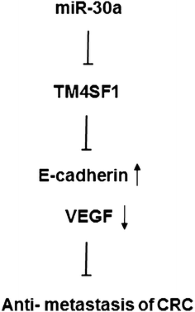 References
Allioli N, Vincent S, Vlaeminck-Guillem V, Decaussin-Petrucci M, Ragage F, Ruffion A, Samarut J (2011) TM4SF1, a novel primary androgen receptor target gene over-expressed in human prostate cancer and involved in cell migration. Prostate 71(11):1239–1250

Baraniskin A, Birkenkamp-Demtroder K, Maghnouj A, Zollner H, Munding J, Klein-Scory S, Reinacher-Schick A, Schwarte-Waldhoff I, Schmiegel W, Hahn SA (2012) MiR-30a-5p suppresses tumor growth in colon carcinoma by targeting DTL. Carcinogenesis 33(4):732–739

Bartel DP (2004) MicroRNAs: genomics, biogenesis, mechanism, and function. Cell 116(2):281–297

Brenner H, Kloor M, Pox CP (2014) Colorectal cancer. Lancet 383(9927):1490–1502

Calin GA, Liu CG, Sevignani C, Ferracin M, Felli N, Dumitru CD, Shimizu M, Cimmino A, Zupo S, Dono M et al (2004) MicroRNA profiling reveals distinct signatures in B cell chronic lymphocytic leukemias. Proc Natl Acad Sci U S A 101(32):11755–11760

Cao H, Xu E, Liu H, Wan L, Lai M (2015) Epithelial-mesenchymal transition in colorectal cancer metastasis: a system review. Pathol Res Pract 211(8):557–569

Chang YW, Chen SC, Cheng EC, Ko YP, Lin YC, Kao YR, Tsay YG, Yang PC, Wu CW, Roffler SR (2005) CD13 (aminopeptidase N) can associate with tumor-associated antigen L6 and enhance the motility of human lung cancer cells. Int J Cancer 116(2):243–252

Cheng CW, Wang HW, Chang CW, Chu HW, Chen CY, Yu JC, Chao JI, Liu HF, Ding SL, Shen CY (2012) MicroRNA-30a inhibits cell migration and invasion by downregulating vimentin expression and is a potential prognostic marker in breast cancer. Breast Cancer Res Treat 134(3):1081–1093

Chu E (2010) Colorectal cancer (CRC) continues to be a major public health problem in the United States and throughout the world. Cancer J 16(3):195

Fu J, Xu X, Kang L, Zhou L, Wang S, Lu J, Cheng L, Fan Z, Yuan B, Tian P et al (2014) miR-30a suppresses breast cancer cell proliferation and migration by targeting Eya2. Biochem Biophys Res Commun 445(2):314–319

Haggar FA, Boushey RP (2009) Colorectal cancer epidemiology: incidence, mortality, survival, and risk factors. Clin Colon Rectal Surg 22(4):191–197

Hellstrom I, Horn D, Linsley P, Brown JP, Brankovan V, Hellstrom KE (1986) Monoclonal mouse antibodies raised against human lung carcinoma. Cancer Res 46(8):3917–3923

Huang MY, Wang HM, Chang HJ, Hsiao CP, Wang JY, Lin SR (2012) Overexpression of S100B, TM4SF4, and OLFM4 genes is correlated with liver metastasis in Taiwanese colorectal cancer patients. DNA Cell Biol 31(1):43–49

Huang YK, Fan XG, Qiu F (2016) TM4SF1 promotes proliferation, invasion, and metastasis in human liver cancer cells. Int J Mol Sci 17(5):E661

Kang Y, Massague J (2004) Epithelial-mesenchymal transitions: twist in development and metastasis. Cell 118(3):277–279

Kao YR, Shih JY, Wen WC, Ko YP, Chen BM, Chan YL, Chu YW, Yang PC, Wu CW, Roffler SR (2003) Tumor-associated antigen L6 and the invasion of human lung cancer cells. Clin Cancer Res 9(7):2807–2816

Kumarswamy R, Mudduluru G, Ceppi P, Muppala S, Kozlowski M, Niklinski J, Papotti M, Allgayer H (2012) MicroRNA-30a inhibits epithelial-to-mesenchymal transition by targeting Snai1 and is downregulated in non-small cell lung cancer. Int J Cancer 130(9):2044–2053

Lekishvili T, Fromm E, Mujoomdar M, Berditchevski F (2008) The tumour-associated antigen L6 (L6-Ag) is recruited to the tetraspanin-enriched microdomains: implication for tumour cell motility. J Cell Sci 121(5):685–694

Li X, Zhang Y, Zhang Y, Ding J, Wu K, Fan D (2010) Survival prediction of gastric cancer by a seven-microRNA signature. Gut 59(5):579–585

Li WF, Dai H, Ou Q, Zuo GQ, Liu CA (2015) Overexpression of microRNA-30a-5p inhibits liver cancer cell proliferation and induces apoptosis by targeting MTDH/PTEN/AKT pathway. Tumour Biol 37(5):5885–5895

Lin CI, Merley A, Sciuto TE, Li D, Dvorak AM, Melero-Martin JM, Dvorak HF, Jaminet SC (2014) TM4SF1: a new vascular therapeutic target in cancer. Angiogenesis 17(4):897–907

Ma H, Pan JS, Jin LX, Wu J, Ren YD, Chen P, Xiao C, Han J (2016) MicroRNA-17 ~ 92 inhibits colorectal cancer progression by targeting angiogenesis. Cancer Lett 376(2):293–302

Macfarlane LA, Murphy PR (2010) MicroRNA: biogenesis, function and role in cancer. Curr Genom 11(7):537–561

Nieto MA (2011) The ins and outs of the epithelial to mesenchymal transition in health and disease. Annu Rev Cell Dev Biol 27:347–376

Park YR, Lee ST, Kim SL, Liu YC, Lee MR, Shin JH, Seo SY, Kim SH, Kim IH, Lee SO, Kim SW (2016) MicroRNA-9 suppresses cell migration and invasion through downregulation of TM4SF1 in colorectal cancer. Int J Oncol 48(5):2135–2143

Seo DC, Sung JM, Cho HJ, Yi H, Seo KH, Choi IS, Kim DK, Kim JS, El-Aty AA, Shin HC (2007) Gene expression profiling of cancer stem cell in human lung adenocarcinoma A549 cells. Mol Cancer 6:75

Shih SC, Zukauskas A, Li D, Liu G, Ang LH, Nagy JA, Brown LF, Dvorak HF (2009) The L6 protein TM4SF1 is critical for endothelial cell function and tumor angiogenesis. Cancer Res 69(8):3272–3277

Spaderna S, Schmalhofer O, Hlubek F, Berx G, Eger A, Merkel S, Jung A, Kirchner T, Brabletz T (2006) A transient, EMT-linked loss of basement membranes indicates metastasis and poor survival in colorectal cancer. Gastroenterology 131(3):830–840

Tutar Y (2014) miRNA and cancer; computational and experimental approaches. Curr Pharm Biotechnol 15(5):429

Valencia-Sanchez MA, Liu J, Hannon GJ, Parker R (2006) Control of translation and mRNA degradation by miRNAs and siRNAs. Genes Dev 20(5):515–524

Visintin A, Knowlton K, Tyminski E, Lin CI, Zheng X, Marquette K, Jain S, Tchistiakova L, Li D, O'Donnell CJ et al (2015) Novel Anti-TM4SF1 antibody–drug conjugates with activity against tumor cells and tumor vasculature. Mol Cancer Ther 14(8):1868–1876

Visone R, Pallante P, Vecchione A, Cirombella R, Ferracin M, Ferraro A, Volinia S, Coluzzi S, Leone V, Borbone E et al (2007) Specific microRNAs are downregulated in human thyroid anaplastic carcinomas. Oncogene 26(54):7590–7595

Wang X, Chen L, Jin H, Wang S, Zhang Y, Tang X, Tang G (2016) Screening miRNAs for early diagnosis of colorectal cancer by small RNA deep sequencing and evaluation in a Chinese patient population. OncoTargets Ther 9:1159–1166

Wei W, Yang Y, Cai J, Cui K, Li RX, Wang H, Shang X, Wei D (2016) MiR-30a-5p suppresses tumor metastasis of human colorectal cancer by targeting ITGB3. Cell Physiol Biochem 39(3):1165–1176

William KKW, Joseph JYS (2012) MicroRNA dysregulations in gastrointestinal cancers: pathophysiological and clinical perspectives. Intest Res 10(4):324–331

Wright MD, Ni J, Rudy GB (2000) The L6 membrane proteins—a new four-transmembrane superfamily. Protein Sci 9(8):1594–1600

Xiong J, Wei B, Ye Q, Liu W (2016) MiR-30a-5p/UBE3C axis regulates breast cancer cell proliferation and migration. Biochem Biophys Res Commun. doi:10.1016/j.bbrc.2016.03.069

Yan Q, Zhang W, Wu Y, Wu M, Zhang M, Shi X, Zhao J, Nan Q, Chen Y, Wang L et al (2015) KLF8 promotes tumorigenesis, invasion and metastasis of colorectal cancer cells by transcriptional activation of FHL2. Oncotarget 6(28):25402–25417

Yuan Y, Zheng S, Li Q, Xiang X, Gao T, Ran P, Sun L, Huang Q, Xie F, Du J, Xiao C (2016) Overexpression of miR-30a in lung adenocarcinoma A549 cell line inhibits migration and invasion via targeting EYA2. Acta Biochim Biophy Sin 48(3):220–228

Zhang N, Wang X, Huo Q, Sun M, Cai C, Liu Z, Hu G, Yang Q (2014) MicroRNA-30a suppresses breast tumor growth and metastasis by targeting metadherin. Oncogene 33(24):3119–3128

Zhang Q, Tang Q, Qin D, Yu L, Huang R, Lv G, Zou Z, Jiang XC, Zou C, Liu W et al (2015) Role of microRNA 30a targeting insulin receptor substrate 2 in colorectal tumorigenesis. Mol Cell Biol 35(6):988–1000

Zhong M, Bian Z, Wu Z (2013) miR-30a suppresses cell migration and invasion through downregulation of PIK3CD in colorectal carcinoma. Cell Physiol Biochem 31(2–3):209–218
Acknowledgements
Specimens and clinical data were provided by the Biobank of Chonbuk National University Hospital, a member of the Korea Biobank Network, which is supported by the Ministry of Health, Welfare and Family Affairs. All samples derived from the Korea Biobank Network were obtained with informed consent under the institutional review board-approved protocols. This research was supported by the Basic Science Research Program through the National Research Foundation of Korea (NRF), funded by the Ministry of Science, ICT, and Future Planning (NRF-2015R1D1A3A01016026) and supported by the Research Institute of Clinical Medicine of Chonbuk National University–Biomedical Research Institute of Chonbuk National Hospital.
Ethics declarations
Conflict of interest
The authors declare that they have no competing interests.
Ethical approval
All procedures performed in studies involving human participants were in accordance with the ethical standards of the institutional and/or national research committee and with the 1964 Helsinki Declaration and its later amendments or comparable ethical standards.
Informed consent
Informed consent was obtained from all individual participants included in the study.
About this article
Cite this article
Park, Y.R., Kim, S.L., Lee, M.R. et al. MicroRNA-30a-5p (miR-30a) regulates cell motility and EMT by directly targeting oncogenic TM4SF1 in colorectal cancer. J Cancer Res Clin Oncol 143, 1915–1927 (2017). https://doi.org/10.1007/s00432-017-2440-4
Received:

Accepted:

Published:

Issue Date:
Keywords
miR-30a

Colorectal cancer

Transmembrane-4-L-six-family protein 1

Metastasis