Abstract
Purpose
Antibody–drug conjugates (ADCs) represent a promising therapeutic approach for clinical application. Cluster of differentiation 24 (CD24) is over-expressed in several human malignancies, especially in hepatocellular carcinoma (HCC). We aimed to develop a new class of CD24-targeted ADCs for HCC.
Methods
DOX was conjugated with G7mAb by a heterobifunctional cross-linker GMBS (N-[gamma-maleimido butyryloxy] succinimide ester) and further analyzed using HPLC. The targeting specificity and endocytosis of the newly generated ADC, G7mAb–DOX, were characterized using flow cytometry assay, near-infrared fluorescence imaging and laser scanning confocal microscope. The antitumor effects were evaluated in nude mice bearing HCC xenografts.
Results
G7mAb–DOX with average two drug molecules per antibody was selectively captured and endocytosed by CD24 (+) tumor cells in vitro. In vivo, the ADC was proved to target tumor tissues, suppress tumor growth and prolong the survival of HCC-bearing nude mice with improved efficacy and less systemic toxicity compared with either G7mAb or DOX single-agent treatment.
Conclusion
These studies provide proof of concept for development of DOX-based ADCs which provide a novel approach for HCC-targeted immune therapy in clinical application.
This is a preview of subscription content, log in to check access.
Access options
Buy single article
Instant access to the full article PDF.
US$ 39.95
Price includes VAT for USA
Subscribe to journal
Immediate online access to all issues from 2019. Subscription will auto renew annually.
US$ 199
This is the net price. Taxes to be calculated in checkout.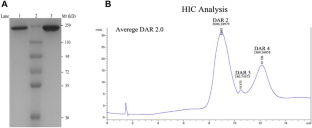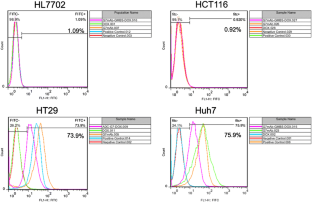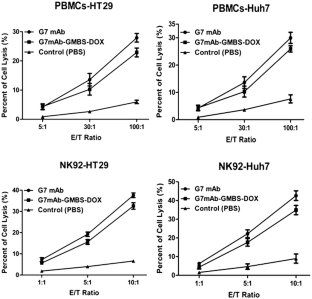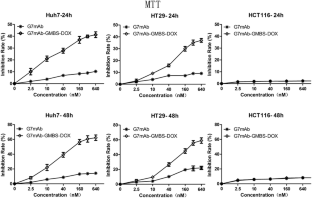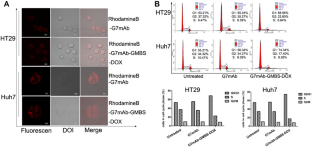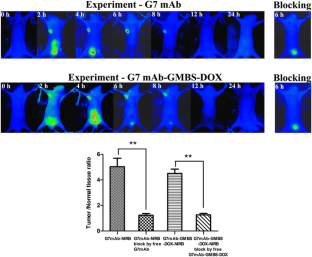 References
Bretz NP et al (2012) CD24 controls Src/STAT3 activity in human tumors. Cell Mol Life SciCMLS 69:3863–3879. doi:10.1007/s00018-012-1055-9

Cao J et al (2013) Targeted cancer therapy with a 2-deoxyglucose-based adriamycin complex. Can Res 73:1362–1373. doi:10.1158/0008-5472.CAN-12-2072

Chari RV, Miller ML, Widdison WC (2014) Antibody-drug conjugates: an emerging concept in cancer therapy. Angew Chem 53:3796–3827. doi:10.1002/anie.201307628

Choi YL, Kang SY, Cho EY, Ahn GH (2005) Cytoplasmic CD24 expression in advanced ovarian serous borderline tumors. Lab Invest 85:180a–180a

Cong WM, Wu MC (2015) New insights into molecular diagnostic pathology of primary liver cancer: advances and challenges. Cancer Lett 368:14–19. doi:10.1016/j.canlet.2015.07.043

Ding L et al (2015) Small sized EGFR1 and HER2 specific bifunctional antibody for targeted cancer therapy. Theranostics 5:378–398. doi:10.7150/thno.10084

Ducry L, Stump B (2010) Antibody-drug conjugates: linking cytotoxic payloads to monoclonal antibodies. Bioconjugate Chem 21:5–13

Filonov GS, Piatkevich KD, Ting LM, Zhang J, Kim K, Verkhusha VV (2011) Bright and stable near-infrared fluorescent protein for in vivo imaging. Nat Biotechnol 29:757–761. doi:10.1038/nbt.1918

Gao Q et al (2007) Intratumoral balance of regulatory and cytotoxic T cells is associated with prognosis of hepatocellular carcinoma after resection. J Clin Oncol 25:2586–2593. doi:10.1200/Jco.2006.09.4565

Hamblett KJ et al (2004) Effects of drug loading on the antitumor activity of a monoclonal antibody drug conjugate. Clin Cancer Res 10:7063–7070. doi:10.1158/1078-0432.Ccr-04-0789

Hamilton GS (2015) Antibody-drug conjugates for cancer therapy: the technological and regulatory challenges of developing drug-biologic hybrids. Biologicals 43:318–332

He H et al (2015) A novel antibody targeting CD24 and hepatocellular carcinoma in vivo by near-infrared fluorescence imaging. Immunobiology 220:1328–1336. doi:10.1016/j.imbio.2015.07.010

Helft PR et al (2004) A phase I study of cantuzumab mertansine administered as a single intravenous infusion once weekly in patients with advanced solid tumors. Clin Cancer Res 10:4363–4368. doi:10.1158/1078-0432.Ccr-04-0088

Hilderbrand SA, Weissleder R (2010) Near-infrared fluorescence: application to in vivo molecular imaging. Curr Opin Chem Biol 14:71–79. doi:10.1016/j.cbpa.2009.09.029

Hira SK, Mondal I, Bhattacharya D, Gupta KK, Manna PP (2015) Downregulation of STAT3 phosphorylation enhances tumoricidal effect of IL-15-activated dendritic cell against doxorubicin-resistant lymphoma and leukemia via TNF-alpha. Int J Biochem Cell Biol 67:1–13. doi:10.1016/j.biocel.2015.08.002

Hong YP, Li ZD, Prasoon P, Zhang Q (2015) Immunotherapy for hepatocellular carcinoma: From basic research to clinical use. World J Hepatol 7:980–992. doi:10.4254/wjh.v7.i7.980

Huang LR, Hsu HC (1995) Cloning and expression of CD24 gene in human hepatocellular carcinoma: a potential early tumor marker gene correlates with p53 mutation and tumor differentiation. Can Res 55:4717–4721

Jeffrey SC et al (2013) A potent anti-CD70 antibody-drug conjugate combining a dimeric pyrrolobenzodiazepine drug with site-specific conjugation technology. Bioconjug Chem 24:1256–1263. doi:10.1021/bc400217g

Kalyan A, Nimeiri H, Kulik L (2015) Systemic therapy of hepatocellular carcinoma current and promising. Clin Liver Dis 19:421. doi:10.1016/j.cld.2015.01.009

Kim EG, Kim KM (2015) Strategies and advancement in antibody-drug conjugate optimization for targeted cancer therapeutics. Biomol Ther 23:493–509. doi:10.4062/biomolther.2015.116

Kong JN et al (2015) Guggulsterone and bexarotene induce secretion of exosome-associated breast cancer resistance protein and reduce doxorubicin resistance in MDA-MB-231 cells. Int J Cancer Journal international du cancer 137:1610–1620. doi:10.1002/ijc.29542

Kovtun YV et al (2006) Antibody-drug conjugates designed to eradicate tumors with homogeneous and heterogeneous expression of the target antigen. Can Res 66:3214–3221

Lammer J et al (2010) Prospective randomized study of doxorubicin-eluting-bead embolization in the treatment of hepatocellular carcinoma: results of the PRECISION V study. Cardiovasc Inter Rad 33:41–52. doi:10.1007/s00270-009-9711-7

Lee TKW, Castilho A, Cheung VCH, Tang KH, Ma S, Irene OLN (2011) CD24(+) liver tumor-initiating cells drive self-renewal and tumor initiation through STAT3-mediated NANOG regulation. Cell Stem Cell 9:50–63. doi:10.1016/j.stem.2011.06.005

Li X, Liang P (2014) Immunotherapy for hepatocellular carcinoma following thermal ablation. J BUON 19:867–871

McDonagh CF et al (2006) Engineered antibody-drug conjugates with defined sites and stoichiometries of drug attachment. Protein Eng Des Sel 19:299–307. doi:10.1093/protein/gzl013

Myung JH, Gajjar KA, Pearson RM, Launiere CA, Eddington DT, Hong S (2011) Direct measurements on CD24-mediated rolling of human breast cancer MCF-7 cells on E-selectin. Anal Chem 83:1078–1083. doi:10.1021/ac102901e

Ouyang J (2013) Drug-to-antibody ratio (DAR) and drug load distribution by hydrophobic interaction chromatography and reversed phase high-performance liquid chromatography. Methods Mol Biol 1045:275–283. doi:10.1007/978-1-62703-541-5_17

Pan LQ et al (2013) Novel conjugation of tumor-necrosis-factor-related apoptosis-inducing ligand (TRAIL) with monomethyl auristatin E for efficient antitumor drug delivery. Adv Mater 25:4718–4722. doi:10.1002/adma.201301385

Panowksi S, Bhakta S, Raab H, Polakis P, Junutula JR (2014) Site-specific antibody drug conjugates for cancer therapy mAbs 6:34–45. doi:10.4161/mabs.27022

Pass MK, Quintini G, Zarn JA, Zimmermann SM, Sigrist JA, Stahel RA (1998) The 5′-flanking region of human CD24 gene has cell-type-specific promoter activity in small-cell lung cancer. Int J Cancer 78:496–502. doi:10.1002/(Sici)1097-0215(19981109)78:4<496:Aid-Ijc17>3.0.Co;2-4

Pecoraro M, Sorrentino R, Franceschelli S, Del Pizzo M, Pinto A, Popolo A (2015) Doxorubicin-mediated cardiotoxicity: role of mitochondrial connexin 43. Cardiovasc Toxicol 15:366–376. doi:10.1007/s12012-014-9305-8

Raoul JL, Sangro B, Forner A, Mazzaferro V, Piscaglia F, Bolondi L, Lencioni R (2011) Evolving strategies for the management of intermediate-stage hepatocellular carcinoma: available evidence and expert opinion on the use of transarterial chemoembolization. Cancer Treat Rev 37:212–220. doi:10.1016/j.ctrv.2010.07.006

Salnikov AV et al (2013) Antibody targeting of CD24 efficiently retards growth and influences cytokine milieu in experimental carcinomas Brit J. Cancer 108:1449–1459. doi:10.1038/bjc.2013.102

Sano A et al (2009) CD24 expression is a novel prognostic factor in esophageal squamous cell carcinoma. Ann Surg Oncol 16:506–514. doi:10.1245/s10434-008-0252-0

Schwartz JD et al (2006) Bevacizumab in unresectable hepatocellular carcinoma (HCC) for patients without metastasis and without invasion of the portal vein. J Clin Oncol 24:213s–213s

Shapira S, Kazanov D, Weisblatt S, Starr A, Arber N, Kraus S (2011) The CD24 protein inducible expression system is an ideal tool to explore the potential of CD24 as an oncogene and a target for immunotherapy in vitro and in vivo. J Biol Chem 286:40548–40555. doi:10.1074/jbc.M111.286534

Shen F et al (2008) Quantitation of doxorubicin uptake, efflux, and modulation of multidrug resistance (MDR) in MDR human cancer cells. J Pharmacol Exp Ther 324:95–102. doi:10.1124/jpet.107.127704

Smith SC et al (2006) The metastasis-associated gene CD24 is regulated by Ral GTPase and is a mediator of cell proliferation and survival in human cancer. Can Res 66:1917–1922. doi:10.1158/0008-5472.CAN-05-3855

Strop P et al (2016) RN927C, a site-specific Trop-2 antibody-drug conjugate (ADC) with enhanced stability, is highly efficacious in preclinical solid tumor models. Mol Cancer Ther 15:2698–2708. doi:10.1158/1535-7163.MCT-16-0431

Swamy SG et al (2016) Targeting multiple oncogenic pathways for the treatment of hepatocellular carcinoma. Target Oncol 12:1–10. doi:10.1007/s11523-016-0452-7

Tolcher AW et al (2003) Cantuzumab mertansine, a maytansinoid immunoconjugate directed to the CanAg antigen: a phase I, pharmacokinetic, and biologic correlative study. J Clin Oncol 21:211–222. doi:10.1200/Jco.2003.05.137

Torre LA, Bray F, Siegel RL, Ferlay J, Lortet-Tieulent J, Jemal A (2015) Global cancer statistics, 2012. CA Cancer J Clin 65:87–108. doi:10.3322/caac.21262

Wang T et al (2016) A bispecific protein rG7S-MICA recruits natural killer cells and enhances NKG2D-mediated immunosurveillance against hepatocellular carcinoma. Cancer Lett 372:166–178. doi:10.1016/j.canlet.2016.01.001

Yan SS et al (2014) CD24 single nucleotide polymorphisms and cancer risk. Tumor Biol 35:8927–8932. doi:10.1007/s13277-014-2127-2

Yang XR et al (2009) CD24 is a novel predictor for poor prognosis of hepatocellular carcinoma after surgery. Clin Cancer Res 15:5518–5527. doi:10.1158/1078-0432.CCR-09-0151

Zhu AX et al (2007) Phase 2 study of cetuximab in patients with advanced hepatocellular carcinoma. Cancer 110:581–589. doi:10.1002/cncr.22829
Acknowledgements
We thank Prof. Yueqing Gu and her lab for technical assistance of near infrared imaging.
Ethics declarations
Funding
This study was supported by the National Natural Science Foundation of China (NSFC81273425 and NSFC81473125); Natural Science Foundation of Jiangsu Province (BK20161459); Jiangsu Province Qinglan Project (2014), a project funded by the Priority Academic Program Development Innovation Program of Jiangsu Higher Education Institutions; Graduate Student Innovation Project Funded by Zhejiang Huahai Pharmaceutical Co (1010040003); The Graduate Innovation Program of Jiangsu Province (KYLX15_0670); Under-graduate Training Program of Jiangsu Province for Innovation and Entrepreneurship (SY15090).
Conflict of interest
The authors declare no competing financial interests.
Ethical approval
All experimental procedures were conducted in conformity with institutional guidelines for the care and use of laboratory animals in Yangzhou University, Yangzhou, China, and conformed to the National Institutes of Regulations for the Administration of Affairs Concerning Experimental Animals.
About this article
Cite this article
Ma, Z., He, H., Sun, F. et al. Selective targeted delivery of doxorubicin via conjugating to anti-CD24 antibody results in enhanced antitumor potency for hepatocellular carcinoma both in vitro and in vivo. J Cancer Res Clin Oncol 143, 1929–1940 (2017). https://doi.org/10.1007/s00432-017-2436-0
Received:

Accepted:

Published:

Issue Date:
Keywords
CD24

Antibody–drug conjugates (ADCs)

Doxorubicin (DOX)

G7mAb

Hepatocellular carcinoma