Abstract
Purpose
Solute carrier organic anion transporter family member 4A1 (SLCO4A1) is involved in the transport of various compounds, including sugars, bile salts, organic acids, metal ions, amine compounds, and estrogen. SLCO4A1 is highly expressed in several cancers and a gender bias has been observed in colorectal cancer (CRC). We investigated SLCO4A1 expression, its prognostic value in patients with CRC, and its role in CRC cell proliferation and metastasis.
Methods
SLCO4A1 expression was assessed by immunohistochemistry (IHC) on specimens from 84 patients with CRC. The association of SLCO4A1 expression with clinicopathological features was examined. To confirm the biological role of SLCO4A1 in CRC, four CRC cell lines expressing SLCO4A1 were used and SLCO4A1 expression was knocked down by siRNA. Cell proliferation, MTT, migration, invasion, and semisolid agar colony formation assays were performed.
Results
SLCO4A1 was overexpressed in 32% of the CRC samples. SLCO4A1 overexpression and pathologic T stage were independent prognostic factors of decreased survival (P = 0.021). Kaplan–Meier analysis indicated a decreased cumulative survival for patients highly expressing SLCO4A1 compared to patients showing low SLCO4A1 expression (Log-rank test, P = 0.025). In cell lines, SLCO4A1 knockdown resulted in a significant decrease of viability, invasion, and migration when compared to control cells. Semisolid colony formation assay indicated that SLCO4A1-knocked down cells presented poor carcinogenic abilities compared to control cells.
Conclusions
SLCO4A1 may be a valuable marker of poor prognostic for CRC. Furthermore, SLCO4A1 plays an important role in CRC cell proliferation, migration, invasion, and carcinogenesis.
This is a preview of subscription content, log in to check access.
Access options
Buy single article
Instant access to the full article PDF.
US$ 39.95
Price includes VAT for USA
Subscribe to journal
Immediate online access to all issues from 2019. Subscription will auto renew annually.
US$ 199
This is the net price. Taxes to be calculated in checkout.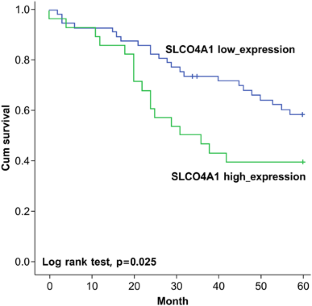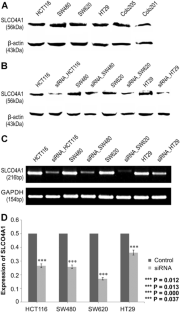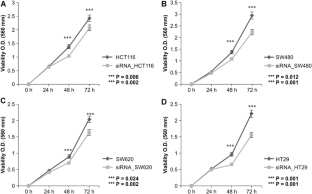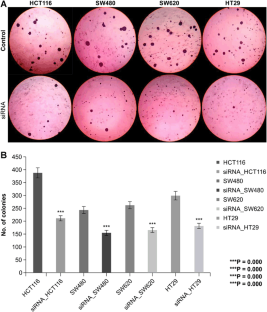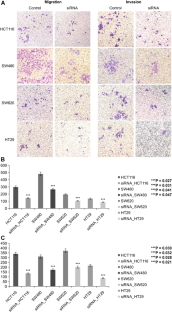 References
Ancona N, Maglietta R, Piepoli A, D'Addabbo A, Cotugno R, Savino M, Liuni S, Carella M, Pesole G, Perri F (2006) On the statistical assessment of classifiers using DNA microarray data. BMC Bioinform 7:387. doi:10.1186/1471-2105-7-387

Buxhofer-Ausch V, Secky L, Wlcek K, Svoboda M, Kounnis V, Briasoulis E, Tzakos AG, Jaeger W, Thalhammer T (2013) Tumor-specific expression of organic anion-transporting polypeptides: transporters as novel targets for cancer therapy. J Drug Deliv 2013:863539. doi:10.1155/2013/863539

Center MM, Jemal A, Smith RA, Ward E (2009) Worldwide variations in colorectal cancer. CA Cancer J Clin 59:366–378. doi:10.3322/caac.20038

English MA, Stewart PM, Hewison M (2001) Estrogen metabolism and malignancy: analysis of the expression and function of 17beta-hydroxysteroid dehydrogenases in colonic cancer. Mol Cell Endocrinol 171:53–60. doi:10.1016/S0303-7207(00)00418-4

Fujiwara K, Adachi H, Nishio T, Unno M, Tokui T, Okabe M, Onogawa T, Suzuki T, Asano N, Tanemoto M, Seki M, Shiiba K, Suzuki M, Kondo Y, Nunoki K, Shimosegawa T, Iinuma K, Ito S, Matsuno S, Abe T (2001) Identification of thyroid hormone transporters in humans: different molecules are involved in a tissue-specific manner. Endocrinology 142:2005–2012. doi:10.1210/endo.142.5.8115

Gao B, Wenzel A, Grimm C, Vavricka SR, Benke D, Meier PJ, Reme CE (2002) Localization of organic anion transport protein 2 in the apical region of rat retinal pigment epithelium. Invest Ophthalmol Vis Sci 43:510–514

Hagenbuch B, Meier PJ (2004) Organic anion transporting polypeptides of the OATP/ SLC21 family: phylogenetic classification as OATP/ SLCO superfamily, new nomenclature and molecular/functional properties. Pflugers Arch 447:653–665. doi:10.1007/s00424-003-1168-y

Jemal A, Siegel R, Ward E, Hao Y, Xu J, Murray T, Thun MJ (2008) Cancer statistics, 2008. CA Cancer J Clin 58: 71–96. doi:10.3322/CA.2007.0010

Kullak-Ublick GA, Ismair MG, Stieger B, Landmann L, Huber R, Pizzagalli F, Fattinger K, Meier PJ, Hagenbuch B (2001) Organic anion-transporting polypeptide B (OATP-B) and its functional comparison with three other OATPs of human liver. Gastroenterology 120:525–533. doi:10.1053/gast.2001.21176

Obaidat A, Roth M, Hagenbuch B (2012) The expression and function of organic anion transporting polypeptides in normal tissues and in cancer. Annu Rev Pharmacol Toxicol 52:135–151. doi:10.1146/annurev-pharmtox-010510-100556

Rawluszko-Wieczorek AA, Horst N, Horbacka K, Bandura AS, Swiderska M, Krokowicz P, Jagodzinski PP (2015) Effect of DNA methylation profile on OATP3A1 and OATP4A1 transcript levels in colorectal cancer. Biomed Pharmacother 74:233–242. doi:10.1016/j.biopha.2015.08.026

Sato K, Sugawara J, Sato T, Mizutamari H, Suzuki T, Ito A, Mikkaichi T, Onogawa T, Tanemoto M, Unno M, Abe T, Okamura K (2003) Expression of organic anion transporting polypeptide E (OATP-E) in human placenta. Placenta 24:144–148. doi:10.1053/plac.2002.0907

Sato R, Suzuki T, Katayose Y, Miura K, Shiiba K, Tateno H, Miki Y, Akahira J, Kamogawa Y, Nagasaki S, Yamamoto K, Ii T, Egawa S, Evans DB, Unno M, Sasano H (2009) Steroid sulfatase and estrogen sulfotransferase in colon carcinoma: regulators of intratumoral estrogen concentrations and potent prognostic factors. Cancer Res 69:914–922. doi:10.1158/0008-5472.CAN-08-0906

Secky L, Svoboda M, Klameth L, Bajna E, Hamilton G, Zeillinger R, Jäger W, Thalhammer T (2013) The sulfatase pathway for estrogen formation: targets for the treatment and diagnosis of hormone-associated tumors. J Drug Deliv 2013:957605. doi:10.1155/2013/957605

Tamai I, Nezu J, Uchino H, Sai Y, Oku A, Shimane M, Tsuji A (2000) Molecular identification and characterization of novel members of the human organic anion transporter (OATP) family. Biochem Biophys Res Commun 273:251–260. doi:10.1006/bbrc.2000.2922

Torre LA, Bray F, Siegel RL, Ferlay J, Lortet-Tieulent J, Jemal A (2015) Global cancer statistics, 2012. CA Cancer J Clin 65:87–108. doi:10.3322/caac.21262

Wong NA, Malcomson RD, Jodrell DI, Groome NP, Harrison DJ, Saunders PT (2005) ERbeta isoform expression in colorectal carcinoma: an in vivo and in vitro study of clinicopathological and molecular correlates. J Pathol 207:53–60. doi:10.1002/path.1807
Acknowledgements
This study was supported by the Soonchunhyang University Research Fund.
Ethics declarations
Conflict of interest
The authors declare that they have no conflict of interest.
Ethical approval
All procedures performed in studies involving human participants were in accordance with the ethical standards of the institutional and/or national research committee and with the 1964 Helsinki declaration and its later amendments or comparable ethical standards. This article does not contain any studies with animals performed by any of the authors.
Informed consent
Informed consent was obtained from all individual participants included in the study.
Additional information
M. J. Ban and S. H. Ji contributed equally to this study.
About this article
Cite this article
Ban, M.J., Ji, S.H., Lee, C. et al. Solute carrier organic anion transporter family member 4A1 (SLCO4A1) as a prognosis marker of colorectal cancer. J Cancer Res Clin Oncol 143, 1437–1447 (2017). https://doi.org/10.1007/s00432-017-2393-7
Received:

Accepted:

Published:

Issue Date:
Keywords
Colorectal cancer

Solute carrier organic anion transporter family member 4A1

Prognostic value

Cell proliferation

Metastasis