Abstract
Purpose
Visual impairment represents an infrequent form of cisplatin-induced neurotoxicity; however, visual deterioration has been reported in several studies. To evaluate potential morphological and functional retinal alterations in patients with germ cell cancer (GCC) treated with cisplatin-based chemotherapy (CBC).
Methods
Multi-disciplinary and multi-institutional study design. Examination of 28 eyes of 14 male GCC patients, who had received at least one cycle of CBC. A matched control group of healthy, untreated patients were included in this study. Subjects underwent a retinal nerve fiber thickness (RNFL) measurement, color vision, visual acuity testing, full-field electroretinograms (ff-ERG). To assess a correlation between cumulative cisplatin dose and measured RNFL and ff-ERG Pearson correlation coefficient analysis was performed.
Results
Both study groups (CBC recipients vs. healthy controls) consisted each of 14 participants with a median patient age of 30 years (interquartile range (IQR) 26–37 years). Tumor histology was seminoma in 6 of 14 patients (43%), and non-seminomatous GCC in 8 of 14 patients (57%). Median cumulative cisplatin dosis at examination was 627 mg/m2 (IQR 413–1013 mg/m2). Morphological assessment revealed reduced RNFL in 11 of 14 patients (78.6%). Reduction in RNFL was significantly correlated to the cumulative CBC dose received (rho = + 0.70; p = 0.004). ff-ERG showed significant differences between CBC recipients and the control group in 2 of 5 tested categories (all p values <0.001).
Conclusion
This study represents first evidence of chronic subclinical retinal toxicity due to cisplatin-based chemotherapy in patients with GCC. The reduction of RNFL might become clinically relevant in upcoming age-related chronic degenerative disorders such as glaucoma.
This is a preview of subscription content, log in to check access.
Access options
Buy single article
Instant access to the full article PDF.
US$ 39.95
Price includes VAT for USA
Subscribe to journal
Immediate online access to all issues from 2019. Subscription will auto renew annually.
US$ 199
This is the net price. Taxes to be calculated in checkout.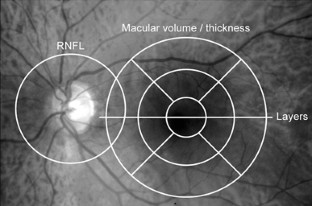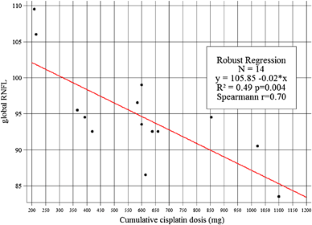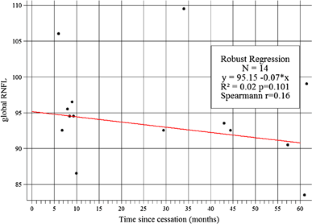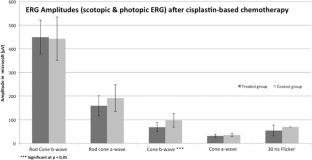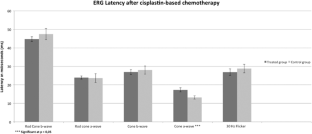 References
Einhorn LH, Donohue J (1977) Cis-diamminedichloroplatinum, vinblastine, and bleomycin combination chemotherapy in disseminated testicular cancer. Ann Intern Med 87(3):293–298

Hanna NH, Einhorn LH (2014) Testicular cancer: a reflection on 50 years of discovery. J Clin Oncol 32(28):3085–3092

Haugnes HS, Aass N, Fosså SD et al (2007) Components of the metabolic syndrome in long-term survivors of testicular cancer. Ann Oncol 18:241–248

Haugnes HS, Bosl GJ, Boer H et al (2012) Long-term and late effects of germ cell testicular cancer treatment and implications for follow-up. J Clin Oncol 30:3752–3763

Hillard LM et al (1997) Retinal toxicity associated with cisplatin and etoposide in pediatric patients. Med Pediatr Oncol 28(4):310–313

Katz BJ, Ward JH, Digre KB, Creel DJ, Mamalis N (2003) Persistent severe visual and electroretinographic abnormalities after intravenous cisplatin therapy. J Neuroophthalmol 23(2):132–135

Kupersmith MJ, Frohman LP, Choi IS, Foo SH, Hiesinger E, Berenstein A, Wise A, Carr RE, Ransohoff J (1988) Visual system toxicity following intra-arterial chemotherapy. Neurology 38(2):284–289

Kupersmith MJ, Seiple WH, Holopigian K, Noble K, Hiesiger E, Warren F (1992) Maculopathy caused by intra-arterially administered cisplatin and intravenously administered carmustine. Am J Ophthalmol 113(4):435–438

Leung LS, Neal JW, Wakelee HA, Sequist LV, Marmor MF (2015) Rapid onset of retinal toxicity from high-dose hydroxychloroquine given for cancer therapy. Am J Ophthalmol 160(4):799–805.e1

Margo CE et al (1993) Ocular and orbital toxicity after intracarotid cisplatin therapy. Am J Ophthalmol 116(4):508–509

Marmor MF (1993) Negative-type electroretinogram from cisplatin toxicity. Doc Ophthalmol 84(3):237–246

Marmor MF, Fulton AB, Holder GE, Miyake Y, Brigell M, Bach M (2009) ISCEV Standard for full-field clinical electroretinography (2008 update). Doc Ophthalmol 118:69–77

Marmor MF, Kellner U, Lai TY, Melles RB, Mieler WF, American Academy of Ophthalmology (2016) Recommendations on screening for chloroquine and hydroxychloroquine retinopathy. Ophthalmology 123(6):1386–1394

Nuver J, Smit AJ, Wolffenbuttel BH et al (2005) The metabolic syndrome and disturbances in hormone levels in long-term survivors of disseminated testicular cancer. J Clin Oncol 23:3718–3725

Siegel R, Ma J, Zou Z et al (2014) Cancer statistics, 2014. CA Cancer J Clin 64(1):9–29

Travis LB et al (2014) Chemotherapy-induced peripheral neurotoxicity and ototoxicity: new paradigms for translational genomics. J Natl Cancer Inst 12:106

Verdecchia A, Francisci S, Brenner H et al (2007) Recent cancer survival in Europe: a 2000–02 period analysis of EUROCARE-4 data. Lancet Oncol 8(9):784–796

Wilding G, Caruso R, Lawrence TS, Ostchega Y, Ballintine EJ, Young RC, Ozols RF (1985) Retinal toxicity after high-dose cisplatin therapy. J Clin Oncol 3(12):1683–1689

Yang J, Yoshizawa K, Shikata N, Kiyozuka Y, Senzaki H, Tsubura A (2000) Retinal damage induced by cisplatin in neonatal rats and mice. Curr Eye Res 20(6):441–446
Ethics declarations
Conflict of interest
All authors have no conflict of interest to disclose.
Ethical approval
As mentioned in the methods section above, this study involving human participants was in full accordance with the ethical standards of the institutional and/or national research committee and with the 1964 Helsinki declaration and its later amendments or comparable ethical standards.
Informed consent
Informed consent was obtained from all individual participants included in the study.
Additional information
S. Dulz and N. H. Asselborn contributed equally to this manuscript.
About this article
Cite this article
Dulz, S., Asselborn, N.H., Dieckmann, K. et al. Retinal toxicity after cisplatin-based chemotherapy in patients with germ cell cancer. J Cancer Res Clin Oncol 143, 1319–1325 (2017). https://doi.org/10.1007/s00432-017-2384-8
Received:

Accepted:

Published:

Issue Date:
Keywords
Germ cell cancer

Testicular cancer

Cisplatin

Chemotherapy

Retinal toxicity

Late effects