Abstract
Purpose
To identify risk factors for intestinal metaplasia in a southeastern Chinese population.
Methods
Subjects who underwent upper GI endoscopy and endoscopic biopsy in the First Affiliated Hospital of Nanjing Medical University from 2008 to 2013 were included into this study. Various demographic, geographic, clinical and pathological data were analyzed separately to identify risk factors for intestinal metaplasia.
Results
The incidence of intestinal metaplasia differed significantly in 17 municipal areas ranging from 16.79 to 38.56% and was positively correlated with the age range of 40–70 years, male gender, gastric ulcer, bile reflux, Helicobacter pylori infection, atrophic gastritis, dysplasia, gastric cancer, degree of chronic and acute inflammation, and gross domestic product per capita (P < 0.01). Multivariate linear regression analysis indicated that only gross domestic product per capita revealed a significant difference in the incidence of intestinal metaplasia among all factors mentioned.
Conclusion
This study confirms age, male gender, gastric ulcer, bile reflux, H. pylori infection, severe degree of chronic and acute inflammation to be the risk factors for intestinal metaplasia. We speculate that the gross domestic product per capita of different areas may be a potential independent risk factor impacting the incidence of intestinal metaplasia.
This is a preview of subscription content, log in to check access.
Access options
Buy single article
Instant access to the full article PDF.
US$ 39.95
Price includes VAT for USA
Subscribe to journal
Immediate online access to all issues from 2019. Subscription will auto renew annually.
US$ 199
This is the net price. Taxes to be calculated in checkout.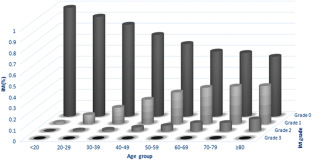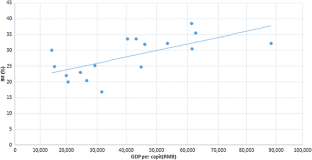 Abbreviations
IM:

Intestinal metaplasia

GC:

Gastric cancer

AG:

Atrophic gastritis

H. pylori :

Helicobacter pylori

EIS:

Endoscopy Information System

OR:

Odds ratio

GU:

Gastric ulcer

DU:

Duodenal ulcer

CI:

Chronic inflammation

AI:

Acute inflammation

L-number:

Number of lymphoid follicle

GDP:

Gross domestic product
References
Chacaltana Mendoza A, Soriano Alvarez C, Frisancho Velarde O (2012) Associated risk factors in patients with gastric intestinal metaplasia with mild gastroduodenal disease. Is it always related to Helicobacter pylori infection? Rev Gastroenterol Peru 32:50–57

Correa P, Haenszel W, Cuello C, Tannenbaum S, Archer M (1975) A model for gastric cancer epidemiology. Lancet 2:58–60

Czekaj R, Majka J, Ptak-Belowska A, Szlachcic A, Targosz A, Magierowska K, Strzalka M, Magierowski M, Brzozowski T (2016) Role of curcumin in protection of gastric mucosa against stress-induced gastric mucosal damage. Involvement of hypoacidity, vasoactive mediators and sensory neuropeptides. J Physiol Pharmacol 67:261–275

de Vries AC, van Grieken NC, Looman CW, Casparie MK, de Vries E, Meijer GA, Kuipers EJ (2008) Gastric cancer risk in patients with premalignant gastric lesions: a nationwide cohort study in the Netherlands. Gastroenterology 134:945–952. doi:10.1053/j.gastro.2008.01.071

den Hoed CM, van Eijck BC, Capelle LG, van Dekken H, Biermann K, Siersema PD, Kuipers EJ (2011) The prevalence of premalignant gastric lesions in asymptomatic patients: predicting the future incidence of gastric cancer. Eur J Cancer 47:1211–1218. doi:10.1016/j.ejca.2010.12.012

Dinis-Ribeiro M, Areia M, de Vries AC, Marcos-Pinto R, Monteiro-Soares M, O' Connor A, Pereira C, Pimentel-Nunes P, Correia R, Ensari A, Dumonceau JM, Machado JC, Macedo G, Malfertheiner P, Matysiak-Bdnik T, Megraud F, Miki K, O'Morain C, Peek RM, Ponchon T, Ristimaki A, Rembacken B, Carneiro F, Kuipers EJ, European Society of Gastrointestinal Endoscopy; European Helicobacter Study Group; European Society of Pathology; Sociedade Portuguesa de Endoscopia Digestiva (2012) Management of precancerous conditions and lesions in the stomach (MAPS): guideline from the European Society of Gastrointestinal Endoscopy (ESGE), European Helicobacter Study Group (EHSG), European Society of Pathology (ESP), and the Sociedade Portuguesa de Endoscopia Digestiva (SPED). Endoscopy 44:74–94. doi:10.1055/s-0031-1291491

Dixon MF, Genta RM, Yardley JH, Correa P (1996) Classification and grading of gastritis. The updated Sydney System. International Workshop on the Histopathology of Gastritis, Houston 1994. Am J Surg Pathol 20:1161–1181

Felley C, Bouzourene H, VanMelle MB, Hadengue A, Michetti P, Dorta G, Spahr L, Giostra E, Frossard JL (2012) Age, smoking and overweight contribute to the development of intestinal metaplasia of the cardia. World J Gastroenterol 18:2076–2083. doi:10.3748/wjg.v18.i17.2076

Ferlay J, Soerjomataram I, Dikshit R, Eser S, Mathers C, Rebelo M, Parkin DM, Forman D, Bray F (2015) Cancer incidence and mortality worldwide: sources, methods and major patterns in GLOBOCAN 2012. Int J Cancer 136(5):E359–E386. doi:10.1002/ijc.29210

Gomez JM, Wang AY (2014) Gastric intestinal metaplasia and early gastric cancer in the west: a changing paradigm. Gastroenterol Hepatol (NY). 10(6):369–378

Gonzalez CA, Pardo ML, Liso JM, Alonso P, Bonet C, Garcia RM, Sala N, Capella G, Sanz-Anquela JM (2010) Gastric cancer occurrence in preneoplastic lesions: a long-term follow-up in a high-risk area in Spain. Int J Cancer 127:2654–2660. doi:10.1002/ijc.25273

He J, Gu D, Wu X, Reynolds K, Duan X, Yao C, Wang J, Chen CS, Chen J, Wildman RP, Klag MJ, Whelton PK (2005) Major causes of death among men and women in China. N Engl J Med 353:1124–1134. doi:10.1056/NEJMsa050467

Hwang JJ, Lee DH, Lee AR, Yoon H, Shin CM, Park YS, Kim N (2015) Characteristics of gastric cancer in peptic ulcer patients with Helicobacter pylori infection. World J Gastroenterol 21:4954–4960. doi:10.3748/wjg.v21.i16.4954

Jemal A, Bray F, Center MM, Ferlay J, Ward E, Forman D (2011) Global cancer statistics. CA Cancer J Clin 61:69–90. doi:10.3322/caac.20107

Kuipers EJ (1997) Helicobacter pylori and the risk and management of associated diseases: gastritis, ulcer disease, atrophic gastritis and gastric cancer. Aliment Pharmacol Ther 11(Suppl 1):71–88

Leung WK, Kim JJ, Kim JG, Graham DY, Sepulveda AR (2000) Microsatellite instability in gastric intestinal metaplasia in patients with and without gastric cancer. Am J Pathol 156:537–543. doi:10.1016/S0002-9440(10)64758-X

Li XB, Lu H, Chen HM, Chen XY, Ge ZZ (2008) Role of bile reflux and Helicobacter pylori infection on inflammation of gastric remnant after distal gastrectomy. J Dig Dis 9:208–212. doi:10.1111/j.1751-2980.2008.00348.x

Liu Y, Ponsioen CI, Xiao SD, Tytgat GN, Ten Kate FJ (2005) Geographic pathology of Helicobacter pylori gastritis. Helicobacter 10:107–113. doi:10.1111/j.1523-5378.2005.00304.x

Liu H, Wu J, Lin XC, Wei N, Lin W, Chang H, Du XM (2014) Evaluating the diagnoses of gastric antral lesions using magnifying endoscopy with narrow-band imaging in a Chinese population. Dig Dis Sci 59:1513–1519. doi:10.1007/s10620-014-3027-4

Matsuhisa T, Tsukui T (2012) Relation between reflux of bile acids into the stomach and gastric mucosal atrophy, intestinal metaplasia in biopsy specimens. J Clin Biochem Nutr 50:217–221. doi:10.3164/jcbn.11-90

Milosavljevic T, Kostic-Milosavljevic M, Krstic M, Sokic-Milutinovic A (2014) Epidemiological trends in stomach-related diseases. Dig Dis 32:213–216. doi:10.1159/000357852

Park YH, Kim N (2015) Review of atrophic gastritis and intestinal metaplasia as a premalignant lesion of gastric cancer. J Cancer Prev 20:25–40. doi:10.15430/JCP.2015.20.1.25

Peleteiro B, Lunet N, Figueiredo C, Carneiro F, David L, Barros H (2007) Smoking, Helicobacter pylori virulence, and type of intestinal metaplasia in Portuguese males. Cancer Epidemiol Biomarkers Prev 16:322–326. doi:10.1158/1055-9965.EPI-06-0885

Sakitani K, Hirata Y, Watabe H, Yamada A, Sugimoto T, Yamaji Y, Yoshida H, Maeda S, Omata M, Koike K (2011) Gastric cancer risk according to the distribution of intestinal metaplasia and neutrophil infiltration. J Gastroenterol Hepatol 26:1570–1575. doi:10.1111/j.1440-1746.2011.06767.x

Schlemper RJ, Riddell RH, Kato Y, Borchard F, Coorper HS, Dawsey SM, Dixon MF, Fenoglio-Preiser CM, Flejou JF, Geboes K, Hattori T, Hirota T, Itabashi M, Iwafuchi M, Iwasshita A, Kim YI, Kirchner T, Klimpfinger M, Koike M, Lauwers GY, Lewin KJ, Oberhuber G, Offiner F, Price AB, Rubio CA, Shimizu M, Shimoda T, Sipponen P, Solcia E, Stolte M, Watanabe H, Yambe H (2000) The Vienna classification of gastrointestinal epithelial neoplasia. Gut 47:251–255

Sheng LM, You GC, Wei WL (2000) Epidemiologic analysis of gastric carcinoma incidence of Yangzhong City from 1991 to 1998. China Oncol 10(2). doi:10.3969/j.issn.1007-3639.2000.02.029.

Shichijo S, Hirata Y, Niikura R, Hayakawa Y, Yamada A, Ushiku T, Fukayama M, Koike K (2016) Histologic intestinal metaplasia and endoscopic atrophy are predictors of gastric cancer development after Helicobacter pylori eradication. Gastrointest Endosc 84:618–624

Sonnenberg A, Lash RH, Genta RM (2010) A national study of Helicobactor pylori infection in gastric biopsy specimens. Gastroenterology 139:1894–1901 e1892; quiz e1812. doi:10.1053/j.gastro.2010.08.018

Stolte M, Meining A (2001) The updated Sydney system: classification and grading of gastritis as the basis of diagnosis and treatment. Can J Gastroenterol 15:591–598

Wong BC, Wong WM, Wang WH (2001) An evaluation of invasive and non-invasive tests for the diagnosis of Helicobacter pylori infection in Chinese. Aliment Pharmacol Ther 15:505–511

Yabuki N, Sasano H, Tobita M, Imatani A, Hoshi T, Kato K, Ohara S, Asaki S, Toyota T, Nagura H (1997) Analysis of cell damage and proliferation in Helicobacter pylori-infected human gastric mucosa from patients with gastric adenocarcinoma. Am J Pathol 151(3):821–829

Ye Q, Huang MF, Shi XY, Xia B (2009) The clinical and endoscopic analysis of 4957 cases of peptic ulcer diseases. Chin J Clin Gastroenterol 21:275–277
Acknowledgements
This work was supported by the National Natural Science Foundation of China (No. 81101800), the 12th Six Talents Peak Project of Jiangsu Province (No. 2015-WSN-028), the Research Project of Education Science in the 12th Five Year Plan of Nanjing Medical University (No. NY2222015030) and the Research Project of Chinese Medical Association & Chinese High Education Association (No. 2016B-KC019).
Ethics declarations
Conflict of interest
The authors declare that they have no conflict of interest.
Ethical approval
All procedures performed in studies involving human participants were in accordance with the ethical standards of the institutional and national research committee and with the 1964 Helsinki declaration and its later amendments or comparable ethical standards.
Informed consent
Informed consent was obtained from all individual participants included in the study.
Additional information
Jian-Xia Jiang and Qing Liu have contributed equally to this work.
About this article
Cite this article
Jiang, J., Liu, Q., Zhao, B. et al. Risk factors for intestinal metaplasia in a southeastern Chinese population: an analysis of 28,745 cases. J Cancer Res Clin Oncol 143, 409–418 (2017). https://doi.org/10.1007/s00432-016-2299-9
Received:

Accepted:

Published:

Issue Date:
Keywords
Intestinal metaplasia

Risk factors

Helicobacter pylori infection

Inflammation

Gross domestic product per capita