Abstract
Purpose
Our previous miRNA profiling study indicated that microRNA-34c-3p (miR-34c-3p) was overexpressed and associated with survival in HCC. This study is aimed to confirm its clinical significance and explore the function and underlying mechanism of miR-34c-3p in HCC.
Methods
We first evaluated miR-34c-3p expression and its relationship with prognosis in HCC patients. We then established stable HCC cell lines with miR-34c-3p overexpression and knockdown by the lentiviral packaging systems and performed the functional assays in vitro and in vivo, respectively. We next identified the target of miR-34c-3p by using microRNA target databases and dual-luciferase assay. Finally, the correlation between the expression of miR-34c-3p and the target gene was analyzed by immunohistochemistry and qRT-PCR in HCC tissues and hepatoma xenografts.
Results
Overexpressed miR-34c-3p was confirmed in HCC tissues and significantly associated with poor survival of HCC patients. miR-34c-3p expression was also recognized as an independent risk factor for DFS and OS in multivariate analysis. Ectopic expression of miR-34c-3p significantly promotes the proliferation, colony formation, invasion and cell cycle regression of HCC cell lines. Knockdown of miR-34c-3p remarkably blocked hepatoma growth in the xenograft model. miRNA target databases and luciferase reporter assay showed that NCKAP1 was a direct target of miR-34c-3p in HCC cells and the high expression of NCKAP1 in HCC tissues is significantly correlated with low expression of miR-34c-3p and associated with a favorable prognosis of HCC patients.
Conclusion
The current study demonstrates that miR-34c-3p functions as a tumor promoter by targeting NCKAP1 that is associated with prognosis in HCC. miR-34c-3p and NCKAP1 may be new potential molecular targets for HCC therapy.
This is a preview of subscription content, log in to check access.
Access options
Buy single article
Instant access to the full article PDF.
US$ 39.95
Price includes VAT for USA
Subscribe to journal
Immediate online access to all issues from 2019. Subscription will auto renew annually.
US$ 199
This is the net price. Taxes to be calculated in checkout.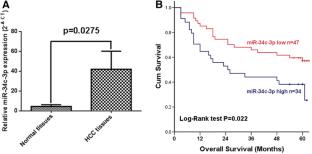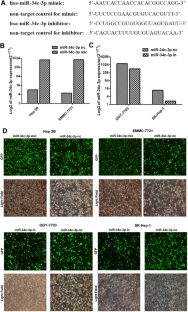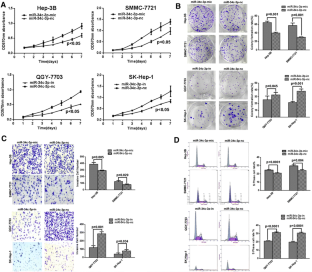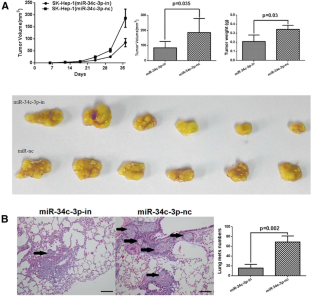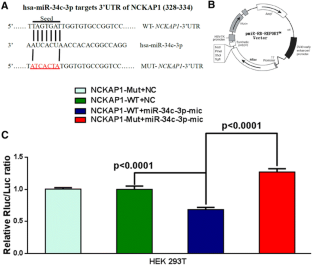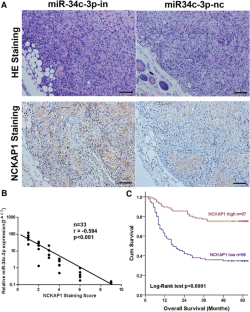 References
Chai S, Ma S (2013) Clinical implications of microRNAs in liver cancer stem cells. Chin J Cancer 32:419–426. doi:10.5732/cjc.013.10038

Chen C et al (2005) Real-time quantification of microRNAs by stem-loop RT-PCR. Nucleic Acids Res 33:e179. doi:10.1093/nar/gni178

Chen W, Zheng R, Zeng H, Zhang S (2015) The updated incidences and mortalities of major cancers in China, 2011. Chin J Cancer 34:53. doi:10.1186/s40880-015-0042-6

Giordano S, Columbano A (2013) MicroRNAs: new tools for diagnosis, prognosis, and therapy in hepatocellular carcinoma? Hepatology 57:840–847. doi:10.1002/hep.26095

He S, Zhang DC, Wei C (2015) MicroRNAs as biomarkers for hepatocellular carcinoma diagnosis and prognosis Clinics and research in hepatology and gastroenterology 39:426–434. doi:10.1016/j.clinre.2015.01.006

Huang T, Alvarez A, Hu B, Cheng SY (2013) Noncoding RNAs in cancer and cancer stem cells. Chin J Cancer 32:582–593. doi:10.5732/cjc.013.10170

Li R, Qian N, Tao K, You N, Wang X, Dou K (2010) MicroRNAs involved in neoplastic transformation of liver cancer stem cells. J Exp Clin Cancer Res 29:169. doi:10.1186/1756-9966-29-169

Lopez JA, Alvarez-Salas LM (2011) Differential effects of miR-34c-3p and miR-34c-5p on SiHa cells proliferation apoptosis, migration and invasion. Biochem Biophys Res Commun 409:513–519. doi:10.1016/j.bbrc.2011.05.036

Lu J et al (2005) MicroRNA expression profiles classify human cancers. Nature 435:834–838. doi:10.1038/nature03702

Luo Z et al (2012) An in silico analysis of dynamic changes in microRNA expression profiles in stepwise development of nasopharyngeal carcinoma. BMC Med Genomics 5:3. doi:10.1186/1755-8794-5-3

Melo SA, Kalluri R (2012) Molecular pathways: microRNAs as cancer therapeutics. Clin cancer Res 18:4234–4239. doi:10.1158/1078-0432.CCR-11-2010

Murakami Y, Yasuda T, Saigo K, Urashima T, Toyoda H, Okanoue T, Shimotohno K (2006) Comprehensive analysis of microRNA expression patterns in hepatocellular carcinoma and non-tumorous tissues. Oncogene 25:2537–2545. doi:10.1038/sj.onc.1209283

Sato F et al (2011) MicroRNA profile predicts recurrence after resection in patients with hepatocellular carcinoma within the Milan Criteria. PloS One 6:e16435. doi:10.1371/journal.pone.0016435

Song JH, Meltzer SJ (2012) MicroRNAs in pathogenesis, diagnosis, and treatment of gastroesophageal cancers. Gastroenterology 143(35–47):e32. doi:10.1053/j.gastro.2012.05.003

Song J, Wang Q, Luo Y, Yuan P, Tang C, Hui Y, Wang Z (2015) miR-34c-3p inhibits cell proliferation, migration and invasion of hepatocellular carcinoma by targeting MARCKS. Int J Clin Exp Pathol 8:12728–12737

Suzuki T et al (2000) Molecular cloning of a novel apoptosis-related gene, human Nap1 (NCKAP1), and its possible relation to Alzheimer disease. Genomics 63:246–254. doi:10.1006/geno.1999.6053

Toffanin S et al (2011) MicroRNA-based classification of hepatocellular carcinoma and oncogenic role of miR-517a. Gastroenterology 140(1618–1628):e1616. doi:10.1053/j.gastro.2011.02.009

Wei R et al (2013) Clinical significance and prognostic value of microRNA expression signatures in hepatocellular carcinoma. Clin Cancer Res 19:4780–4791. doi:10.1158/1078-0432.CCR-12-2728

Wu Z et al (2013) Differential effects of miR-34c-3p and miR-34c-5p on the proliferation, apoptosis and invasion of glioma cells. Oncol Lett 6:1447–1452. doi:10.3892/ol.2013.1579

Yamamoto A, Suzuki T, Sakaki Y (2001) Isolation of hNap1BP which interacts with human Nap1 (NCKAP1) whose expression is down-regulated in Alzheimer's disease. Gene 271:159–169

Yang H, Fang F, Chang R, Yang L (2013) MicroRNA-140-5p suppresses tumor growth and metastasis by targeting transforming growth factor beta receptor 1 and fibroblast growth factor 9 in hepatocellular carcinoma. Hepatology 58:205–217. doi:10.1002/hep.26315

Yang N, Ekanem NR, Sakyi CA, Ray SD (2015) Hepatocellular carcinoma and microRNA: new perspectives on therapeutics and diagnostics. Adv Drug Deliv Rev 81:62–74. doi:10.1016/j.addr.2014.10.029

Zhang YC, Xu Z, Zhang TF, Wang YL (2015) Circulating microRNAs as diagnostic and prognostic tools for hepatocellular carcinoma. World J Gastroenterol 21:9853–9862. doi:10.3748/wjg.v21.i34.9853
Funding
This study was funded by grants from the National Natural Science Foundation of China (No. 81172037), the Guangdong Science and Technology Project of China (No. 2013B021800159).
Ethics declarations
Conflict of interest
All authors declare no conflict of interest.
Ethical approval
All applicable international, national and institutional guidelines for the care and use of animals were followed. All procedures performed in studies involving human participants were in accordance with the ethical standards of the institutional and national research committee and with the 1964 Helsinki Declaration and its later amendments or comparable ethical standards.
Informed consent
Informed consent was obtained from all individual participants included in the study.
Additional information
Cheng-Zuo Xiao and Wei Wei have contributed equally to this work.
About this article
Cite this article
Xiao, C., Wei, W., Guo, Z. et al. MicroRNA-34c-3p promotes cell proliferation and invasion in hepatocellular carcinoma by regulation of NCKAP1 expression. J Cancer Res Clin Oncol 143, 263–273 (2017). https://doi.org/10.1007/s00432-016-2280-7
Received:

Accepted:

Published:

Issue Date:
Keywords
Hepatocellular carcinoma

MicroRNA-34c-3p

NCKAP1

Cell proliferation

Survival