Abstract
Purpose
Whereas the different somatostatin receptor (SSTR) subtypes and the chemokine receptor CXCR4 are known to be expressed in a wide variety of human malignancies, comprehensive data are still lacking for MALT-type lymphomas.
Methods
Overall, 55 cases of MALT-type lymphoma of both gastric and extragastric origin were evaluated for the SSTR subtype and CXCR4 expression by means of immunohistochemistry using novel monoclonal rabbit antibodies. The stainings were rated by means of the immunoreactive score and correlated with clinical data.
Results
While the CXCR4 was detected in 92 % of the cases investigated, the SSTR subtypes were much less frequently present. The SSTR5 was expressed in about 50 % of the cases, followed by the SSTR3, the SSTR2A, the SSTR4 and the SSTR1, which were present in 35, 27, 18 or 2 %, respectively, of the tumors only. Gastric lymphomas displayed a significantly higher SSTR3, SSTR4 and SSTR5 expression than extragastric tumors. A correlation between CXCR4 and Ki-67 expression was seen in gastric lymphomas, whereas primarily in extragastric tumors SSTR5 negativity was associated with poor patient outcome.
Conclusions
The CXCR4 may serve as a promising target for diagnostics and therapy of MALT-type lymphomas, while the SSTRs appear not suitable in this respect.
This is a preview of subscription content, log in to check access.
Access options
Buy single article
Instant access to the full article PDF.
US$ 39.95
Price includes VAT for USA
Subscribe to journal
Immediate online access to all issues from 2019. Subscription will auto renew annually.
US$ 199
This is the net price. Taxes to be calculated in checkout.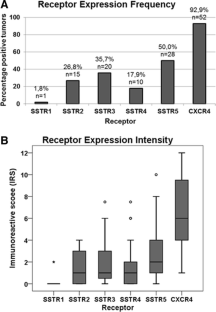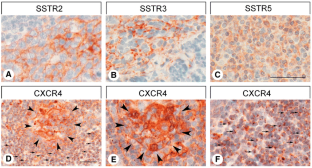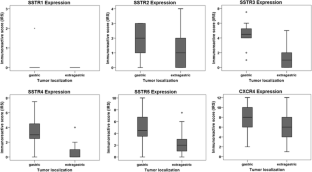 Abbreviations
SSTR:

Somatostatin receptor
References
Balkwill F (2004) The significance of cancer cell expression of the chemokine receptor CXCR4. Semin Cancer Biol 14:171–179

Beider K, Ribakovski E, Abraham M, Wald H, Weiss L, Rosenberg E, Galun E, Avigdor A, Eizenberg O, Peled A, Nagler A (2013) Targeting the CD20 and CXCR4 pathways in non-Hodgkin lymphoma with rituximab and high-affinity CXCR4 antagonist BKT140. Clin Cancer Res 19:3495–3507

Brunn A, Montesinos-Rongen M, Strack A, Reifenberger G, Mawrin C, Schaller C, Deckert M (2007) Expression pattern and cellular sources of chemokines in primary central nervous system lymphoma. Acta Neuropathol 114:271–276

Chen J, Xu-Monette ZY, Deng L, Shen Q, Manyam GC, Martinez-Lopez A, Zhang L, Montes-Moreno S, Visco C, Tzankov A, Yin L, Dybkaer K, Chiu A, Orazi A, Zu Y, Bhagat G, Richards KL, His ED, Choi WW, van Krieken JH, Huh J, Ponzoni M, Ferreri AJ, Zhao X, Moller MB, Farnen JP, Winter JN, Piris MA, Pham L, Young KH (2015) Dysregulated CXCR4 expression promotes lymphoma cell survival and independently predicts disease progression in germinal-center B-cell like diffuse large B-cell lymphoma. Oncotarget 6:5597–5614

Cohen SM, Petryk M, Varma M, Kozuch PS, Ames ED, Grossbard ML (2006) Non-Hodgkin's lymphoma of mucosa-associated lymphoid tissue. Oncologist 11:1100–1117

Corleto VD, Falconi M, Panzuto F, Milione M, De Luca O, Perri P, Cannizzaro R, Bordi C, Pederzoli P, Scarpa A, Delle Fave G (2009) Somatostatin receptor subtypes 2 and 5 are associated with better survival in well-differentiated endocrine carcinomas. Neuroendocrinol 89:223–230

Dalm VASH, Hofland LJ, Mooy CM, Waaijers MA, van Koetsveld PM, Langerak AW, Staal FTJ, van der Lely A-J, Lamberts SWJ, van Hagen MP (2004) Somatostatin receptors in malignant lymphomas: targets for radiotherapy? J Nucl Med 45:8–16

Deinbeck K, Geinitz H, Haller B, Fakhrian K (2013) Radiotherapy in marginal zone lymphoma. Radiat Oncol 8:2

Deutsch AJA, Aigelsreiter A, Steinbauer E, Frühwirth M, Kerl H, Beham-Schmid C, Schaider H, Neumeister P (2008) Distinct signatures of B-cell homeostatic and activation-dependent chemokine receptors in the development and progression of extragastric MALT lymphomas. J Pathol 215:431–444

Deutsch AJA, Steinbauer E, Hofmann NA, Strunk D, Gerlza T, Beham-Schmid C, Schaider H, Neumeister P (2013) Chemokine receptors in gastric MALT lymphoma: loss of CXCR4 and upregulation of CXCR7 is associated with progression to diffuse large B-cell lymphoma. Modern Pathol 26:182–194

Durig J, Schmucker U, Duhrsen U (2001) Differential expression of chemokine receptors in B cell malignancies. Leukemia 15:752–756

Ferone D, Semino C, Boschetti M, Cascini GL, Minuto F, Lastoria S (2005) Initial staging of lymphoma with octreotide and other imaging agents. Semin Nucl Med 35:176–185

Fischbach W (2014) Gastric MALT lymphoma—update on diagnosis and treatment. Best Pract Res Clin Gastroentreol 28:1069–1077

Fischer T, Doll C, Jacobs S, Kolodziej A, Stumm R, Schulz S (2008a) Reassessment of sst2 somatostatin receptor expression in human normal and neoplastic tissues using the novel rabbit monoclonal antibody UMB-1. J Clin Endocrinol Metab 93:4519–4524

Fischer T, Nagel F, Jacobs S, Stumm R, Schulz S (2008b) Reassessment of CXCR4 chemokine receptor expression in human normal and neoplastic tissues using the novel rabbit monoclonal antibody UMB-2. PLoS ONE 3:e4069

Furusato B, Mohamed A, Uhlén M, Rhim JS (2010) CXCR4 and cancer. Pathol Int 60:497–505

Gourni E, Demmer O, Schottelius M, D'Alessandria C, Schulz S, Dijkgraaf I, Schumacher U, Schwaiger M, Kessler H, Wester HJ (2011) PET of CXCR4 expression by a (68)Ga-labeled highly specific targeted contrast agent. J Nucl Med 52:1803–1810

Li S, Kurtaran A, Li M, Traub-Weidinger T, Kienast O, Schima W, Angelberger P, Virgolini I, Raderer M, Dudczak R (2003) 111In-DOTA-DPhe1-Tyr3-octreotide, 111In-DOTA-lanreotide and 67Ga citrate scintigraphy for visualisation of extranodal marginal zone B-cell lymphoma of the MALT type: a comparative study. Eur J Nucl Med Mol Imaging 30:1087–1095

Liu Y, Jiang L, Mu Y (2013) Somatostatin receptor subtypes 2 and 5 are associated with better survival in operable hepatitis B-related hepatocellular carcinoma following octreotide long-acting release treatment. Oncol Lett 6:821–828

Lopez-Giral S, Quintana NE, Cabrerizo M, Alfonso-Perez M, Sala-Valdes M, de Soria VG, Fernandez-Ranada JM, Fernandez-Ruiz E, Munoz C (2004) Chemokine receptors that mediate B cell homing to secondary lymphoid tissues are highly expressed in B cell chronic lymphocytic leukemia and non-Hodgkin lymphomas with widespread nodular dissemination. J Leukoc Biol 76:462–471

Lugtenburg PJ, Löwenberg B, Valkema R, Oei HY, Lamberts SW, Eijkemans MJ, van Putten WL, Krenning EP (2001) Somatostatin receptor scintigraphy in the initial staging of low-grade non-Hodgkin's lymphomas. J Nucl Med 42:222–229

Lupp A, Danz M, Müller D (2001) Morphology and cytochrome P450 isoforms expression in precision-cut rat liver slices. Toxicology 161:53–66

Lupp A, Hunder A, Petrich A, Nagel F, Doll C, Schulz S (2011) Reassessment of sst5 somatostatin receptor expression in normal and neoplastic human tissues using the novel rabbit monoclonal antibody UMB-4. Neuroendocrinol 94:255–264

Lupp A, Nagel F, Doll C, Röcken C, Evert M, Mawrin C, Saeger W, Schulz S (2012) Reassessment of sst3 somatostatin receptor expression in normal and neoplastic human tissues using the novel rabbit monoclonal antibody UMB-4. Neuroendocrinol 96:301–310

Lupp A, Nagel F, Schulz S (2013) Reevaluation of sst1 somatostatin receptor expression in human normal and neoplastic tissues using the novel rabbit monoclonal antibody UMB-7. Regul Pept 183:1–6

Mazur G, Butrym A, Kryczek I, Dlubek D, Jaskula E, Lange A, Kuliczkowski K, Jelen M (2014) Decreased expression of CXCR4 chemokine receptor in bone marrow after chemotherapy in patients with non-Hodgkin lymphomas is a good prognostic factor. PLoS ONE 9:e98194

Moreno MJ, Bosch R, Dieguez-Gonzalez R, Novelli S, Mozos A, Gallardo A, Pavon MA, Cespedes MV, Granena A, Alcoceba M, Blanco O, Gonzalez-Diaz M, Sierra J, Mangues R, Casanova I (2015) CXCR4 expression enhances diffuse large B cell lymphoma dissemination and decreases patient survival. J Pathol 235:445–455

Morgensztern D, Rosado MF, Serafini AN, Lossos IS (2004) Somatostatin receptor scintigraphy in MALT lymphoma of the lacrimal gland treated with rituximab. Leuk Lymphoma 45:1275–1278

Nakamura S, Matsumoto T (2015) Treatment strategy of gastric mucosa-associated lymphoid tissue lymphoma. Gastroenterol Clin North Am 44:649–660

Nam TK, Ahn JS, Choi YD, Jeong JU, Kim YH, Yoon MS, Song JY, Ahn SJ, Chung WK (2014) The role of radiotherapy in the treatment of gastric mucosa-associated lymphoid tissue lymphoma. Cancer Res Treat 46:33–40

Novak U, Basso K, Pasqualucci L, Dalla-Favera R, Bhagat G (2011) Genomic analysis of non-splenic marginal zone lymphomas (MZL) indicates similarities between nodal and extranodal MZL and supports their derivation from memory B-cells. Br J Haematol 155:362–365

Oishi S, Fujii N (2012) Peptide and peptidomimetic ligands for CXC chemokine receptor 4 (CXCR4). Org Biomol Chem 10:5720–5731

Olszewski AJ, Castillo JJ (2013) Survival of patients with marginal zone lymphoma: analysis of the surveillance, epidemiology, and end results database. Cancer 119:629–638

Raderer M, Valencak J, Pfeffel F, Drach J, Pangerl T, Kurtaran A, Hejna M, Vorbeck F, Chott A, Virgolini I (1999) Somatostatin receptor expression in primary gastric versus nongastric extranodal B-cell lymphoma of mucosa-associated lymphoid tissue type. J Natl Cancer Inst 91:716–718

Raderer M, Traub T, Formanek M, Virgolini I, Österreicher C, Fiebiger W, Penz M, Jäger U, Pont J, Chott A, Kurtaran A (2001) Somatostatin-receptor scintigraphy for staging and follow-up of patients with extraintestinal marginal zone B-cell lymphoma of the mucosa associated lymphoid tissue (MALT)-type. Br J Cancer 85:1462–1466

Raderer M, Streubel B, Woehrer S, Puespoek A, Jaeger U, Formanek M, Chott A (2005) High relapse rate in patients with MALT lymphoma warrants lifelong follow-up. Clin Cancer Res 11:3349–3352

Raderer M, Wöhrer S, Streubel B, Troch M, Turetschek K, Jäger U, Skrabs C, Gaiger A, Drach J, Puespoek A, Formanek M, Hoffmann M, Hauff W, Chott A (2006) Assessment of disease dissemination in gastric compared with extragastric mucosa-associated lymphoid tissue lymphoma using extensive staging: a single-center experience. J Clin Oncol 24:3136–3141

Raderer M, Kiesewetter B, Ferreri AJ (2016) Clinicopathologic characteristics and treatment of marginal zone lymphoma of mucosa associated lymphoid tissue (MALT lymphoma). CA Cancer J Clin 66:152–171

Remmele W, Stegner HE (1987) Recommendation for uniform definition of an immunoreactive score (IRS) for immunohistochemical estrogen receptor detection (ER-ICA) in breast cancer tissue. Pathologe 8:138–140

Reubi JC, Waser B, van Hagen MS, Lamberts WJ, Krenning EP, Gebbers J-O, Laissue AJ (1992) In vitro and in vivo detection of somatostatin receptors in human malignant lymphomas. Int J Cancer 50:895–900

Shin HC, Seo J, Kang BW, Moon JH, Chae YS, Lee SJ, Lee YJ, Han S, Seo SK, Kim JG, Sohn SK, Park T-I (2014) Clinical significance of nuclear factor κB and chemokine receptor CXCR4 expression in patients with diffuse large B-cell lymphoma who received rituximab-based therapy. Korean J Intern Med 29:785–792

Song KB, Kim SC, Kim JH, Seo D-W, Hong S-M, Park K-M, Hwang DW, Lee JH, Lee Y-J (2016) Prognostic value of somatostatin receptor subtypes in pancreatic neuroendocrine tumors. Pancreas 45:187–192

Teicher BA, Fricker SP (2010) CXCL12 (SDF-1)/CXCR4 pathway in cancer. Clin Cancer Res 16:2927–2931

Ueda K, Terui Y, Yokoyama M, Sakajiri S, Nishimura N, Tsuyama N, Takeuchi K, Hatake K (2013) Non-gastric advanced mucosa-associated lymphoid tissue (MALT) lymphoma has worse prognosis than gastric MALT lymphoma even when treated with rituximab-containing chemotherapy. Leukemia & Lymphoma 54:1928–1933

Wester HJ, Keller U, Schottelius M, Beer A, Philipp-Abbrederis K, Hoffmann F, Simecek J, Gerngross C, Lassmann M, Herrmann K, Pellegata N, Rudelius M, Kessler H, Schwaiger M (2015) Disclosing the CXCR4 expression in lymphoproliferative diseases by targeted molecular imaging. Theranostics 5:618–630

Wöhrer S, Kiesewetter B, Fischbach J, Müllauer L, Troch M, Lukas J, Mayerhofer ME, Raderer M (2014) Retrospective comparison of the effectiveness of various treatment modalities of extragastric MALT lymphoma: a songle-center analysis. Ann Hematol 93:1287–1295

Zucca E, Copie-Bergmann C, Ricardi U, Thieblemont C, Raderer M, Ladetto M, on behalf of the ESMO Guidelines Working Group (2013) Gastric marginal zone lymphoma of the MALT type: ESMO Clinical Practice Guidelines for diagnosis, treatment and follow-up. Ann Oncol 24(Suppl 6):vi144–vi148

Zullo A, Hassan C, Repici A, Manta R, Andriani A (2014) Gastric MALT lymphoma: old and new insights. Ann Gastroenterol 27:1–7
Author's contributions
Daniel Kaemmerer and Amelie Lupp conceived and designed the experiments; Ingrid Simonitsch-Klupp, Barbara Kiesewetter and Markus Raderer provided the tumor samples; Stefan Schulz provided the antibodies; Susann Stollberg and Amelie Lupp performed the experiments; Susann Stollberg, Elisa Neubauer and Amelie Lupp analyzed the data; Amelie Lupp wrote the paper; each of the authors has approved the manuscript and acknowledges that he or she participated sufficiently in the work to take public responsibility for its content.
Funding
The Theranostic Research Center, Zentralklinik Bad Berka, 99437 Bad Berka, Germany, provided funding for this research.
Ethics declarations
Conflict of interest
Daniel Kaemmerer received funding and support for travelling to meetings by the companies Ipsen and Pfizer. All other authors declare that there is no conflict of interest that could be perceived as prejudicing the impartiality of the research reported.
Ethical approval
All procedures performed in this study involving human participants were in accordance with the ethical standards of the institutional and/or national research committee and with the 1964 Declaration of Helsinki and its later amendments or comparable ethical standards. Permission was gained from the local ethics committees both in Jena/Bad Berka and in Vienna for this retrospective analysis. Informed consent for the use of tissue samples for scientific purposes was obtained from all individual participants included in the study when entering the University Hospital of Vienna.
Additional information
Susann Stollberg and Daniel Kämmerer have contributed equally to the first authorship.
Markus Raderer and Amelie Lupp have contributed equally to the last authorship.
An erratum to this article is available at http://dx.doi.org/10.1007/s00432-016-2312-3.
About this article
Cite this article
Stollberg, S., Kämmerer, D., Neubauer, E. et al. Differential somatostatin and CXCR4 chemokine receptor expression in MALT-type lymphoma of gastric and extragastric origin. J Cancer Res Clin Oncol 142, 2239–2247 (2016). https://doi.org/10.1007/s00432-016-2220-6
Received:

Accepted:

Published:

Issue Date:
Keywords
MALT lymphoma

Somatostatin receptors

Chemokine receptor

CXCR4

Immunohistochemistry