Abstract
Introduction
Apoptotic signaling is one of the most important processes in the measurement of chemotherapeutic effectiveness. In apoptotic machinery, various pathways and proteins are involved (i.e., mismatch repair proteins, p53). One of the regulatory proteins is ARC, which can inhibit not only the extrinsic but also the intrinsic apoptotic signaling.
Materials and Methods
In this study, we investigated the expression levels of ARC in colorectal liver metastasis and compared them with the expression of mismatch repair proteins and p53. Furthermore, we investigated ARC expression level depending on sex, age, tumor grade, mucin production, tumor size and number of liver metastasis.
Results
ARC expression level in colorectal cancer liver metastasis was independent from clinical data (i.e., age, gender, tumor size, tumor number or mucin production) but strongly correlated with MSH2 and MSH6 expression, which further supported the evidence for the regulatory role of MSH2 and MSH6 in apoptosis; i.e., in case of sufficient MSH2 and MSH6 expression, significantly higher ARC level is required to suppress the apoptosis. A regulatory interaction between ARC and p53 has been described, but we found no correlation between p53 expression levels and ARC levels.
Conclusion
Further studies are needed to define the exact role of ARC in apoptotic signaling and thus its role in chemoresistance and survival of tumor cells.
This is a preview of subscription content, log in to check access.
Access options
Buy single article
Instant access to the full article PDF.
US$ 39.95
Price includes VAT for USA
Subscribe to journal
Immediate online access to all issues from 2019. Subscription will auto renew annually.
US$ 199
This is the net price. Taxes to be calculated in checkout.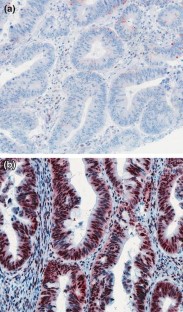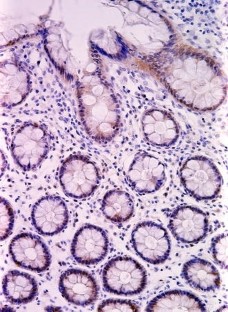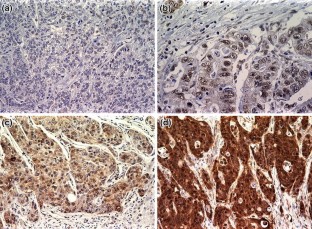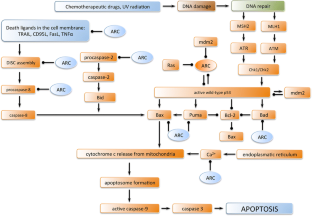 References
Binefa G et al (2014) Colorectal cancer: from prevention to personalized medicine. World J Gastroenterol 20(22):6786–6808

Chipuk JE et al (2005) PUMA couples the nuclear and cytoplasmic proapoptotic function of p53. Science 309(5741):1732–1735

Foo RS et al (2007a) Regulation of p53 tetramerization and nuclear export by ARC. Proc Natl Acad Sci USA 104(52):20826–20831

Foo RS et al (2007b) Ubiquitination and degradation of the anti-apoptotic protein ARC by MDM2. J Biol Chem 282(8):5529–5535

Green DR, Kroemer G (2009) Cytoplasmic functions of the tumour suppressor p53. Nature 458(7242):1127–1130

Hassen S, Ali N, Chowdhury P (2012) Molecular signaling mechanisms of apoptosis in hereditary non-polyposis colorectal cancer. World J Gastrointest Pathophysiol 3(3):71–79

Koehler BC et al (2014) Pan-Bcl-2 inhibitor obatoclax delays cell cycle progression and blocks migration of colorectal cancer cells. PLoS One 9(9):e106571

Koseki T et al (1998) ARC, an inhibitor of apoptosis expressed in skeletal muscle and heart that interacts selectively with caspases. Proc Natl Acad Sci USA 95(9):5156–5160

Kung G et al (2014) A novel role for the apoptosis inhibitor ARC in suppressing TNFalpha-induced regulated necrosis. Cell Death Differ 21(4):634–644

Li J et al (2005) Loss of caveolin-1 causes the hyper-proliferation of intestinal crypt stem cells, with increased sensitivity to whole body gamma-radiation. Cell Cycle 4(12):1817–1825

Li YZ et al (2008) p53 initiates apoptosis by transcriptionally targeting the antiapoptotic protein ARC. Mol Cell Biol 28(2):564–574

Ludwig-Galezowska AH, Flanagan L, Rehm M (2011) Apoptosis repressor with caspase recruitment domain, a multifunctional modulator of cell death. J Cell Mol Med 15(5):1044–1053

Martin LP, Hamilton TC, Schilder RJ (2008) Platinum resistance: the role of DNA repair pathways. Clin Cancer Res 14(5):1291–1295

Mercier I et al (2005) ARC, an apoptosis suppressor limited to terminally differentiated cells, is induced in human breast cancer and confers chemo- and radiation-resistance. Cell Death Differ 12(6):682–686

Mercier I et al (2008) ARC (apoptosis repressor with caspase recruitment domain) is a novel marker of human colon cancer. Cell Cycle 7(11):1640–1647

Nam YJ et al (2004) Inhibition of both the extrinsic and intrinsic death pathways through nonhomotypic death-fold interactions. Mol Cell 15(6):901–912

Neuss M et al (2001) The apoptotic regulatory protein ARC (apoptosis repressor with caspase recruitment domain) prevents oxidant stress-mediated cell death by preserving mitochondrial function. J Biol Chem 276(36):33915–33922

Sarela AI et al (2000) Expression of the antiapoptosis gene, survivin, predicts death from recurrent colorectal carcinoma. Gut 46(5):645–650

Siegel R, Desantis C, Jemal A (2014) Colorectal cancer statistics, 2014. CA Cancer J Clin 64(2):104–117

Umar A et al (2004) Revised Bethesda Guidelines for hereditary nonpolyposis colorectal cancer (Lynch syndrome) and microsatellite instability. J Natl Cancer Inst 96(4):261–268

Valentini AM et al (1999) Programmed cell death in colorectal carcinogenesis. Anticancer Res 19(4B):3019–3024

Vaseva AV, Moll UM (2009) The mitochondrial p53 pathway. Biochim Biophys Acta 1787(5):414–420

Wang M et al (2005) Apoptosis repressor with caspase recruitment domain (ARC) is expressed in cancer cells and localizes to nuclei. FEBS Lett 579(11):2411–2415

Wilson JW et al (2000) Bcl-w expression in colorectal adenocarcinoma. Br J Cancer 82(1):178–185

Wu L et al (2010) Induction of the apoptosis inhibitor ARC by Ras in human cancers. J Biol Chem 285(25):19235–19245

Zhang H et al (1999) Apoptosis induced by overexpression of hMSH2 or hMLH1. Cancer Res 59(13):3021–3027
Ethics declarations
Conflict of interest
The authors have no conflict of interest.
About this article
Cite this article
Tóth, C., Meinrath, J., Herpel, E. et al. Expression of the apoptosis repressor with caspase recruitment domain (ARC) in liver metastasis of colorectal cancer and its correlation with DNA mismatch repair proteins and p53. J Cancer Res Clin Oncol 142, 927–935 (2016). https://doi.org/10.1007/s00432-015-2102-3
Received:

Accepted:

Published:

Issue Date:
Keywords
ARC

Apoptosis

Liver metastasis

Colorectal cancer

MMR proteins

p53