Abstract
Background
Colorectal cancer (CRC) is one of the most common cancers in the world. MicroRNAs play important roles in the progression of CRC. This study aimed to investigate the role of miR-206 and its novel mechanism in the invasion and metastasis of CRC.
Methodology
Real-time RT-PCR or Western blotting was used to detect the expressions of miR-206, FMNL2 and c-MET in CRC cell lines and tissues. Luciferase reporter assays were conducted to detect the associations between miR-206 and 3′UTRs of FMNL2 and c-MET. A series of loss-of-function and gain-of-function assays were performed to evaluate the effect of miR-206 on the proliferation, invasion and metastasis of CRC cells.
Results
miR-206 was significantly down-regulated in CRC tissues and correlated closely with differentiation, lymphatic metastasis and serosal invasion. miR-206 suppressed CRC cell proliferation by arresting CRC cells in the G1/G0 phase and accelerating apoptosis. miR-206 also inhibited cell invasion and lung metastasis in CRC cells. Mechanically, FMNL2 and c-MET were identified as direct targets of miR-206. And FMNL2 rescued the suppression of miR-206 in the proliferation and invasion of CRC cells.
Conclusions
This study revealed functional and mechanistic links between miR-206 and oncogene FMNL2 and c-MET in the progression of CRC. miR-206 functioned as a tumor suppressor in the progression of CRC by targeting FMNL2 and c-MET. Restoration of miR-206 expression may represent a promising therapeutic approach for targeting malignant CRC.
This is a preview of subscription content, log in to check access.
Access options
Buy single article
Instant access to the full article PDF.
US$ 39.95
Price includes VAT for USA
Subscribe to journal
Immediate online access to all issues from 2019. Subscription will auto renew annually.
US$ 199
This is the net price. Taxes to be calculated in checkout.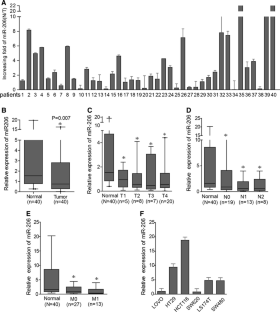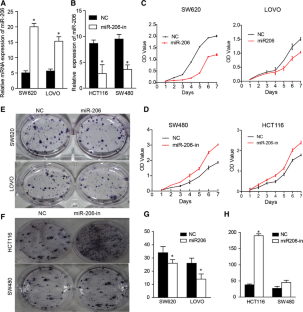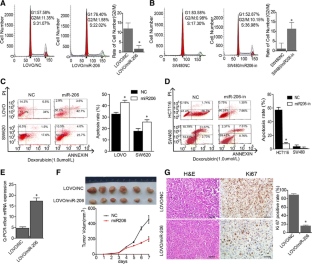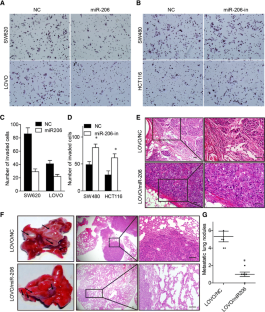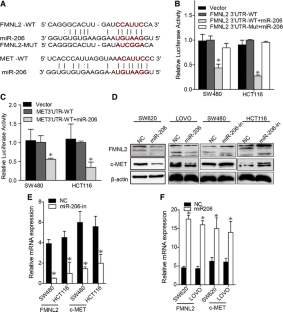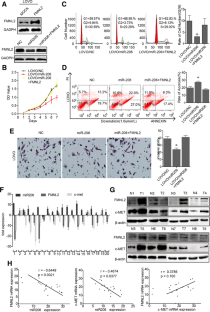 References
Alteri A, De Vito F, Messina G et al (2013) Cyclin D1 is a major target of miR-206 in cell differentiation and transformation. Cell Cycle 12(24):3781–3790

Aslam MI, Taylor K, Pringle JH, Jameson JS (2009) MicroRNAs are novel biomarkers of colorectal cancer. Br J Surg 96:702–710

Bartel DP (2009) MicroRNAs: target recognition and regulatory functions. Cell 136:215–233

Block J, Breitsprecher D, Kühn S et al (2012) FMNL2 drives actin-based protrusion and migration downstream of Cdc42. Curr Biol 22(11):1005–1012

Bonfrate L, Altomare DF, Di Lena M et al (2013) MicroRNA in colorectal cancer: new perspectives for diagnosis, prognosis and treatment. J Gastrointestin Liver Dis 22:311–320

Chen X, Yan Q, Li S, Zhou L, Yang H et al (2012) Expression of the tumor suppressor miR-206 is associated with cellular proliferative inhibition and impairs invasion in ERalpha-positive endometrioid adenocarcinoma. Cancer Lett 314(1):41–53

Cummins JM, He Y, Leary RJ, Pagliarini R, Diaz LA Jr, Sjoblom T et al (2006) The colorectal microRNAome. Proc Natl Acad Sci USA 103:3687–3692

Gagan J, Dey BK, Layer R, Yan Z, Dutta A (2012) Notch3 and Mef2c proteins are mutually antagonistic via Mkp1 protein and miR-1/206 MicroRNAs in differentiating myoblasts. J Biol Chem 287(48):40360–40370

Geisler A, Schön C, Größl T et al (2013) Application of mutated miR-206 target sites enables skeletal muscle-specific silencing of transgene expression of cardiotropic AAV9 vectors. Mol Ther 21(5):924–933

Haas JD, Nistala K, Petermann F et al (2011) Expression of miRNAs miR-133b and miR-206 in the Il17a/f locus is co-regulated with IL-17 production in αβ and γσ T cells. PLoS One 6(5):e20171

Harris TJ, McCormick F (2010) The molecular pathology of cancer. Nat Rev Clin Oncol 7:251–265

He L, Hannon GJ (2004) MicroRNAs: small RNAs with a big role in gene regulation. Nat Rev Genet 5:522–531

Hrasovec S, Glavac D (2012) MicroRNAs as novel biomarkers in colorectal cancer. Front Genet 3:180

Huang XZ, Sun Q, Ding YQ et al (2003) Mining microarray gene expression data of metastatic colorectal cancer by literature profiling. Di Yi Jun Yi Da Xue Xue Bao 23:1195–1197

Kitzing TM, Wang Y, Pertz O et al (2010) Formin-like 2 drives amoeboid invasive cell motility downstream of RhoC. Oncogene 29:2441–2448

Kloosterman WP, Plasterk RH (2006) The diverse functions of micro-RNAs in animal development and disease. Dev Cell 11:441–450

Kondo N, Toyama T, Sugiura H, Fujii Y, Yamashita H (2008) miR-206 expression is down-regulated in estrogen receptor alpha-positive human breast cancer. Cancer Res 68(13):5004–5008

Li Y, Zhu X, Zeng Y et al (2010) FMNL2 enhances invasion of colorectal carcinoma by inducing epithelial-mesenchymal transition. Mol Cancer Res 8:1579–1590

Liang L, Li X, Zhang X, Lv Z, He G et al (2013) MicroRNA-137, an HMGA1 target, suppresses colorectal cancer cell invasion and metastasis in mice by directly targeting FMNL2. Gastroenterology 144:624–635

Liao WT, Li TT, Wang ZG, Wang SY, He MR et al (2013) microRNA-224 Promotes cell proliferation and tumor growth in human colorectal cancer by repressing PHLPP1 and PHLPP2. Clin Cancer Res 19:4662–4672

Liao WT, Ye YP, Zhang NJ, Li TT, Wang SY et al (2014) MicroRNA-30b functions as a tumour suppressor in human colorectal cancer by targeting KRAS, PIK3CD and BCL2. J Pathol 232(4):415–427

Lin F, Yao L, Xiao J et al (2014) MiR-206 functions as a tumor suppressor and directly targets K-Ras in human oral squamous cell carcinoma. Onco Targets Ther 7:1583–1591

Liu H, Cao YD, Ye WX, Sun YY (2010) Effect of microRNA-206 on cytoskeleton remodelling by down-regulating Cdc42 in MDA-MB-231 cells. Tumori 96:751–755

Liu W, Xu C, Wan H, Liu C et al (2014) MicroRNA-206 overexpression promotes apoptosis, induces cell cycle arrest and inhibits the migration of human hepatocellular carcinoma HepG2 cells. Int J Mol Med 34(2):420–428

MacQuarrie KL, Yao Z et al (2012) miR-206 integrates multiple components of differentiation pathways to control the transition from growth to differentiation in rhabdomyosarcoma cells. Skelet Muscle 2:7

Migliore L, Migheli F, Spisni R et al (2011) Genetics, cytogenetics, and epigenetics of colorectal cancer. J Biomed Biotechnol 2011:792362

Missiaglia E, Shepherd CJ, Patel S, Thway K (2010) MicroRNA-206 expression levels correlate with clinical behaviour of rhabdomyosarcomas. Br J Cancer 102(12):1769–1777

Pan Q, Luo X, Chegini N (2008) Differential expression of microRNAs in myometrium and leiomyomas and regulation by ovarian steroids. J Cell Mol Med 12(1):227–240

Ren XL, Zhu XH, Li XM et al (2014) Down-regulation of BTG3 promotes cell proliferation, migration and invasion and predicts survival in gastric cancer. J Cancer Res Clin Oncol 141(3):397–405

Siegel R, Naishadham D, Jemal A (2013) Cancer statistics, 2013. CA Cancer J Clin 63:11–30

Singh A, Happel C, Soumen K et al (2013) Transcription factor NRF2 regulates miR-1 and miR-206 to drive tumorigenesis. J Clin Invest 123(7):2921–2934

Song GS, Zhang YX, Wang L (2009) MicroRNA-206 targets notch3, activates apoptosis, and inhibits tumor cell migration and focus formation. J Biol Chem 284(46):31921–31927

Taulli R, Scuoppo C, Bersani F et al (2006) Validation of met as a therapeutic target in alveolar and embryonal rhabdomyosarcoma. Cancer Res 66(9):4742–4749

Wang XW, Xi XQ, Wu J et al (2015) MicroRNA-206 attenuates tumor proliferation and migration involving the downregulation of NOTCH3 in colorectal cancer. Oncol Rep 33(3):1402–1410

Weitz J, Koch M, Debus J, Hohler T, Galle PR, Buchler MW (2005) Colorectal cancer. Lancet 365:153–165

Yan D, Dong XDE, Chen X et al (2009) MicroRNA-1/206 targets c-Met and inhibits rhabdomyosarcoma development. J Biol Chem 284(43):29596–29604

Yang Q, Zhang C, Huang B, Li H, Zhang R, Huang Y, Wang J (2013) Downregulation of microRNA-206 is a potent prognostic marker for patients with gastric cancer. Eur J Gastroenterol Hepatol 25(8):953–957

Zhang X, Xu J, Wang J et al (2013) Reduction of MicroRNA-206 contributes to the development of bronchopulmonary dysplasia through up-regulation of fibronectin 1. PLoS One 8(9):e74750

Zhu XL, Liang L, Ding YQ (2008) Expression of FMNL2 and its relation to the metastatic potential of human colorectal cancer cells. Nan Fang Yi Ke Da Xue Xue Bao 28:1775–1778
Acknowledgments
Dr. Ren X.L., He G.Y., Li X.M., Yi L.Z. and Lu G.F. carried out experiments. Dr. Xin S.N., Wu P.X. and Li Y.L. took on the statistical analysis. Ren X.L., He G.Y. and Li X.M. contributed equally to this work. Professor Liao WT gave assistance in collecting tissue samples or animal experiments. Professor Ding Y.Q. and Liang L. conceived experiments and analyzed data. All authors were involved in writing the paper and had final approval of the submitted and published versions. We thank Professor Geevan and Reddy for editing the English writing.
Funding
This work was supported by the National Natural Science Foundation of China (81272759, 81172382, 81472313), National Basic Research Program of China (973 Program, 2015CB554002), the Science and Technology Planning Project of Guangdong Province (S2013010014544), Major projects of science and technology of Guangzhou (201300000056) and the Key Project of National Natural Science Fund (Guangdong Province NSFC-Joint Fund, U1201226).
Ethics declarations
All protocols for animal studies were reviewed and approved by the Institutional Animal Care and Use Committee of Southern Medical University and have been performed in accordance with the ethical standards laid down in the 1964 Declaration of Helsinki and its later amendments.
Conflict of interest
All the authors declare that they have no conflict of interest.
Additional information
X. L. Ren, G. Y. He and X. M. Li have contributed equally to this work.
Electronic supplementary material
Below is the link to the electronic supplementary material.
About this article
Cite this article
Ren, X.L., He, G.Y., Li, X.M. et al. MicroRNA-206 functions as a tumor suppressor in colorectal cancer by targeting FMNL2. J Cancer Res Clin Oncol 142, 581–592 (2016). https://doi.org/10.1007/s00432-015-2053-8
Received:

Accepted:

Published:

Issue Date:
Keywords
MiR-206

Colorectal cancer

Progression

FMNL2