Abstract
Purpose
Although some studies have assessed the prognostic value of HOTAIR in patients with digestive system tumors, the relationship between the HOTAIR and outcome of digestive system tumors remains unknown.
Methods
The PubMed was searched to identify the eligible studies. Here, we performed a meta-analysis with 11 studies, including a total of 903 cases. Pooled hazard ratios (HRs) and 95 % confidence interval (CI) of HOTAIR for cancer survival were calculated.
Results
We found that the pooled HR elevated HOTAIR expression in tumor tissues was 2.36 (95 % CI 1.88–2.97) compared with patients with low HOTAIR expression. Moreover, subgroup analysis revealed that HOTAIR overexpression was also markedly associated with short survival for esophageal squamous cell carcinoma (HR 2.19, 95 % CI 1.62–2.94) and gastric cancer (HR 1.66, 95 % CI 1.02–2.68). In addition, up-regulated HOTAIR was significantly related to survival of digestive system cancer among the studies with more follow-up time (follow time ≥ 5 years) (HR 2.51, 95 % CI 1.99–3.17). When stratified by HR resource and number of patients, the result indicated consistent results with the overall analysis. Subgroup analysis on ethnicities did not change the prognostic influence of elevated HOTAIR expression. Additionally, we conducted an independent validation cohort including 71 gastric cancer cases, in which patients with up-regulated HOTAIR expression had an unfavorable outcome with HR of 2.10 (95 % CI 1.10–4.03).
Conclusion
The results suggest that aberrant HOTAIR expression may serve as a candidate positive marker to predict the prognosis of patients with carcinoma of digestive system.
This is a preview of subscription content, log in to check access.
Access options
Buy single article
Instant access to the full article PDF.
US$ 39.95
Price includes VAT for USA
Subscribe to journal
Immediate online access to all issues from 2019. Subscription will auto renew annually.
US$ 199
This is the net price. Taxes to be calculated in checkout.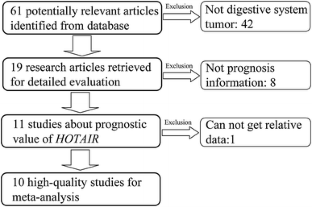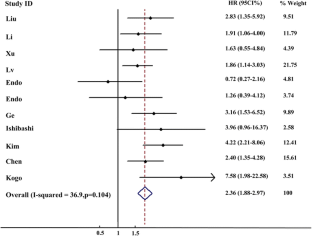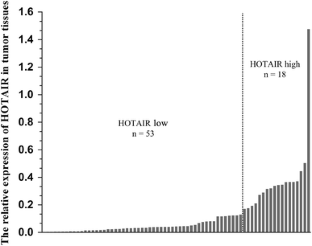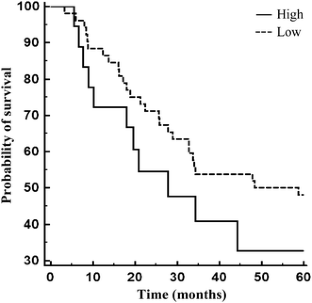 References
Arita T, Ichikawa D, Konishi H, Komatsu S, Shiozaki A, Shoda K, Kawaguchi T, Hirajima S, Nagata H, Kubota T, Fujiwara H, Okamoto K, Otsuji E (2013) Circulating long non-coding RNAs in plasma of patients with gastric cancer. Anticancer Res 33(8):3185–3193

Chen FJ, Sun M, Li SQ, Wu QQ, Ji L, Liu ZL, Zhou GZ, Cao G, Jin L, Xie HW, Wang CM, Lv J, De W, Wu M, Cao XF (2013) Upregulation of the long non-coding RNA HOTAIR promotes esophageal squamous cell carcinoma metastasis and poor prognosis. Mol Carcinog 52(11):908–915. doi:10.1002/mc.21944

Crea F, Watahiki A, Quagliata L, Xue H, Pikor L, Parolia A, Wang Y, Lin D, Lam WL, Farrar WL, Isogai T, Morant R, Castori-Eppenberger S, Chi KN, Helgason CD (2014) Identification of a long non-coding RNA as a novel biomarker and potential therapeutic target for metastatic prostate cancer. Oncotarget 5(3):764–774

de Graeff P, Crijns AP, de Jong S, Boezen M, Post WJ, de Vries EG, van der Zee AG, de Bock GH (2009) Modest effect of p53, EGFR and HER-2/neu on prognosis in epithelial ovarian cancer: a meta-analysis. Br J Cancer 101(1):149–159. doi:10.1038/sj.bjc.6605112

Egger M, Davey Smith G, Schneider M, Minder C (1997) Bias in meta-analysis detected by a simple, graphical test. BMJ 315(7109):629–634

Endo H, Shiroki T, Nakagawa T, Yokoyama M, Tamai K, Yamanami H, Fujiya T, Sato I, Yamaguchi K, Tanaka N, Iijima K, Shimosegawa T, Sugamura K, Satoh K (2013) Enhanced expression of long non-coding RNA HOTAIR is associated with the development of gastric cancer. PLoS One 8(10):e77070. doi:10.1371/journal.pone.0077070

Fu X, Han Y, Wu Y, Zhu X, Lu X, Mao F, Wang X, He X, Zhao Y (2011) Prognostic role of microRNA-21 in various carcinomas: a systematic review and meta-analysis. Eur J Clin Invest 41(11):1245–1253. doi:10.1111/j.1365-2362.2011.02535.x

Ge XS, Ma HJ, Zheng XH, Ruan HL, Liao XY, Xue WQ, Chen YB, Zhang Y, Jia WH (2013) HOTAIR, a prognostic factor in esophageal squamous cell carcinoma, inhibits WIF-1 expression and activates Wnt pathway. Cancer Sci 104(12):1675–1682. doi:10.1111/cas.12296

Gupta RA, Shah N, Wang KC, Kim J, Horlings HM, Wong DJ, Tsai MC, Hung T, Argani P, Rinn JL, Wang Y, Brzoska P, Kong B, Li R, West RB, van de Vijver MJ, Sukumar S, Chang HY (2010) Long non-coding RNA HOTAIR reprograms chromatin state to promote cancer metastasis. Nature 464(7291):1071–1076. doi:10.1038/nature08975

Guttman M, Amit I, Garber M, French C, Lin MF, Feldser D, Huarte M, Zuk O, Carey BW, Cassady JP, Cabili MN, Jaenisch R, Mikkelsen TS, Jacks T, Hacohen N, Bernstein BE, Kellis M, Regev A, Rinn JL, Lander ES (2009) Chromatin signature reveals over a thousand highly conserved large non-coding RNAs in mammals. Nature 458(7235):223–227. doi:10.1038/nature07672

Hayes DF, Bast RC, Desch CE, Fritsche H Jr, Kemeny NE, Jessup JM, Locker GY, Macdonald JS, Mennel RG, Norton L, Ravdin P, Taube S, Winn RJ (1996) Tumor marker utility grading system: a framework to evaluate clinical utility of tumor markers. J Natl Cancer Inst 88(20):1456–1466

Ishibashi M, Kogo R, Shibata K, Sawada G, Takahashi Y, Kurashige J, Akiyoshi S, Sasaki S, Iwaya T, Sudo T, Sugimachi K, Mimori K, Wakabayashi G, Mori M (2013) Clinical significance of the expression of long non-coding RNA HOTAIR in primary hepatocellular carcinoma. Oncol Rep 29(3):946–950. doi:10.3892/or.2012.2219

Jemal A, Siegel R, Ward E, Hao Y, Xu J, Murray T, Thun MJ (2008) Cancer statistics, 2008. CA Cancer J Clin 58(2):71–96. doi:10.3322/CA.2007.0010

Khalil AM, Guttman M, Huarte M, Garber M, Raj A, Rivea Morales D, Thomas K, Presser A, Bernstein BE, van Oudenaarden A, Regev A, Lander ES, Rinn JL (2009) Many human large intergenic noncoding RNAs associate with chromatin-modifying complexes and affect gene expression. Proc Natl Acad Sci USA 106(28):11667–11672. doi:10.1073/pnas.0904715106

Kim K, Jutooru I, Chadalapaka G, Johnson G, Frank J, Burghardt R, Kim S, Safe S (2013) HOTAIR is a negative prognostic factor and exhibits pro-oncogenic activity in pancreatic cancer. Oncogene 32(13):1616–1625. doi:10.1038/onc.2012.193

Kogo R, Shimamura T, Mimori K, Kawahara K, Imoto S, Sudo T, Tanaka F, Shibata K, Suzuki A, Komune S, Miyano S, Mori M (2011) Long noncoding RNA HOTAIR regulates polycomb-dependent chromatin modification and is associated with poor prognosis in colorectal cancers. Cancer Res 71(20):6320–6326. doi:10.1158/0008-5472.CAN-11-1021

Li X, Zhang Y, Ding J, Wu K, Fan D (2010) Survival prediction of gastric cancer by a seven-microRNA signature. Gut 59(5):579–585. doi:10.1136/gut.2008.175497

Li X, Wu Z, Mei Q, Guo M, Fu X, Han W (2013) Long non-coding RNA HOTAIR, a driver of malignancy, predicts negative prognosis and exhibits oncogenic activity in oesophageal squamous cell carcinoma. Br J Cancer 109(8):2266–2278. doi:10.1038/bjc.2013.548

Liu XH, Sun M, Nie FQ, Ge YB, Zhang EB, Yin DD, Kong R, Xia R, Lu KH, Li JH, De W, Wang KM, Wang ZX (2014) Lnc RNA HOTAIR functions as a competing endogenous RNA to regulate HER2 expression by sponging miR-331-3p in gastric cancer. Mol cancer 13:92. doi:10.1186/1476-4598-13-92

Lv XB, Lian GY, Wang HR, Song E, Yao H, Wang MH (2013) Long noncoding RNA HOTAIR is a prognostic marker for esophageal squamous cell carcinoma progression and survival. PLoS One 8(5):e63516. doi:10.1371/journal.pone.0063516

McShane LM, Altman DG, Sauerbrei W, Taube SE, Gion M, Clark GM (2005) REporting recommendations for tumour MARKer prognostic studies (REMARK). Br J Cancer 93(4):387–391. doi:10.1038/sj.bjc.6602678

Nagini S (2012) Carcinoma of the stomach: a review of epidemiology, pathogenesis, molecular genetics and chemoprevention. World J Gastrointest Oncol 4(7):156–169. doi:10.4251/wjgo.v4.i7.156

Ponting CP, Oliver PL, Reik W (2009) Evolution and functions of long noncoding RNAs. Cell 136(4):629–641. doi:10.1016/j.cell.2009.02.006

Qi YJ, Chao WX, Chiu JF (2012) An overview of esophageal squamous cell carcinoma proteomics. J Proteom 75(11):3129–3137. doi:10.1016/j.jprot.2012.04.025

Ren S, Wang F, Shen J, Sun Y, Xu W, Lu J, Wei M, Xu C, Wu C, Zhang Z, Gao X, Liu Z, Hou J, Huang J (2013) Long non-coding RNA metastasis associated in lung adenocarcinoma transcript 1 derived miniRNA as a novel plasma-based biomarker for diagnosing prostate cancer. Eur J Cancer 49(13):2949–2959. doi:10.1016/j.ejca.2013.04.026

Rinn JL, Kertesz M, Wang JK, Squazzo SL, Xu X, Brugmann SA, Goodnough LH, Helms JA, Farnham PJ, Segal E, Chang HY (2007) Functional demarcation of active and silent chromatin domains in human HOX loci by noncoding RNAs. Cell 129(7):1311–1323. doi:10.1016/j.cell.2007.05.022

Spizzo R, Almeida MI, Colombatti A, Calin GA (2012) Long non-coding RNAs and cancer: a new frontier of translational research? Oncogene 31(43):4577–4587. doi:10.1038/onc.2011.621

Xia X, Yang B, Zhai X, Liu X, Shen K, Wu Z, Cai J (2013) Prognostic role of microRNA-21 in colorectal cancer: a meta-analysis. PLoS One 8(11):e80426. doi:10.1371/journal.pone.0080426

Xie H, Ma H, Zhou D (2013) Plasma HULC as a promising novel biomarker for the detection of hepatocellular carcinoma. BioMed Res Int 2013:136106. doi:10.1155/2013/136106

Xu ZY, Yu QM, Du YA, Yang LT, Dong RZ, Huang L, Yu PF, Cheng XD (2013) Knockdown of long non-coding RNA HOTAIR suppresses tumor invasion and reverses epithelial–mesenchymal transition in gastric cancer. Int J Biol Sci 9(6):587–597. doi:10.7150/ijbs.6339

Zhang S, Chen S, Yang G, Gu F, Li M, Zhong B, Hu J, Hoffman A, Chen M (2014) Long noncoding RNA HOTAIR as an independent prognostic marker in cancer: a meta-analysis. PLoS One 9(8):e105538. doi:10.1371/journal.pone.0105538
Acknowledgments
This study was partly supported by National Natural Science Foundation of China (81473050, 81473049 and 81230068), the Key Program for Basic Research of Jiangsu Provincial Department of Education (12KJA330002), Jiangsu Provincial Science and Technology Innovation Team, Collaborative Innovation Center For Cancer Personalized Medicine, and the Priority Academic Program Development of Jiangsu Higher Education Institutions (Public Health and Preventive Medicine).
Conflict of interest
None.
Additional information
Gaoxiang Ma, Qiaoyan Wang and Chunye Lv have contributed equally to this work.
Electronic supplementary material
Below is the link to the electronic supplementary material.
About this article
Cite this article
Ma, G., Wang, Q., Lv, C. et al. The prognostic significance of HOTAIR for predicting clinical outcome in patients with digestive system tumors. J Cancer Res Clin Oncol 141, 2139–2145 (2015). https://doi.org/10.1007/s00432-015-1980-8
Received:

Accepted:

Published:

Issue Date:
Keywords
HOTAIR

Prognosis factor

Digestive system tumors