Abstract
Background
An increasingly high occurrence of bone metastases in hepatocellular carcinoma (HCC) patients highlights the importance of fundamental research on HCC bone metastasis, which has been limited in its success due to the lack of a model system.
Purpose
Establishment of animal and cellular models of HCC bone metastasis and discovery of HCC bone metastasis-related genes.
Methods
Luciferase-transfected HCC cell lines HCCLM3, MHCC97H, and SMMC-7721 were used to inoculate nude mice intracardially. Formation of bone metastases was examined by bioluminescence imaging, SPECT, and pathology study. Metastatic cells in bone were isolated and subcultured. Differences between bone metastatic cells and their parental cells were studied by in vitro/in vivo assays.
Results
Mouse model of HCC bone metastasis was successfully established. Injected tumour cells formed metastases in the skull, the spine, the hind limbs, and the sternum, causing osteolytic lesions via act of MMP-1 and recruitment of osteoclasts. Four bone metastatic cell lines were extracted from HCCLM3-inoculated mice and were demonstrated to exhibit a much stronger ability to form bone metastases as well as other phenotypes, including enhanced in vitro migration/invasion and colony formation. Moreover, the expression of PTHrP, MMP-1, and CTGF was significantly elevated in bone metastatic cells compared to parental HCC cells.
Conclusion
The nude mouse model and bone metastatic cell lines together provide an effective simulation of HCC bone metastasis. This model system will become powerful tool with which to explore the mechanisms and therapies of HCC bone metastasis. Additionally, PTHrP, MMP-1, and CTGF are candidate genes related to HCC bone metastasis.
This is a preview of subscription content, log in to check access.
Access options
Buy single article
Instant access to the full article PDF.
US$ 39.95
Price includes VAT for USA
Subscribe to journal
Immediate online access to all issues from 2019. Subscription will auto renew annually.
US$ 199
This is the net price. Taxes to be calculated in checkout.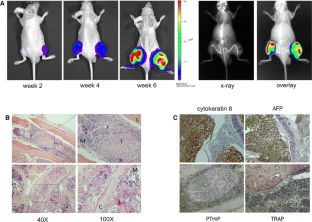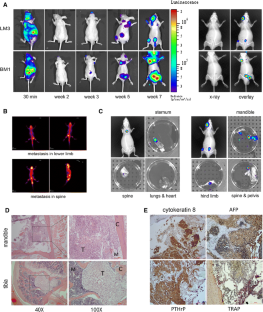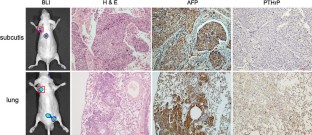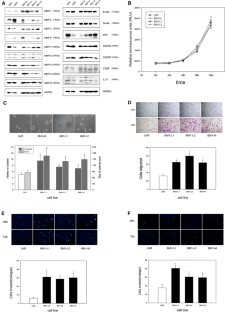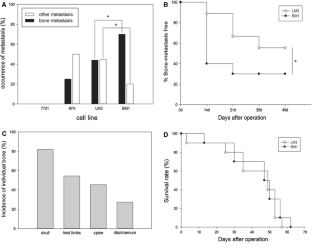 References
Allen M, Louise Jones J (2011) Jekyll and Hyde: the role of the microenvironment on the progression of cancer. J Pathol 223(2):162–176

Alvite Canosa M, Pita Fernández S, Quintela Fandiño J, Aguirrezabalaga J, Otero A, Suárez F, Corbal G, Fernández C, Gutiérrez M (2011) Surgical treatment of liver cancer. Cir Esp 89(4):223–229

Bauerle T, Adwan H, Kiessling F, Hilbig H, Armbruster FP, Berger MR (2005) Characterization of a rat model with site-specific bone metastasis induced by MDA-MB-231 breast cancer cells and its application to the effects of an antibody against bone sialoprotein. Int J Cancer 115(2):177–186

Casimiro S, Luis I, Fernandes A, Pires R, Pinto A, Gouveia AG, Francisco AF, Portela J, Correia L, Costa L (2012) Analysis of a bone metastasis gene expression signature in patients with bone metastasis from solid tumors. Clin Exp Metastasis 29(2):155–164

Chi-Lai H, Sirong C, Thomas Kam CC, Yim Lung L (2011) PET/CT characteristics of isolated bone metastases in hepatocellular carcinoma. Radiology 258(2):515–523

Deryugina EI, Luo GX, Reisfeld RA, Bourdon MA, Strongin A (1997) Tumor cell invasion through matrigel is regulated by activated matrix metalloproteinase-2. Anticancer Res 17(5A):3201–3210

Dong R, Zhou R, Lv F, Tao W (1980) Establishment and charaterization of a novel hepatocellular carcinoma cell line SMMC-7721. J Second Mil Med Coll 1:5–9

Drake JM, Gabriel CL, Henry MD (2005) Assessing tumor growth and distribution in a model of prostate cancer metastasis using bioluminescence imaging. Clin Exp Metastasis 22(8):674–684

Egeblad M, Werb Z (2002) New functions for the matrix metalloproteinases in cancer progression. Nat Rev Cancer 2(3):161–174

Giannini EG, Marenco S, Borgonovo G, Savarino V, Farinati F, Del Poggio P, Rapaccini GL, Anna Di Nolfo M, Benvegnu L, Zoli M, Borzio F, Caturelli E, Chiaramonte M, Trevisani F (2012) Alpha-fetoprotein has no prognostic role in small hepatocellular carcinoma identified during surveillance in compensated cirrhosis. Hepatology 56(4):1371–1379

Gupta GP, Minn AJ, Kang Y, Siegel PM, Serganova I, Cordon-Cardo C, Olshen AB, Gerald WL, Massague J (2005) Identifying site-specific metastasis genes and functions. Cold Spring Harb Symp Quant Biol 70:149–158

Harms JF, Welch DR (2003) MDA-MB-435 human breast carcinoma metastasis to bone. Clin Exp Metastasis 20(4):327–334

Huo TI, Huang YH, Lui WY, Wu JC (2004) Selective prognostic impact of serum alpha-fetoprotein level in patients with hepatocellular carcinoma: analysis of 543 patients in a single center. Oncol Rep 11(2):543–550

Jemal A, Bray F, Center MM, Ferlay J, Ward E, Forman D (2011) Global cancer statistics. CA Cancer J Clin 61(2):69–90

Kang Y, Siegel PM, Shu W, Drobnjak M, Kakonen SM, Cordón-Cardo C, Guise TA, Massagué J (2003) A multigenic program mediating breast cancer metastasis to bone. Cancer Cell 3(6):537–549

Katyal S, Oliver JH, Peterson MS, Ferris JV (2000) Extrahepatic metastases of hepatocellular carcinoma. Radiology 216(3):698–703

Khanna C, Hunter K (2005) Modeling metastasis in vivo. Carcinogenesis 26(3):513–523

Kuperwasser C, Dessain S, Bierbaum BE, Garnet D, Sperandio K, Gauvin GP, Naber SP, Weinberg RA, Rosenblatt M (2005) A mouse model of human breast cancer metastasis to human bone. Cancer Res 65(14):6130–6138

Li M, Zhou M, Gong M, Ma J, Pei F, Beamer WG, Shultz LD, Hock JM, Yu X (2012) A novel animal model for bone metastasis in human lung cancer. Oncol Lett 3(4):802–806

Liao J, Li X, Koh AJ, Berry JE, Thudi N, Rosol TJ, Pienta KJ, McCauley LK (2008) Tumor expressed PTHrP facilitates prostate cancer-induced osteoblastic lesions. Int J Cancer 123(10):2267–2278

Liu N, Shen D, Chen X, He Y (2010) Clinical analysis of 355 patients with bone metastasis of malignant tumors. Chin J Oncol 32:203–207

Lu X, Wang Q, Hu G, Van Poznak C, Fleisher M, Reiss M, Massague J, Kang Y (2009) ADAMTS1 and MMP1 proteolytically engage EGF-like ligands in an osteolytic signaling cascade for bone metastasis. Genes Dev 23(16):1882–1894

Marie F, Masaki Y, Hirokazu C, Hiroshi H (2001) Increased incidence of bone metastases in hepatocellular carcinoma. Eur J Gastroenterol Hepatol 13(9):1083–1088

Neeff H, Makowiec F, Harder J, Gumpp V, Klock A, Thimme R, Drognitz O, Hopt U (2009) Hepatic resection for hepatocellular carcinoma—results and analysis of the current literature. Zentralbl Chir 134(2):127–135

Notting IC, Buijs JT, Que I, Mintardjo RE, van der Horst G, Karperien M, Missotten GS, Jager MJ, Schalij-Delfos NE, Keunen JE, van der Pluijm G (2005) Whole-body bioluminescent imaging of human uveal melanoma in a new mouse model of local tumor growth and metastasis. Invest Ophthalmol Vis Sci 46(5):1581–1587

Olivier P, Bent W, Isabelle PC, Claire-marie S (2001) Early detection of bone metastases in a murine model using fluorescent human breast cancer cells: application to the use of the bisphosphonate zoledronic acid in the treatment of osteolytic lesions. J Bone Miner Res 16(11):2027–2034

Power CA, Pwint H, Chan J, Cho J, Yu Y, Walsh W, Russell PJ (2009) A novel model of bone-metastatic prostate cancer in immunocompetent mice. Prostate 69(15):1613–1623

Quinn JM, McGee JO, Athanasou NA (1998) Human tumour-associated macrophages differentiate into osteoclastic bone-resorbing cells. J Pathol 184:31–36

Schlüter K-D (1999) PTH and PTHrP: similar structures but different functions. News Physiol Sci 14:243–249

Shimo T, Kubota S, Yoshioka N, Ibaragi S, Isowa S, Eguchi T, Sasaki A, Takigawa M (2006) Pathogenic role of connective tissue growth factor (CTGF/CCN2) in osteolytic metastasis of breast cancer. J Bone Miner Res 21(7):1045–1059

Strube A, Stepina E, Mumberg D, Scholz A, Hauff P, Kakonen SM (2010) Characterization of a new renal cell carcinoma bone metastasis mouse model. Clin Exp Metastasis 27(5):319–330

Tang ZY, Ye SL, Liu YK, Qin LX, Sun HC, Ye QH, Wang L, Zhou J, Qiu SJ, Li Y, Ji XN, Liu H, Xia JL, Wu ZQ, Fan J, Ma ZC, Zhou XD, Lin ZY, Liu KD (2004) A decade's studies on metastasis of hepatocellular carcinoma. J Cancer Res Clin Oncol 130(4):187–196

Xiang ZL, Zeng ZC, Tang ZY, Fan J, He J, Zeng HY, Zhu XD (2011) Potential prognostic biomarkers for bone metastasis from hepatocellular carcinoma. Oncologist 16(7):1028–1039

Xiao Y, Su M, Yang J, Liu C (2004) Bone scan characteristics of bone metastasis from hepatocellular carcinoma. Radiol Pract 19(9):682–684

Zhang J, Miao D (2012) The expression of tartrate-resistant acid phosphatase in different cells of skeletal tissue. Acta Univ Med Nanjing 32(5):636–640
Acknowledgments
We thank Ph.D. Qing-qing Mo for technical support in bioluminescence imaging and Dr Yan-xia Shen, Yun-feng Han, and Jin-ling Tian for technical support in SPECT scanning. This work is supported by the State Key Project on Infectious Diseases of China (Grant Nos. 2012ZX10002016-004 and 2012ZX10002010-001-004), the Chinese Ministry of Public Health for Key Clinical Projects (No. 439, 2010) to Prof Xiao-ping Chen, the National Nature Science Foundation of China (Nos. 30973498 and 81072001) to Prof Bixiang Zhang, and the National Training Programs of Innovation and Entrepreneurship for Undergraduates (No. 1210487144) to Rui Hou.
Conflict of interest
The authors have declared that there is no conflict of interest.
About this article
Cite this article
Hou, R., Wang, Y., Liang, H. et al. Animal and cellular models of hepatocellular carcinoma bone metastasis: establishment and characterisation. J Cancer Res Clin Oncol 141, 1931–1943 (2015). https://doi.org/10.1007/s00432-015-1958-6
Received:

Accepted:

Published:

Issue Date:
Keywords
Animal model

Bone metastasis

Cell line

CTGF

Hepatocellular carcinoma

MMP-1

Osteoclasts

PTHrP