Abstract
Purpose
Immunohistochemical analysis for the identification of clinically relevant biomarkers is important. However, there have been no detailed reports about the heterogeneous expressions of the various markers in squamous cell carcinoma of the lung.
Methods
A total of 113 patients with squamous cell carcinoma of the lung with lymph node metastasis were included. The expression levels of 9 molecules (E-cadherin, S100A4, CD44, ALDH1, SOX2, EGFR, HER2, FGFR1 and VEGFR2) in the peripheral area and central area of primary tumor and metastatic lymph nodes were evaluated by immunohistochemistry. The differences in the staining scores of these molecules among the three areas were assessed. We also analyzed the relationships between the expression levels of these molecules and the recurrence-free survival.
Results
The E-cadherin expression was higher in the central area than in the peripheral area and metastatic lymph nodes (median staining score: 60 vs. 50, 30); the CD44 expression was higher in the central area than in the metastatic lymph nodes (117 vs. 90); and the EGFR expression was higher in the central area than in the peripheral area and metastatic lymph nodes (163 vs. 130, 110). Low CD44 expression in the central area, low EGFR expression in the peripheral area and high SOX2 expression in the metastatic lymph nodes were associated with a shorter recurrence-free survival (p < 0.01, p = 0.02, p = 0.03, respectively).
Conclusions
Our findings confirmed that some molecular markers exhibited different expression levels in anatomically different areas and suggested that area-by-area immunohistochemical analysis for biomarkers may provide useful information for more precise prediction of the recurrence.
This is a preview of subscription content, log in to check access.
Access options
Buy single article
Instant access to the full article PDF.
US$ 39.95
Price includes VAT for USA
Subscribe to journal
Immediate online access to all issues from 2019. Subscription will auto renew annually.
US$ 199
This is the net price. Taxes to be calculated in checkout.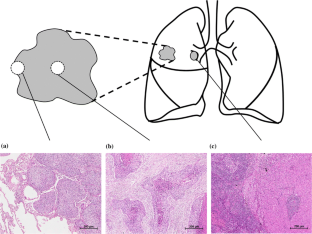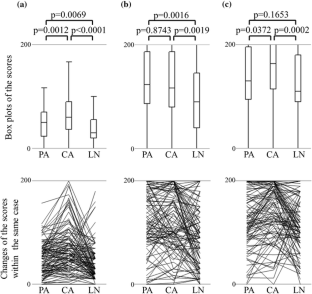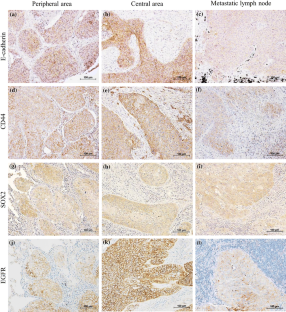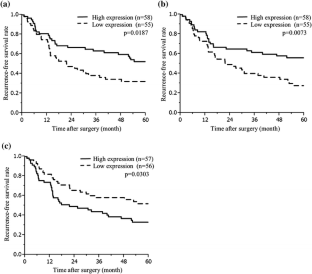 References
Andersson J, Linderholm B, Bergh J, Elmberger G (2004) HER-2/neu (c-erbB-2) evaluation in primary breast carcinoma by fluorescent in situ hybridization and immunohistochemistry with special focus on intratumor heterogeneity and comparison of invasive and in situ components. Appl Immunohistochem Mol Morphol 12:14–20

Bartis D, Mise N, Mahida RY, Eickelberg O, Thickett DR (2013) Epithelial-mesenchymal transition in lung development and disease: does it exist and is it important? Thorax. doi:10.1136/thoraxjnl-2013-204608

Chen Y, Huang Y, Huang Y, Chen J, Wang S, Zhou J (2013) The prognostic value of SOX2 expression in non-small cell lung cancer: a meta-analysis. PLoS ONE 8:e71140. doi:10.1371/journal.pone.0071140

De Marzo AM, Bradshaw C, Sauvageot J, Epstein JI, Miller GJ (1998) CD44 and CD44v6 downregulation in clinical prostatic carcinoma: relation to Gleason grade and cytoarchitecture. Prostate 34:162–168

de Melo Maia B et al (2014) EGFR expression in vulvar cancer: clinical implications and tumor heterogeneity. Hum Pathol 45:917–925. doi:10.1016/j.humpath.2014.01.015

Deeb G, Wang J, Ramnath N, Slocum HK, Wiseman S, Beck A, Tan D (2004) Altered E-cadherin and epidermal growth factor receptor expressions are associated with patient survival in lung cancer: a study utilizing high-density tissue microarray and immunohistochemistry. Mod Pathol 17:430–439. doi:10.1038/modpathol.3800041

Donovan CA et al (2013) Correlation of breast cancer axillary lymph node metastases with stem cell mutations. JAMA Surg 148:873–878. doi:10.1001/jamasurg.2013.3028

Elzagheid A et al (2006) E-cadherin expression pattern in primary colorectal carcinomas and their metastases reflects disease outcome. World J Gastroenterol 12:4304–4309

Friedrichs K et al (1995) CD44 isoforms correlate with cellular differentiation but not with prognosis in human breast cancer. Cancer Res 55:5424–5433

Funai K et al (2003) Clinicopathologic characteristics of peripheral squamous cell carcinoma of the lung. Am J Surg Pathol 27:978–984

Grob TJ et al (2013) Frequent intratumoral heterogeneity of EGFR gene copy gain in non-small cell lung cancer. Lung Cancer 79:221–227. doi:10.1016/j.lungcan.2012.11.009

Italiano A et al (2006) Comparison of the epidermal growth factor receptor gene and protein in primary non-small-cell-lung cancer and metastatic sites: implications for treatment with EGFR-inhibitors. Ann Oncol 17:981–985. doi:10.1093/annonc/mdl038

Jacobsen B et al (2013) Ly6/uPAR-related protein C4.4A as a marker of solid growth pattern and poor prognosis in lung adenocarcinoma. J Thorac Oncol 8:152–160. doi:10.1097/JTO.0b013e318279d503

Jakobsen JN, Santoni-Rugiu E, Sorensen JB (2014) Changes in epidermal growth factor receptor expression during chemotherapy in non-small cell lung cancer. Cancer Chemother Pharmacol 73:131–137. doi:10.1007/s00280-013-2329-0

Kirita K et al (2013) Identification of biological properties of intralymphatic tumor related to the development of lymph node metastasis in lung adenocarcinoma. PLoS ONE 8:e83537. doi:10.1371/journal.pone.0083537

Kroepil F et al (2013) High EpCAM expression is linked to proliferation and lauren classification in gastric cancer. BMC Res Notes 6:253. doi:10.1186/1756-0500-6-253

Lee SJ et al (2013) Combined aberrant expression of E-cadherin and S100A4, but not beta-catenin is associated with disease-free survival and overall survival in colorectal cancer patients. Diagn Pathol 8:99. doi:10.1186/1746-1596-8-99

Marusyk A, Polyak K (2010) Tumor heterogeneity: causes and consequences. Biochim Biophys Acta 1805:105–117. doi:10.1016/j.bbcan.2009.11.002

Matsuwaki R et al (2014) Immunophenotypic features of metastatic lymph node tumors to predict recurrence in N2 lung squamous cell carcinoma. Cancer Sci. doi:10.1111/cas.12434

Melchers LJ et al (2013) Lack of claudin-7 is a strong predictor of regional recurrence in oral and oropharyngeal squamous cell carcinoma. Oral Oncol 49:998–1005. doi:10.1016/j.oraloncology.2013.07.008

Nagatsuma AK, Aizawa M, Kuwata T, Doi T, Ohtsu A, Fujii H, Ochiai A (2014) Expression profiles of HER2, EGFR, MET and FGFR2 in a large cohort of patients with gastric adenocarcinoma. Gastric Cancer. doi:10.1007/s10120-014-0360-4

Neri S et al (2012) Recruitment of podoplanin positive cancer-associated fibroblasts in metastatic lymph nodes predicts poor prognosis in pathological N2 stage III lung adenocarcinoma. Ann Surg Oncol 19:3953–3962. doi:10.1245/s10434-012-2421-4

Oshiro R et al (2012) C4.4A is associated with tumor budding and epithelial-mesenchymal transition of colorectal cancer. Cancer Sci 103:1155–1164. doi:10.1111/j.1349-7006.2012.02263.x

Pirker R et al (2012) EGFR expression as a predictor of survival for first-line chemotherapy plus cetuximab in patients with advanced non-small-cell lung cancer: analysis of data from the phase 3 FLEX study. Lancet Oncol 13:33–42. doi:10.1016/s1470-2045(11)70318-7

Scartozzi M, Bearzi I, Berardi R, Mandolesi A, Fabris G, Cascinu S (2004) Epidermal growth factor receptor (EGFR) status in primary colorectal tumors does not correlate with EGFR expression in related metastatic sites: implications for treatment with EGFR-targeted monoclonal antibodies. J Clin Oncol 22:4772–4778. doi:10.1200/JCO.2004.00.117

Scartozzi M, Bearzi I, Berardi R, Mandolesi A, Pierantoni C, Cascinu S (2007) Epidermal growth factor receptor (EGFR) downstream signalling pathway in primary colorectal tumours and related metastatic sites: optimising EGFR-targeted treatment options. Br J Cancer 97:92–97. doi:10.1038/sj.bjc.6603847

Schneider J et al (1999) Histologic grade and CD44 are independent predictors of axillary lymph node invasion in early (T1) breast cancer. Tumour Biol 20:319–330

Siegel R, Naishadham D, Jemal A (2013) Cancer statistics, 2013. CA Cancer J Clin 63:11–30. doi:10.3322/caac.21166

Sterlacci W, Savic S, Fiegl M, Obermann E, Tzankov A (2014) Putative stem cell markers in non-small-cell lung cancer: a clinicopathologic characterization. J Thorac Oncol 9:41–49. doi:10.1097/jto.0000000000000021

Wang X, Zhang J, Fan M, Zhou Q, Deng H, Aisharif MJ, Chen X (2009) The expression of E-cadherin at the invasive tumor front of oral squamous cell carcinoma: immunohistochemical and RT-PCR analysis with clinicopathological correlation. Oral Surg Oral Med Oral Pathol Oral Radiol Endod 107:547–554. doi:10.1016/j.tripleo.2008.11.021

Watanabe Y et al (2011) Alveolar space filling ratio as a favorable prognostic factor in small peripheral squamous cell carcinoma of the lung. Lung Cancer 73:217–221. doi:10.1016/j.lungcan.2010.12.001

Wen J, Luo KJ, Hu Y, Yang H, Fu JH (2013) Metastatic lymph node CHIP expression is a potential prognostic marker for resected esophageal squamous cell carcinoma patients. Ann Surg Oncol 20:1668–1675. doi:10.1245/s10434-012-2733-4
Acknowledgments
We thank Yuka Nakamura for her help with the immunohistochemical analyses in this study. This work was supported by the National Cancer Center Research and Development Fund (23-A-12), Foundation for the Promotion of Cancer Research, 3rd Term Comprehensive 10-Year Strategy for Cancer Control, Program for the Promotion of Fundamental Studies in Health Sciences of the National Institute of Biomedical Innovation, and JSPS KAKENHI (24659185).
Conflict of interest
The authors have no conflict of interests to disclose.
Electronic supplementary material
Below is the link to the electronic supplementary material.
About this article
Cite this article
Udagawa, H., Ishii, G., Morise, M. et al. Comparison of the expression levels of molecular markers among the peripheral area and central area of primary tumor and metastatic lymph node tumor in patients with squamous cell carcinoma of the lung. J Cancer Res Clin Oncol 141, 1417–1425 (2015). https://doi.org/10.1007/s00432-015-1912-7
Received:

Accepted:

Published:

Issue Date:
Keywords
Squamous cell carcinoma

Lung cancer

Immunohistochemistry

Heterogeneity

Postoperative prognosis