Abstract
Purpose
The influence of microenvironmental factors on the effectiveness of chemotherapy is being increasingly recognized. The purpose of this study was to investigate the relationships between cancer cell and stromal cell phenotypes in primary tumors and the progression-free survival (PFS) of recurrent lung cancer patients who received platinum-based chemotherapy.
Methods
We retrospectively analyzed 87 postoperative recurrent lung adenocarcinoma patients treated with platinum-based chemotherapy. The expressions of drug resistance-related proteins including BCRP, ezrin, and ALDH1 in cancer cells, the number of CD204-positive tumor-associated macrophages (TAMs), and the presence of podoplanin-positive cancer-associated fibroblasts (CAFs) in the primary tumor were examined. The relationships between the immunohistochemical staining results of primary tumors and the PFS after receiving chemotherapy were also analyzed.
Results
Among the clinicopathological factors of primary tumors, only an advanced pathological stage was significantly associated with a shorter PFS. As for immunohistochemical staining, no significant relationships were found between the PFS and the expression of BCRP, ezrin, or ALDH1. Although the number of CD204-positive TAMs was not associated with the PFS, the presence of podoplanin-positive CAFs was significantly associated with a shorter PFS (median PFS: 5.1 vs. 7.8 months, P = 0.028). A multivariate analysis revealed a tendency of podoplanin-positive CAFs to be correlated with a shorter PFS (P = 0.087).
Conclusions
The presence of podoplanin-positive CAFs in the primary tumor could be a predictor of a shorter PFS in recurrent lung adenocarcinoma patients who received chemotherapy. These findings suggest that stromal-cell-derived factors should be incorporated into predictions of the effectiveness of chemotherapy.
This is a preview of subscription content, log in to check access.
Access options
Buy single article
Instant access to the full article PDF.
US$ 39.95
Price includes VAT for USA
Subscribe to journal
Immediate online access to all issues from 2019. Subscription will auto renew annually.
US$ 199
This is the net price. Taxes to be calculated in checkout.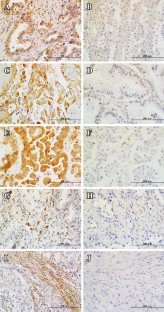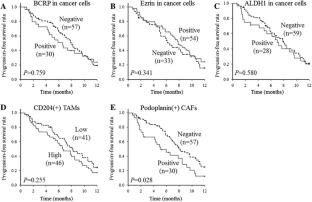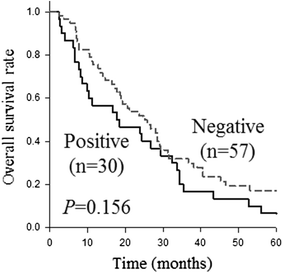 References
Ajani JA, Wang X, Song S et al (2014) ALDH-1 expression levels predict response or resistance to preoperative chemo radiation in resectable esophageal cancer patients. Mol Oncol 8(1):142–149

Chang A (2011) Chemotherapy, chemoresistance and the changing treatment landscape for NSCLC. Lung Cancer 71(1):3–10

Chung FT, Lee KY, Wang CW et al (2012) Tumor-associated macrophages correlate with response to epidermal growth factor receptor-tyrosine kinase inhibitors in advanced non-small cell lung cancer. Int J Cancer 131(3):e227–e235

DeNardo DG, Brennan DJ, Rexhepaj E et al (2011) Leukocyte complexity predicts breast cancer survival and functionally regulates response to chemotherapy. Cancer Discov 1(1):54–67

Farmer P, Bonnefoi H, Anderle P et al (2009) A stroma-related gene signature predicts resistance to neoadjuvant chemotherapy in breast cancer. Nat Med 15(1):68–74

Fukuoka M, Wu YL, Thongprasert S et al (2011) Biomarker analyses and final overall survival results from a phase III, randomized, open-label, first-line study of gefitinib versus carboplatin/paclitaxel in clinically selected patients with advanced non-small-cell lung cancer in Asia (IPASS). J Clin Oncol 29(21):2866–2874

Ginestier C, Hur MH, Charafe-Jauffret E et al (2007) ALDH1 is a marker of normal and malignant human mammary stem cells and a predictor of poor clinical outcome. Cell Stem Cell 1(5):555–567

Hoshino A, Ishii G, Ito T et al (2011) Podoplanin-positive fibroblasts enhance lung adenocarcinoma tumor formation: podoplanin in fibroblast functions for tumor progression. Cancer Res 71(14):4769–4779

Howlader N, Noone AM, Krapcho M, et al (2013) SEER cancer statistics review, 1975–2010, National Cancer Institute; Bethesda, MD, http://seer.cancer.gov/csr/1975_2010/, based on November 2012 SEER data submission, posted to the SEER web site, April 2013

Ito M, Ishii G, Nagai K et al (2012) Prognostic impact of cancer-associated stromal cells in patients with stage I lung adenocarcinoma. Chest 142(1):151–158

Jiang F, Qiu Q, Khanna A et al (2009) Aldehyde dehydrogenase 1 is a tumor stem cell-associated marker in lung cancer. Mol Cancer Res 7(3):330–338

Kawai O, Ishii G, Kubota K et al (2008) Predominant infiltration of macrophages and CD8(+) T Cells in cancer nests is a significant predictor of survival in stage IV nonsmall cell lung cancer. Cancer 113(6):1387–1395

Kawase A, Ishii G, Nagai K et al (2008) Podoplanin expression by cancer associated fibroblasts predicts poor prognosis of lung adenocarcinoma. Int J Cancer 123(5):1053–1059

Kirita K, Ishii G, Matsuwaki R et al (2013) Identification of biological properties of intralymphatic tumor related to the development of lymph node metastasis in lung adenocarcinoma. PLoS ONE 8(12):e83537

Le Guellec S, Moyal EC, Filleron T et al (2013) Theβ5/focal adhesion kinase/glycogen synthase kinase 3β integrin pathway in high-grade osteosarcoma: a protein expression profile predictive of response to neoadjuvant chemotherapy. Hum Pathol 44(10):2149–2158

Lord RV, Brabender J, Gandara D et al (2002) Low ERCC1 expression correlates with prolonged survival after cisplatin plus gemcitabine chemotherapy in non-small cell lung cancer. Clin Cancer Res 8(7):2286–2291

Ma L, Jiang T (2013) Clinical implications of Ezrin and CD44 co-expression in breast cancer. Oncol Rep 30(4):1899–1905

Maeda R, Ishii G, Neri S et al (2014) Circulating CD14+ CD204+ cells predict postoperative recurrence in non–small-cell lung cancer patients. J Thorac Oncol 9(2):179–188

McMillin DW, Delmore J, Weisberg E et al (2010) Tumor cell-specific bioluminescence platform to identify stroma-induced changes to anticancer drug activity. Nat Med 16(4):483–489

Neri S, Ishii G, Taira T et al (2012) Recruitment of podoplanin positive cancer-associated fibroblasts in metastatic lymph nodes predicts poor prognosis in pathological N2 stage III lung adenocarcinoma. Ann Surg Oncol 19(12):3953–3962

Ohtaki Y, Ishii G, Nagai K et al (2010) Stromal macrophage expressing CD204 is associated with tumor aggressiveness in lung adenocarcinoma. J Thorac Oncol 5(10):1507–1515

Olaussen KA, Dunant A, Fouret P et al (2006) DNA repair by ERCC1 in non-small-cell lung cancer and cisplatin-based adjuvant chemotherapy. N Engl J Med 355(10):983–991

Olive KP, Jacobetz MA, Davidson CJ et al (2009) Inhibition of Hedgehog signaling enhances delivery of chemotherapy in a mouse model of pancreatic cancer. Science 34(5933):1457–1461

Olson OC, Joyce JA (2013) Microenvironment-mediated resistance to anticancer therapies. Cell Res 23(2):179–181

Ono S, Ishii G, Nagai K et al (2013) Podoplanin-positive cancer-associated fibroblasts could have prognostic value independent of cancer cell phenotype in stage I lung squamous cell carcinoma: usefulness of combining analysis of both cancer cell phenotype and cancer-associated fibroblast phenotype. Chest 143(4):963–970

Ota S, Ishii G, Goto K et al (2009) Immunohistochemical expression of BCRP and ERCC1 in biopsy specimen predicts survival in advanced non-small-cell lung cancer treated with cisplatin-based chemotherapy. Lung Cancer 64(1):98–104

Pujol JL, Barlesi F, Daurès JP (2006) Should chemotherapy combinations for advanced non-small cell lung cancer be platinum-based? A meta-analysis of phase III randomized trials. Lung Cancer 51(3):335–345

Rong G, Kang H, Wang Y et al (2013) Candidate markers that associate with chemotherapy resistance in breast cancer through the study on Taxotere-induced damage to tumor microenvironment and gene expression profiling of carcinoma-associated fibroblasts (CAFs). PLoS ONE 8(8):e70960

Rosell R, Skrzypski M, Jassem E et al (2007) BRCA1: a novel prognostic factor in resected non-small-cell lung cancer. PLoS ONE 2(11):e1129

Shree T, Olson OC, Elie BT et al (2011) Macrophages and cathepsin proteases blunt chemotherapeutic response in breast cancer. Genes Dev 25(23):2465–2479

Yoh K, Ishii G, Yokose T et al (2004) Breast cancer resistance protein impacts clinical outcome in platinum-based chemotherapy for advanced non-small cell lung cancer. Clin Cancer Res 10(5):1691–1697
Acknowledgments
This work was supported by National Cancer Center Research and Development Fund (23-A-12 and 23-K-18), the Foundation for the Promotion of Cancer Research, Third-Term Comprehensive 10-Year Strategy for Cancer Control, Program for the Promotion of Fundamental Studies in Health Sciences of the National Institute of Biomedical Innovation, and JSPS KAKENHI (24659185).
Conflict of interest
The authors have no conflict of interest to disclose.
Electronic supplementary material
Below is the link to the electronic supplementary material.
About this article
Cite this article
Koriyama, H., Ishii, G., Yoh, K. et al. Presence of podoplanin-positive cancer-associated fibroblasts in surgically resected primary lung adenocarcinoma predicts a shorter progression-free survival period in patients with recurrences who received platinum-based chemotherapy. J Cancer Res Clin Oncol 141, 1163–1170 (2015). https://doi.org/10.1007/s00432-014-1891-0
Received:

Accepted:

Published:

Issue Date:
Keywords
Lung adenocarcinoma

Platinum-based chemotherapy

Tumor-associated macrophages

Cancer-associated fibroblasts

Podoplanin