Abstract
Purpose
Previous studies demonstrated survival benefits in association with the addition of chemoradiotherapy after surgery in gastric cancer. This study aimed to examine the efficacy in terms of loco-regional control and survival and safety of 5-FU-based adjuvant chemoradiotherapy after D2 curative surgery.
Methods
This study included 228 patients (81 female, 147 male) treated for gastric cancer with curative surgery plus adjuvant chemoradiotherapy. Majority of the patients underwent at least D2 lymph node resection. Median three cycles of fluorouracil chemotherapy were administered, and 45-Gy radiotherapy was delivered at 1.8 Gy/fraction concomitantly during the second cycle of chemotherapy. Local control, regional control, distant metastasis and overall survival rates were estimated.
Results
The median age of the patients was 54 years (range 25–74 years). The most common grade III toxicities were nausea (10 %) and neutropenia (9 %). During radiotherapy, grade IV local skin reaction occurred in one patient. Median duration of follow-up was 47 months. Local, regional and distant recurrence developed in 9 (4 %), 41 (18 %) and 45 (20 %) patients, respectively. Overall 5-year survival rate was 57.2 %, and disease-free 5-year survival rate was 53.8 %. Multivariate analysis identified less than 15 lymph node involvement as an independent predictor of better survival (p < 0.001).
Conclusions
Concomitant 5-FU-based chemoradiotherapy seems to be an effective and tolerable adjuvant regimen on local control and survival in curatively resected node-positive stomach cancer, particularly when combined with D2 resection.
This is a preview of subscription content, log in to check access.
Access options
Buy single article
Instant access to the full article PDF.
US$ 39.95
Price includes VAT for USA
Subscribe to journal
Immediate online access to all issues from 2019. Subscription will auto renew annually.
US$ 199
This is the net price. Taxes to be calculated in checkout.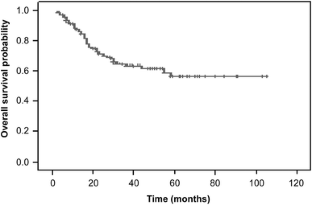 References
Bang YJ et al (2012) Adjuvant capecitabine and oxaliplatin for gastric cancer after D2 gastrectomy (CLASSIC): a phase 3 open-label, randomised controlled trial. Lancet 379:315–321. doi:10.1016/S0140-6736(11)61873-4

Gilbertsen VA (1969) Results of treatment of stomach cancer. An appraisal of efforts for more extensive surgery and a report of 1,983 cases. Cancer 23:1305–1308

Greene FL (2002) American Joint Committee on Cancer staging manual. 6th edn, New York

Gunderson LL (2002) Gastric cancer—patterns of relapse after surgical resection. Semin Radiat Oncol 12:150–161. doi:10.1053/srao.2002.30817

Hallissey MT, Dunn JA, Ward LC, Allum WH (1994) The second British Stomach Cancer Group trial of adjuvant radiotherapy or chemotherapy in resectable gastric cancer: five-year follow-up. Lancet 343:1309–1312

Howson CP, Hiyama T, Wynder EL (1986) The decline in gastric cancer: epidemiology of an unplanned triumph. Epidemiol Rev 8:1–27

Huang YY, Yang Q, Zhou SW, Wei Y, Chen YX, Xie DR, Zhang B (2013) Postoperative chemoradiotherapy versus postoperative chemotherapy for completely resected gastric cancer with D2 lymphadenectomy: a meta-analysis. PLoS ONE 8:e68939. doi:10.1371/journal.pone.0068939

Jácome et al (2013) Effect of adjuvant chemoradiotherapy on overall survival of gastric cancer patients submitted to D2 lymphadenectomy. Gastric Cancer 16:233–238

Japanese Research Society for Gastric Cancer: Japanese Classification of Gastric Carcinoma (1995). 1st English edn. Kanehara, Tokyo, Japan

Jemal A, Siegel R, Ward E, Murray T, Xu J, Smigal C, Thun MJ (2006) Cancer statistics. CA Cancer J Clin 56:106–130

Kim S et al (2005) An observational study suggesting clinical benefit for adjuvant postoperative chemoradiation in a population of over 500 cases after gastric resection with D2 nodal dissection for adenocarcinoma of the stomach. Int J Radiat Oncol Biol Phys 63:1279–1285. doi:10.1016/j.ijrobp.2005.05.005

Landry J, Tepper JE, Wood WC, Moulton EO, Koerner F, Sullinger J (1990) Patterns of failure following curative resection of gastric carcinoma. Int J Radiat Oncol Biol Phys 19:1357–1362

Lee J et al (2012) Phase III trial comparing capecitabine plus cisplatin versus capecitabine plus cisplatin with concurrent capecitabine radiotherapy in completely resected gastric cancer with D2 lymph node dissection: the ARTIST trial. J Clin Oncol 30:268–273. doi:10.1200/JCO.2011.39.1953

Leong CN et al (2008) Outcomes of adjuvant chemoradiotherapy after a radical gastrectomy and a D2 node dissection for gastric adenocarcinoma. Cancer J 14:269–275

Macdonald JS et al (2001) Chemoradiotherapy after surgery compared with surgery alone for adenocarcinoma of the stomach or gastroesophageal junction. N Engl J Med 345:725–730. doi:10.1056/NEJMoa010187

Maruyama K et al (2006) Gastric cancer treated in 1991 in Japan: data analysis of nationwide registry. Gastric Cancer 9:51–66. doi:10.1007/s10120-006-0370-y

Meyers WC, Damiano RJ Jr, Rotolo FS, Postlethwait RW (1987) Adenocarcinoma of the stomach. Changing patterns over the last 4 decades. Ann Surg 205:1–8

Saglam S, Aykan NF, Sakar B, Gulluoglu M, Balik E, Karanlik H (2011) A pilot study evaluating the safety and toxicity of epirubicin, cisplatin, and UFT (ECU regimen) in advanced gastric carcinoma. J Gastrointest Oncol 2:19–26. doi:10.3978/j.issn.2078-6891.2010.030

Sakuramoto S et al (2007) Adjuvant chemotherapy for gastric cancer with S-1, an oral fluoropyrimidine. N Engl J Med 357:1810–1820. doi:10.1056/NEJMoa072252

Sasako M et al (2008) D2 lymphadenectomy alone or with para-aortic nodal dissection for gastric cancer. N Engl J Med 359:453–462. doi:10.1056/NEJMoa0707035

Sasako M et al (2011) Five-year outcomes of a randomized phase III trial comparing adjuvant chemotherapy with S-1 versus surgery alone in stage II or III gastric cancer. J Clin Oncol 29:4387–4393. doi:10.1200/JCO.2011.36.5908

Wagner AD, Grothe W, Haerting J, Kleber G, Grothey A, Fleig WE (2006) Chemotherapy in advanced gastric cancer: a systematic review and meta-analysis based on aggregate data. J Clin Oncol 24:2903–2909. doi:10.1200/JCO.2005.05.0245

Zhu WG et al (2012) A randomized, controlled, multicenter study comparing intensity-modulated radiotherapy plus concurrent chemotherapy with chemotherapy alone in gastric cancer patients with D2 resection. Radiother Oncol 104:361–366. doi:10.1016/j.radonc.2012.08.024
About this article
Cite this article
Kaytan Saglam, E., Yucel, S., Balik, E. et al. Adjuvant chemoradiotherapy after D2 resection in gastric cancer: a single-center observational study. J Cancer Res Clin Oncol 141, 361–367 (2015). https://doi.org/10.1007/s00432-014-1816-y
Received:

Accepted:

Published:

Issue Date:
Keywords
Adjuvant therapy

Chemoradiotherapy

Gastric cancer

D2 resection