Abstract
Purpose
Overexpression of DJ-1 was associated with metastatic uveal melanoma (UM). The purpose of this study was to evaluate the potential of serum DJ-1 as a biomarker for metastasis of uveal melanoma.
Methods
Serum DJ-1 levels were determined by ELISA assays in 27 patients with metastatic UM metastatic uveal melanoma and in 76 patients who were disease free for at least 10 years and 30 age- and sex-matched controls. Receiver operating characteristic (ROC) curve was used to evaluate the feasibility of DJ-1 in detection of metastatic uveal melanoma.
Results
Serum DJ-1 levels were significantly higher in patients with metastatic UM compared with patients who were disease free for at least 10 years (P < 0.001) or with controls (P < 0.001). ROC curve for DJ-1 revealed an area under the curve of 86.3 %, and when 3.350 ng/mL was used as the cutoff value, a sensitivity of 74.1 % and a specificity of 94.3 % were achieved. Comparison of DJ-1 and liver function tests (LFTs) ROC curves indicated that DJ-1 was superior to LFTs in detection of metastatic UM.
Conclusions
Our data suggest that DJ-1 might be a promising serum marker for monitoring metastatic uveal melanoma.
This is a preview of subscription content, log in to check access.
Access options
Buy single article
Instant access to the full article PDF.
US$ 39.95
Price includes VAT for USA
Subscribe to journal
Immediate online access to all issues from 2019. Subscription will auto renew annually.
US$ 199
This is the net price. Taxes to be calculated in checkout.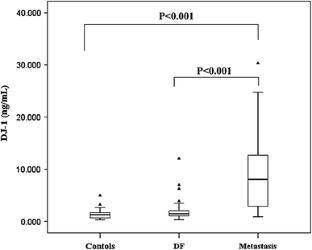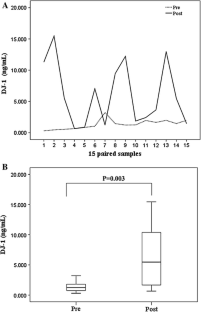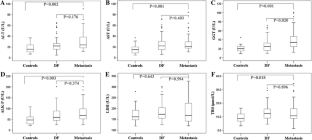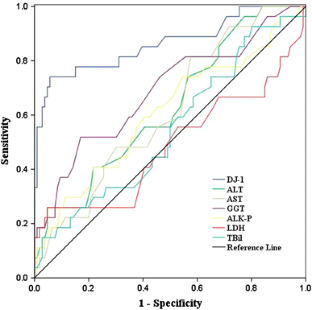 References
Arnouk H, Merkley MA, Podolsky RH, Stöppler H, Santos C, Alvarez M, Mariategui J, Ferris D, Lee JR, Dynan WS (2009) Characterization of molecular markers indicative of cervical cancer progression. Proteomics Clin 3:516–527

Bai J, Guo C, Sun W, Li M, Meng X, Yu Y, Jin Y, Tong D, Geng J, Huang Q, Qi J, Fu S (2012) DJ-1 may contribute to metastasis of non-small cell lung cancer. Mol Biol Rep 39:2697–2703

Bonifati V, Rizzu P, Squitieri F, Krieger E, Vanacore N, van Swieten JC, Brice A, van Duijn CM, Oostra B, Meco G, Heutink P (2003) DJ-1 (PARK7), a novel gene for autosomal recessive, early onset parkinsonism. Neurol Sci 24:159–160

Clements CM, McNally RS, Conti BJ, Mak TW, Ting JP (2006) DJ-1, a cancer- and Parkinson's disease associated protein, stabilizes the antioxidant transcriptional master regulator Nrf2. Proc Natl Acad Sci USA 103:15091–15096

Collaborative Ocular Melanoma Study Group (2001) Assessment of metastatic disease status at death in 435 patients with large choroidal melanoma in the Collaborative Ocular Melanoma Study (COMS): COMS report no. 15. Arch Ophthalmol 119:670–676

Damato B (2004) Developments in the management of uveal melanoma. Clin Exp Ophthalmol 32:639–647

Giusti L, Iacconi P, Ciregia F, Giannaccini G, Donatini GL, Basolo F, Miccoli P, Pinchera A, Lucacchini A (2008) Fine-needle aspiration of thyroid nodules: proteomic analysis to identify cancer biomarkers. J Proteome Res 7:4079–4088

Grzmil M, Voigt S, Thelen P, Hemmerlein B, Helmke K, Burfeind P (2004) Up-regulated expression of the MAT-8 gene in prostate cancer and its siRNA-mediated inhibition of expression induces a decrease in proliferation of human prostate carcinoma cells. Int J Oncol 24:97–105

He X, Zheng Z, Li J, Ben Q, Liu J, Zhang J, Ji J, Yu B, Chen X, Su L, Zhou L, Liu B, Yuan Y (2012) DJ-1 promotes invasion and metastasis of pancreatic cancer cells by activating SRC/ERK/uPA. Carcinogenesis 33:555–562

Kaiserman I, Amer R, Pe'er J (2004) Liver function tests in metastatic uveal melanoma. Am J Ophthalmol 137:236–243

Kapoor S (2013) DJ-1 and its emerging role as a biomarker of systemic malignancies besides lung carcinomas. Mol Biol Rep 40:1529

Kim RH, Peters M, Jang Y, Shi W, Pintilie M, Fletcher GC, DeLuca C, Liepa J, Zhou L, Snow B, Binari RC, Manoukian AS, Bray MR, Liu FF, Tsao MS, Mak TW (2005) DJ-1, a novel regulator of the tumor suppressor PTEN. Cancer Cell 7:263–273

Le Naour F, Misek DE, Krause MC, Deneux L, Giordano TJ, Scholl S, Hanash SM (2001) Proteomics-based identification of RS/DJ-1 as a novel circulating tumor antigen in breast cancer. Clin Cancer Res 7:3328–3335

Linge A, Kennedy S, O'Flynn D, Beatty S, Moriarty P, Henry M, Clynes M, Larkin A, Meleady P (2012) Differential expression of fourteen proteins between uveal melanoma from patients who subsequently developed distant metastases versus those who did not. Invest Ophthalmol Vis Sci 53:4634–4643

Liu H, Wang M, Li M, Wang D, Rao Q, Wang Y, Xu Z, Wang J (2008) Expression and role of DJ-1 in leukemia. Biochem Biophys Res Commun 375:477–483

MacKeigan JP, Clements CM, Lich JD, Pope RM, Hod Y, Ting JP (2003) Proteomic profiling drug-induced apoptosis in non-small cell lung carcinoma: identification of RS/DJ-1 and RhoGDIalpha. Cancer Res 63:6928–6934

Melle C, Ernst G, Escher N, Hartmann D, Schimmel B, Bleul A, Thieme H, Kaufmann R, Felix K, Friess HM, Settmacher U, Hommann M, Richter KK, Daffner W, Täubig H, Manger T, Claussen U, von Eggeling F (2007) Protein profiling of microdissected pancreas carcinoma and identification of HSP27 as a potential serum marker. Clin Chem 53:629–635

Missotten GS, Keunen JE (2004) Screening for uveal melanoma metastasis. Bull Soc Belge Ophtalmol 294:13–22

Mudhar HS, Parsons MA, Sisley K, Rundle P, Singh A, Rennie IG (2004) A critical appraisal of the prognostic and predictive factors for uveal malignant melanoma. Histopathology 45:1–12

Nagakubo D, Taira T, Kitaura H, Ikeda M, Tamai K, Iguchi-Ariga SM, Ariga H (1997) DJ-1, a novel oncogene which transforms mouse NIH3T3 cells in cooperation with ras. Biochem Biophys Res Commun 231:509–513

Pardo M, Garcia A, Thomas B, Piñeiro A, Akoulitchev A, Dwek RA, Zitzmann N (2006) The characterization of the invasion phenotype of uveal melanoma tumour cells shows the presence of MUC18 and HMG-1 metastasis markers and leads to the identification of DJ-1 as a potential serum biomarker. Int J Cancer 119:1014–1022

Singh AD, Bergman L, Seregard S (2005) Uveal melanoma: epidemiologic aspects. Ophthalmol Clin N Am 18:75–84

Taira T, Saito Y, Niki T, Iguchi-Ariga SM, Takahashi K, Ariga H (2004) DJ-1 has a role in antioxidative stress to prevent cell death. EMBO Rep 5:213–218

Tian M, Cui YZ, Song GH, Zong MJ, Zhou XY, Chen Y, Han JX (2008) Proteomic analysis identifies MMP-9, DJ-1 and A1BG as overexpressed proteins in pancreatic juice from pancreatic ductal adenocarcinoma patients. BMC Cancer 8:241

Toivonen P, Makitie T, Kujala E, Kivela T (2004) Microcirculation and tumor-infiltrating macrophages in choroidal and ciliary body melanoma and corresponding metastases. Invest Ophthalmol Vis Sci 45:1–6

Vasseur S, Afzal S, Tardivel-Lacombe J, Park DS, Iovanna JL, Mak TW (2009) DJ-1/PARK7 is an important mediator of hypoxia-induced cellular responses. Proc Natl Acad Sci USA 106:1111–1116

Yuen HF, Chan YP, Law S, Srivastava G, El-Tanani M, Mak TW, Chan KW (2008) DJ-1 could predict worse prognosis in esophageal squamous cell carcinoma. Cancer Epidemiol Biomark Prev 17:3593–3602

Zhu XL, Wang ZF, Lei WB, Zhuang HW, Jiang HY, Wen WP (2010) DJ-1: a novel independent prognostic marker for survival in glottic squamous cell carcinoma. Cancer Sci 101:1320–1325

Zhu ZM, Li ZR, Huang Y, Yu HH, Huang XS, Yan YF, Shao JH, Chen HP (2014) DJ-1 is involved in the peritoneal metastasis of gastric cancer through activation of the Akt signaling pathway. Oncol Rep 31:1489–1497
Acknowledgments
The authors thank the staff of the Department of Ocular Oncology, Tumour Hospital of Taian, for collection of blood samples.
Conflict of interest
The authors declare that they have no potential conflicts of interest.
Additional information
Li-Li Chen, Jian-Jun Tian, Liang Su, Yan Jing and Cheng-Bao Zhu have contributed equally to this work.
About this article
Cite this article
Chen, L., Tian, J., Su, L. et al. DJ-1: a promising marker in metastatic uveal melanoma. J Cancer Res Clin Oncol 141, 315–321 (2015). https://doi.org/10.1007/s00432-014-1804-2
Received:

Accepted:

Published:

Issue Date:
Keywords
Uveal melanoma

Metastasis

Serum marker

DJ-1