Abstract
Purpose
We analyzed prognostic categories at first relapse according to the International Prognostic Factors Study Group (IPFSG) criteria as well as the efficacy of salvage treatment.
Methods
143 patients with relapsed or refractory germ cell cancer undergoing first salvage treatment with conventional-dose (CD-CX, n = 48) or high-dose chemotherapy with autologous stem cell support (HD-CX, n = 95) contributed by nine centers were retrospectively analyzed.
Results
Prognostic subgroups according to IPFSG criteria were: very low risk 13/143, low risk 36/143, intermediate risk 66/143, high risk 22/143, and very high risk 6/143 patients. The IPFSG categories significantly correlated with overall survival (OS) (p = 0.025) after 1st salvage treatment. After a median follow-up of 19 months, 55 % of all patients had relapsed and 33 % had died. For the entire cohort, progression-free survival (PFS) rate after 2 years was 43 %, and OS rate after 5 years was 52 %. Compared to the HD-CX group, vital carcinoma was found more often in secondarily resected lesions following CD-CX (22/29 vs. 22/45; p = 0.021). Second relapse rate was higher with 75 versus 44 %, resulting in a shorter median PFS with 8 versus 42 months (p < 0.001), but this did not translate into different OS (p = 0.931). At subsequent relapses, 26/36 patients received HD-CX as ≥2nd-salvage treatment.
Conclusion
This analysis confirms the prognostic value of the IPFSG prognostic score. HD-CX seemed superior to CD-CX as first salvage treatment with respect to PFS in this retrospective analysis.
This is a preview of subscription content, log in to check access.
Access options
Buy single article
Instant access to the full article PDF.
US$ 39.95
Price includes VAT for USA
Subscribe to journal
Immediate online access to all issues from 2019. Subscription will auto renew annually.
US$ 199
This is the net price. Taxes to be calculated in checkout.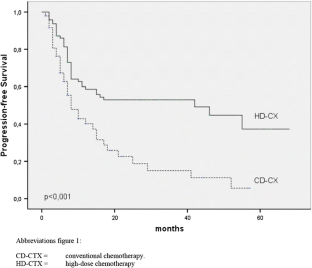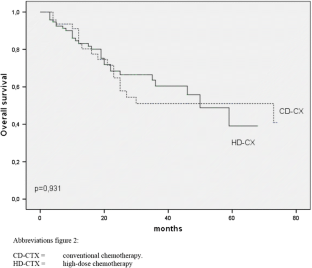 References
Beyer J, Kramar A, Mandanas R et al (1996) High-dose chemotherapy as salvage treatment in germ cell tumors: a multivariate analysis of prognostic variables. J Clin Oncol 14(10):2638–2645

Beyer J, Albers P, Altena R et al (2013) Maintaining success, reducing treatment burden, focusing on survivorship: highlights from the third European consensus conference on diagnosis and treatment of germ-cell cancer. Ann Oncol 24(4):878–888

Bhatia S, Abonour R, Porcu P et al (2000) High-dose chemotherapy as initial salvage chemotherapy in patients with relapsed testicular cancer. J Clin Oncol 18(19):3346–3351

Einhorn LH, Williams SD, Chamness A et al (2007) High-dose chemotherapy and stem-cell rescue for metastatic germ-cell tumors. N Engl J Med 357(4):340–348

Feldman DR, Sheinfeld J, Bajorin DF et al (2010) TI-CE high-dose chemotherapy for patients with previously treated germ cell tumors: results and prognostic factor analysis. J Clin Oncol 28(10):1706–1713

Fossa SD, Stenning SP, Gerl A et al (1999) Prognostic factors in patients progressing after cisplatin-based chemotherapy for malignant non-seminomatous germ cell tumours. Br J Cancer 80(9):1392–1399

Gerl A, Clemm C, Schmeller N et al (1995) Prognosis after salvage treatment for unselected male patients with germ cell tumours. Br J Cancer 72(4):1026–1032

Hartmann JT, Einhorn L, Nichols CR et al (2001) Second-line chemotherapy in patients with relapsed extragonadal nonseminomatous germ cell tumors: results of an international multicenter analysis. J Clin Oncol 19(6):1641–1648

Horwich A (1995) Salvage therapy of germ cell tumours. Br J Cancer 71(5):901–903

Kollmannsberger C, Honecker F, Bokemeyer C (2008) Pharmacotherapy of relapsed metastatic testicular cancer. Expert Opin Pharmacother 9(13):2259–2272

Loehrer PJ Sr, Gonin R, Nichols CR et al (1998) Vinblastine plus ifosfamide plus cisplatin as initial salvage therapy in recurrent germ cell tumor. J Clin Oncol 16(7):2500–2504

Lorch A, Beyer J, Bascoul-Mollevi C et al (2010a) Prognostic factors in patients with metastatic germ cell tumors who experienced treatment failure with cisplatin-based first-line chemotherapy. J Clin Oncol 28(33):4906–4911

Lorch A, Neubauer A, Hackenthal M et al (2010b) High-dose chemotherapy (HDCT) as second-salvage treatment in patients with multiple relapsed or refractory germ-cell tumors. Ann Oncol 21(4):820–825

Lorch A, Bascoul-Mollevi C, Kramar A et al (2011) Conventional-dose versus high-dose chemotherapy as first salvage treatment in male patients with metastatic germ cell tumors: evidence from a large international database. J Clin Oncol 29(16):2178–2184

Lorch A, Kleinhans A, Kramar A et al (2012) Sequential versus single high-dose chemotherapy in patients with relapsed or refractory germ cell tumors: long-term results of a prospective randomized trial. J Clin Oncol 30(8):800–805

McCaffrey JA, Mazumdar M, Bajorin DF et al (1997) Ifosfamide- and cisplatin-containing chemotherapy as first-line salvage therapy in germ cell tumors: response and survival. J Clin Oncol 15(7):2559–2563

Motzer RJ, Geller NL, Tan CC et al (1991) Salvage chemotherapy for patients with germ cell tumors. The memorial sloan-kettering cancer center experience (1979–1989). Cancer 67(5):1305–1310

Motzer RJ, Sheinfeld J, Mazumdar M et al (2000) Paclitaxel, ifosfamide, and cisplatin second-line therapy for patients with relapsed testicular germ cell cancer. J Clin Oncol 18(12):2413–2418

Rick O, Bokemeyer C, Beyer J et al (2001) Salvage treatment with paclitaxel, ifosfamide, and cisplatin plus high-dose carboplatin, etoposide, and thiotepa followed by autologous stem-cell rescue in patients with relapsed or refractory germ cell cancer. J Clin Oncol 19(1):81–88

Siegert W, Beyer J, Strohscheer I et al (1994) High-dose treatment with carboplatin, etoposide, and ifosfamide followed by autologous stem-cell transplantation in relapsed or refractory germ cell cancer: a phase I/II study. The German Testicular Cancer Cooperative Study Group. J Clin Oncol 12(6):1223–1231
About this article
Cite this article
Berger, L.A., Bokemeyer, C., Lorch, A. et al. First salvage treatment in patients with advanced germ cell cancer after cisplatin-based chemotherapy: analysis of a registry of the German Testicular Cancer Study Group (GTCSG). J Cancer Res Clin Oncol 140, 1211–1220 (2014). https://doi.org/10.1007/s00432-014-1661-z
Received:

Accepted:

Published:

Issue Date:
Keywords
Germ cell cancer

Relapse

Refractory

Cisplatin

Salvage chemotherapy

High-dose chemotherapy