Abstract
Purpose
A grow body of studies has evaluated the risk of development of urological cancer in systemic lupus erythematosus (SLE) with inconclusive results. To clarify the association, a meta-analysis approach was performed to assess the published evidence on urological cancers and SLE.
Methods
Relevant English electronic databases were systematic searched for published studies characterizing the risk of developing urological cancer as a result of SLE. Standardized incidence rate (SIR) with its 95 % confidence interval (CI) of each study was combined using a fixed-/random-effect model in STATA software.
Results
A total of 12 papers including 68366 SLE patients were suitable for meta-analysis. Of these, 9 reported the SIR for prostate cancer, 7 for bladder cancer and 6 for kidney cancer. Summary SIRs were 0.77 (95 % CI 0.69–0.87, P < 0.001); 1.75 (95 % CI 0.94–3.23, P = 0.075) and 2.29 (95 % CI 1.25–4.18, P = 0.007), respectively. Significant heterogeneity was noticed in subgroups of bladder and kidney cancer. No obvious publication bias was detected.
Conclusions
Findings from this meta-analysis indicate that SLE is associated with a decreased risk of prostate cancer and an increased risk of kidney cancer.
This is a preview of subscription content, log in to check access.
Access options
Buy single article
Instant access to the full article PDF.
US$ 39.95
Price includes VAT for USA
Subscribe to journal
Immediate online access to all issues from 2019. Subscription will auto renew annually.
US$ 199
This is the net price. Taxes to be calculated in checkout.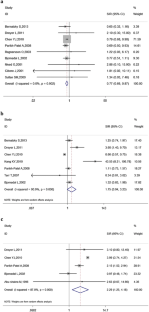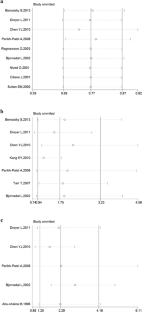 References
Abu-Shakra M, Gladman DD, Urowitz MB (1996) Malignancy in systemic lupus erythematosus. Arthritis Rheum 39(6):1050–1054

Begg CB, Mazumdar M (1994) Operating characteristics of a rank correlation test for publication bias. Biometrics 50:1088–1101

Bernatsky S, Ramsey-Goldman R, Foulkes WD, Gordon C, Clarke AE (2011) Breast, ovarian, and endometrial malignancies in systemic lupus erythematosus: a meta-analysis. Br J Cancer 104(9):1478–1481

Bernatsky S, Ramsey-Goldman R, Labrecque J, Joseph L, Boivin JF, Petri M et al (2013) Cancer risk in systemic lupus: an updated international multi-centre cohort study. J Autoimmun 42:130–135

Björnådal L, Löfström B, Yin L, Lundberg IE, Ekbom A (2002) Increased cancer incidence in a Swedish cohort of patients with systemic lupus erythematosus. Scand J Rheumatol 31(2):66–71

Cammarata RJ, Rodnan GP, Jensen WN (1963) Systemic rheumatic disease and malignant lymphoma. Arch Intern Med 111:330

Chen YJ, Chang YT, Wang CB, Wu CY (2010) Malignancy in systemic lupus erythematosus: a nationwide cohort study in Taiwan. Am J Med 123(12):1150.e1-6

Chun BC, Bae SC (2005) Mortality and cancer incidence in Korean patients with systemic lupus erythematosus: results from the Hanyang lupus cohort in Seoul. Korea. Lupus. 14(8):635–638

Cibere J, Sibley J, Haga M (2001) Systemic lupus erythematosus and the risk of malignancy. Lupus. 10(6):394–400

DerSimonian R, Laird N (1986) Meta-analysis in clinical trials. Control Clin Trials 7:177–188

Dreyer L, Faurschou M, Mogensen M, Jacobsen S (2011) High incidence of potentially virus-induced malignancies in systemic lupus erythematosus: a long-term follow up study in a Danish cohort. Arthritis Rheum 63(10):3032–3037

Egger M, Davey Smith G, Schneider M, Minder C (1997) Bias in meta-analysis detected by a simple, graphical test. BMJ 315:629–634

Higgins JP, Thompson SG (2002) Quantifying heterogeneity in a meta-analysis. Stat Med 21:1539–1558

Jemal A, Bray F, Center MM, Ferlay J, Ward E, Forman D (2011) Global cancer statistics. CA Cancer J Clin 61(2):69–90

Kang KY, Kim HO, Yoon HS, Lee J, Lee WC, Ko HJ et al (2010) Incidence of cancer among female patients with systemic lupus erythematosus in Korea. Clin Rheumatol 29(4):381–388

Kinlen LJ (1992) Malignancy in autoimmune diseases. J Autoimmun 5(Suppl A):363–371

Lawrence RC, Helmick CG, Arnett FC et al (1998) Estimates of the prevalence of arthritis and selected musculoskeletal disorders in the United States. Arthritis Rheum 41:778–799

Liu H, Ding Q, Yang K, Zhang T, Li G, Wu G (2011) Meta-analysis of systemic lupus erythematosus and the risk of cervical neoplasia. Rheumatology (Oxford) 50(2):343–348

Mantel N, Haenszel W (1959) Statistical aspects of the analysis of data from retrospective studies of disease. J Natl Cancer Inst 22:719–748

Mellemkjaer L, Andersen V, Linet MS, Gridley G, Hoover R, Olsen JH (1997) Non-Hodgkin's lymphoma and other cancers among a cohort of patients with systemic lupus erythematosus. Arthritis Rheum 40(4):761–768

Mok CC, Lau CS (2000) Profile of sex hormones in male patients with systemic lupus erythematosus. Lupus 9(4):252–257

Mononen N, Schleutker J (2009) Polymorphisms in genes involved in androgen pathways as risk factors for prostate cancer. J Urol 181(4):1541–1549

Ni J, Qiu LJ, Hu LF, Cen H, Zhang M, Wen PF et al (2014) Lung, liver, prostate, bladder malignancies risk in systemic lupus erythematosus: evidence from a meta-analysis. Lupus. doi:10.1177/0961203313520060

Nived O, Bengtsson A, Jönsen A, Sturfelt G, Olsson H (2001) Malignancies during follow-up in an epidemiologically defined systemic lupus erythematosus inception cohort in southern Sweden. Lupus 10(7):500–504

Parikh-Patel A, White RH, Allen M, Cress R (2008) Cancer risk in a cohort of patients with systemic lupus erythematosus (SLE) in California. Cancer Causes Control 19(8):887–894

Ragnarsson O, Gröndal G, Steinsson K (2003) Risk of malignancy in an unselected cohort of Icelandic patients with systemic lupus erythematosus. Lupus 12(9):687–691

Sultan SM, Ioannou Y, Isenberg DA (2000) Is there an association of malignancy with systemic lupus erythematosus? An analysis of 276 patients under long-term review. Rheumatology (Oxford) 39(10):1147–1152

Tarr T, Gyorfy B, Szekanecz E, Bhattoa HP, Zeher M, Szegedi G et al (2007) Occurrence of malignancies in Hungarian patients with systemic lupus erythematosus: results from a single center. Ann N Y Acad Sci 1108:76–82

Zintzaras E, Voulgarelis M, Moutsopoulos HM (2005) The risk of lymphoma development in autoimmune diseases: a meta-analysis. Arch Intern Med 165(20):2337–2344
About this article
Cite this article
Huang, H., Jiang, S., Han, J. et al. A systematic review of the epidemiological literature on the risk of urological cancers in systemic lupus erythematosus. J Cancer Res Clin Oncol 140, 1067–1073 (2014). https://doi.org/10.1007/s00432-014-1604-8
Received:

Accepted:

Published:

Issue Date:
Keywords
Urological cancer

Systemic lupus erythematosus

Meta-analysis

SIR