Abstract
Purpose
To establish a prognostic prediction system for patients with hepatocellular carcinoma (HCC) exceeding Milan criteria after liver transplantation (LT).
Methods
A total of 130 patients undergoing LT for HCC exceeding Milan criteria were enrolled into the study. Independent predictors for relapse-free survival (RFS) were adopted to establish a grading system to predict the risk of post-LT tumor recurrence.
Results
Multivariate Cox analysis revealed that tumor size >10 cm [vs. ≤5 cm: relative risk (RR) = 4.214, P < 0.001], preoperative alpha fetoprotein > 400 ng/ml (vs. ≤400 ng/ml: RR = 1.657, P < 0.001), extrahepatic invasion (RR = 2.407, P = 0.005) and vascular invasion (RR = 1.917, P = 0.013) were independent predictors for RFS. The risk index of each patient was defined as the sum of the RR obtained in the Cox analysis for RFS. The risk of tumor recurrence was classified into four grades: grade I—risk index equal to 0, grade II—risk index from 0 to 2, grade III—risk index from 2 to 6 and grade IV—risk index >6. RFS rates of patients with grade I–IV (n = 35, 46, 30 and 19) were 87.5, 57.8, 34.7 and 0 % in 1 year; and 74.4, 41.7, 14.4 and 0 % in 5 years. Both of overall survival (OS) and RFS correlated well with the risk index grade. Patients with grade I achieved comparable prognostic outcomes with the Milan group patients (n = 119) (5-year OS = 73.7 vs. 74.7 %, P = 0.748; 5-year RFS = 74.4 vs. 85.7 %, P = 0.148).
Conclusions
The new grading system was proved to be a promising system in predicting the patient prognosis after LT for HCC exceeding Milan criteria.
This is a preview of subscription content, log in to check access.
Access options
Buy single article
Instant access to the full article PDF.
US$ 39.95
Price includes VAT for USA
Subscribe to journal
Immediate online access to all issues from 2019. Subscription will auto renew annually.
US$ 199
This is the net price. Taxes to be calculated in checkout.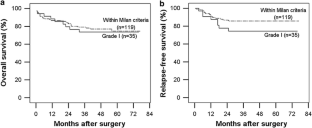 References
Duvoux C, Roudot-Thoraval F, Decaens F, Pessione F, Badran H, Piardi T, Francoz C, Compagnon P, Vanlemmens C, Dumortier J, Dharancy S, Gugenheim J, Bernard PH, Adam R, Radenne S, Muscari F, Conti F, Hardwigsen J, Pageaux GP, Chazouillères O, Salame E, Hilleret MN, Lebray P, Abergel A, Debette-Gratien M, Kluger MD, Mallat A, Azoulay D, Cherqui D, Liver Transplantation French Study Group (2012) Liver transplantation for hepatocellular carcinoma: a model including α-fetoprotein improves the performance of Milan criteria. Gastroenterology 143:986–994. doi:10.1053/j.gastro.2012.05.052

Edmondson HA, Steiner PE (1954) Primary carcinoma of the liver: a study of 100 cases among 48,900 necropsies. Cancer 7:462–503. doi:10.1002/1097-0142(195405)7:3<462:AID-CNCR2820070308>3.0.CO;2-E

European Association for the Study of the Liver, European Organisation for Research and Treatment of Cancer (2012) EASL–EORTC Clinical Practice Guidelines: management of hepatocellular carcinoma. J Hepatol 56:908–943. doi:10.1016/j.jhep.2011.12.001

Fan J, Yang GS, Fu ZR, Peng ZH, Xia Q, Peng CH, Qian JM, Zhou J, Xu Y, Qiu SJ, Zhong L, Zhou GW, Zhang JJ (2009) Liver transplantation outcomes in 1,078 hepatocellular carcinoma patients: a multi-center experience in Shanghai, China. J Cancer Res Clin Oncol 135:1403–1412. doi:10.1007/s00432-009-0584-6

Ito T, Takada Y, Ueda M, Haga H, Maetani Y, Oike F, Ogawa K, Sakamoto S, Ogura Y, Egawa H, Tanaka K, Uemoto S (2007) Expansion of selection criteria for patients with hepatocellular carcinoma in living donor liver transplantation. Liver Transplant 13:1637–1644. doi:10.1002/lt.21281

Izumi R, Shimizu K, Tohru II, Yagi M, Matsui O, Nonomura A, Miyazaki I (1994) Prognostic factors of hepatocellular carcinoma in patients undergoing hepatic resection. Gastroenterology 106:720–727

Lee SG, Hwang S, Moon DB, Ahn CS, Kim KH, Sung KB, Ko GY, Park KM, Ha TY, Song GW (2008) Expanded indication criteria of living donor liver transplantation for hepatocellular carcinoma at one large-volume center. Liver Transplant 14:935–945. doi:10.1002/lt.21445

Li J, Yan LN, Yang J, Chen ZY, Li B, Zeng Y, Wen TF, Zhao JC, Wang WT, Yang JY, Xu MQ, Ma YK (2009) Indicators of prognosis after liver transplantation in Chinese hepatocellular carcinoma patients. World J Gastroenterol 15:4170–4176. doi:10.3748/wjg.15.4170

Marsh JW, Dvorchik I, Bonham CA, Iwatsuki S (2000) Is the pathologic TNM staging system for patients with hepatoma predictive of outcome? Cancer 88:538–543. doi:10.1002/(SICI)1097-0142(20000201)88:3<538:AID-CNCR7>3.0.CO;2-H

Mazzaferro V, Regalia E, Doci R, Andreola S, Pulvirenti A, Bozzetti F, Montalto F, Ammatuna M, Morabito A, Gennari L (1996) Liver transplantation for the treatment of small hepatocellular carcinoma in patients with cirrhosis. N Engl J Med 334:693–699. doi:10.1056/NEJM199603143341104

Mazzaferro V, Llovet JM, Miceli R, Bhoori S, Schiavo M, Mariani L, Camerini T, Roayaie S, Schwartz ME, Grazi GL, Adam R, Neuhaus P, Salizzoni M, Bruix J, Forner A, De Carlis L, Cillo U, Burroughs AK, Troisi R, Rossi M, Gerunda GE, Lerut J, Belghiti J, Boin I, Gugenheim J, Rochling F, Van Hoek B, Majno P, Metroticket Investigator Study Group (2009) Predicting survival after liver transplantation in patients with hepatocellular carcinoma beyond the Milan criteria: a retrospective, exploratory analysis. Lancet Oncol 10:35–43. doi:10.1016/S1470-2045(08)70284-5

Parkin DM, Bray F, Ferlay J, Pisani P (2005) Global cancer statistics, 2002. CA Cancer J Clin 55:74–108. doi:10.3322/canjclin.55.2.74

Roayaie K, Feng S (2007) Allocation policy for hepatocellular carcinoma in the MELD era: room for improvement? Liver Transplant 13:S36–S43. doi:10.1002/lt.21329

Soejima Y, Taketomi A, Yoshizumi T, Uchiyama H, Aishima S, Terashi T, Shimada M, Maehara Y (2007) Extended indication for living donor liver transplantation in patients with hepatocellular carcinoma. Transplantation 83:893–899. doi:10.1097/01.tp.0000259015.46798.ec

Sugawara Y, Tamura S, Makuuchi M (2007) Living donor liver transplantation for hepatocellular carcinoma: Tokyo University series. Dig Dis 25:310–312. doi:10.1159/000106910

Todo S, Furukawa H, Japanese Study Croup on Organ Transplantation (2004) Living donor liver transplantation for adult patients with hepatocellular carcinoma: experience in Japan. Ann Surg 240:459–461. doi:10.1097/01.sla.0000137129.98894.42

Tsukuma H, Hiyama T, Tanaka S, Nakao M, Yabuuchi T, Kitamura T, Nakanishi K, Fujimoto I, Inoue A, Yamazaki H, Kawashima T (1993) Risk factors for hepatocellular carcinoma among patients with chronic liver disease. N Engl J Med 328:1797–1801. doi:10.1056/NEJM199306243282501

Wiesner RH, Freeman RB, Mulligan DC (2004) Liver transplantation for hepatocellular cancer: the impact of the MELD allocation policy. Gastroenterology 127:S261–S267. doi:10.1053/j.gastro.2004.09.040

Yao FY, Ferrell L, Bass NM, Watson JJ, Bacchetti P, Venook A, Ascher NL, Roberts JP (2001) Liver transplantation for hepatocellular carcinoma: expansion of the tumor size limits does not adversely impact survival. Hepatology 33:1394–1403. doi:10.1053/jhep.2001.24563

Zheng SS, Xu X, Wu J, Chen J, Wang WL, Zhang M, Liang TB, Wu LM (2008) Liver transplantation for hepatocellular carcinoma: Hangzhou experiences. Transplantation 85:1726–1732. doi:10.1097/TP.0b013e31816b67e4
Acknowledgments
The study was supported by the Training Program for Superb Academic Leaders in Shanghai Health System (No. XBR2011029) and the Special Fund for Building of Leading Talent Teams in Shanghai.
Conflict of interest
We declare that we have no conflict of interest.
About this article
Cite this article
Wan, P., Xia, Q., Zhang, J. et al. Liver transplantation for hepatocellular carcinoma exceeding the Milan criteria: a single-center experience. J Cancer Res Clin Oncol 140, 341–348 (2014). https://doi.org/10.1007/s00432-013-1576-0
Received:

Accepted:

Published:

Issue Date:
Keywords
Liver transplantation

Hepatocellular carcinoma

Milan criteria

Survival

Recurrence

Prognosis