Abstract
Purpose
The extradomain B of fibronectin (ED-B) is a promising vascular target for selective pharmacodelivery in cancer patients. We analyzed a large series of prostatectomies from patients with prostate cancer, hyperplastic prostate disease, and normal prostates to study extent and tumor-selectivity of ED-B expression.
Methods
Using immunohistology, 68 adenocarcinomas of the prostate or prostate cancer-inflicted lymph nodes, 4 samples of benign prostatic hyperplasia, and 6 normal prostate glands were studied for ED-B expressing newly formed blood vessels. Further, we treated an advanced prostate cancer patient with the anti-ED-B antibody 131I-L19SIP to study in vivo target accessibility.
Results
ED-B-positive blood vessels were found significantly more frequent in prostate cancers as compared with peritumoral prostate tissues or normal prostate glands, independent of tumor differentiation. The ED-B-positive blood vessels' density was 97 (±23), 65 (±9), and 59 (±9)/mm2 in G3, G2, and G1 prostate cancers, respectively, and 7 (±5)/mm2 in normal prostate glands. In high-grade (G3) prostate cancers, also the peritumoral tissue showed a higher density of ED-B vessels than normal prostate glands. Similar results were obtained when ED-B-positive vessel density was expressed as a fraction of CD34-positive vessel density. Finally, selective uptake of ED-B-binding 131I-L19SIP to tumor lesions was found in an advanced prostate cancer patient by whole-body planar scintigraphy.
Conclusions
ED-B-positive blood vessels were found to a large extent in prostate cancer tissues, but only rarely in normal prostates or benign prostatic hyperplasia. Whole-body planar scintigraphy in a prostate cancer patient confirmed selective uptake of 131I-L19SIP in the prostate cancer tissues, qualifying ED-B as a promising target for selective pharmacodelivery of anticancer agents in prostate cancer.
This is a preview of subscription content, log in to check access.
Access options
Buy single article
Instant access to the full article PDF.
US$ 39.95
Price includes VAT for USA
Subscribe to journal
Immediate online access to all issues from 2019. Subscription will auto renew annually.
US$ 199
This is the net price. Taxes to be calculated in checkout.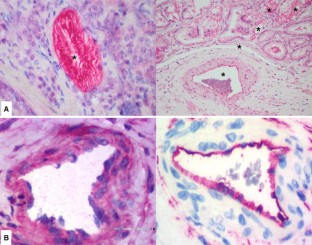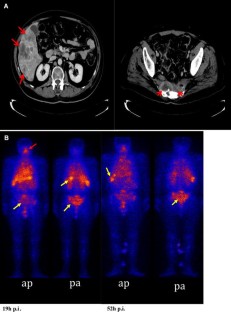 References
Antonarakis ES, Carducci MA (2012) Targeting angiogenesis for the treatment of prostate cancer. Expert Opin Ther Targets 16:365–376

Bellmunt J, Attard G, Bahl A et al (2012) Advances in the management of high-risk localized and metastatic prostate cancer. BJU Int 109:8–13

Bombardieri E, Coliva A, Chiesa C et al (2007) Phase I study with antifibronectin I-131-L19SIP: first dosimetric and therapeutic results. J Nucl Med 48(suppl 2):398, abstract 1681

Castellani P, Borsi L, Carnemolla B et al (2002) Differentiation between high- and low-grade astrocytoma using a human recombinant antibody to the extra domain-B of fibronectin. Am J Pathol 161:1695–1700

Chen S, Chakrabarti R, Keats EC, Chen M, Chakrabarti S, Khan ZA (2012) Regulation of vascular endothelial growth factor expression by extradomain B segment of fibronectin in endothelial cells. Invest Ophthalmol Vis Sci. doi:101167/iovs12-9766

Cheng L, Montironi R, Bostwick DG, Lopez-Beltran A, Berney DM (2012) Staging of prostate cancer. Histopathology 60:87–117

Cohen MMJ (2007) Vascular update: morphogenesis, tumors, malformations, and molecular dimensions. Am J Med Genet 140A:2013–2038

Corcoran NM, Gleave ME (2012) Targeted therapy in prostate cancer. Histopathology 60:216–231

Cordell JL, Falini B, Erber WN et al (1984) Immunoenzymatic labelling of monoclonal antibodies using immune complexes of alkaline phosphatase and monoclonal anti-alkaline phosphatase (APAAP complexes). J Histochem Cytochem 32:219–224

Czabanka M, Parmaksiz G, Bayerl SH et al (2011) Microvascular biodistribution of L19-SIP in angiogenesis targeting strategies. Eur J Cancer 47:1276–1284

De Candida LM, Rogers RJ (1999) Characterization of the expression of the alternative splicing of the ED-A, ED-B, and V-regions of fibronectin mRNA in bovine ovarian follicles and corpora lutea. Reprod Fertil Dev 11:367–377

Dewhirst MW, Tso CY, Oliver R, Gustafson CS, Secomb TW, Gross JF (1989) Morphologic and hemodynamic comparison of tumor and healing normal tissue microvasculature. Int J Radiat Oncol Biol Phys 17:91–99

Ebbinghaus C, Scheuermann J, Neri D, Elia G (2004) Diagnostic and therapeutic applications of recombinant antibodies: targeting the extra-domain B of fibronectin, a marker of tumor angiogenesis. Curr Pharm Des 10:1537–1549

Eberhard A, Kahlert S, Goede V, Hemmerlein B, Plate KH, Augustin HG (2000) Heterogeneity of angiogenesis and blood vessel maturation in human tumors: implication for angiogenetic tumor therapies. Cancer Res 60:1388–1393

Epstein JI (2010) An update of the Gleason grading system. J Urol 183:433–440

Epstein JI, Feng Z, Trock BJ, Pierorazio PM (2012) Upgrading and downgrading of prostate cancer from biopsy to radical prostatectomy: incidence and predictive factors using the modified Gleason grading system and factoring in tertiary grades. Eur Urol 61:1019–1021

Erba PA, Sollini M, Orciuolo E et al (2012) Radioimmunotherapy with radretumab (131I-L19SIP) in patients with relapsed Hodgkin lymphoma and other lymphoproliferative malignancies. J Nucl Med 53:922–927

Gravdal K, Halvorsen OJ, Haukaas SA, Akslen LA (2009) Proliferation of immature tumor vessels is a novel marker of clinical progression in prostate cancer. Cancer Res 69:4708–4715

Heidenreich A, Aus G, Bolla M et al (2008) EAU guidelines on prostate cancer. Eur Urol 53:68–80

Kaspar M, Zardi L, Neri D (2006) Fibronectin as target for tumor therapy. Int J Cancer 118:1331–1339

Kelly WK, Halabi S, Carducci M et al (2012) Randomized, double-blind, placebo-controlled phase III trial comparing docetaxel and prednisone with or without bevacizumab in men with metastatic castration-resistant prostate cancer: CALGB 90401. J Clin Oncol 30:1534–1540

Kosmehl H, Berndt A, Strassburger S et al (1999) Distribution of laminin and fibronectin isoforms in oral mucosa and oral squamous cell carcinoma. Br J Cancer 81:1071–1079

Kriegsmann J, Berndt A, Hansen T et al (2004) Expression of fibronectin splice variants and oncofetal glycosylated fibronectin in the synovial membranes of patients with rheumatoid arthritis and osteoarthritis. Rheumatol Inter 24:25–33

Kuban DA, Thames HD, Levy LB et al (2003) Long-term multi-institutional analysis of stage T1–T2 prostate cancer treated with radiotherapy in the PSA era. Int J Radiat Oncol Biol Phys 57:915–928

Mariani G, Lasku A, Pau A et al (1997) A pilot pharmacokinetic and immunoscintigraphic study with the Technetium-99m-labeled monoclonal antibody BC-1 directed against oncofetal fibronectin in patients with brain tumors. Cancer 80:2484–2489

Matter CM (2004) Molecular imaging of atherosclerotic plaques using a human antibody against the extra-domain B of fibronectin. Circ Res 95:1225–1233

Menrad A, Menssen HD (2005) ED-B fibronectin as a target for antibody-based cancer treatments. Expert Opin Ther Targets 9:491–500

National Center for Health Statistics (2010) Estimated cancer deaths based on US Mortality Data, 1969 to 2007 and reported by the North American Association of Central Cancer Registries (NAACCR), Centers for Disease Control and Prevention

Neumann AC, Chou W, Welch-Reardon KM et al (2013) Analysis of stromal cell secretomes reveals a critical role for stromal cell-derived hepatocyte growth factor and fibronectin in angiogenesis. Arterioscler Thromb Vasc Biol 33:513–522

Roder MA, Berg KD, Gruschy L, Brasso K, Iversen P (2011) First danish single-institution experience with radical prostatectomy: biochemical outcome in 1200 consecutive patients. Prostate Cancer 2011:1–5

Roehl KA, Han M, Ramos CG, Antenor JA, Catalona WJ (2004) Cancer progression and survival rates following anatomical radical retropubic prostatectomy in 3.478 consecutive patients: long-term results. J Urol 172:910–914

Santimaria M, Moscatelli G, Viale GL et al (2003) Immunoscintigraphic detection of the ED-B domain of fibronectin, a marker of angiogenesis, in patients with cancer. Clin Cancer Res 9:571–579

Sauer S, Erba PA, Petrini M et al (2009) Expression of the oncofetal ED-B-containing fibronectin isoform in hematologic tumors enables ED-B-targeted 131I-L19SIP radioimmunotherapy in Hodgkin lymphoma patients. Blood 113:2265–2274

Swindle P, Eastham JA, Ohori M et al (2008) Do margins matter? The prognostic significance of positive surgical margins in radical prostatectomy specimen. J Urol 179:S47–S51

Tannock IF, Fizazi K, Ivanov S et al (2013) Aflibercept versus placebo in combination with docetaxel and prednisone for treatment of men with metastatic castration-resistant prostate cancer (VENICE): a phase 3, double-blind randomised trial. Lancet Oncol 14:760–768
Acknowledgments
The authors thank Conny Cieluch and Sandra Maier for their excellent technical assistance in processing the tissue samples and sections.
Conflict of interest
R.L., P.A.E., B.H., E.B., and H.D. declare no conflicting financial interests. L.G. and H.D.M. are employees of Philogen, SpA, Siena, Italy, sponsor of the clinical trials with radretumab (131I-L19SIP). D.N. is a co-founder and owns stocks of Philogen.
Additional information
Hans D. Menssen and Horst Dürkop have contributed equally to this work.
About this article
Cite this article
Locher, R., Erba, P.A., Hirsch, B. et al. Abundant in vitro expression of the oncofetal ED-B-containing fibronectin translates into selective pharmacodelivery of 131I-L19SIP in a prostate cancer patient. J Cancer Res Clin Oncol 140, 35–43 (2014). https://doi.org/10.1007/s00432-013-1538-6
Received:

Accepted:

Published:

Issue Date:
Keywords
Prostate cancer

Prostatic hyperplasia

ED-B fibronectin

Vascular targeting

Pharmacodelivery

131I-L19SIP dosimetry