Abstract
Background
In selected patients with rectal cancer, laparoscopic surgery is as safe as open surgery, with similar resection margins and completeness of resection. In addition, recovery is faster after laparoscopic surgery. We analyzed long-term outcomes in a group of patients with locally advanced rectal cancer (LARC) treated with preoperative therapy followed by laparoscopic surgery and intraoperative electron-beam radiotherapy (IOERT).
Methods and materials
From June 2005 to December 2010, 125 LARC patients were treated with 2 induction courses of FOLFOX-4 (oxaliplatin 85 mg/m2/d1, intravenous leucovorin at 200 mg/m2/d1–2, and an intravenous bolus of 5-fluorouracil 400 mg/m2/d1–2) and preoperative chemoradiation (4,500–5,040 cGy) followed by total mesorectal excision (laparoscopic, 35 %; open surgery, 65 %) and a presacral boost with IOERT.
Results
Patients in the laparoscopic surgery group lost less blood (median 200 vs 350 mL, p < 0.01) and had a shorter hospital stay (7 vs 11 days; p = 0.02) than those in the open surgery group. Laparoscopic procedures were shorter than open surgery procedures (270 vs 302 min; p = 0.67). Postoperative morbidity (32 vs 44 %; p = 0.65), RTOG grade ≥3 acute toxicity (25 vs 25 %; p = 0.97), and RTOG grade ≥3 chronic toxicity (7 vs 9 %; p = 0.48) were similar in the laparoscopy and open surgery groups. The median follow-up time for the entire cohort of patients was 59.5 months (range 7.8–90); no significant differences were observed between the groups in locoregional control (HR 0.91, p = 0.89), disease-free survival (HR 0.80, p = 0.65), and overall survival (HR 0.67, p = 0.52).
Conclusions
Postchemoradiation laparoscopically assisted IOERT is feasible, with an acceptable risk of postoperative complications, shorter hospital stay, and similar long-term outcomes when compared to the open surgery approach.
This is a preview of subscription content, log in to check access.
Access options
Buy single article
Instant access to the full article PDF.
US$ 39.95
Price includes VAT for USA
Subscribe to journal
Immediate online access to all issues from 2019. Subscription will auto renew annually.
US$ 199
This is the net price. Taxes to be calculated in checkout.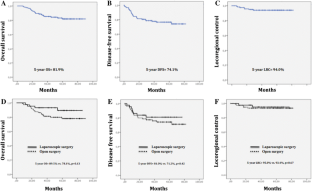 References
American Joint Committee on Cancer (2007) General information on cancer staging and end-results reporting. In: Edge SB, Byrd DR, Compton CC, Fritz AG, Greene FL, Trotti A (eds) Cancer staging handbook, 7th edn. Springer, Heidelberg, p 1–39

Calvo FA, Serrano FJ, Diaz-González JA et al (2006) Improved incidence of pT0 downstaged surgical specimens in locally advanced rectal cancer (LARC) treated with induction oxaliplatin plus 5-fluorouracil and preoperative chemoradiation. Ann Oncol 17:1103–1110

Civello IM, Cavicchioni C, Tacchino RM et al (2007) Laparoscopic resection with intraoperative radiotherapy: a new step in the multimodal treatment of advanced colorectal cancer. Surg Endosc 21:330–332

Clavien PA, Barkun J, de Oliveira ML et al (2009) The Clavien-Dindo classification of surgical complications: five-year experience. Ann Surg 250(2):187–196

Cox JD, Stetz J, Pajak TF (1995) Toxicity criteria of the Radiation Therapy Oncology Group (RTOG) and the European Organization for Research and Treatment of Cancer (EORTC). Int J Radiat Oncol Biol Phys 31:1341–1346

Diaz-Gonzalez JA, Calvo FA, Cortes J et al (2005) Preoperative chemoradiation with oral tegafur within a multidisciplinary therapeutic approach in patients with T3/4 rectal cancer. Int J Radiat Oncol Biol Phys 61:1378–1384

Díaz-González JA, Calvo FA, Cortés J et al (2006) Prognostic factors for disease-free survival in patients with T3-4 or N + rectal cancer treated with preoperative chemoradiation therapy, surgery, and intraoperative irradiation. Int J Radiat Oncol Biol Phys 64:1122–1128

Guillou PJ, Quirke P, Thorpe H et al (2005) Short-term endpoints of conventional versus laparoscopic-assisted surgery in patients with colorectal cancer (MRC CLASICC trial): multicentre, randomised controlled trial. Lancet 365:1718–1726

Gunderson LL, Willet CG, Calvo FA, Harrison LB (2011) Intraoperative irradiation techniques and results. In: Okunnief P, Sundararaman S, Metcalfe S, Chen Y (eds) Biology of large dose per fraction irradiation. Current Clinical Oncology, 2nd edn, Humana Press, New York, 2:27–50

Jayne DG, Guillou PJ, Thorpe H et al (2007) Randomized trial of laparoscopic-assisted resection of colorectal carcinoma: 3-year results of the UK MRC CLASICC Trial Group. J Clin Oncol 25(3061–3):068

Kang SB, Park JW, Jeong SY et al (2010) Open versus laparoscopic surgery for mid or low rectal cancer after neoadjuvant chemoradiotherapy (COREAN trial): short-term outcomes of an open-label randomised controlled trial. Lancet Oncol 11:637–645

Mirnezami R, Chang GJ, Das P et al (2013) Intraoperative radiotherapy in colorectal cancer: systematic review and meta-analysis of techniques, long-term outcomes, and complications. Surg Oncol 22:22–35

Nagtegaal ID, Marijnen CA, Kranenbarg EK, van de Velde CJ, van Krieken JH (2002) Circumferential margin involvement is still an important predictor of local recurrence in rectal carcinoma: not one millimeter but two millimeters is the limit. Am J Surg Pathol 26:350–357

Ng SS, Leung KL, Lee JF et al (2008) Laparoscopic-assisted versus open abdominoperineal resection for low rectal cancer: a prospective randomized trial. Ann Surg Oncol 15:2418–2425

Pascau J, Santos Miranda JA, Calvo FA et al (2012) An innovative tool for intraoperative electron beam radiotherapy simulation and planning: description and initial evaluation by radiation oncologists. Int J Radiat Oncol Biol Phys 83:287–295

Quirke P (1997) Limitations of existing systems of staging for rectal cancer. In: Soreide O, Norstein J (eds) Rectal cancer surgery: optimisation, standardisation, documentation. Springer, Berlin, pp 63–81

Sauer R, Liersch T, Merkel S et al (2012) Preoperative versus postoperative chemoradiotherapy for locally advanced rectal cancer: results of the German CAO/ARO/AIO-94 randomized phase III trial after a median follow-up of 11 years. J Clin Oncol 30:1926–1933

Skrovina M, Soumarova R, Duda M et al (2012) Laparoscopic abdominoperineal resection with intraoperative radiotherapy for locally advanced low rectal cancer. Biomed Pap Med Fac Univ Palacky Olomouc Czech Repub. [Epub ahead of print]

van der Pas MH, Haglind E, Cuesta MA et al (2013) Laparoscopic versus open surgery for rectal cancer (COLOR II): short-term outcomes of a randomised, phase 3 trial. Lancet Oncol 14:210–218

van Gijn W, Marijnen CA, Nagtegaal ID et al (2011) Preoperative radiotherapy combined with total mesorectal excision for resectable rectal cancer: 12-year follow-up of the multicentre, randomised controlled TME trial. Lancet Oncol 12:575–582
Acknowledgments
This study was supported in part by a Grant from the Health Institute of Research Carlos III, Spanish Ministry of Science and Innovation (project code PI11-02908).
Conflict of interest
None.
Additional information
Felipe A. Calvo and Claudio V. Sole have contributed equally to the manuscript.
About this article
Cite this article
Calvo, F.A., Sole, C.V., Serrano, J. et al. Postchemoradiation laparoscopic resection and intraoperative electron-beam radiation boost in locally advanced rectal cancer: long-term outcomes. J Cancer Res Clin Oncol 139, 1825–1833 (2013). https://doi.org/10.1007/s00432-013-1506-1
Received:

Accepted:

Published:

Issue Date:
Keywords
Laparoscopic surgery

Intraoperative radiation therapy

Locally advanced rectal cancer