Abstract
Purpose
A total of 40 % of cancer patients use complementary and alternative medicine (CAM), and patients with advanced cancer use CAM more often than others. The aim of our study was to gather data on CAM use and reasons to use CAM of patients with advanced cancer being admitted for residential palliative care and their relatives.
Methods
Structured interviews were carried out with 25 patients and 25 relatives of those patients, respectively, of a German comprehensive cancer center based on a standardized questionnaire of the working group Prevention and Integrative Oncology of the German Cancer Society.
Results
Median age of patients was 64.5 years (relatives: 53.5); 15 patients were male and 10 were female (relatives: 7 and 18). In total, 40 % of all patients used some CAM method at the time of the study, supplements and prayer being the most frequent method. Main reasons for using CAM were to sustain one's own strength (52 % for patients and 72 % for relatives) and to be able to do something by oneself (36 and 40 %). Sources of information were television/radio (48 and 28 %) and family/friends (40 and 48 %). Relatives also use the Internet (40 %).
Conclusions
Also for patients in palliative care and their relatives, CAM is important. Reasons for using CAM are similar for patients with less advanced cancer. As most patients do not discuss using CAM with their physician, side effects and interactions of biologically based treatments may be dangerous. The desire of patients to act autonomously should be encouraged. Yet, physicians should ensure safe administration of complementary methods by including CAM in their communication with the patient and the family.
This is a preview of subscription content, log in to check access.
Access options
Buy single article
Instant access to the full article PDF.
US$ 39.95
Price includes VAT for USA
Subscribe to journal
Immediate online access to all issues from 2019. Subscription will auto renew annually.
US$ 199
This is the net price. Taxes to be calculated in checkout.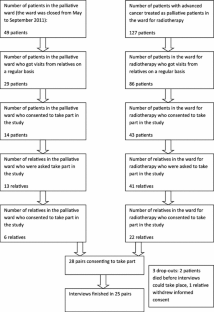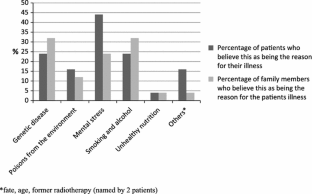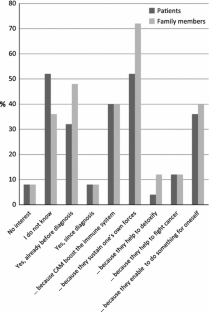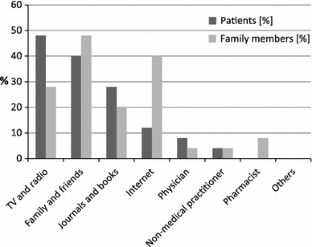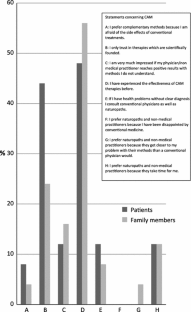 References
Brauer JA, El Sehamy A, Metz JM, Mao JJ (2010) Complementary and alternative medicine and supportive care at leading cancer centers: a systematic analysis of websites. J Altern Complement Med 16(2):183–186

Broom A, Tovey P (2008) The role of the Internet in cancer patients' engagement with complementary and alternative treatments. Health (London) 12(2):139–155

Büntzel J, Glatzel M, Bruns F, Kisters K (2003) Use of complementary/alternative therapy methods by patients with breast cancer. Forsch Komplementarmed Klass Naturheilkd 10(6):304–308

Eng J, Ramsum D, Verhoef M, Guns E, Davison J, Gallagher R (2003) A population-based survey of complementary and alternative medicine use in men recently diagnosed with prostate cancer. Integr Cancer Ther 2:212–216

Eschiti VS (2007) Lesson from comparison of CAM use by women with female-specific cancers to others: it's time to focus on interaction risks with CAM therapies. Integr Cancer Ther 6(4):313–344

Hlubocky FJ, Ratain MJ, Wen M, Daugherty CK (2007) Complementary and alternative medicine among advanced cancer patients enrolled on phase I trials: a study of prognosis, quality of life, and preferences for decision making. J Clin Oncol 25(5):548–554

Horneber M, Bueschel G, Dennert G, Less D, Ritter E, Zwahlen M (2012) How many cancer patients use complementary and alternative medicine: a systematic review and metaanalysis. Integr Cancer Ther 11(3):187–203

Klafke N (2012) Prevalence and predictors of complementary and alternative medicine (CAM) use by men in Australian cancer outpatient services. Ann Oncol 23:1571–1578

Matthews SC, Camacho A, Mills PJ, Dimsdale JE (2003) The internet for medical information about cancer: help or hindrance? Psychosomatics 44(2):100–103

Micke O, Bruns F, Glatzel M, Schönekaes K, Micke P, Mücke R, Büntzel J (2009) Predictive factors for the use of complementary and alternative medicine (CAM) in radiation oncology. Eur J Integr Med 1:22–30

Molassiotis A, Fernadez-Ortega P, Pud D, Ozden G, Scott JA, Panteli V, Margulies A, Browall M, Magri M, Selvekerova S, Madsen E, Milovics L, Bruyns I, Gudmundsdottir G, Hummerston S, Ahmad AM, Platin N, Kearney N, Patiraki E (2005) Use of complementary and alternative medicine in cancer patients: a European survey. Ann Oncol 16:655–663

Richardson MA (2000) Complementary/alternative medicine use in a comprehensive cancer center and the implications for oncology. J Clin Oncol 18(13):2505–2514

Sollner W (1997) Attitude toward alternative therapy, compliance with standard treatment, and need for emotional support in patients with melanoma. Arch Dermatol 133(3):316–321

Sollner W, Maislinger S, DeVries A, Steixner E, Rumpold G, Lukas P (2000) Use of complementary and alternative medicine by cancer patients is not associated with perceived distress or poor compliance with standard treatment but with active coping behavior: a survey. Cancer 89(4):873–880

Yates JS et al (2005) Prevalence of complementary and alternative medicine use in cancer patients during treatment. Support Care Cancer 13(10):806–811

Zeller T, Muenstedt K, Stoll C, Schweder J, Senf B, Ruckhaeberle E et al (2013) Potential interactions of complementary and alternative medicine with cancer therapy in outpatients with gynecological cancer in a comprehensive cancer center. J Cancer Res Clin Oncol 139:357–365
Conflict of interest
We declare that we have no conflict of interest.
Additional information
This study was conducted on behalf of PRIO (Working group prevention and integrative oncology of the German Cancer Society).
About this article
Cite this article
Paul, M., Davey, B., Senf, B. et al. Patients with advanced cancer and their usage of complementary and alternative medicine. J Cancer Res Clin Oncol 139, 1515–1522 (2013). https://doi.org/10.1007/s00432-013-1460-y
Received:

Accepted:

Published:

Issue Date:
Keywords
Complementary and alternative medicine

Palliative care

Cancer

Source of information

Lay concepts of etiology