Abstract
Background
In women with breast cancer and bone metastasis, compliance to antiresorptive treatment is of upmost importance to ensure maximum effectiveness in clinical practice. The aim of our study was to investigate persistence with oral and intravenous bisphosphonates (BIS) in a large group of women with metastatic breast cancer and to identify the determinants of non-persistence.
Patients and methods
We used data from the Disease Analyzer database (IMS Health, Germany), which includes 2,067 general practices and 397 gynaecological practices. From a dataset of 20 million patients, we identified 1,045 patients diagnosed between January 2001 and December 2010 with bone metastasis (ICD 10: C795) following breast cancer (ICD 10: C50) with first-time cancer-related bisphosphonate prescriptions (ATC: M03B4). Of these, 763 patients received intravenous treatment, and 280 patients received oral BIS treatment.
Results
After 1 year, 35.3 % of patients treated with intravenous, and 45.6 % of patients treated with oral bisphosphonates discontinued their therapy (p = 0.002). Multivariate Cox Regression analyses showed a significant increased risk of treatment discontinuation in patients using intravenous BIS (HR: 0.82) compared with oral BIS. Patients younger than 50 (HR: 1.52) were most likely to discontinue treatment compared with the reference group of women over 70. The use of other treatments, such as chemotherapy or hormone therapy, was associated with a decreased risk of treatment discontinuation. Moreover, treatment discontinuation was higher in West Germany compared with East Germany (HR: 1.65) and in patients covered under private health insurance (HR: 1.33).
Conclusions
Persistence with all bisphosphonate treatments in women with breast cancer and bone metastasis is low and needs to be significantly increased to improved outcomes in clinical practice. Further research is required to understand this complex issue.
This is a preview of subscription content, log in to check access.
Access options
Buy single article
Instant access to the full article PDF.
US$ 39.95
Price includes VAT for USA
Subscribe to journal
Immediate online access to all issues from 2019. Subscription will auto renew annually.
US$ 199
This is the net price. Taxes to be calculated in checkout.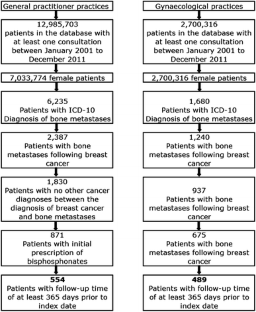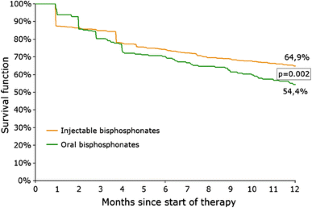 References
Aapro M, Saad F, Costa L (2010) Optimizing clinical benefits of bisphosphonates in cancer patients with bone metastases. Oncologist 11:1147–1158

Andrade SE, Kahler KH, Frech F, Chan KA (2006) Methods for evaluation of medication adherence and persistence using automated databases. Pharmacoepidemiol Drug Saf 15:565–574

Balkrishnan R (2005) The importance of medication adherence in improving chronic-disease related outcomes: what we know and what we need to further know. Med Care 43:517–520

Becher H, Kostev K, Schröder-Bernhardi D (2009) Validity and representativeness of the disease analyzer patient database for use in pharmacoepidemiological and pharmacoeconomic studies. Int J Clin Pharm Ther 47:617–662

Coleman RE (2001) Metastatic bone disease: clinical features, pathophysiology and treatment strategies. Cancer Treat Rev 27:165–176

Conte P, Guarneri V (2004) Safety of intravenous and oral bisphosphonates and compliance with dosing regiments. Oncologist 9(suppl 4):28–37

Cramer JA, Lynch NO, Gaudin AF et al (2006) The effect of dosing frequency on compliance and persistence with bisphosphonate therapy in postmenopausal women: a comparison of studies in the United States, the United Kingdom, and France. Clin Ther 28:1686–1694

Davidson B, Vogel V, Wickerham L (2007) Oncologist–patient discussion of adjuvant hormonal therapy in breast cancer: results of a linguistic study focusing on adherence and persistence to therapy. J Support Oncol 5:139–143

Dezii CM (2001) Persistence with drug therapy: a practical approach using administrative claims data. Manag Care 10:42–45

Grunfeld EA, Hunter MS, Sikka P et al (2005) Adherence beliefs among breast cancer patients taking tamoxifen. Patient Educ Couns 59:97–102

Hadji P (2010) Improving compliance and persistence to adjuvant tamoxifen and aromatase inhibitor therapy. Crit Rev Oncol Hematol 73(2):156–166

Hadji P, Gnant M, Aapro M (2010) Dosing of zoledronic acid throughout the treatment continuum in patients with breast cancer. Crit Rev Oncol Hematol 79(2):175–188

Hadji P, Aapro M, Costa L, Gnant M (2012a) Antiresorptive treatment options and bone health in cancer patients-safety profiles and clinical considerations. Cancer Treat Rev 38(6):815–824

Hadji P, Claus V, Steinle T et al (2012b) GRAND: the German retrospective cohort analysis on non-adherence and associated risk of fractures in osteoporotic women treated with oral bisphosphonates. Osteoporos Int 23(1):223–231

Hadji P, Kostev K, Schröder-Bernhardi D et al (2012c) Cost comparison of outpatient treatment with granulocyte colony-stimulating factors (G-CSF) in Germany. Int J Clin Pharmacol Ther 50(4):281–289

Hadji P, Ziller V, Kyvernitakis J et al (2013a) Persistence in patients with breast cancer treated with tamoxifen or aromatase inhibitors: a retrospective database analysis. Breast Cancer Res Treat 138(1):185–191

Hadji P, Blettner M, Harbeck N et al (2013b) The patient's anastrozole compliance to therapy (PACT) programme. A randomized, in-practice study on the impact of a standardized information programme on persistence and compliance to adjuvant endocrine therapy in postmenopausal women with early breast cancer. Ann Oncol [Epub ahead of print]

Haynes RB, Ackloo E, Sahota N et al (2008) Interventions for enhancing medication adherence. Cochrane database. Syst Rev CD000011. doi:10.1002/14651858.CD000011.pub3

Himei A, Okamura T (2006) Discontinuation syndrome associated with paroxetine in depressed patients: a retrospective analysis of factors involved in the occurrence of the syndrome. CNS Drugs 20(8):665–672

Horne R, Weinman J (1999) Patients' beliefs about prescribed medicines and their role in adherence to treatment in chronic physical illness. J Psychosom Res 47:555–567

Iwamoto J, Miyata A, Sato Y et al (2009) Factors affecting discontinuation of alendronate treatment in postmenopausal Japanese women with osteoporosis. J Chin Med Assoc 72(12):619–624

Kahn KL, Schneider EC, Malin JL et al (2007) Patient centered experiences in breast cancer: predicting long-term adherence to tamoxifen use. Med Care 45:431–439

Kostev K, Haas G (2011) Medical care in Germany. Optimus, Göttingen

Major PP, Cook R (2002) Efficacy of bisphosphonates in the management of skeletal complications of bone metastases and selection of clinical endpoints. Am J Clin Oncol 25(suppl 1):10–18

Mangiapane S, Hoer A, Gothe H et al (2006) Higher persistency with i.v. bisphosphonates in patients with bone metastasis. J Clin Oncol ASCO Ann Meet Proc Part I 24(18S):18623

Motheral B, Brooks J, Clark MA et al (2003) A checklist for retrospective database studies—report of the ISPOR task force on retrospective databases. Value Health 6:90–97

Ogdie A, Langan S, Parkinson J et al (2012) Medical Record Databases. In: Strom BL, Kimmel S, Hennessy S (eds) Pharmacoepidemiology, 5th edn. University of Pennsylvania, Philadelphia, PA, pp 224–243

Osterberg L, Blaschke T (2005) Adherence to medication. N Engl J Med 353:487–497

Partridge AH, Wang PS, Winer EP, Avorn J (2003) Nonadherence to adjuvant tamoxifen therapy in women with primary breast cancer. J Clin Oncol 21:6002–6006

Pockett RD, Castellano D, McEwan P, Oglesby A, Barber BL, Chung K (2010) The hospital burden of disease associated with bone metastases and skeletal-related events in patients with breast cancer, lung cancer, or prostate cancer in Spain. Eur J Cancer Care (Engl) 19(6):755–760

Robert Koch Institut (2012) Krebs in Deutschland. http://www.krebsdaten.de/Krebs/DE/Home/Datenbankabfrage/datensaetze_gesamt_tabelle.html. Accessed 20 Aug 2012

Rubens RD, Coleman RE (1995) Bone metastases. In: Abeloff MD, Armitage JO, Lichter AS, Niederhuber JE (eds) Clinical oncology. Churchill Livingstone, New York, pp 643–657

Saad F, Lipton A, Cook R et al (2007) Pathologic fractures correlate with reduced survival in patients with malignant bone disease. Cancer 110:1860–1867

Von Moos R (2005) Bisphosphonate treatment recommendations for oncologists. Oncologists 10(suppl 1):19–24

Weinfurt KP, Castel LD, Li Y, Timbie JW, Glendenning GA, Schulman KA (2004) Health-related quality of life among patients with breast cancer receiving zoledronic acid or pamidronate disodium for metastatic bone lesions. Med Care 42:164–175

World Health Organization (2003) Adherence to long-term therapies: evidence for action. World Health Organization, Geneva
Conflict of interest
PH received speaker's fee, educational and research funding from Amgen, Astra Zeneca, Elli Lilly, Novartis, Pfizer, and Roche. VZ and YK have no conflicts of interest to declare. KK and NS are employers of IMS with no further conflicts of interest.
About this article
Cite this article
Hadji, P., Ziller, V., Kyvernitakis, J. et al. Persistence with bisphosphonates in patients with metastatic breast cancer: a retrospective database analysis. J Cancer Res Clin Oncol 139, 1149–1155 (2013). https://doi.org/10.1007/s00432-013-1427-z
Received:

Accepted:

Published:

Issue Date:
Keywords
Breast cancer

Persistence

Bisphosphonates

Bone metastasis

Compliance