Abstract
Purpose
CA 19-9 is the only established tumor marker in pancreatic cancer (PC); the prognostic role of other serum markers like CEA, CRP, LDH or bilirubin has not yet been defined.
Methods
We pooled pre-treatment data on CA 19-9, CEA, CRP, LDH and bilirubin levels from two German multicenter randomized phase II trials together with prospective patient data from one high-volume German Cancer Center. Marker levels were assessed locally before the start of palliative first-line therapy for advanced PC and serially during treatment (for CA 19-9 only). Clinical and biomarker data (overall 12 variables) were correlated with the efficacy endpoints time-to-progression (TTP) and overall survival (OS) by using uni- and multivariate Cox models.
Results
Data from 291 patients were included in this pooled analysis; 253 patients (87 %) received treatment within prospective clinical trials. Median TTP in the study cohort was 5.1 months and median OS 9.0 months. In univariate analysis, pre-treatment CA 19-9 (HR 1.55), LDH (HR 2.04) and CEA (HR 1.89) levels were significantly associated with TTP. Regarding OS, baseline CA 19-9 (HR 1.46), LDH (HR 2.07), CRP (HR 1.69) and bilirubin (HR 1.62) were significant prognostic factors. Within multivariate analyses, pre-treatment log [CA 19-9] (as continuous variable for TTP) and log [bilirubin] as well as log [CRP] (for OS) had an independent prognostic value. A CA 19-9 decline of ≥25 % during the first two chemotherapy cycles was predictive for TTP and OS, independent of the applied CA 19-9 assay.
Conclusion
Baseline CA 19-9 and CA 19-9 kinetics during first-line chemotherapy are prognostic in advanced PC. Besides that finding other serum markers like CRP, LDH and bilirubin can also provide prognostic information on TTP and OS.
This is a preview of subscription content, log in to check access.
Access options
Buy single article
Instant access to the full article PDF.
US$ 39.95
Price includes VAT for USA
Subscribe to journal
Immediate online access to all issues from 2019. Subscription will auto renew annually.
US$ 199
This is the net price. Taxes to be calculated in checkout.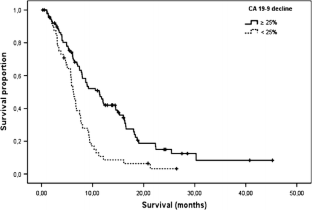 References
Boeck S, Stieber P, Holdenrieder S, Wilkowski R, Heinemann V (2006) Prognostic and therapeutic significance of carbohydrate antigen 19–9 as tumor marker in patients with pancreatic cancer. Oncology 70(4):255–264

Boeck S, Hoehler T, Seipelt G, Mahlberg R, Wein A, Hochhaus A et al (2008) Capecitabine plus oxaliplatin (CapOx) versus capecitabine plus gemcitabine (CapGem) versus gemcitabine plus oxaliplatin (mGemOx): final results of a multicenter randomized phase II trial in advanced pancreatic cancer. Ann Oncol 19(2):340–347

Boeck S, Haas M, Laubender RP, Kullmann F, Klose C, Bruns CJ et al (2010) Application of a time-varying covariate model to the analysis of CA 19–9 as serum biomarker in patients with advanced pancreatic cancer. Clin Cancer Res 16(3):986–994

Bramhall SR, Rosemurgy A, Brown PD, Bowry C, Buckels JA (2001) Marimastat as first-line therapy for patients with unresectable pancreatic cancer: a randomized trial. J Clin Oncol 19(15):3447–3455

Canna K, McArdle PA, McMillan DC, McNicol AM, Smith GW, McKee RF et al (2005) The relationship between tumour T-lymphocyte infiltration, the systemic inflammatory response and survival in patients undergoing curative resection for colorectal cancer. Br J Cancer 92(4):651–654

Conroy T, Desseigne F, Ychou M, Bouché O, Guimbaud R, Bécouarn Y et al (2011) FOLFIRINOX versus gemcitabine for metastatic pancreatic cancer. N Engl J Med 364(19):1817–1825

Duffy MJ, Sturgeon C, Lamerz R, Haglund C, Holubec VL, Klapdor R et al (2010) Tumor markers in pancreatic cancer: a European Group on Tumor Markers (EGTM) status report. Ann Oncol 21(3):441–447

Falconer JS, Fearon KC, Ross JA, Elton R, Wigmore SJ, Garden OJ et al (1995) Acute-phase protein response and survival duration of patients with pancreatic cancer. Cancer 75(8):2077–2082

Heinemann V, Haas M, Boeck S (2012) Systemic treatment of advanced pancreatic cancer. Cancer Treat Rev 38(7):843–853

Hess V, Glimelius B, Grawe P, Dietrich D, Bodoky G, Ruhstaller T et al (2008) CA 19–9 tumour-marker response to chemotherapy in patients with advanced pancreatic cancer enrolled in a randomised controlled trial. Lancet Oncol 9(2):132–138

Humphris JL, Chang DK, Johns AL, Scarlett CJ, Pajic M, Jones MD et al (2012) The prognostic and predictive value of serum CA19.9 in pancreatic cancer. Ann Oncol 23(7):1713–1722

Kullmann F, Hollerbach S, Dollinger MM, Harder J, Fuchs M, Messmann H et al (2009) Cetuximab plus gemcitabine/oxaliplatin (GEMOXCET) in first-line metastatic pancreatic cancer: a multicentre phase II study. Br J Cancer 100(7):1032–1036

McShane LM, Altman DG, Sauerbrei W, Taube SE, Gion M, Clark GM, Statistics Subcommittee of the NCI-EORTC Working Group on Cancer Diagnostics (2005) REporting recommendations for tumour MARKer prognostic studies (REMARK). Br J Cancer 93(4):387–391

Moore MJ, Goldstein D, Hamm J, Figer A, Hecht JR, Gallinger S et al (2007) Erlotinib plus gemcitabine compared with gemcitabine alone in patients with advanced pancreatic cancer. A phase III trial of the National Cancer Institute of Canada Clinical trials group. J Clin Oncol 25(15):1960–1966

Moses AG, Maingay J, Sangster K, Fearon KC, Ross JA (2009) Pro-inflammatory cytokine release by peripheral blood mononuclear cells from patients with advanced pancreatic cancer: relationship to acute phase response and survival. Oncol Rep 21(4):1091–1095

Pine JK, Fusai KG, Young R, Sharma D, Davidson BR, Menon KV et al (2009) Serum C-reactive protein concentration and the prognosis of ductal adenocarcinoma of the head of pancreas. Eur J Surg Oncol 35(6):605–610

Reni M, Cereda S, Balzano G, Passoni P, Rognone A, Fugazza C et al (2009) Carbohydrate antigen 19–9 change during chemotherapy for advanced pancreatic adenocarcinoma. Cancer 115(12):2630–2639

Stocken DD, Hassan AB, Altman DG, Billingham LJ, Bramhall SR, Johnson PJ et al (2008) Modelling prognostic factors in advanced pancreatic cancer. Br J Cancer 99(6):883–893

Van Cutsem E, Vervenne WL, Bennouna J, Humblet Y, Gill S, Van Laethem JL et al (2009) Phase III trial of bevacizumab in combination with gemcitabine and erlotinib in patients with metastatic pancreatic cancer. J Clin Oncol 27(13):2231–2237

Vincent A, Herman J, Schulick R, Hruban RH, Goggins M (2011) Pancreatic cancer. Lancet 378(9791):607–620
Acknowledgments
The authors would like to thank all patients and their families, nurses, study coordinators and investigators that actively participated in the Ro96 and the GEMOXCET study, thereby enabling this pooled analysis. This work is part of the doctoral thesis of Michael Haas.
Conflict of interest
All authors declare that they have no conflict of interest.
About this article
Cite this article
Haas, M., Heinemann, V., Kullmann, F. et al. Prognostic value of CA 19-9, CEA, CRP, LDH and bilirubin levels in locally advanced and metastatic pancreatic cancer: results from a multicenter, pooled analysis of patients receiving palliative chemotherapy. J Cancer Res Clin Oncol 139, 681–689 (2013). https://doi.org/10.1007/s00432-012-1371-3
Received:

Accepted:

Published:

Issue Date:
Keywords
Gemcitabine

Pancreatic cancer

Prognostic factor