Abstract
Purpose
Some goitrogens promote thyroid carcinogenesis in rats in an initiation-promotion model; this model frequently produces carcinomas that invade fibrously thickened capsules, termed capsular invasive carcinomas (CICs). The present study tested a hypothesis that CICs originate from parenchymal proliferative lesions located beneath the capsule.
Methods
Cell proliferation activity, cell-cycle kinetics and cellular invasion were immunohistochemically examined in subcapsular proliferative lesions in male F344 rats treated with an anti-thyroid agent, propylthiouracil or sulfadimethoxine, during the tumor-promotion phase after initiation with N-bis(2-hydroxypropyl)nitrosamine.
Results
Focal follicular cell hyperplasias (FFCHs) were the most commonly observed parenchymal proliferative lesions. Subcapsular FFCHs located near CICs showed more Ki-67+ cells in the capsular side than the contrary parenchymal center side. Most of these FFCHs located near CICs showed accumulated immunoreactivity for cyclin A, cyclin D, cyclin E and cyclin-dependent kinase-2, whereas most subcapsular FFCHs located elsewhere did not show such accumulated expression of cell-cycle molecules. Subcapsular FFCHs immunoreactive at the capsular front for tenascin-C, a tumor invasion marker of extracellular matrix protein, showed high proliferation activity.
Conclusions
Subcapsular FFCH-forming cells can potentially spread directly into the fibrously thickened capsule to form CICs by accelerating cell-cycle activity.
This is a preview of subscription content, log in to check access.
Access options
Buy single article
Instant access to the full article PDF.
US$ 39.95
Price includes VAT for USA
Subscribe to journal
Immediate online access to all issues from 2019. Subscription will auto renew annually.
US$ 199
This is the net price. Taxes to be calculated in checkout.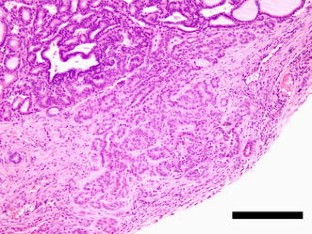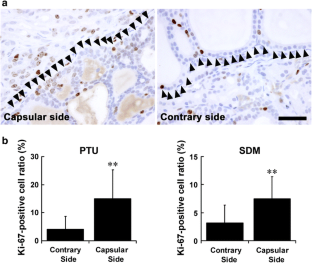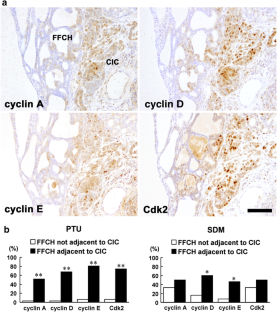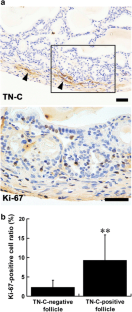 References
Ago K, Saegusa Y, Nishimura J, Dewa Y, Kemmochi S, Kawai M, Harada T, Mitsumori K, Shibutani M (2010) Involvement of glycogen synthase kinase-3β signaling and aberrant nucleocytoplasmic localization of retinoblastoma protein in tumor promotion in a rat two-stage thyroid carcinogenesis model. Exp Toxicol Pathol 62:269–280

Betticher DC, Heighway J, Thatcher N, Hasleton PS (1997) Abnormal expression of CCND1 and RB1 in resection margin epithelia of lung cancer patients. Br J Cancer 75:1761–1768

De Wever O, Nguyen QD, Van Hoorde L, Bracke M, Bruyneel E, Gespach C, Maree M (2004) Tenascin-C and SF/HGF produced by myofibroblasts in vitro provide convergent proinvasive signals to human colon cancer cells through RhoA and Rac. FASEB J 18:1016–1018

Delk NA, Hunt KK, Keyomarsi K (2009) Altered subcellular localization of tumor-specific cyclin E isoforms affects cyclin-dependent kinase 2 complex formation and proteasomal regulation. Cancer Res 69:2817–2825

Forssell J, Öberg Å, Henriksson ML, Stenling R, Jung A, Palmqvist R (2007) High macrophage infiltration along the tumor front correlates with improved survival in colon cancer. Clin Cancer Res 13:1472–1479

Furihata M, Ishikawa T, Inoue A, Yoshikawa C, Sonobe H, Ohtsuki Y, Araki K, Ogoshi S (1996) Determination of the prognostic significance of unscheduled cyclin A overexpression in patients with esophageal squamous cell carcinoma. Clin Cancer Res 2:1781–1785

Furlan JC, Bedard YC, Rosen IB (2007) Significance of tumor capsular invasion in well-differentiated thyroid carcinomas. Am Surg 73:484–491

Hagemann T, Robinson SC, Schulz M, Trümper L, Balkwill FR, Binder C (2004) Enhanced invasiveness of breast cancer cell lines upon co-cultivation with macrophages is due to TNF-α dependent up-regulation of matrix metalloproteases. Carcinogenesis 25:1543–1549

Hardisty JF, Boorman GA (1990) Thyroid gland. In: Boorman GA, Eustis SL, Elwell MR, Montgomery CA Jr, MacKenzie WF (eds) Pathology of the Fischer rat, reference and atlas. Academic Press, San Diego, pp 519–536

Imai T, Onose J, Hasumura M, Ueda M, Takizawa T, Hirose M (2004) Sequential analysis of development of invasive thyroid follicular cell carcinomas in inflamed capsular regions of rats treated with sulfadimethoxine after N-bis(2-hydroxypropyl)nitrosamine-initiation. Toxicol Pathol 32:229–236

Imai T, Hasumura M, Onose J, Ueda M, Takizawa T, Cho YM, Hirose M (2005) Development of invasive follicular cell carcinomas in a rat thyroid carcinogenesis model: biological impact of capsular inflammation and reduced cyclooxygenase-2 expression. Cancer Sci 96:31–37

Imai T, Hasumura M, Cho YM, Onose J, Hirose M (2007) Depression of T cell-mediated immunity reduces sulfadimethoxine-induced capsular inflammation and inhibits associated development of invasive thyroid follicular cell carcinomas in rats. Cancer Sci 98:294–298

Kato N, Watanabe J, Jobo T, Nishimura Y, Fujisawa T, Kamata Y, Kuramoto H (2003) Immunohistochemical expression of cyclin E in endometrial adenocarcinoma (endometrioid type) and its clinicopathological significance. J Cancer Res Clin Oncol 129:222–226

Kemmochi S, Fujimoto H, Woo GH, Inoue K, Takahashi M, Mitsumori K, Hirose M, Nishikawa A, Shibutani M (2011a) Involvement of PTEN/Akt signaling in capsular invasive carcinomas developed in a rat two-stage thyroid carcinogenesis model after promotion with sulfadimethoxine. J Cancer Res Clin Oncol 137:723–732

Kemmochi S, Fujimoto H, Woo GH, Hirose M, Nishikawa A, Mitsumori K, Shibutani M (2011b) Preventive effects of calcitriol on the development of capsular invasive carcinomas in a rat two-stage thyroid carcinogenesis model. J Vet Med Sci 73:655–664

Kemmochi S, Yamamichi S, Shimamoto K, Onda N, Hasumi K, Suzuki K, Mitsumori K, Shibutani M (2012) Lac color inhibits development of rat thyroid carcinomas through targeting activation of plasma hyaluronan-binding protein. Exp Biol Med (Maywood) 237:728–738

Lamagna C, Aurrand-Lions M, Imhof BA (2006) Dual role of macrophages in tumor growth and angiogenesis. J Leukoc Biol 80:705–713

Takizawa T, Imai T, Ueda M, Onodera H, Hirose M (2006) Comparison of enhancing effects of different goitrogen treatments in combination with β-estradiol-3-benzoate for establishing a rat two-stage thyroid carcinogenesis model to detect modifying effects of estrogenic compounds. Cancer Sci 97:25–31

Thyroid Carcinoma Task Force (2001) AACE/AAES medical/surgical guidelines for clinical practice: management of thyroid carcinoma. Endocr Pract 7:202–220

Wang S, Lloyd RV, Hutzler MJ, Safran MS, Patwardhan NA, Khan A (2000) The role of cell cycle regulatory protein, cyclin D1, in the progression of thyroid cancer. Mod Pathol 13:882–887

Zagzag D, Shiff B, Jallo GI, Greco MA, Blanco C, Cohen H, Hukin J, Allen JC, Friedlander DR (2002) Tenascin-C promotes microvascular cell migration and phosphorylation of focal adhesion kinase. Cancer Res 62:2660–2668
Acknowledgments
We thank Mrs. Shigeko Suzuki for her technical assistance in preparing histological specimens.
Conflict of interest
All authors disclose that there are no conflicts of interest that could inappropriately influence the outcome of the present study.
About this article
Cite this article
Ago, K., Kemmochi, S., Morita, R. et al. Direct progression of capsular invasive carcinomas from subcapsular focal hyperplasias induced by hypothyroidism-mediated tumor promotion in a rat two-stage thyroid carcinogenesis model. J Cancer Res Clin Oncol 139, 395–401 (2013). https://doi.org/10.1007/s00432-012-1338-4
Received:

Accepted:

Published:

Issue Date:
Keywords
Rat thyroid carcinogenesis

Capsular invasive carcinoma

Cell cycle

Cell proliferation

Tenascin-C