Abstract
Purpose
Tripeptidyl peptidase II (TPP2), a member of the family of eukaryotic serine peptidase, has been implicated in DNA repair, cellular division, and apoptosis. The aim of this study was to examine TPP2 expression and its functional mechanisms in oral squamous cell carcinoma (OSCC).
Methods
TPP2 mRNA and protein expression in seven OSCC-derived cells (Ca9-22, HSC-2, HSC-3, HSC-4, HO-1-N-1, H1, and Sa3) was analyzed by quantitative reverse transcriptase-polymerase chain reaction and immunoblotting analyses. Since previous studies indicated that TPP2 might control chromosomal division, we investigated cellular proliferation and spindle assembly checkpoint (SAC) molecules, MAD2 and CCNB1. In addition, we evaluated the correlation between TPP2 expression levels in primary OSCCs (n = 108 specimens) and the clinicopathologic status by immunohistochemistry (IHC).
Results
TPP2 mRNA and protein were significantly (P < 0.05) up-regulated in OSCC-derived cells compared with human normal oral keratinocytes. Suppression of TPP2 expression with shRNA significantly (P < 0.05) inhibited cellular proliferation compared with the control cells. In addition, appropriate localization of MAD2 and up-regulation of CCNB1 were observed in TPP2 knockdown OSCC cells. IHC showed that TPP2 expression in primary OSCCs was significantly (P < 0.001) greater than that in the normal oral counterparts, and the TPP2-positive cases were significantly (P < 0.05) correlated with tumor size.
Conclusion
The current study showed that overexpression of TPP2 occurs frequently during oral carcinogenesis and might be associated with OSCC progression via SAC activation.
This is a preview of subscription content, log in to check access.
Access options
Buy single article
Instant access to the full article PDF.
US$ 39.95
Price includes VAT for USA
Subscribe to journal
Immediate online access to all issues from 2019. Subscription will auto renew annually.
US$ 199
This is the net price. Taxes to be calculated in checkout.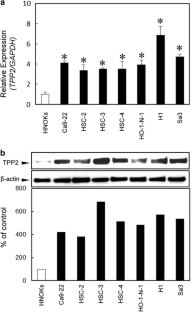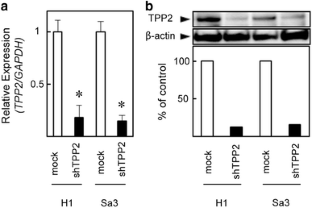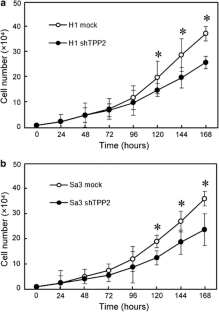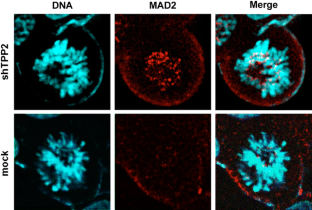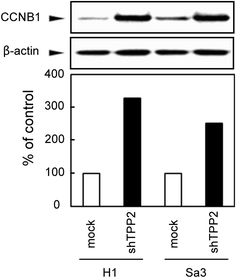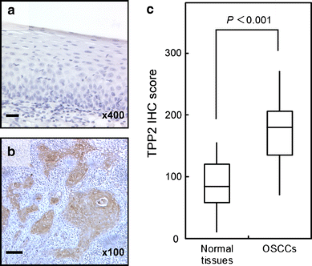 References
Balow RM, Eriksson I (1987) Tripeptidyl peptidase II in haemolysates and liver homogenates of various species. Biochem J 241:75–80

Balow RM, Ragnarsson U, Zetterqvist O (1983) Tripeptidyl aminopeptidase in the extralysosomal fraction of rat liver. J Biol Chem 258:11622–11628

Balow RM, Tomkinson B, Ragnarsson U, Zetterqvist O (1986) Purification, substrate specificity, and classification of tripeptidyl peptidase II. J Biol Chem 261:2409–2417

Bassi C, Mello SS, Cardoso RS et al (2008) Transcriptional changes in U343 MG-a glioblastoma cell line exposed to ionizing radiation. Hum Exp Toxicol 27:919–929

Castedo M, Perfettini JL, Roumier T, Kroemer G (2002) Cyclin-dependent kinase-1: linking apoptosis to cell cycle and mitotic catastrophe. Cell Death Differ 12:1287–1293

De Wulf P, Earnshaw WC (2009) The kinetochore: from molecular discoveries to cancer therapy. Spring Street, New York

Endo Y, Uzawa K, Mochida Y, Shiiba M, Bukawa H, Yokoe H, Tanzawa H (2004) Sarcoendoplasmic reticulum Ca2+ ATPase type 2 downregulated in human oral squamous cell carcinoma. Int J Cancer 110:225–231

Fearon ER, Vogelstein B (1990) A genetic model for colorectal tumorigenesis. Cell 61:759–767

Hong X, Lei L, Glas R (2003) Tumors acquire inhibitor of apoptosis protein (IAP)-mediated apoptosis resistance through altered specificity of cytosolic proteolysis. J Exp Med 197:1731–1743

Ibrado AM, Kim CN, Bhalla K (1998) Temporal relationship of CDK1 activation and mitotic arrest to cytosolic accumulation of cytochrome C and caspase-3 activity during Taxol-induced apoptosis of human AML HL-60 cells. Leukemia 12:1930–1936

Kasamatsu A, Uzawa K, Nakashima D, Koike H, Shiiba M, Bukawa H, Yokoe H, Tanzawa H (2005) Galectin-9 as a regulator of cellular adhesion in human oral squamous cell carcinoma cell lines. Int J Mol Med 16:269–273

Kato Y, Uzawa K, Yamamoto N, Kouzu Y, Koike H, Shiiba M, Bukawa H, Yokoe H, Shibahara T, Tanzawa H (2007) Overexpression of Septin1: possible contribution to the development of oral cancer. Int J Oncol 31:1021–1028

Kouzu Y, Uzawa K, Koike H et al (2006) Overexpression of stathmin in oral squamous-cell carcinoma: correlation with tumour progression and poor prognosis. Br J Cancer 94:717–723

Li Y, Gorbea C, Mahaffey D, Rechsteiner M, Benezra R (1997) MAD2 associates with the cyclosome/anaphase-promoting complex and inhibits its activity. Proc Natl Acad Sci USA 94:12431–12436

Ling YH, Consoli U, Tornos C, Andreeff M, Perez-Soler R (1998) Accumulation of cyclin B1, activation of cyclin B1-dependent kinase and induction of programmed cell death in human epidermoid carcinoma KB cells treated with taxol. Int J Cancer 75:925–932

Lombardi DP, Geradts J, Foley JF, Chiao C, Lamb PW, Barrett JC (1999) Loss of KAI1 expression in the progression of colorectal cancer. Cancer Res 59:5724–5731

Macfarlane GJ, Zheng T, Marshall JR, Boffetta P, Niu S (1995) Alcohol, tobacco, diet and the risk of oral cancer: a pooled analysis of three case-control studies. Eur J Cancer B Oral Oncol 31:181–187

Marshall CJ (1991) Tumor suppressor genes. Cell 64:313–326

Mashberg A, Boffetta P, Winkelman R, Garfinkel L (1993) Tobacco smoking, alcohol drinking, and cancer of the oral cavity and oropharynx among U.S. veterans. Cancer 72:1369–1375

May KM, Hardwick KG (2006) The spindle checkpoint. J Cell Sci 119:4139–4142

Musacchio A, Hardwick KG (2002) The spindle checkpoint: structural insights into dynamic signalling. Nat Rev Mol Cell Biol 3:731–741

Nomura H, Uzawa K, Yamano Y et al (2009) Overexpression and altered subcellular localization of autophagy-related 16-like 1 in human oral squamous-cell carcinoma: correlation with lymphovascular invasion and lymph-node metastasis. Hum Pathol 40:83–91

Onda T, Uzawa K, Endo Y, Bukawa H, Yokoe H, Shibahara T, Tanzawa H (2006) Ubiquitous mitochondrial creatine kinase downregulated in oral squamous cell carcinoma. Br J Cancer 94:698–709

Roberts BT, Farr KA, Hoyt MA (1994) The Saccharomyces cerevisiae checkpoint gene BUB1 encodes a novel protein kinase. Mol Cell Biol 14:8282–8291

Rose C, Vargas P, Bourgeat J, Schwartz JC (1996) A radioimmunoassay for the tripeptide Gly-Trp-Met, a major metabolite of endogenous cholecystokinin in brain. Neuropeptides 30:231–235

Saito K, Uzawa K, Endo Y, Kato Y, Nakashima D, Ogawara K, Shiba M, Bukawa H, Yokoe H, Tanzawa H (2006) Plasma membrane Ca2 + ATPase isoform 1 down-regulated in human oral cancer. Oncol Rep 15:49–55

Saitoh S, Kobayashi Y, Ogiyama Y, Takahashi K (2008) Dual regulation of mad2 localization on kinetochores by bub1 and dam1/dash that ensure proper spindle interaction. Mol Biol Cell 19:3885–3897

Sakuma T, Uzawa K, Onda T, Shiiba M, Yokoe H, Shibahara T, Tanzawa H (2006) Aberrant expression of histone deacetylase 6 in oral squamous cell carcinoma. Int J Oncol 29:117–124

Shimada K, Uzawa K, Kato M, Endo Y, Shiiba M, Bukawa H, Yokoe H, Seki N, Tanzawa H (2005) Aberrant expression of RAB1A in human tongue cancer. Br J Cancer 92:1915–1921

Stavropoulou V, Xie J, Henriksson M, Tomkinson B, Imreh S, Masucci MG (2005) Mitotic infidelity and centrosome duplication errors in cells overexpressing tripeptidyl-peptidase II. Cancer Res 65:1361–1368

Stavropoulou V, Vasquez V, Cereser B, Freda E, Masucci MG (2006) TPPII promotes genetic instability by allowing the escape from apoptosis of cells with activated mitotic checkpoints. Biochem Biophys Res Commun 346:415–425

Sudbo J, Reith A (2005) The evolution of predictive oncology and molecular-based therapy for oral cancer prevention. Int J Cancer 115:339–345

Tanaka C, Uzawa K, Shibahara T, Yokoe H, Noma H, Tanzawa H (2003) Expression of an inhibitor of apoptosis, survivin, in oral carcinogenesis. J Dent Res 82:607–611

Tomkinson B, Lindås AC (2005) Tripeptidyl-peptidase II: a multi-purpose peptidase. Int J Biochem Cell Biol 37:1933–1937

Tomkinson B, Hansen M, Cheung WF (1997) Structure-function studies of recombinant murine tripeptidyl-peptidase II: the extra domain which is subject to alternative splicing is involved in complex formation. FEBS Lett 405:277–280

Verburg FA, Wäschle K, Reiners C, Giovanella L, Lentjes EG (2010) Heterophile antibodies rarely influence the measurement of thyroglobulin and thyroglobulin antibodies in differentiated thyroid cancer patients. Horm Metab Res 42:736–739

Vitrat N, Cohen-Solal K, Pique C, Le Couedic JP, Norol F et al (1998) Endomitosis of human megakaryocytes are due to abortive mitosis. Blood 91:3711–3723

Wang TH, Wang HS, Soong YK (2000) Paclitaxel-induced cell death: where the cell cycle and apoptosis come together. Cancer 88:2619–2628

Wassmann K, Benezra R (1998) Mad2 transiently associates with an APC/p55Cdc complex during mitosis. Proc Natl Acad Sci USA 95:11193–11198

Yamano Y, Uzawa K, Shinozuka K, Fushimi K, Ishigami T, Nomura H, Ogawara K, Shiiba M, Yokoe H, Tanzawa H (2008) Hyaluronan-mediated motility: a target in oral squamous cell carcinoma. Int J Oncol 32:1001–1009
Acknowledgments
We thank Lynda C. Charters for editing this manuscript.
Conflict of interest
We declare that we have no conflict of interest.
Additional information
Katsuya Usukura and Atsushi Kasamatsu have equally contributed to this work.
About this article
Cite this article
Usukura, K., Kasamatsu, A., Okamoto, A. et al. Tripeptidyl peptidase II in human oral squamous cell carcinoma. J Cancer Res Clin Oncol 139, 123–130 (2013). https://doi.org/10.1007/s00432-012-1307-y
Received:

Accepted:

Published:

Issue Date:
Keywords
Spindle assembly checkpoint

Oral squamous cell carcinoma

Proliferation

shRNA experiments