Abstract
Purpose
Patients with gallbladder cancer usually have a poor prognosis, and effective standard chemotherapeutic regimens have not been established. The anticancer activities of guggulsterone have been demonstrated in various cancer cells. The aims of the study were to determine the effect of guggulsterone on gallbladder cancer cells and to investigate whether treatment with guggulsterone influences the antitumor activities of gemcitabine.
Methods
The Dojindo Cell Counting Kit-8 assay was used to determine the inhibition of proliferation by drugs in TGBC1 and TGBC2 cells. Cell migration and invasion were examined using 24-well inserts and Matrigel™-coated invasion chambers. The activities of NF-κB p65, VEGF-C, and MMP-2 were measured by ELISA.
Results
Guggulsterone inhibited the proliferation and suppressed migration and invasion of gallbladder cancer cells in a dose-dependent manner. Guggulsterone significantly decreased NF-κB p65, VEGF-C, and MMP-2 activities in the gallbladder cancer cells examined. Gallbladder cancer cells treated with a combination of guggulsterone and gemcitabine demonstrated significant inhibition of cell proliferation and invasion when compared to treatment with gemcitabine alone. In addition, NF-κB p65 activation decreased significantly in cells treated with a combination of guggulsterone and gemcitabine when compared to treatment with gemcitabine alone.
Conclusions
Guggulsterone exhibits anticancer activities and enhances the antitumor activities of gemcitabine through the suppression of NF-κB activation in gallbladder cancer cells. These results suggest that guggulsterone could be a potential therapeutic option for patients with gallbladder cancer.
This is a preview of subscription content, log in to check access.
Access options
Buy single article
Instant access to the full article PDF.
US$ 39.95
Price includes VAT for USA
Subscribe to journal
Immediate online access to all issues from 2019. Subscription will auto renew annually.
US$ 199
This is the net price. Taxes to be calculated in checkout.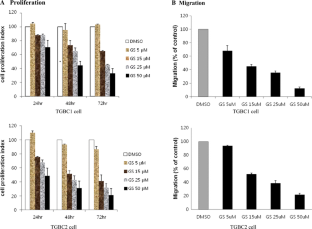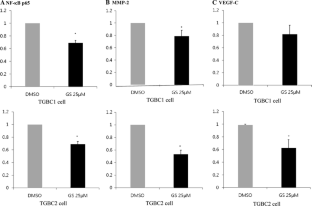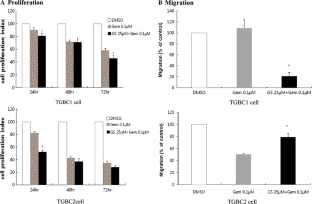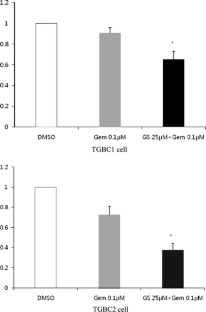 Abbreviations
GBC:

Gallbladder cancer

GS:

Guggulsterone

FXR:

Farnesoid X receptor

NF-κB:

Nuclear factor-kappa B

VEGF-C:

Vascular endothelial growth factor-C

MMP-2:

Matrix metalloproteinase-2

DMEM:

Dulbecco's modified Eagle's medium

FBS:

Fetal bovine serum

MEM:

Minimum essential medium

DMSO:

Dimethylsulphoxide

SEM:

The standard error of the mean

BTC:

Biliary tract cancer

IκB:

Inhibitor of κB
References
Aggarwal BB (2004) Nuclear factor-kappaB: the enemy within. Cancer Cell 6:203–208

Aghdassi A, Phillips P, Dudeja V, Dhaulakhandi D, Sharif R, Dawra R, Lerch MM, Saluja A (2007) Heat shock protein 70 increases tumorigenicity and inhibits apoptosis in pancreatic adenocarcinoma. Cancer Res 67:616–625

Akagi K, Ikeda Y, Miyazaki M, Abe T, Kinoshita J, Maehara Y, Sugimachi K (2000) Vascular endothelial growth factor-C (VEGF-C) expression in human colorectal cancer tissues. Br J Cancer 83:887–891

An MJ, Cheon JH, Kim SW, Kim ES, Kim TI, Kim WH (2009) Guggulsterone induces apoptosis in colon cancer cells and inhibits tumor growth in murine colorectal cancer xenografts. Cancer Lett 279:93–100

Arinaga M, Noguchi T, Takeno S, Chujo M, Miura T, Uchida Y (2003) Clinical significance of vascular endothelial growth factor C and vascular endothelial growth factor receptor 3 in patients with nonsmall cell lung carcinoma. Cancer 97:457–464

Baud V, Karin M (2009) Is NF-kappaB a good target for cancer therapy? Hopes and pitfalls. Nat Rev Drug Discov 8:33–40

Beaudeux JL, Giral P, Bruckert E, Foglietti MJ, Chapman MJ (2004) Matrix metalloproteinases, inflammation and atherosclerosis: therapeutic perspectives. Clin Chem Lab Med 42:121–131

Chen Y, Jiang L, She F, Tang N, Wang X, Li X, Han S, Zhu J (2010) Vascular endothelial growth factor-C promotes the growth and invasion of gallbladder cancer via an autocrine mechanism. Mol Cell Biochem 345:77–89

Curran S, Murray GI (1999) Matrix metalloproteinases in tumour invasion and metastasis. J Pathol 189:300–308

de Haij S, Adcock IM, Bakker AC, Gobin SJ, Daha MR, van Kooten C (2003) Steroid responsiveness of renal epithelial cells. Dissociation of transrepression and transactivation. J Biol Chem 278:5091–5098

Dutta U, Poornachandra KS (2008) Heparanase and gallbladder cancer: new insights into understanding tumor growth and invasion. J Gastroenterol Hepatol 23:343–344

Feldman (2010) Sleisenger & Fordtran's Gastrointestinal and liver disease, vol 1, 9th edn. Elsevier, Philadelphia, pp 1171–1181

Flister MJ, Wilber A, Hall KL, Iwata C, Miyazono K, Nisato RE, Pepper MS, Zawieja DC, Ran S (2010) Inflammation induces lymphangiogenesis through up-regulation of VEGFR-3 mediated by NF-kappaB and Prox1. Blood 115:418–429

Hashimoto I, Kodama J, Seki N, Hongo A, Yoshinouchi M, Okuda H, Kudo T (2001) Vascular endothelial growth factor-C expression and its relationship to pelvic lymph node status in invasive cervical cancer. Br J Cancer 85:93–97

Jiang L, Chen YL, She FF, Tang NH, Li XJ, Wang XX (2010) Expressions of VEGF-C and VEGF-D and their correlation with lymphangiogenesis and angiogenesis in gallbladder carcinoma. Zhonghua Zhong Liu Za Zhi 32:190–195

Juttner S, Wissmann C, Jons T, Vieth M, Hertel J, Gretschel S, Schlag PM, Kemmner W, Hocker M (2006) Vascular endothelial growth factor-D and its receptor VEGFR-3: two novel independent prognostic markers in gastric adenocarcinoma. J Clin Oncol 24:228–240

Kim ES, Hong SY, Lee HK, Kim SW, An MJ, Kim TI, Lee KR, Kim WH, Cheon JH (2008) Guggulsterone inhibits angiogenesis by blocking STAT3 and VEGF expression in colon cancer cells. Oncol Rep 20:1321–1327

Lee CH, Jeon YT, Kim SH, Song YS (2007) NF-kappaB as a potential molecular target for cancer therapy. BioFactors 29:19–35

Lee JY, Lee KT, Lee JK, Lee KH, Jang KT, Heo JS, Choi SH, Kim Y, Rhee JC (2011) Farnesoid X receptor, overexpressed in pancreatic cancer with lymph node metastasis promotes cell migration and invasion. Br J Cancer 104:1027–1037

Levin B (1999) Gallbladder carcinoma. Ann Oncol 10(Suppl 4):129–130

Li F, Sethi G (2010) Targeting transcription factor NF-kappaB to overcome chemoresistance and radioresistance in cancer therapy. Biochim Biophys Acta 1805:167–180

Lv N, Song MY, Kim EK, Park JW, Kwon KB, Park BH (2008) Guggulsterone, a plant sterol, inhibits NF-kappaB activation and protects pancreatic beta cells from cytokine toxicity. Mol Cell Endocrinol 289:49–59

Macha MA, Matta A, Chauhan S, Siu KM, Ralhan R (2010) 14–3-3 zeta is a molecular target in guggulsterone induced apoptosis in head and neck cancer cells. BMC Cancer 10:655

Macha MA, Matta A, Chauhan SS, Siu KW, Ralhan R (2011) Guggulsterone targets smokeless tobacco induced PI3K/Akt pathway in head and neck cancer cells. PLoS ONE 6:e14728

Marchio S, Primo L, Pagano M, Palestro G, Albini A, Veikkola T, Cascone I, Alitalo K, Bussolino F (1999) Vascular endothelial growth factor-C stimulates the migration and proliferation of Kaposi's sarcoma cells. J Biol Chem 274:27617–27622

Maula SM, Luukkaa M, Grenman R, Jackson D, Jalkanen S, Ristamaki R (2003) Intratumoral lymphatics are essential for the metastatic spread and prognosis in squamous cell carcinomas of the head and neck region. Cancer Res 63:1920–1926

Misra S, Chaturvedi A, Misra NC (2006) Gallbladder cancer. Curr Treat Options Gastroenterol 9:95–106

Nabeshima K, Suzumiya J, Nagano M, Ohshima K, Toole BP, Tamura K, Iwasaki H, Kikuchi M (2004) Emmprin, a cell surface inducer of matrix metalloproteinases (MMPs), is expressed in T-cell lymphomas. J Pathol 202:341–351

Park BK, Kim YJ, Park JY, Bang S, Park SW, Chung JB, Kim KS, Choi JS, Lee WJ, Song SY (2006) Phase II study of gemcitabine and cisplatin in advanced biliary tract cancer. J Gastroenterol Hepatol 21:999–1003

Pulukuri SM, Rao JS (2008) Matrix metalloproteinase-1 promotes prostate tumor growth and metastasis. Int J Oncol 32:757–765

Quan Z, Gu J, Dong P, Lu J, Wu X, Wu W, Fei X, Li S, Wang Y, Wang J, Liu Y (2010) Reactive oxygen species-mediated endoplasmic reticulum stress and mitochondrial dysfunction contribute to cirsimaritin-induced apoptosis in human gallbladder carcinoma GBC-SD cells. Cancer Lett 295:252–259

Rundhaug JE (2005) Matrix metalloproteinases and angiogenesis. J Cell Mol Med 9:267–285

Samudio I, Konopleva M, Safe S, McQueen T, Andreeff M (2005) Guggulsterones induce apoptosis and differentiation in acute myeloid leukemia: identification of isomer-specific antileukemic activities of the pregnadienedione structure. Mol Cancer Ther 4:1982–1992

Shishodia S, Aggarwal BB (2004) Guggulsterone inhibits NF-kappaB and IkappaBalpha kinase activation, suppresses expression of anti-apoptotic gene products, and enhances apoptosis. J Biol Chem 279:47148–47158

Shishodia S, Sethi G, Ahn KS, Aggarwal BB (2007) Guggulsterone inhibits tumor cell proliferation, induces S-phase arrest, and promotes apoptosis through activation of c-Jun N-terminal kinase, suppression of Akt pathway, and downregulation of antiapoptotic gene products. Biochem Pharmacol 74:118–130

Shishodia S, Harikumar KB, Dass S, Ramawat KG, Aggarwal BB (2008) The guggul for chronic diseases: ancient medicine, modern targets. Anticancer Res 28:3647–3664

Silva J, Dasgupta S, Wang G, Krishnamurthy K, Ritter E, Bieberich E (2006) Lipids isolated from bone induce the migration of human breast cancer cells. J Lipid Res 47:724–733

Singh SV, Zeng Y, Xiao D, Vogel VG, Nelson JB, Dhir R, Tripathi YB (2005) Caspase-dependent apoptosis induction by guggulsterone, a constituent of Ayurvedic medicinal plant Commiphora mukul, in PC-3 human prostate cancer cells is mediated by Bax and Bak. Mol Cancer Ther 4:1747–1754

Singh SV, Choi S, Zeng Y, Hahm ER, Xiao D (2007) Guggulsterone-induced apoptosis in human prostate cancer cells is caused by reactive oxygen intermediate dependent activation of c-Jun NH2-terminal kinase. Cancer Res 67:7439–7449

Skobe M, Hawighorst T, Jackson DG, Prevo R, Janes L, Velasco P, Riccardi L, Alitalo K, Claffey K, Detmar M (2001) Induction of tumor lymphangiogenesis by VEGF-C promotes breast cancer metastasis. Nat Med 7:192–198

Sullu Y, Demirag GG, Yildirim A, Karagoz F, Kandemir B (2011) Matrix metalloproteinase-2 (MMP-2) and MMP-9 expression in invasive ductal carcinoma of the breast. Pathol Res Pract 207(12):745–753

Suzuki K, Morita T, Tokue A (2005) Vascular endothelial growth factor-C (VEGF-C) expression predicts lymph node metastasis of transitional cell carcinoma of the bladder. Int J Urol 12:152–158

Ueno H, Kiyosawa K, Kaniwa N (2007) Pharmacogenomics of gemcitabine: can genetic studies lead to tailor-made therapy? Br J Cancer 97:145–151

Valle J, Wasan H, Palmer DH, Cunningham D, Anthoney A, Maraveyas A, Madhusudan S, Iveson T, Hughes S, Pereira SP, Roughton M, Bridgewater J (2010) Cisplatin plus gemcitabine versus gemcitabine for biliary tract cancer. N Engl J Med 362:1273–1281

Van Acker GJ, Perides G, Weiss ER, Das S, Tsichlis PN, Steer ML (2007) Tumor progression locus-2 is a critical regulator of pancreatic and lung inflammation during acute pancreatitis. J Biol Chem 282:22140–22149

Wu W, Pan C, Yu H, Gong H, Wang Y (2008) Heparanase expression in gallbladder carcinoma and its correlation to prognosis. J Gastroenterol Hepatol 23:491–497

Wu W, Wang R, Liu H, Peng J, Huang D, Li B, Ruan J (2009) Prediction of prognosis in gallbladder carcinoma by CD147 and MMP-2 immunohistochemistry. Med Oncol 26:117–123

Xiao D, Singh SV (2008) z-Guggulsterone, a constituent of Ayurvedic medicinal plant Commiphora mukul, inhibits angiogenesis in vitro and in vivo. Mol Cancer Ther 7:171–180

Zhu AX, Hong TS, Hezel AF, Kooby DA (2010) Current management of gallbladder carcinoma. Oncologist 15:168–181
Acknowledgments
This work was supported by the Samsung Biomedical Research Institute Grant, # SBRI C-A9-226-2.
Conflict of interest
None of the authors claims any conflict of interest exists upon this manuscript.
About this article
Cite this article
Yang, M.H., Lee, K.T., Yang, S. et al. Guggulsterone enhances antitumor activity of gemcitabine in gallbladder cancer cells through suppression of NF-κB. J Cancer Res Clin Oncol 138, 1743–1751 (2012). https://doi.org/10.1007/s00432-012-1254-7
Received:

Accepted:

Published:

Issue Date:
Keywords
Gallbladder cancer

Guggulsterone

Gemcitabine

NF-κB