Abstract
Purpose
Preclinical development of antisarcoma therapy is primarily based on the subcutaneous transplantation of sarcoma xenografts. Tumour cell survival remains a hurdle of current models, which has been attributed to the hypoxic conditions following transplantation. We hypothesised that sarcoma models with an intrinsic tissue-engineered vascular supply are easily reproducible. The aim of this study was to establish a novel vascularised xenograft model.
Materials and methods
Primary human soft tissue sarcomas were transplanted into a silicon chamber and placed around the superficial epigastric vessels of nude mice. Sarcoma xenograft samples were assessed histomorphologically.
Results
All sarcoma xenografts engrafted, leading to solid tumours. Histological, immunohistochemical staining and light/electron microscopy confirmed the xenografts as identical high-grade pleomorphic sarcomas (NOS) compared with the original patients' tumours.
Conclusion
This novel sarcoma xenograft model with an intrinsic vascular supply could be of high value for studying human soft tissue sarcomas and their therapy.
This is a preview of subscription content, log in to check access.
Access options
Buy single article
Instant access to the full article PDF.
US$ 39.95
Price includes VAT for USA
Subscribe to journal
Immediate online access to all issues from 2019. Subscription will auto renew annually.
US$ 199
This is the net price. Taxes to be calculated in checkout.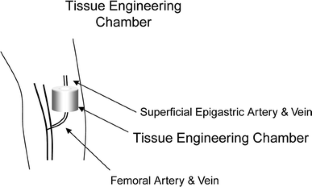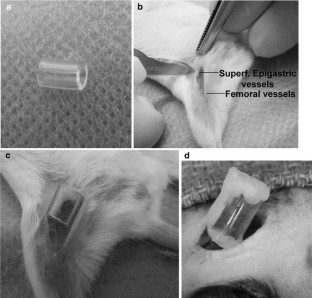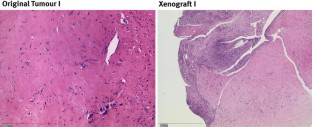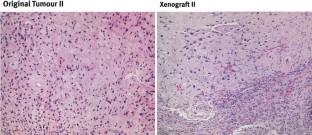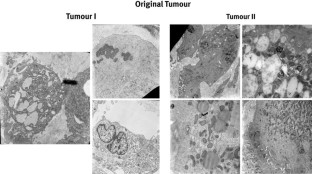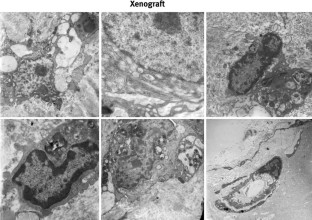 References
Akerman M (1997) Malignant fibrous histiocytoma—the commonest soft tissue sarcoma or a nonexistent entity? Acta Orthop Scand Suppl 273:41–46

Al-Benna S, Steinstrasser L (2009) Postablative reconstruction is better terminology than oncoplastic surgery. Plast Reconstr Surg 124(6):463e–464e

Al-Benna S, Poggemann K, Steinau HU, Steinstraesser L (2010) Diagnosis and management of primary breast sarcoma. Breast Cancer Res Treat 122(3):619–626. doi:10.1007/s10549-010-0915-y

Clarkson P, Ferguson PC (2004) Management of soft tissue sarcomas of the extremities. Expert Rev Anticancer Ther 4(2):237–246. doi:10.1586/14737140.4.2.237

Cronin KJ, Messina A, Knight KR, Cooper-White JJ, Stevens GW, Penington AJ, Morrison WA (2004) New murine model of spontaneous autologous tissue engineering, combining an arteriovenous pedicle with matrix materials. Plast Reconstr Surg 113(1):260–269. doi:10.1097/01.PRS.0000095942.71618.9D

Daigeler A, Kuhnen C, Moritz R, Stricker I, Goertz O, Tilkorn D, Steinstraesser L, Steinau HU, Lehnhardt M (2009) Lymph node metastases in soft tissue sarcomas: a single centre analysis of 1,597 patients. Langenbecks Arch Surg 394(2):321–329. doi:10.1007/s00423-008-0371-x

Daigeler A, Klein-Hitpass L, Stricker I, Muller O, Kuhnen C, Chromik AM, Steinstraesser L, Goertz O, Steinau HU, Lehnhardt M (2010) Malignant fibrous histiocytoma–pleomorphic sarcoma, NOS gene expression, histology, and clinical course. A pilot study. Langenbecks Arch Surg 395(3):261–275. doi:10.1007/s00423-009-0465-0

Dehner LP (1988) Malignant fibrous histiocytoma. Nonspecific morphologic pattern, specific pathologic entity, or both? Arch Pathol Lab Med 112(3):236–237

Fletcher CD (1992) Pleomorphic malignant fibrous histiocytoma: fact or fiction? A critical reappraisal based on 159 tumors diagnosed as pleomorphic sarcoma. Am J Surg Pathol 16(3):213–228

Fletcher CDM, Sundharam M, Rydholm A, Coindre JM, Singer S (2002a) World Health Organisation classification of tumours. Pathology and genetics of tumours of soft tissue and bone. In: Fletcher CDM UK, Mertens F (eds) Soft tissue tumours: Epidemiology, clinical features, histopathological typing and grading. IARC Press, Lyon

Fletcher CDM, Sundharam M, Rydholm A, Coindre JM, Singer S (2002b) Soft tissue tumours: epidemiology, clinical features, histopathological typing and grading. World Health Organisation classification of tumours. Pathology and genetics of tumours of soft tissue and bone. IARC Press, Lyon

Folkman J, Hochberg M (1973) Self-regulation of growth in three dimensions. J Exp Med 138(4):745–753

Giovanella BC, Stehlin JS Jr, Williams LJ Jr, Lee SS, Shepard RC (1978) Heterotransplantation of human cancers into nude mice: a model system for human cancer chemotherapy. Cancer 42(5):2269–2281

Hajdu SI, Lemos LB, Kozakewich H, Helson L, Beattie EJ Jr (1981) Growth pattern and differentiation of human soft tissue sarcomas in nude mice. Cancer 47(1):90–98

Hattler BG Jr, Soehnlen B, Seaver NA, Sato P (1974) Heterotransplantation of human malignant neoplasms to the mouse mutant nude. Surg Forum 25:127–129

Helson L, Das SK, Hajdu SI (1975) Human neuroblastoma in nude mice. Cancer Res 35(9):2594–2599

Hemmrich K, Thomas GP, Abberton KM, Thompson EW, Rophael JA, Penington AJ, Morrison WA (2007) Monocyte chemoattractant protein-1 and nitric oxide promote adipogenesis in a model that mimics obesity. Obesity (Silver Spring) 15(12):2951–2957. doi:10.1038/oby.2007.352

Hollowood K, Fletcher CD (1995) Malignant fibrous histiocytoma: morphologic pattern or pathologic entity? Semin Diagn Pathol 12(3):210–220

Itescu S, Schuster MD, Kocher AA (2003) New directions in strategies using cell therapy for heart disease. J Mol Med 81(5):288–296. doi:10.1007/s00109-003-0432-0

Kauffman SL, Stout AP (1961) Histiocytic tumors (fibrous xanthoma and histiocytoma) in children. Cancer 14:469–482

Kneser U, Kaufmann PM, Fiegel HC, Pollok JM, Kluth D, Herbst H, Rogiers X (1999) Long-term differentiated function of heterotrophically transplanted hepatocytes on three-dimensional polymer matrices. J Biomed Mater Res 47(4):494–503

Lepore DA, Thomas GP, Knight KR, Hussey AJ, Callahan T, Wagner J, Morrison WA, Thomas PQ (2007) Survival and differentiation of pituitary colony-forming cells in vivo. Stem Cells 25(7):1730–1736. doi:10.1634/stemcells.2007-0012

Morritt AN, Bortolotto SK, Dilley RJ, Han X, Kompa AR, McCombe D, Wright CE, Itescu S, Angus JA, Morrison WA (2007) Cardiac tissue engineering in an in vivo vascularized chamber. Circulation 115(3):353–360. doi:CIRCULATIONAHA.106.657379

Muschler GF, Nakamoto C, Griffith LG (2004) Engineering principles of clinical cell-based tissue engineering. J Bone Joint Surg Am 86-A(7):1541–1558

Nelson-Rees WA, Daniels DW, Flandermeyer RR (1981) Cross-contamination of cells in culture. Science 212(4493):446–452

Pisters P (2002) Staging and prognosis. In: Pollock RE e (ed) American cancer society atlas of clinical oncology: soft tissue sarcomas. BC Decker Inc., Hamiliton, Ontario

Potter DA, Glenn J, Kinsella T, Glatstein E, Lack EE, Restrepo C, White DE, Seipp CA, Wesley R, Rosenberg SA (1985) Patterns of recurrence in patients with high-grade soft-tissue sarcomas. J Clin Oncol 3(3):353–366

Institute of Laboratory Animal Resources (1996) Commission on Life Sciences. National Research Council. National Academy Press, Washington, DC

Seach N, Mattesich M, Abberton K, Matsuda K, Tilkorn DJ, Rophael J, Boyd RL, Morrison WA (2010) Vascularized tissue engineering mouse chamber model supports thymopoiesis of ectopic thymus tissue grafts. Tissue Eng Part C Methods 16(3):543–551. doi:10.1089/ten.TEC.2009.0135

Steffens L, Wenger A, Stark GB, Finkenzeller G (2009) In vivo engineering of a human vasculature for bone tissue engineering applications. J Cell Mol Med 13(9B):3380–3386. doi:10.1111/j.1582-4934.2008.00418.x

Steinstraesser L, Jacobsen F, Schubert C, Gevers K, Stricker I, Steinau HU, Al-Benna S (2010) Establishment of a primary human sarcoma model in athymic nude mice. Hum Cell 23(2):50–57. doi:10.1111/j.1749-0774.2010.00085.x

Steinstraesser L, Hauk J, Jacobsen F, Stricker I, Steinau HU, Al-Benna S (2011a) Establishment of a synovial sarcoma model in athymic nude mice. In Vivo 25(2):165–169

Steinstraesser L, Schubert C, Hauk J, Becerikli M, Stricker I, Koeller M, Hatt H, von Duering M, Shai Y, Steinau HU, Jacobsen F (2011b) Oncolytic designer host defence peptide suppresses growth of human liposarcoma. Int J Cancer. doi:10.1002/ijc.25627

Thomas GP, Hemmrich K, Abberton KM, McCombe D, Penington AJ, Thompson EW, Morrison WA (2008) Zymosan-induced inflammation stimulates neo-adipogenesis. Int J Obes (Lond) 32(2):239–248. doi:10.1038/sj.ijo.0803702

Tilkorn DJ, Daigeler A, Stricker I, Schaffran A, Schmitz I, Steinstraesser L, Hauser J, Ring A, Steinau HU, Al-Benna S (2011) Establishing efficient xenograft models with intrinsic vascularisation for growing primary human low grade sarcomas. Anticancer Res (in press)

Vezeridis MP, Moore R, Karakousis CP (1983) Metastatic patterns in soft-tissue sarcomas. Arch Surg 118(8):915–918

Weiss E (2008) Enzinger and Weiss's soft tissue tumors, 5th edn. Mosby, St. Louis
Acknowledgments
This study was supported by the Cancer Association North Rhine-Westphalia, Germany (Krebsgesellschaft Nordrhein-Westfalen e.V.). We gratefully acknowledge the tissue engineering techniques that were developed at the Bernard O'Brien Institute of Medical Research and taught to the first author with the support of Professor Wayne Morrison (University of Melbourne, Australia).
Conflict of interest
None.
About this article
Cite this article
Tilkorn, D., Daigeler, A., Hauser, J. et al. A novel xenograft model with intrinsic vascularisation for growing undifferentiated pleomorphic sarcoma NOS in mice. J Cancer Res Clin Oncol 138, 877–884 (2012). https://doi.org/10.1007/s00432-012-1163-9
Received:

Accepted:

Published:

Issue Date:
Keywords
Pleomorhic sarcoma NOS

Athymic mice

Xenograft model

Soft tissue sarcoma