Abstract
Background
Ara-C is one of the most commonly used drugs in the treatment of AML. However, the development of drug resistance always prevented its further use. It has been shown that miR-181a is associated with the clinical outcome of AML patients. Here, we investigated the possible role of miR-181a in AML Ara-C resistance.
Methods
miR-181a expression was measured by real-time PCR. Cell viability was detected by MTT assay. Protein expressions were measured by western blotting. Caspase activity was examined by florescence assay.
Results
We found that miR-181a expression was downregulated in the Ara-C-resistant cell line HL-60/Ara-C compared with its parental cell line HL-60. Overexpression of miR-181a in HL-60/Ara-C cells sensitized the cells to Ara-C treatment. Furthermore, Bcl-2 was confirmed as a direct miR-181a target by immunoblot analysis and reporter gene assays. Knockdown of Bcl-2 mimicked the effect of enforced miR-181a expression by reducing cell viability. In addition, the apoptosis pathway was activated by cytochrome C release and caspase 9/caspase 3 activation after miR-181a overexpression.
Conclusions
This study for the first time demonstrated that downregulation of miR-181a and upregulation of Bcl-2 in leukaemia cells confer resistance to Ara-C-based therapy. These results suggest that restoration of miR-181a expression might provide a promising therapeutic in drug resistance of leukaemia.
This is a preview of subscription content, log in to check access.
Access options
Buy single article
Instant access to the full article PDF.
US$ 39.95
Price includes VAT for USA
Subscribe to journal
Immediate online access to all issues from 2019. Subscription will auto renew annually.
US$ 199
This is the net price. Taxes to be calculated in checkout.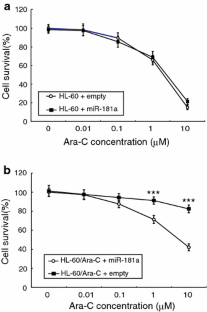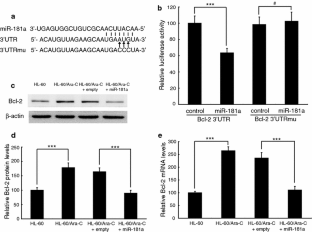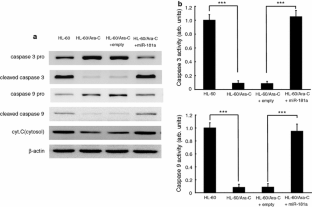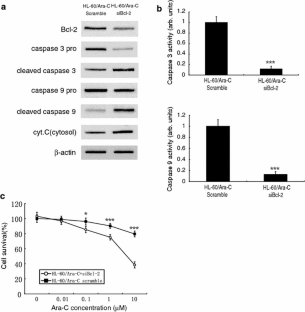 References
Andreeff M, Jiang S, Zhang X, Konopleva M, Estrov Z, Snell VE, Xie Z, Okcu MF, Sanchez-Williams G, Dong J, Estey EH, Champlin RC, Kornblau SM, Reed JC, Zhao S (1999) Expression of Bcl-2-related genes in normal and AML progenitors: changes induced by chemotherapy and retinoic acid. Leukemia 13(11):1881–1892

Bai H, Xu R, Cao Z, Wei D, Wang C (2011) Involvement of miR-21 in resistance to daunorubicin by regulating PTEN expression in the leukaemia K562 cell line. FEBS Lett 585(2):402–408

Bhalla K, Nayak R, Grant S (1984) Isolation and characterization of a deoxycytidine kinase-deficient human promyelocytic leukemic cell line highly resistant to 1-beta-D-arabinofuranosylcytosine. Cancer Res 44:5029–5037

Blower PE, Chung JH, Verducci JS, Lin S, Park JK, Dai ZY, Liu CG, Schmittgen TD, Reinhold WC, Croce CM, Weinstein JN, Sadee W (2008) MicroRNAs modulate the chemosensitivity of tumor cells. Mol Cancer Ther 7:1–9

Cai J, Damaraju VL, Groulx N, Mowles D, Peng Y, Robins MJ, Cass CE, Gros P (2008) Two distinct molecular mechanisms underlying Cytarabine resistance in human leukemic cells. Cancer Res 68:2349–2357

Campos L, Rouault JP, Sabido O, Oriol P, Roubi N, Vasselon C, Archimbaud E, Magaud JP, Guyotat D (1993) High expression of bcl-2 protein in acute myeloid leukemia cells is associated with poor response to chemotherapy. Blood 81:3091–3096

Ciafrè SA, Galardi S, Mangiola A, Ferracin M, Liu CG, Sabatino G, Negrini M, Maira G, Croce CM, Farace MG (2005) Extensive modulation of a set of microRNAs in primary glioblastoma. Biochem Biophys Res Commun 334(4):1351–1358

Colié S, Van Veldhoven PP, Kedjouar B, Bedia C, Albinet V, Sorli SC, Garcia V, Djavaheri-Mergny M, Bauvy C, Codogno P, Levade T, Andrieu-Abadie N (2009) Disruption of sphingosine 1-phosphate lyase confers resistance to chemotherapy and promotes oncogenesis through Bcl-2/Bcl-xL upregulation. Cancer Res 69(24):9346–9353

Doudican N, Rodriguez A, Osman I, Orlow SJ (2008) Mebendazole induces apoptosis via Bcl-2 inactivation in chemoresistant melanoma cells. Mol Cancer Res 6(8):1308–1315

Fernandez-Calotti P, Jordheim LP, Giordano M, Dumontet C, Galmarini CM (2005) Substrate cycles and drug resistance to 1-beta-D-arabinofuranosylcytosine (araC). Leuk Lymphoma 46(3):335–346 (Review)

He L, Hannon GJ (2004) MicroRNAs: small RNAs with a big role in gene regulation. Nat Rev Genet 5:522–531

Kanno S, Hiura T, Shouji A, Osanai Y, Ujibe M, Ishikawa M (2007) Resistance to Ara-C up-regulates the activation of NF-kappaB, telomerase activity and Fas expression in NALM-6 cells. Biol Pharm Bull 30(11):2069–2074

Kazenwadel J, Michael MZ, Harvey NL (2010) Prox1 expression is negatively regulated by miR-181 in endothelial cells. Blood 116(13):2395–2401

Keith FJ, Bradbury DA, Zhu YM, Russell NH (1995) Inhibition of bcl-2 with antisense oligonucleotides induces apoptosis and increases the sensitivity of AML blasts to ara-C. Leukemia 9:131–138

Konishi T, Sasaki S, Watanabe T, Kitayama J, Nagawa H (2006) Overexpression of hRFI inhibits 5-fluorouracil-induced apoptosis in colorectal cancer cells via activation of NF-kappaB and upregulation of BCL-2 and BCL-XL. Oncogene 25(22):3160–3169

Ma E, Li Y, Zhang W, Wang X, Tai W, Li T, Zhang L, Ikejima T (2009) 2(+/-)-7,8,3',4',5'-Pentamethoxyflavan induces G2/M phase arrest and apoptosis in HL60 cells. Toxicol In Vitro 23(5):874–879

Maillot G, Lacroix-Triki M, Pierredon S, Gratadou L, Schmidt S, Bénès V, Roché H, Dalenc F, Auboeuf D, Millevoi S, Vagner S (2009) Widespread estrogen-dependent repression of micrornas involved in breast tumor cell growth. Cancer Res 69(21):8332–8340

Marcucci G, Mrózek K, Radmacher MD, Garzon R, Bloomfield CD (2011) The prognostic and functional role of microRNAs in acute myeloid leukemia. Blood 117(4):1121–1129 (Review)

Marton S, Garcia MR, Robello C, Persson H, Trajtenberg F, Pritsch O, Rovira C, Naya H, Dighiero G, Cayota A (2008) Small RNAs analysis in CLL reveals a deregulation of miRNA expression and novel miRNA candidates of putative relevance in CLL pathogenesis. Leukemia 22(2):330–338

Momparler RL, Laliberte J (1990) Induction of cytidine deaminase in HL-60 myeloid leukemic cells by 5-aza-2-deoxycytidine. Leukemia Res 14:751–754

Naguibneva I, Ameyar-Zazoua M, Polesskaya A, Ait-Si-Ali S, Groisman R, Souidi M, Cuvellier S, Harel-Bellan A (2006) The microRNA miR-181 targets the homeobox protein Hox-A11 during mammalian myoblast differentiation. Nat Cell Biol 8(3):278–284

Neilson JR, Zheng GX, Burge CB, Sharp PA (2007) Dynamic regulation of miRNA expression in ordered stages of cellular development. Genes Dev 21(5):578–589

Nurul-Syakima AM, Yoke-Kqueen C, Sabariah AR, Shiran MS, Singh A, Learn-Han L (2011) Differential microRNA expression and identification of putative miRNA targets and pathways in head and neck cancers. Int J Mol Med 28(3):327–336

Ola MS, Nawaz M, Ahsan H (2011) Role of Bcl-2 family proteins and caspases in the regulation of apoptosis. Mol Cell Biochem 351(1–2):41–58 (Review)

Reed JC (1998) Bcl-2 family proteins. Oncogene 17(25):3225–3236 (Review)

Schwind S, Maharry K, Radmacher MD, Mrózek K, Holland KB, Margeson D, Whitman SP, Hickey C, Becker H, Metzeler KH, Paschka P, Baldus CD, Liu S, Garzon R, Powell BL, Kolitz JE, Carroll AJ, Caligiuri MA, Larson RA, Marcucci G, Bloomfield CD (2010) Prognostic significance of expression of a single microRNA, miR-181a, in cytogenetically normal acute myeloid leukemia: a cancer and leukemia Group B study. J Clin Oncol 28(36):5257–5264

Shin KH, Bae SD, Hong HS, Kim RH, Kang MK, Park NH (2011) miR-181a shows tumor suppressive effect against oral squamous cell carcinoma cells by downregulating K-ras. Biochem Biophys Res Commun 404(4):896–902

Tallman MS, Gilliland DG, Rowe JM (2005) Drug therapy for acute myeloid leukemia. Blood 106(4):1154–1163 (Review)

Yao Y, Suo AL, Li ZF, Liu LY, Tian T, Ni L, Zhang WG, Nan KJ, Song TS, Huang C (2009) MicroRNA profiling of human gastric cancer. Mol Med Report 2(6):963–970

Youle RJ, Strasser A (2008) The BCL-2 protein family: opposing activities that mediate cell death. Natl Rev Mol Cell Biol 9(1):47–59 (Review)
Acknowledgments
We thank L. Su for reviewing the manuscript. This study was supported by grants from Shanghai Jiaotong University Affiliated Shanghai First People's Hospital (061138).
Conflict of interest
We declare that we have no conflict of interest.
Additional information
Haitao Bai, Zhongwei Cao and Chong Deng contributed equally to this work.
About this article
Cite this article
Bai, H., Cao, Z., Deng, C. et al. miR-181a sensitizes resistant leukaemia HL-60/Ara-C cells to Ara-C by inducing apoptosis. J Cancer Res Clin Oncol 138, 595–602 (2012). https://doi.org/10.1007/s00432-011-1137-3
Received:

Accepted:

Published:

Issue Date:
Keywords
Chemoresistance

miR-181a

Ara-C

Acute myeloid leukaemia

Bcl-2