Abstract
Purpose
To investigate the effect of a monoclonal antibody (CH12), targeted against epidermal growth factor receptor type III variant (EGFRvIII), on human ovarian cancer cells when administered in combination with cisplatin chemotherapy.
Methods
Western blot and reverse transcription polymerase chain reaction (RT–PCR) were used to determine the expression levels of EGFRvIII protein and mRNA, respectively, in the ovarian cancer cell lines SK-OV-3 and CAOV-3. Cells were left untreated or treated with either cisplatin or CH12 alone or both agents in combination (2 μg/ml cisplatin plus CH12). Cell proliferation was detected in a CCK-8 assay. The binding affinities of the CH12 mAb to the 2 cell lines were analyzed; after treatment with cisplatin and different concentrations of CH12, the apoptotic ratios and cell cycle stages of SK-OV-3 cells were determined by flow cytometry (FCM).
Results
The express of EGFRvIII mRNA and protein in the two ovarian cancer cell lines were both detected. Analysis of the combination index yielded a value of 0.915, indicating that 2 drugs have a synergistic therapeutic effect. SK-OV-3 cells were observed to be much more resistant to cisplatin than CAOV-3 cells. The primary combinatorial effect of the 2 drugs was the induction of apoptosis, but we also observed synergic co-inhibition of the cell cycle of SK-OV-3 in the S phase.
Conclusions
We conclude that CH12 antibody is a promising candidate for clinical therapy for ovarian cancer cells, which has lower sensitivity to cisplatin treatment; however, the underlying mechanism needs further study.
This is a preview of subscription content, log in to check access.
Access options
Buy single article
Instant access to the full article PDF.
US$ 39.95
Price includes VAT for USA
Subscribe to journal
Immediate online access to all issues from 2019. Subscription will auto renew annually.
US$ 199
This is the net price. Taxes to be calculated in checkout.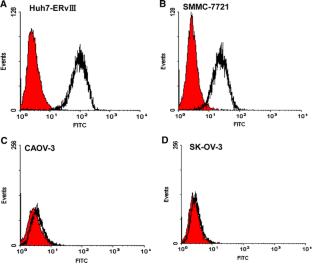 References
Chou TC, Talalay P (1984) Quantitative analysis of dose-effect relationships: the combined effects of multiple drugs or enzyme inhibitors. Adv Enzyme Regul 22:27–55

CRUK (2007) 2002 Cancer research UK. UK ovarian cancer statistics

Dressler V, Muller G et al (1999) CombiTool—a new computer program for analyzing combination experiments with biologically active agents. Comput Biomed Res 32:145–160

Garcia de Palazzo IE, Adams GP et al (1993) Expression of mutated epidermal growth factor receptor by non-small cell lung carcinomas. Cancer Res 53:3217–3220

Heimberger AB, Hlatky R et al (2005) Prognostic effect of epidermal growth factor receptor and EGFRvIII in glioblastoma multiforme patients. Clin Cancer Res 11:1462–1466

Humphrey PA, Gangarosa LM et al (1991) Deletion-mutant epidermal growth factor receptor in human gliomas: effects of type II mutation on receptor function. Biochem Biophys Res Commun 178:1413–1420

Jiang H, Wang H et al (2011) Growth suppression of human hepatocellular carcinoma xenografts by a monoclonal antibody CH12 directed to epidermal growth factor receptor variant III. J Biol Chem 286:5913–5920

Jungbluth AA, Stockert E et al (2003) A monoclonal antibody recognizing human cancers with amplification/overexpression of the human epidermal growth factor receptor. Proc Natl Acad Sci USA 100:639–644

Kuan CT, Wikstrand CJ et al (2001) EGF mutant receptor vIII as a molecular target in cancer therapy. Endocr Relat Cancer 8:83–96

Kuan CT, Srivastava N et al (2010) Recombinant single-chain variable fragment antibodies against extracellular epitopes of human multidrug resistance protein MRP3 for targeting malignant gliomas. Int J Cancer 127:598–611

Morimoto H, Safrit JT et al (1991) Synergistic effect of tumor necrosis factor-alpha- and diphtheria toxin-mediated cytotoxicity in sensitive and resistant human ovarian tumor cell lines. J Immunol 147:2609–2616

Moscatello DK, Holgado-Madruga M et al (1995) Frequent expression of a mutant epidermal growth factor receptor in multiple human tumors. Cancer Res 55:5536–5539

Moscatello DK, Ramirez G et al (1997) A naturally occurring mutant human epidermal growth factor receptor as a target for peptide vaccine immunotherapy of tumors. Cancer Res 57:1419–1424

Salomon DS, Brandt R et al (1995) Epidermal growth factor-related peptides and their receptors in human malignancies. Crit Rev Oncol Hematol 19:183–232

Sampson JH, Crotty LE et al (2000) Unarmed, tumor-specific monoclonal antibody effectively treats brain tumors. Proc Natl Acad Sci USA 97:7503–7508

Sugawa N, Ekstrand AJ et al (1990) Identical splicing of aberrant epidermal growth factor receptor transcripts from amplified rearranged genes in human glioblastomas. Proc Natl Acad Sci USA 87:8602–8606

Vermeulen K, Berneman ZN et al (2003) Cell cycle and apoptosis. Cell Prolif 36:165–175

Wang H, Jiang H et al (2009) Epidermal growth factor receptor vIII enhances tumorigenicity and resistance to 5-fluorouracil in human hepatocellular carcinoma. Cancer Lett 279:30–38

Wikstrand CJ, Cokgor I et al (1999) Monoclonal antibody therapy of human gliomas: current status and future approaches. Cancer Metastasis Rev 18:451–464

Wong AJ, Ruppert JM et al (1992) Structural alterations of the epidermal growth factor receptor gene in human gliomas. Proc Natl Acad Sci USA 89:2965–2969
Acknowledgments
This study was supported by State Key Laboratory of Oncogenes and Related Genes, Shanghai Jiaotong University. We greatly appreciate Dr. Zonghai Li for providing the precious monoclone antibody CH12. We would also like to thank Hua Jiang, Ming Zhou (Shanghai cancer institute), and Caiwen Duan (Medical School of Shanghai Jiaotong University) for their great assistance in this study.
Conflict of interest
The authors declare that they have no conflict of interest.
About this article
Cite this article
Li, N., Chu, Y., Yao, L. et al. A monoclonal antibody targeted against epidermal growth factor receptor variant III enhances cisplatin efficiency. J Cancer Res Clin Oncol 137, 1455 (2011). https://doi.org/10.1007/s00432-011-1018-9
Received:

Accepted:

Published:
Keywords
EGFR variant III

Antibody therapy

Ovarian cancer

Chemotherapy

Cisplatin