Abstract
Background
Diffuse idiopathic pulmonary neuroendocrine cell hyperplasia (DIPNECH) is a rare clinical pathological syndrome. There have been only 49 cases of DIPNECH reported in the literature so far. We report a case of a 69-year-old nonsmoking man with a 7-year follow-up.
Methods
The initial CT scan from December 2003 showed persistent nonspecific bilateral reticulonodular infiltrates. In January 2004, the patient underwent a video-assisted thoracoscopic wedge resection of his right lower lobe for further diagnostic workup. Pathology of the resected wedge of the right lower lobe revealed a diffuse idiopathic pulmonary cell hyperplasia (DIPNECH) highlighted by staining for the neuroendocrine typical carcinoid markers, such as marker CD 56.
Results
All the performed CT scans over a 7-year period showed no progression of the bilateral pulmonary lesion. The bilateral pulmonary nodules were stable in terms of size, number and form. The yearly control with chest CT scans will be continued.
Conclusions
The neuroendocrine cell hyperplasia is confined to the airway mucosa without penetration through the basement membrane and appears in a diffuse pattern, generally in close association with obliterative bronchiolar fibrosis. DIPNECH is characterized by a mixed obstructive and/or restrictive ventilation pattern with bilateral reticulonodular infiltrates and a predilection for middle-aged women. Little is known about the clinical course and treatment for DIPNECH.
This is a preview of subscription content, log in to check access.
Access options
Buy single article
Instant access to the full article PDF.
US$ 39.95
Price includes VAT for USA
Subscribe to journal
Immediate online access to all issues from 2019. Subscription will auto renew annually.
US$ 199
This is the net price. Taxes to be calculated in checkout.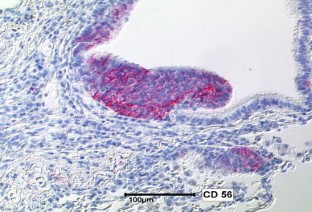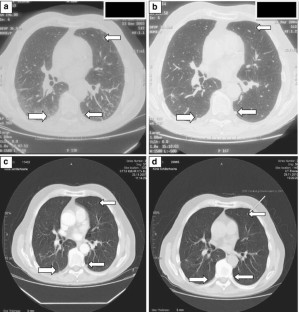 References
Cohen AJ, King TE, Gilman LB et al (1998) High expression of neutral endopeptidase in idiopathic diffuse hyperplasia of pulmonary neuroendocrine cells. Am J Respir Crit Care Med 158:1593–1599

Davis SJ, Gosney JR, Hansell DM, Wells AU, Bois RM, Burke MM, Sheppard M, Nicholson AG (2006) Diffuse idiopathic neuroendocrine cell hyperplasia: an under recognised spectrum of disease. Thorax 62(3):248–252

Ginsberg R (2000) Carcinoid tumors. In: Shields TW, LoCicero J, Ponn RB (eds) General thoracic surgery, vol 109. Lippincott Williams and Willkins, Philadelphia, pp 1493–1504

Gould VE, Linnoila RI, Memoli VA et al (1983) Neuroendocrine components of the bronchopulmonary tract: hyperplasias, dysplasias, and neoplasms. Lab Invest 49:519–537

Johney EC, Pfannschmidt J, Rieker RJ et al (2006) Diffuse idiopathic pulmonary neuroendocrine cell hyperplasia and a typical carcinoid tumor. J Thorac Cardiovasc Surg 131:1207–1208

Kerr KM (2001) Pulmonary preinvasive neoplasia. J Clin Pathol 54:257–271

Miller RR, Muller R (1995) Neuroendocrine cell hyperplasia and obliterative bronchiolitis in patients with peripheral carcinoid tumors. Am J Surg Pathol 19:653–658

Oberg K (1991) The role of interferons in the management of carcinoid tumors. Acta Oncol 30:519–522

Saltz L (1993) Octreotide as an antineoplastic agent in the treatment of functional and nonfunctional neuroendocrine tumors. Cancer 72:244–248

Swigris J, Ghamande S, Rice T, Farver C (2005) Diffuse idiopathic neuroendocrine cell hyperplasia: an interstitial lung disease with airway obstruction. J Bronchol 12:62–65

Travis WD, Colby TV, Corrin B, Shimosato Y et al (1999) World Health Organization international histological classification of tumors: histological typing of lung and pleural tumors. Springer, New York
Conflict of interest
The author(s) indicated no potential conflicts of interest.
About this article
Cite this article
Falkenstern-Ge, R.F., Kimmich, M., Friedel, G. et al. Diffuse idiopathic pulmonary neuroendocrine cell hyperplasia: 7-year follow-up of a rare clinicopathologic syndrome. J Cancer Res Clin Oncol 137, 1495 (2011). https://doi.org/10.1007/s00432-011-1015-z
Received:

Accepted:

Published:
Keywords
Neuroendocrine

Hyperplasia

Obstructive

Pulmonary nodules