Abstract
Purpose
To globally characterize the stroma expression profile of superficial bladder transitional cell carcinoma and to discuss the cancer biology as well as biomarker discovery from stromal cells.
Methods
Laser capture microdissection was used to harvest purified bladder cancer stromal cells and normal stromal cells from 4 paired samples. Next, two-dimensional liquid chromatography-tandem mass spectrometry was used to identify the proteome expression profile. The differential proteins were further analyzed using bioinformatics tools and compared with the published literature.
Results
A total of 606/601 proteins commonly appeared in 4 paired samples. Six hundred and thirty-seven proteins were differentially expressed between cancer and normal stroma. Among them, 321/316 proteins specific expressed in cancer/normal stromal cells. Differential proteins were compared with the entire list of the international protein index (IPI). 36/49 GO terms exhibited as enriched and 25/14 exhibited as depleted in biological process; 39/40 GO terms exhibited as enriched and 9/4 exhibited as depleted in cellular component, respectively. Significantly altered pathways between cancer/normal stroma mainly include focal adhesion, EHEC, oxidative phosphorylation, glycolysis/gluconeogenesis, TCA cycle. Finally, descriptive statistics show the data that PI ≤ 8 have normal distribution and the proteins with extremes of PI and MW have the same probability to be a biomarker.
Conclusions
The present study identified the proteome expression profile of bladder cancer stromal cells and normal stromal cells. Furthermore, our results confirm proteins origin from stroma play important role in cancer biology and highlight a novel view of cancer and stress the importance of including factors related to the cancer stroma into biomarker discovery.
This is a preview of subscription content, log in to check access.
Access options
Buy single article
Instant access to the full article PDF.
US$ 39.95
Price includes VAT for USA
Subscribe to journal
Immediate online access to all issues from 2019. Subscription will auto renew annually.
US$ 199
This is the net price. Taxes to be calculated in checkout.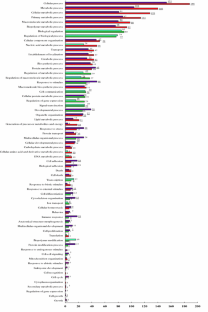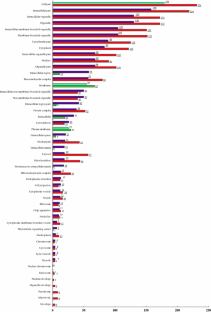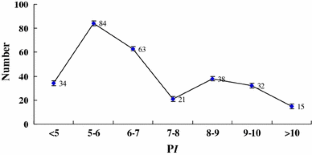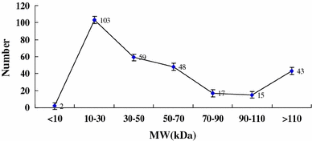 References
De Simoni S, Goemaere J, Knoops B (2008) Silencing of peroxiredoxin 3 and peroxiredoxin 5 reveals the role of mitochondrial peroxiredoxins in the protection of human neuroblastoma SH-SY5Y cells toward MPP+. Neurosci Lett 433:219–224

Foster CS, Dodson AR, Ambroisine L, Fisher G, Møller H, Clark J, Attard G, De-Bono J, Scardino P, Reuter VE, Cooper CS, Berney DM, Cuzick J (2009) Hsp-27 expression at diagnosis predicts poor clinical outcome in prostate cancer independent of ETS-gene rearrangement. Br J Cancer 101:1137–1144

Gauthier DJ, Lazure C (2008) Complementary methods to assist subcellular fractionation in organellar proteomics. Expert Rev Proteomics 5:603–617

Jacobs BL, Lee CT, Montie JE (2010) Bladder cancer in 2010: how far have we come? CA Cancer J Clin 60:244–272

Jemal A, Siegel R, Ward E, Hao Y, Xu J, Thun MJ (2009) Cancer statistics, 2009. CA Cancer J Clin 59:225–249

Kashani-Sabet M, Rangel J, Torabian S, Nosrati M, Simko J, Jablons DM, Moore DH, Haqq C, Miller JR 3rd, Sagebiel RW (2009) A multi-marker assay to distinguish malignant melanomas from benign nevi. Proc Natl Acad Sci USA 106:6268–6272

Koturbash I, Thomas JE, Kovalchuk O, Kovalchuk I (2009) Heat-killed bacteria induce genome instability in mouse small intestine, liver and spleen tissues. Cell Cycle 15:1935–1939

Kreeger PK, Lauffenburger DA (2010) Cancer systems biology: a network modeling perspective. Carcinogenesis 31:2–8

Lai JM, Huang CY, Chen CH (2010) Using siRNA to uncover novel oncogenic signaling pathways. Methods Mol Biol 623:231–242

Li D, Li JQ, Ouyang SG, Wu SF, Wang J, Xu XJ, Zhu YP, He FC (2005) An integrated strategy for functional analysis in large-scale proteomic research by gene ontology. Prog Biochem Biophys 32:1026–1029

Li CF, Shen KH, Huang LC, Huang HY, Wang YH, Wu TF (2010) Annexin-I overexpression is associated with tumour progression and independently predicts inferior disease-specific and metastasis-free survival in urinary bladder urothelial carcinoma. Pathology 42:43–49

Moh MC, Shen S (2009) The roles of cell adhesion molecules in tumor suppression and cell migration: a new paradox. Cell Adh Migr 3:334–336

Niu HT, Zhang YB, Jiang HP, Cheng B, Sun G, Wang Y, YJ E, Pang de Q, Chang JW (2009) Differences in shotgun protein expression profile between superficial bladder transitional cell carcinoma and normal urothelium. Urol Oncol 27:400–406

Parsons JT, Slack-Davis J, Tilghman R, Roberts WG (2008) Focal adhesion kinase: targeting adhesion signaling pathways for therapeutic intervention. Clin Cancer Res 14:627–632

Pavlides S, Whitaker-Menezes D, Castello-Cros R, Flomenberg N, Witkiewicz AK, Frank PG, Casimiro MC, Wang C, Fortina P, Addya S, Pestell RG, Martinez-Outschoorn UE, Sotgia F, Lisanti MP (2009) The reverse Warburg effect: aerobic glycolysis in cancer associated fibroblasts and the tumor stroma. Cell Cycle 23:3984–4001

Quesne JP, Spriggs KA, Bushell M, Willis AE (2010) Dysregulation of protein synthesis and disease. J Pathol 220:140–151

Schetter AJ, Heegaard NH, Harris CC (2010) Inflammation and cancer: interweaving microRNA, free radical, cytokine and p53 pathways. Carcinogenesis 31:37–49

Stierum R, Gaspari M, Dommels Y, Ouatas T, Pluk H, Jespersen S, Vogels J, Verhoeckx K, Groten J, van Ommen B (2003) Proteome analysis reveals novel proteins associated with proliferation and differentiation of the colorectal cancer cell line Caco-2. Biochim Biophys Acta 21:73–91

Tong W, Harris S, Cao X, Fang H, Shi L, Sun H, Fuscoe J, Harris A, Hong H, Xie Q, Perkins R, Casciano D (2004) Development of public toxicoinformatics software for microarray data management and analysis. Mutat Res 549:241–253

Trimboli AJ, Cantemir-Stone CZ, Li F, Wallace JA, Merchant A, Creasap N, Thompson JC, Caserta E, Wang H, Chong JL, Naidu S, Wei G, Sharma SM, Stephens JA, Fernandez SA, Gurcan MN, Weinstein MB, Barsky SH, Yee L, Rosol TJ, Stromberg PC, Robinson ML, Pepin F, Hallett M, Park M, Ostrowski MC, Leone G (2009) Pten in stromal fibroblasts suppresses mammary epithelial tumours. Nature 461:1084–1091

Wäsch R, Robbins JA, Cross FR (2010) The emerging role of APC/CCdh1 in controlling differentiation, genomic stability and tumor suppression. Oncogene 29:1–10

Weinberg F, Chandel NS (2009) Mitochondrial metabolism and cancer. Ann NY Acad Sci 1177:66–73
Acknowledgments
This work was supported by a grant from National Natural Science Foundation of China (No. 30901481); Doctoral Science Foundation of Shandong Province, China (BS2010YY009).
Conflict of Interest
The authors state that there are no conflicts of interest in this manuscript.
Additional information
H. T. Niu and C. M. Yang contributed equally to this work.
About this article
Cite this article
Niu, H.T., Yang, C.M., Jiang, G. et al. Cancer stroma proteome expression profile of superficial bladder transitional cell carcinoma and biomarker discovery. J Cancer Res Clin Oncol 137, 1273–1282 (2011). https://doi.org/10.1007/s00432-011-0995-z
Received:

Accepted:

Published:

Issue Date:
Keywords
Transitional cell carcinoma

Stroma

Proteome expression

Biomarker discovery

Pathway