Abstract
Introduction
Protein profiles of endoscopically collected pancreatic juice from normal, chronic pancreatitis patients and pancreatic cancer patients were compared to identify diagnostic biomarkers of pancreatic cancer.
Methods
Secretin was injected intravenously and pancreatic juice was collected via selective cannulation of the pancreatic duct during endoscopic retrograde cholangiopancreatography. Pancreatic juices consisting of three pooled samples for normal control, chronic pancreatitis, and pancreatic cancer patients were compared using two-dimensional gel electrophoresis, and the proteins were subsequently identified using MALDI-TOF–MS.
Results
Thirty-five protein spots were up-regulated twofold in pancreatic cancer compared with the levels in the normal controls, and 85 protein spots were present in pancreatic cancer samples but not in normal controls. After excluding spots that were also expressed in chronic pancreatitis, 26 protein spots that were up-regulated or only expressed in pancreatic cancer samples were identified. Among the identified proteins, we confirmed the expressions of BIG2, PRDX6, and REG1α in pancreatic cancer tissue using immunohistochemistry. ELISA showed that the serum level of REG1α was significantly higher in patients with pancreatic cancer than it was in the normal controls (P = 0.023). With the best cut-off value, the sensitivity and specificity of REG1α to differentiate normal and pancreatic cancer were 82.6 and 81.8%, compared with 69.6 and 100% for CA19-9.
Conclusions
We have shown that pancreatic juice is a good source of pancreatic cancer tumor markers. Further studies are needed to determine the clinical implications of REG1α and other markers.
This is a preview of subscription content, log in to check access.
Access options
Buy single article
Instant access to the full article PDF.
US$ 39.95
Price includes VAT for USA
Subscribe to journal
Immediate online access to all issues from 2019. Subscription will auto renew annually.
US$ 199
This is the net price. Taxes to be calculated in checkout.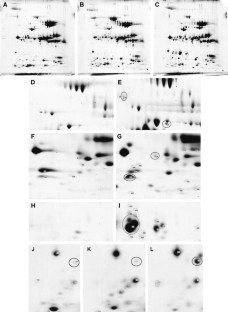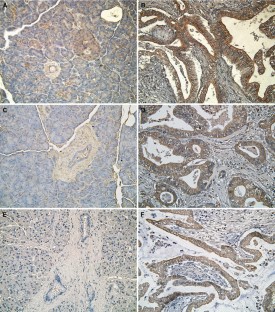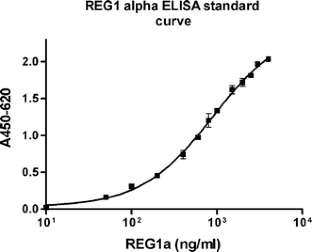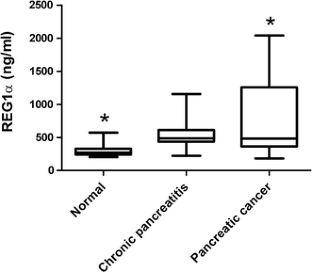 References
Bausch D, Mino-Kenudson M, Castillo CF-D, Warshaw AL, Kelly KA, Thayer SP (2009) Plectin-1 is a biomarker of malignant pancreatic intraductal papillary mucinous neoplasms. J Gastrointest Surg 13(11):1948–1954

Berthelemy P, Bouisson M, Escourrou J, Vaysse N, Rumeau JL, Pradayrol L (1995) Identification of K-ras mutations in pancreatic juice in the early diagnosis of pancreatic cancer. Ann Intern Med 123(3):188–191

Bluth MH, Patel SA, Dieckgraefe BK, Okamoto H, Zenilman ME (2006) Pancreatic regenerating protein (reg I) and reg I receptor mRNA are upregulated in rat pancreas after induction of acute pancreatitis. World J Gastroenterol 12(28):4511–4516

Boulay PL, Cotton M, Melancon P, Claing A (2008) ADP-ribosylation factor 1 controls the activation of the phosphatidylinositol 3-kinase pathway to regulate epidermal growth factor-dependent growth and migration of breast cancer cells. J Biol Chem 283(52):36425–36434

Chen R, Pan S, Brentnall TA, Aebersold R (2005) Proteomic profiling of pancreatic cancer for biomarker discovery. Mol Cell Proteomics 4(4):523–533

Gao J, Zhu F, Lv S, Li Z, Ling Z, Gong Y, Jie C, Ma L (2010) Identification of pancreatic juice proteins as biomarkers of pancreatic cancer. Oncol Rep 23(6):1683–1692

Gronborg M, Bunkenborg J, Kristiansen TZ, Jensen ON, Yeo CJ, Hruban RH, Maitra A, Goggins MG, Pandey A (2004) Comprehensive proteomic analysis of human pancreatic juice. J Proteome Res 3(5):1042–1055

Harada K, Zen Y, Kanemori Y, Chen TC, Chen MF, Yeh TS, Jan YY, Masuda S, Nimura Y, Takasawa S, Okamoto H, Nakanuma Y (2001) Human REG I gene is up-regulated in intrahepatic cholangiocarcinoma and its precursor lesions. Hepatology 33(5):1036–1042

Hayakawa T, Kondo T, Shibata T, Kitagawa M, Sakai Y, Sobajima H, Tanikawa M, Nakae Y, Hayakawa S, Katsuzaki T et al (1993) Serum pancreatic stone protein in pancreatic diseases. Int J Pancreatol 13(2):97–103

Karihtala P, Mantyniemi A, Kang SW, Kinnula VL, Soini Y (2003) Peroxiredoxins in breast carcinoma. Clin Cancer Res 9(9):3418–3424

Kawai M, Uchiyama K, Tani M, Onishi H, Kinoshita H, Ueno M, Hama T, Yamaue H (2004) Clinicopathological features of malignant intraductal papillary mucinous tumors of the pancreas: the differential diagnosis from benign entities. Arch Surg 139(2):188–192

Lee JB, Yun SJ, Chae HZ, Won YH, Kim YP, Lee SC (2002) Expression of peroxiredoxin and thioredoxin in dermatological disorders. Br J Dermatol 146(4):710–712

Lee KY, Liu YH, Ho CC, Pei RJ, Yeh KT, Cheng CC, Lai YS (2004) An early evaluation of malignant tendency with plectin expression in human colorectal adenoma and adenocarcinoma. J Med 35(1–6):141–149

Lee SB, Ho JN, Yoon SH, Kang GY, Hwang SG, Um HD (2009) Peroxiredoxin 6 promotes lung cancer cell invasion by inducing urokinase-type plasminogen activator via p38 kinase, phosphoinositide 3-kinase, and Akt. Mol Cells 28(6):583–588

Legoffic A, Calvo E, Cano C, Folch-Puy E, Barthet M, Delpero JR, Ferres-Maso M, Dagorn JC, Closa D, Iovanna J (2009) The reg4 gene, amplified in the early stages of pancreatic cancer development, is a promising therapeutic target. PLoS One 4(10):e7495

Lehtonen ST, Svensk AM, Soini Y, Paakko P, Hirvikoski P, Kang SW, Saily M, Kinnula VL (2004) Peroxiredoxins, a novel protein family in lung cancer. Int J Cancer 111(4):514–521

Na K, Lee EY, Lee HJ, Kim KY, Lee H, Jeong SK, Jeong AS, Cho SY, Kim SA, Song SY, Kim KS, Cho SW, Kim H, Paik YK (2009) Human plasma carboxylesterase 1, a novel serologic biomarker candidate for hepatocellular carcinoma. Proteomics 9(16):3989–3999

Okamoto H (1999) Cyclic ADP-ribose-mediated insulin secretion and Reg, regenerating gene. J Mol Med 77(1):74–78

Pak JH, Choi WH, Lee HM, Joo WD, Kim JH, Kim YT, Kim YM, Nam JH (2010) Peroxiredoxin 6 overexpression attenuates cisplatin-induced apoptosis in human ovarian cancer cells. Cancer Invest 29(1):21–28

Rosty C, Christa L, Kuzdzal S, Baldwin WM, Zahurak ML, Carnot F, Chan DW, Canto M, Lillemoe KD, Cameron JL, Yeo CJ, Hruban RH, Goggins M (2002) Identification of hepatocarcinoma-intestine-pancreas/pancreatitis-associated protein I as a biomarker for pancreatic ductal adenocarcinoma by protein biochip technology. Cancer Res 62(6):1868–1875

Sanchez D, Mueller CM, Zenilman ME (2009) Pancreatic regenerating gene I and acinar cell differentiation: influence on cellular lineage. Pancreas 38(5):572–577

Sekikawa A, Fukui H, Fujii S, Takeda J, Nanakin A, Hisatsune H, Seno H, Takasawa S, Okamoto H, Fujimori T, Chiba T (2005) REG Ialpha protein may function as a trophic and/or anti-apoptotic factor in the development of gastric cancer. Gastroenterology 128(3):642–653

Shamamian P, Goldberg JD, Ye XY, Stewart JD, White PJ, Gilvarg C (2006) Evaluation of pro-carboxypeptidase A and carboxypeptidase A as serologic markers for adenocarcinoma of the pancreas. HPB (Oxford) 8(6):451–457

Shen J, Person MD, Zhu J, Abbruzzese JL, Li D (2004) Protein expression profiles in pancreatic adenocarcinoma compared with normal pancreatic tissue and tissue affected by pancreatitis as detected by two-dimensional gel electrophoresis and mass spectrometry. Cancer Res 64(24):9018–9026

Stedman H, Browning K, Oliver N, Oronzi-Scott M, Fischbeck K, Sarkar S, Sylvester J, Schmickel R, Wang K (1988) Nebulin cDNAs detect a 25-kilobase transcript in skeletal muscle and localize to human chromosome 2. Genomics 2(1):1–7

Takayama R, Nakagawa H, Sawaki A, Mizuno N, Kawai H, Tajika M, Yatabe Y, Matsuo K, Uehara R, Ono K, Nakamura Y, Yamao K (2010) Serum tumor antigen REG4 as a diagnostic biomarker in pancreatic ductal adenocarcinoma. J Gastroenterol 45(1):52–59

Thongboonkerd V (2007) Proteomics of human body fluids: principles, methods, and applications. Humana Press, Totowa

Tian M, Cui YZ, Song GH, Zong MJ, Zhou XY, Chen Y, Han JX (2008) Proteomic analysis identifies MMP-9, DJ-1 and A1BG as overexpressed proteins in pancreatic juice from pancreatic ductal adenocarcinoma patients. BMC Cancer 8:241

Yamaji R, Adamik R, Takeda K, Togawa A, Pacheco-Rodriguez G, Ferrans VJ, Moss J, Vaughan M (2000) Identification and localization of two brefeldin A-inhibited guanine nucleotide-exchange proteins for ADP-ribosylation factors in a macromolecular complex. Proc Natl Acad Sci USA 97(6):2567–2572

Yuan X, Russell T, Wood G, Desiderio DM (2002) Analysis of the human lumbar cerebrospinal fluid proteome. Electrophoresis 23(7–8):1185–1196

Zhou L, Lu Z, Yang A, Deng R, Mai C, Sang X, Faber KN, Lu X (2007) Comparative proteomic analysis of human pancreatic juice: methodological study. Proteomics 7(8):1345–1355

Zhou L, Zhang R, Wang L, Shen S, Okamoto H, Sugawara A, Xia L, Wang X, Noguchi N, Yoshikawa T, Uruno A, Yao W, Yuan Y (2010) Upregulation of REG Ialpha accelerates tumor progression in pancreatic cancer with diabetes. Int J Cancer 127(8):1795–1803
Acknowledgments
This research was supported by the Intelligent Microsystem Center, one of the 21st Century's Frontier R&D Projects sponsored by the Korea Ministry of Knowledge Economy. This study was also supported by a grant from the Korea Healthcare Technology R&D Project, Ministry for Health, Welfare and Family Affairs, Republic of Korea (A030003).
Conflict of interest
We declare that we have no conflict of interest.
About this article
Cite this article
Park, J.Y., Kim, S., Chung, J.W. et al. Proteomic analysis of pancreatic juice for the identification of biomarkers of pancreatic cancer. J Cancer Res Clin Oncol 137, 1229–1238 (2011). https://doi.org/10.1007/s00432-011-0992-2
Received:

Accepted:

Published:

Issue Date:
Keywords
Pancreatic cancer

Pancreatic juice

Biomarker