Abstract
Purpose
Studies investigating the association between excision repair cross-complimentary group 2 (ERCC2) polymorphisms and gastric cancer (GC) risk have reported conflicting results. We performed a meta-analysis of published epidemiological studies to derive a more precise estimation of the relationship.
Methods
Published literature from PubMed, EMBASE, and China National Knowledge Infrastructure was retrieved. Ten studies with 2,141 GC cases and 5,343 controls were selected.
Results
No association between ERCC2 Lys751Gln polymorphism and GC susceptibility for all genetic models was found. When stratified by race, we found the Gln/Gln genotype carriers might be at high risk of GC among Asians, but not among Caucasians. Also, the pooled results showed there was a significant difference in genotype distribution between non-gastric cardia cancer cases and controls. For ERCC2 Asp312Asn polymorphism, significantly elevated GC risk was associated with Asn/Asn genotype (AA vs. GG + GA: OR = 1.36, 95%CI = 1.04–1.77, P = 0.02). We also found this genotype was associated with GC susceptibility among Asians and subjects without Helicobacter pylori infection. No publication bias was found in the present study.
Conclusions
This meta-analysis concluded that both ERCC2 Lys751Gln and Asp312Asn polymorphisms might contribute to increased risk of GC among Asians.
This is a preview of subscription content, log in to check access.
Access options
Buy single article
Instant access to the full article PDF.
US$ 39.95
Price includes VAT for USA
Subscribe to journal
Immediate online access to all issues from 2019. Subscription will auto renew annually.
US$ 199
This is the net price. Taxes to be calculated in checkout.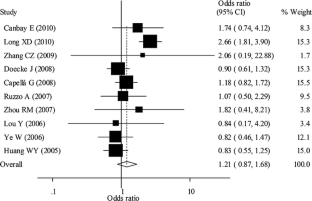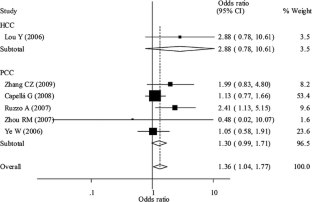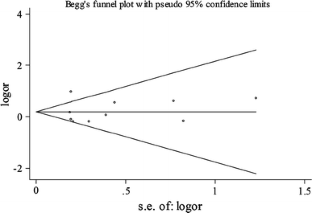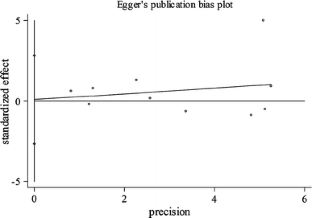 References
Agalliu I, Kwon EM, Salinas CA, Koopmeiners JS, Ostrander EA, Stanford JL (2010) Genetic variation in DNA repair genes and prostate cancer risk: results from a population-based study. Cancer Causes Control 21:289–300

Begg CB, Mazumdar M (1994) Operating characteristics of a rank correlation test for publication bias. Biometrics 50:1088–1101

Canbay E, Agachan B, Gulluoglu M et al (2010) Possible associations of APE1 polymorphism with susceptibility and HOGG1 polymorphism with prognosis in gastric cancer. Anticancer Res 30:1359–1364

Capella G, Pera G, Sala N et al (2008) DNA repair polymorphisms and the risk of stomach adenocarcinoma and severe chronic gastritis in the EPIC-EURGAST study. Int J Epidemiol 37:1316–1325

Chen XZ, Jiang K, Hu JK et al (2008) Cost-effectiveness analysis of chemotherapy for advanced gastric cancer in China. World J Gastroenterol 14:2715–2722

de Boer J, Hoeijmakers JH (2000) Nucleotide excision repair and human syndromes. Carcinogenesis 21:453–460

Doecke J, Zhao ZZ, Pandeya N et al (2008) Polymorphisms in MGMT and DNA repair genes and the risk of esophageal adenocarcinoma. Int J Cancer 123:174–180

Egger M, Davey Smith G, Schneider M, Minder C (1997) Bias in meta-analysis detected by a simple, graphical test. BMJ 315:629–634

Friedberg EC (2001) How nucleotide excision repair protects against cancer. Nat Rev Cancer 1:22–33

Gonzalez CA, Sala N, Capella G (2002) Genetic susceptibility and gastric cancer risk. Int J Cancer 100:249–260

Hirschhorn JN, Lohmueller K, Byrne E, Hirschhorn K (2002) A comprehensive review of genetic association studies. Genet Med 4:45–61

Huang WY, Chow WH, Rothman N et al (2005) Selected DNA repair polymorphisms and gastric cancer in Poland. Carcinogenesis 26:1354–1359

Ioannidis JP, Ntzani EE, Trikalinos TA, Contopoulos-Ioannidis DG (2001) Replication validity of genetic association studies. Nat Genet 29:306–309

Jiang Z, Li C, Xu Y, Cai S (2010) A meta-analysis on XRCC1 and XRCC3 polymorphisms and colorectal cancer risk. Int J Colorectal Dis 25:169–180

Laine JP, Mocquet V, Bonfanti M, Braun C, Egly JM, Brousset P (2007) Common XPD (ERCC2) polymorphisms have no measurable effect on nucleotide excision repair and basal transcription. DNA Repair (Amst) 6:1264–1270

Li C, Jiang Z, Liu X (2010) XPD Lys(751)Gln and Asp (312)Asn polymorphisms and bladder cancer risk: a meta-analysis. Mol Biol Rep 37:301–309

Liu H, Rudolf J, Johnson KA et al (2008) Structure of the DNA repair helicase XPD. Cell 133:801–812

Liu L, Zhuang W, Wang C, Chen Z, Wu XT, Zhou Y (2010) Interleukin-8–251 A/T gene polymorphism and gastric cancer susceptibility: a meta-analysis of epidemiological studies. Cytokine 50:328–334

Long XD, Ma Y, Huang YZ et al (2010) Genetic polymorphisms in DNA repair genes XPC, XPD, and XRCC4, and susceptibility to Helicobacter pylori infection-related gastric antrum adenocarcinoma in Guangxi population, China. Mol Carcinog 49:611–618

Lopez-Camarillo C, Lopez-Casamichana M, Weber C, Guillen N, Orozco E, Marchat LA (2009) DNA repair mechanisms in eukaryotes: special focus in Entamoeba histolytica and related protozoan parasites. Infect Genet Evol 9:1051–1056

Lou Y, Song QB, He XM (2006) Association of single nucleotide polymorphism in DNA repair gene XPD with gastric cancer in Han population from northeast region of China. World Chinese J Digest 14:3143–3146

Marcon F, Palli D, Zufferli A et al (2009) Evaluation of radiation-induced chromosome instability in subjects with a family history of gastric cancer. Biomarkers 14:226–234

Misra RR, Ratnasinghe D, Tangrea JA et al (2003) Polymorphisms in the DNA repair genes XPD, XRCC1, XRCC3, and APE/ref-1, and the risk of lung cancer among male smokers in Finland. Cancer Lett 191:171–178

Munafo M (2004) Replication validity of genetic association studies of smoking behavior: what can meta-analytic techniques offer? Nicotine Tob Res 6:381–382

Ng TT, McGory ML, Ko CY, Maggard MA (2006) Meta-analysis in surgery: methods and limitations. Arch Surg 141:1125–1130

Norppa H (2003) Genetic susceptibility, biomarker response, and cancer. Mutat Res 544:339–348

Parkin DM, Bray F, Ferlay J, Pisani P (2005) Global cancer statistics, 2002. CA Cancer J Clin 55:74–108

Qiu LX, Yao L, Zhang J et al (2010) XPD Lys751Gln polymorphism and breast cancer susceptibility: a meta-analysis involving 28,709 subjects. Breast Cancer Res Treat 124:229–235

Ruzzo A, Canestrari E, Maltese P et al (2007) Polymorphisms in genes involved in DNA repair and metabolism of xenobiotics in individual susceptibility to sporadic diffuse gastric cancer. Clin Chem Lab Med 45:822–828

Veglia F, Loft S, Matullo G et al (2008) DNA adducts and cancer risk in prospective studies: a pooled analysis and a meta-analysis. Carcinogenesis 29:932–936

Wang F, Chang D, Hu FL et al (2008) DNA repair gene XPD polymorphisms and cancer risk: a meta-analysis based on 56 case-control studies. Cancer Epidemiol Biomarkers Prev 17:507–517

Wang H, Zhou Y, Zhuang W et al (2010) Glutathione S-transferase M1 null genotype associated with gastric cancer among Asians. Dig Dis Sci 55:1824–1830

Winkler GS, Araujo SJ, Fiedler U et al (2000) TFIIH with inactive XPD helicase functions in transcription initiation but is defective in DNA repair. J Biol Chem 275:4258–4266

Yang L (2006) Incidence and mortality of gastric cancer in China. World J Gastroenterol 12:17–20

Ye W, Kumar R, Bacova G, Lagergren J, Hemminki K, Nyren O (2006) The XPD 751Gln allele is associated with an increased risk for esophageal adenocarcinoma: a population-based case-control study in Sweden. Carcinogenesis 27:1835–1841

Zhang CZ, Chen ZP, Xu CQ, Ning T, Li DP, Hou RP (2009) Correlation of XPD gene with susceptibility to gastric cancer. Ai Zheng 28:1163–1167

Zhang J, Gu SY, Zhang P, Jia Z, Chang JH (2010) ERCC2 Lys751Gln polymorphism is associated with lung cancer among Caucasians. Eur J Cancer 46:2479–2484

Zhou RM, Li Y, Wang N, Dong XJ, Zhang XJ, Guo W (2007) Correlation between single nucleotide polymorphism of DNA repair gene XPD and the risks of esophageal squamous cell carcinoma and gastric cardiac adenocarcinoma. Tumor 27:118–133

Zhou Y, Li N, Zhuang W et al (2009) Glutathione S-transferase P1 gene polymorphism associated with gastric cancer among Caucasians. Eur J Cancer 45:1438–1442
Conflict of interest
We declare that we have no conflict of interest. There is no source of funding for each author, for the study, and for the manuscript preparation.
About this article
Cite this article
Chen, B., Zhou, Y., Yang, P. et al. ERCC2 Lys751Gln and Asp312Asn polymorphisms and gastric cancer risk: a meta-analysis. J Cancer Res Clin Oncol 137, 939–946 (2011). https://doi.org/10.1007/s00432-010-0956-y
Received:

Accepted:

Published:

Issue Date:
Keywords
Excision repair cross-complimentary group 2

ERCC2

Polymorphism

Gastric cancer

Meta-analysis