Abstract
Purpose
To screen for the potential protein biomarkers in serum for the diagnosis of esophageal carcinoma (EC) using proteomic fingerprint technology.
Methods
Proteomic fingerprint technology combining magnetic beads with MALDI-TOF-MS was used to profile and compare the serum proteins from 78 patients with EC and 95 healthy blood donors. Proteomic patterns associated with EC were identified by Biomarker Patterns Software. Model of biomarkers was constructed and evaluated using the Biomarker Patterns Software.
Results
A total of 60 discriminating m/z peaks were identified that were related to EC (P < 0.01). The model of biomarkers constructed by the Biomarker Patterns Software based on the four biomarkers (2049.6, 3936.5, 5339.9, and 13748.8 Da) generated excellent separation between the EC and control groups. The sensitivity was 92.5% and the specificity was 88%. Blind test data indicated a sensitivity of 89.5% and a specificity of 84.4%.
Conclusions
Biomarkers for EC can be discovered in serum by MALDI-TOF-MS combining the use of magnetic beads. The pattern of combined markers provides a powerful and reliable diagnostic method for EC with a high sensitivity and specificity.
This is a preview of subscription content, log in to check access.
Access options
Buy single article
Instant access to the full article PDF.
US$ 39.95
Price includes VAT for USA
Subscribe to journal
Immediate online access to all issues from 2019. Subscription will auto renew annually.
US$ 199
This is the net price. Taxes to be calculated in checkout.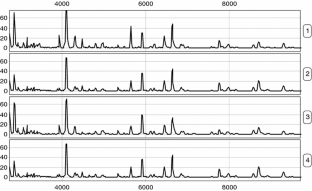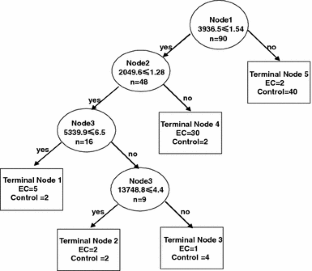 References
Alibakhshi A, Aminian A, Mirsharifi R, Jahangiri Y, Dashti H, Karimian F (2009) The effect of age on the outcome of esophageal cancer surgery. Ann Thorac Med 4:71–74

Besharat S, Jabbari A, Semnani S, Keshtkar A, Marjani J (2008) Inoperable esophageal cancer and outcome of palliative care. World J Gastroenterol 14:3725–3728

Cho WC (2006) Research progress in SELDI-TOF MS and its clinical applications. Sheng Wu Gong Cheng Xue Bao 22:871–876

Cho WC (2007) Contribution of oncoproteomics to cancer biomarker discovery. Mol Cancer 6:25

Cho WC, Cheng CH (2007) Oncoproteomics: current trends and future perspectives. Expert Rev Proteomics 4:401–410

Cho WC, Yip TT, Ngan RK, Yip TT, Podust VN (2007) ProteinChip array profiling for identification of disease- and chemotherapy-associated biomarkers of nasopharyngeal carcinoma. Clin Chem 53:241–250

Conrads TP, Hood BL, Issaq HJ, Veenstra TD (2004a) Proteomic patterns as a diagnostic tool for early-stage cancer: a review of its progress to a clinically relevant tool. Mol Diagn 8:77–85

Conrads TP, Fusaro VA, Ross S (2004b) High-resolution serum proteomic features for ovarian cancer detection. Endocr Relat Cancer 11:l63–l78

Crew KD, Neugut AI (2004) Epidemiology of upper gastrointestinal malignancies. Semin Oncol 31:450–464

Internullo E, Moons J, Nafteux P, Coosemans W, Decker G, De Leyn P, Van Raemdonck D, Lerut T (2008) Outcome after esophagectomy for cancer of the esophagus and GEJ in patients aged over 75 years. Eur J Cardiothorac Surg 33:1096–1104

Jacobs IJ, Menon U (2004) Progress and challenges in screening for early detection of ovarian cancer. Mol Cell Proteomics 3:355–366

Kohonen T (2006) Self-organizing neural projections. Neural Netw 19:723–733

Kozak KR, Amneus MW, Pusey SM, Su F, Luong MN (2003) Identification of biomarkers for ovarian cancer using strong anion-exchange ProteinChips: potential use in diagnosis and prognosi. Proc Natl Acad Sci USA 100:12343–12348

Langbein S, Lehmann J, Harder A, Steidler A, Michel MS (2006) Protein profiling of bladder cancer using the 2D-PAGE and SELDI-TOF-MS technique. Technol Cancer Res Treat 5:67–72

Linke T, Doraiswamy S, Harrison EH (2007) Rat plasma proteomics: effects of abundant protein depletion on proteomic analysis. J Chromatogr B Analyt Technol Biomed Life Sci 849:273–281

Liu CB, Liang Y, Pan CQ et al (2009) Proteome study of differential protein expression in HBV-related primary hepatic carcinoma. Chem J Chinese Universities 30:1763–1766

Malik G, Ward MD, Gupta SK, Trosset MW, Grizzle WE (2005) Serum levels of an isoform of apolipoprotein A-II as a potential marker for prostate cancer. Clin Cancer Res 11:1073–1085

Menon U, Jacobs IJ (2000) Recent developments in ovarian cancer screening. Curr Opin Obstet Gynecol 12:39–42

Paradis V, Degos F, Dargère D, Pham N, Belghiti J (2005) Identification of a new marker of hepatocellular carcinoma by serum protein profiling of patients with chronic liver diseases. Hepatology 41:40–47

Parkin DM, Bray F, Ferlay J, Pisani P (2001) Estimating the world cancer burden: Globocan 2000. Int J Cancer 94:153–156

Petricoin EFL, Liotta LA (2004) SELDI-TOF-based serum proteomic pattern diagnostics for early detection of cancer. Curr Opin Biotechnol 15:24–30

Rodland KD (2004) Proteomics and cancer diagnosis: the potential of mass spectrometry. Clin Biochem 37:579–583

Ruol A, Portale G, Zaninotto G, Cagol M, Cavallin F, Castoro C, Sileni VC, Alfieri R, Rampado S, Ancona E (2007) Results of esophagectomy for esophageal cancer in elderly patients: age has little influence on outcome and survival. J Thorac Cardiovasc Surg 133:1186–1192

Walsh PC (2003) Serum proteomic patterns for detection of prostate cancer. J Urol 169:1592

Wulfkuhle JD, Liotta LA, Petricoin EF (2003) Proteomic applications for the early detection of cancer. Nat Rev Cancer 3:267

Zeidan BA, Townsend PA (2008) SELDI-TOF proteomic profiling of breast carcinomas identifies clinicopathologically relevant groups of patients similar to previously defined clusters from cDNA expression. Breast Cancer Res 10:107

Zhu LR, Zhang WY, Yu L, Zheng YH, Zhang JZ, Liao QP (2006) Serum proteomic features for detection of endometrial cancer. Int J Gynecol Cancer 16:1374–1378
Conflict of interest statement
There are no conflict of interest.
About this article
Cite this article
Guo, R., Pan, C., Shen, J. et al. New serum biomarkers for detection of esophageal carcinoma using Matrix-assisted laser desorption/ionization time-of-flight mass spectrometry. J Cancer Res Clin Oncol 137, 513–519 (2011). https://doi.org/10.1007/s00432-010-0899-3
Received:

Accepted:

Published:

Issue Date:
Keywords
MALDI

Esophageal carcinoma

Biomarker

Protein