Abstract
Purpose
Peroxisome proliferator-activated receptor-γ (PPAR-γ) is a ligand-activated transcription factor, implicated in various aspects of cancer biology, such as differentiation, proliferation, invasion and angiogenesis. The present study aimed to evaluate the clinical significance of PPAR-γ in mobile tongue squamous cell carcinoma (SCC).
Methods
PPAR-γ protein expression was assessed immunohistochemically on 49 mobile tongue SCC tissue samples obtained from an equal number of patients. PPAR-γ expression and intensity of immunostaining were statistically analyzed in relation with clinicopathological characteristics, mitotic index and patients' survival.
Results
Elevated PPAR-γ expression was more frequently observed in patients with reduced depth of invasion (P = 0.0111). Moderate/intense PPAR-γ staining intensity was more frequently observed in patients with no evidence of muscular infiltration (P = 0.0229) and reduced depth of invasion (P = 0.0176). Mobile tongue SCC patients presenting enhanced PPAR-γ expression had significantly longer overall and disease-free survival times compared to those with low PPAR-γ expression (log-rank test, P = 0.0162 and P = 0.0114, respectively).
Conclusions
PPAR-γ immunoreactivity in mobile tongue SCC was correlated with clinicopathological characteristics crucial for patients' management and prognosis. PPAR-γ may be considered as a useful prognostic marker in mobile tongue SCC and a potential therapeutic target for tongue cancer chemoprevention and treatment.
This is a preview of subscription content, log in to check access.
Access options
Buy single article
Instant access to the full article PDF.
US$ 39.95
Price includes VAT for USA
Subscribe to journal
Immediate online access to all issues from 2019. Subscription will auto renew annually.
US$ 199
This is the net price. Taxes to be calculated in checkout.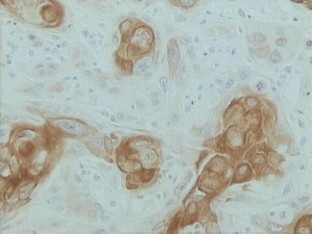 References
Barnes L, Eveson JW, Reichert P, Sidransky D (2005) World Health Organization classifications tumours, pathology and genetics of head and neck tumours. IARC Press, Lyon

Bell RB, Kademani D, Homer L, Dierks EJ, Potter BE (2007) Tongue cancer: is there a difference in survival compared with other subsites in the oral cavity. J Oral Maxillofac Surg 65(2):229–236. doi:10.1016/j.joms.2005.11.094

Blanquicett C, Roman J, Hart CM (2008) Thiazolidinediones as anti-cancer agents. Cancer Ther 6(A):25–34

Brandwein-Gensler M, Teixeira MS, Lewis CM, Lee B, Rolnitzky JJ, Hille JJ et al (2005) Oral squamous cell carcinoma: histological risk assessment, but not margin status, is strongly predictive of local disease-free and overall survival. Am J Surg Pathol 29(2):167–178

Brenner H (2002) Long-term survival rates of cancer patients achieved by the end of the 20th century: a period analysis. Lancet 360(9340):1131–1135. doi:10.1016/S0140-6736(02)11199-8

Burgermeister E, Selker R (2007) MAPK kinases as nucleo-cytoplasmic shuttles of PPARγ. Cell Cycle 6(13):1539–2548

Burns KA, Vanden Heuvel JP (2007) Modulation of PPAR activity via phosphorylation. Biochim Biophys Acta 1771(8):952–960. doi:10.1016/j.bbalip.2007.04.018

Canto MT, Devesa SS (2002) Oral cavity and pharynx cancer incidence in the United States, 1975–1988. Oral Oncol 38(6):610–617. doi:10.1016/S1368-8375(01)00109-9

Döbrossy L (2005) Epidemiology of head and neck cancer: magnitude of the problem. Cancer Metastasis Rev 24(1):9–17. doi:10.1007/s10555-005-5044-4

Giaginis C, Tsantili-Kakoulidou A, Theocharis S (2007) Peroxisome proliferator-activated receptors (PPARs) in the control of bone metabolism. Fundam Clin Pharmacol 21(3):231–244

Giaginis C, Tsourouflis G, Theocharis S (2008a) Peroxisome proliferator-activated receptor-gamma (PPAR-gamma) ligands: novel pharmacological agents in the treatment of ischemia reperfusion injury. Curr Mol Med 8(6):562–579

Giaginis C, Tsantili-Kakoulidou A, Theocharis S (2008b) Peroxisome proliferator-activated receptor-gamma ligands: potential pharmacological agents for targeting the angiogenesis signaling cascade in cancer. PPAR Res 2008:431763

Giaginis C, Katsamangou E, Tsourouflis G, Zizi-Serbetzoglou D, Kouraklis G, Theocharis S (2009) Peroxisome proliferator-activated receptor-gamma and retinoid X receptor-alpha expression in pancreatic ductal adenocarcinoma: association with clinicopathological parameters, tumor proliferative capacity, and patients' survival. Med Sci Monit 15(5):BR148–156

Jemal A, Siegel R, Ward E, Murray T, Xu J, Thun MJ (2007) Cancer statistics. CA Cancer J Clin 57(1):43–66. doi:10.3322/canjclin.57.1.43

Jiang Y, Zou L, Zhang C, He S, Cheng C, Xu J et al (2009) PPARgamma and Wnt/beta-catenin pathway in human breast cancer: expression pattern, molecular interaction and clinical/prognostic correlations. J Cancer Res Clin Oncol 135(11):1551–1559. doi:10.1007/s00432-009-0602-8

Kantola S, Parikka M, Jokinen K, Hyrynkangs K, Soini Y, Alho O-P, Salo T (2000) Prognostic factors in tongue cancer-relative importance of demographic, clinical and histopathological factors. Br J Cancer 83(5):614–619. doi:10.1054/bjoc.2000.1323

Kim HJ, Hwang JY, Kim HJ, Choi WS, Kim HJ, Lee JH et al (2007) Expression of a peroxisome proliferator-activated receptor γ1 splice variant that was identified in human lung cancers suppresses cell death induced by cisplatin and oxidative stress. Clin Cancer Res 13(9):2577–2583. doi:10.1158/1078-0432.CCR-06-2062

Klijanienko J, el-Naggar AK, de Braud F, Rodriguez-Peralto JL, Rodriguez R, Itzhaki M et al (1995) Tumor vascularization, mitotic index, histopathologic grade, and DNA ploidy in the assessment of 114 head and neck squamous cell carcinomas. Cancer 75(7):1649–1656

Konturek PC, Nikiforuk A, Kania J, Raithel M, Hahn EG, Mühldorfer S (2004) Activation of NFkappaB represents the central event in the neoplastic progression associated with Barrett's esophagus: a possible link to the inflammation and overexpression of COX-2, PPARgamma and growth factors. Dig Dis Sci 49(7–8):1075–1083. doi:10.1023/B:DDAS.0000037790.11724.70

Kristiansen G, Jacob J, Buckendahl AC, Grützmann R, Alldinger I, Sipos B et al (2006) Peroxisome proliferator-activated receptor gamma is highly expressed in pancreatic cancer and is associated with shorter overall survival times. Clin Cancer Res 12(21):6444–6451. doi:10.1158/1078-0432.CCR-06-0834

Michalik L, Wahli W (2008) PPARs mediate lipid signaling in inflammation and cancer. PPAR Res 2008:134059. doi:10.1155/2008/134059

Mukunyadzi P, Ai L, Portilla D, Barnes EL, Fan CY (2003) Expression of peroxisome proliferator-activated receptor gamma in salivary duct carcinoma: immunohistochemical analysis of 15 cases. Mod Pathol 16(12):1218–1223

Mylona E, Giannopoulou I, Diamantopoulou K, Bakarakos P, Nomikos A, Zervas A, Nakopoulou L (2009) Peroxisome proliferator-activated receptor gamma expression in urothelial carcinomas of the bladder: association with differentiation, proliferation and clinical outcome. Eur J Surg Oncol 35(2):197–201. doi:10.1016/j.ejso.2008.04.003

Ogino S, Shima K, Baba Y, Nosho K, Irahara N, Kure S et al (2009) Colorectal cancer expression of peroxisome proliferator-activated receptor gamma (PPARG, PPARgamma) is associated with good prognosis. Gastroenterology 136(4):1242–1250. doi:10.1053/j.gastro.2008.12.048

Ondrey F (2009) Peroxisome proliferator-activated receptor gamma pathway targeting in carcinogenesis: implications for chemoprevention. Clin Cancer Res 15(1):2–8. doi:10.1158/1078-0432.CCR-08-0326

Papadaki I, Mylona E, Giannopoulou I, Markaki S, Keramopoulos A, Nakopoulou L (2005) PPARγ expression in breast cancer: clinical value and correlation with ERβ. Histopathology 46(1):37–42

Patel RS, Clark JR, Dirven R, Wyten R, Gao K, O'Brien CJ (2009) Prognostic factors in the surgical treatment of patients with oral carcinoma. ANZ J Surg 79(1–2):19–22. doi:10.1111/j.1445-2197.2008.04791.x

Po Wing Yen A, Lam KY, Wei WI, Lam LK, Ho CM, Chow TL, Yuen WF (2000) A comparison of prognostic significance of tumor diameter, length, width, thickness area, volume and clinicopathological features of oral tongue carcinoma. Am J Surg 180(2):139–143

Po Wing Yen A, Lam KY, Lam LK, Ho CM, Wong A, Chow TL et al (2002) Prognostic factors clinically stage I and II oral tongue carcinoma: a comparative study of stage, thickness, shape, growth pattern, invasive front malignancy grading, Martinez-Gimeno score and pathologic features. Head Neck 24(6):513–520

Sahin M, Allard BL, Yates M, Powell JG, Wang XL, Hay ID et al (2005) PPARgamma staining as a surrogate for PAX8/PPARgamma fusion oncogene expression in follicular neoplasms: clinicopathological correlation and histopathological diagnostic value. J Clin Endocrinol Metab 90(1):463–468. doi:10.1210/jc.2004-1203

Sano D, Myers JN (2007) Metastasis of squamous cell carcinoma of the oral tongue. Cancer Metastasis Rev 26(3–4):645–662. doi:10.1007/s10555-007-9082-y

Sarraf P, Mueller E, Smith WM, Wright HM, Kum JB, Aaltonen LA et al (1999) Loss-of-function mutations in PPARγ associated with human colon cancer. Mol Cell 3(6):799–804. doi:10.1016/S1097-2765(01)80012-5

Shiboski CH, Schmidt BL, Jordan RC (2005) Tongue and tonsil carcinoma: increasing trends in the U.S. population ages 20–44 years. Cancer 103(9):1843–1849

Shintani S, Matsuura H, Hasegawa Y, Nakayama B, Fujimoto Y (1997) The relationship of shape of tumor invasion to depth of invasion and cervical lymph node metastasis in squamous cell carcinoma of the tongue. Oncology 54(6):463–467

Takahashi H, Fujita K, Fujisawa T, Yonemitsu K, Tomimoto A, Ikeda I et al (2006) Inhibition of peroxisome proliferator-activated receptor gamma activity in esophageal carcinoma cells results in a drastic decrease of invasive properties. Cancer Sci 97(9):854–860

Takashima T, Fujiwara Y, Higuchi K, Arakawa T, Yano Y, Hasuma T, Otani S (2001) PPAR-gamma ligands inhibit growth of human esophageal adenocarcinoma cells through induction of apoptosis, cell cycle arrest and reduction of ornithine decarboxylase activity. Int J Oncol 19(3):465–471

Takashima T, Fujiwara Y, Hamaguchi M, Sasaki E, Tominaga K, Watanabe T et al (2005) Relationship between peroxisome proliferator-activated receptor-gamma expression and differentiation of human esophageal squamous cell carcinoma. Oncol Rep 13(4):601–606

Terashita Y, Sasaki H, Haruki N, Nishiwaki T, Ishiguro H, Shibata Y et al (2002) Decreased peroxisome proliferator-activated receptor gamma gene expression is correlated with poor prognosis in patients with esophageal cancer. Jpn J Clin Oncol 32(7):238–243

Theocharis S, Kanelli H, Politi E, Margeli A, Karkandaris C, Philippides T, Koutselinis A (2002) Expression of peroxisome proliferator activated receptor-gamma in non-small cell lung carcinoma: correlation with histological type and grade. Lung Cancer 36(3):249–255

Theocharis S, Giaginis C, Parasi A, Margeli A, Kakisis J, Agapitos E, Kouraklis G (2007) Expression of peroxisome proliferator-activated receptor-gamma in colon cancer: correlation with histopathological parameters, cell cycle-related molecules, and patients' survival. Dig Dis Sci 52(9):2305–2311

Tímár J, Csuka O, Remenár E, Répássy G, Kásler M (2005) Progression of head and neck squamous cell cancer. Cancer Metastasis Rev 24(1):107–127. doi:10.1007/s10555-005-5051-5

Wangsa D, Ryott M, Avall-Lundquist E, Petersson F, Elmberg G, Luo J et al (2008) Ki-67 expression predicts locoregional recurrence in stage I oral tongue carcinoma. Br J Cancer 99(7):1121–1128. doi:10.1038/sj.bjc.6604633

Yoshida K, Hirose Y, Tanaka T, Yamada Y, Kuno T, Kohno H et al (2003) Inhibitory effects of troglitazone, a peroxisome proliferator-activated receptor gamma ligand, in rat tongue carcinogenesis initiated with 4-nitroquinoline 1-oxide. Cancer Sci 94(4):365–371

Zhang GY, Ahmed N, Riley C, Oliva K, Barker G, Quinn MA, Rice GE (2005) Enhanced expression of peroxisome proliferator-activated receptor gamma in epithelial ovarian carcinoma. Br J Cancer 92(1):113–119. doi:10.1038/sj.bjc.6602244
Conflict of interest statement
About this article
Cite this article
Theocharis, S., Klijanienko, J., Giaginis, C. et al. Peroxisome proliferator-activated receptor-γ in mobile tongue squamous cell carcinoma: associations with clinicopathological parameters and patients survival. J Cancer Res Clin Oncol 137, 251–259 (2011). https://doi.org/10.1007/s00432-010-0882-z
Received:

Accepted:

Published:

Issue Date:
Keywords
PPAR-γ

Mobile tongue

Squamous cell carcinoma

Clinicopathological parameters

Prognosis

Immunohistochemistry