Abstract
Purpose
Inhibitors of monoamine oxidase A (MAOA), a mitochondrial enzyme that degrades neurotransmitters including serotonin and norepinephrine, are commonly used to treat neurological conditions including depression. Recently, we and others identified high expression of MAOA in normal basal prostatic epithelium and high-grade primary prostate cancer (PCa). In contrast, MAOA is low in normal secretory prostatic epithelium and low-grade PCa. An irreversible inhibitor of MAOA, clorgyline, induced secretory differentiation in primary cultures of normal basal epithelial cells and high-grade PCa. Furthermore, clorgyline inhibited several oncogenic pathways in PCa cells, suggesting clinical value of MAOA inhibitors as a pro-differentiation and anti-oncogenic therapy for high-risk PCa. Here, we extended our studies to a model of advanced PCa, VCaP cells, which were derived from castration-resistant metastatic PCa and express a high level of MAOA.
Methods
Growth of VCaP cells in the presence or absence of clorgyline was evaluated in vitro and in vivo. Gene expression changes in response to clorgyline were determined by microarray and validated by quantitative real-time polymerase chain reaction.
Results
Treatment with clorgyline in vitro inhibited growth and altered the transcriptional pattern of VCaP cells in a manner consistent with the pro-differentiation and anti-oncogenic effects seen in treated primary PCa cells. Src, beta-catenin, and MAPK oncogenic pathways, implicated in androgen-independent growth and metastasis, were significantly downregulated. Clorgyline treatment of mice bearing VCaP xenografts slowed tumor growth and induced transcriptome changes similar to those noted in vitro.
Conclusion
Our results support the possibility that anti-depressant drugs that target MAOA might find a new application in treating PCa.
This is a preview of subscription content, log in to check access.
Access options
Buy single article
Instant access to the full article PDF.
US$ 39.95
Price includes VAT for USA
Subscribe to journal
Immediate online access to all issues from 2019. Subscription will auto renew annually.
US$ 199
This is the net price. Taxes to be calculated in checkout.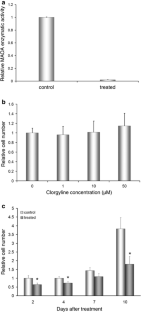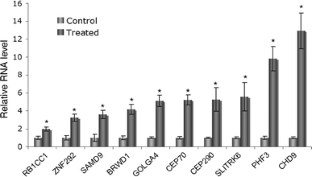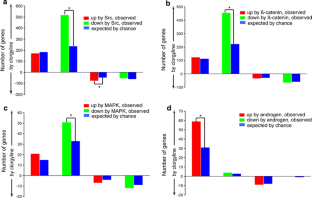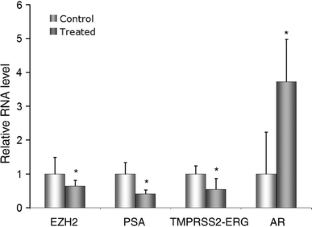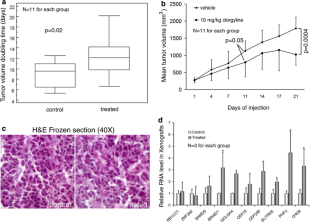 References
Chiou SH, Ku HH, Tsai TH, Lin HL, Chen LH, Chien CS, Ho LL, Lee CH, Chang YL (2006) Moclobemide upregulated Bcl-2 expression and induced neural stem cell differentiation into serotoninergic neuron via extracellular-regulated kinase pathway. Br J Pharmacol 148:587–598

Cooper RN, Irintchev A, Di Santo JP, Zweyer M, Morgan JE, Partridge TA, Butler-Browne GS, Mouly V, Wernig A (2001) A new immunodeficient mouse model for human myoblast transplantation. Hum Gene Ther 12:823–831

Creighton CJ (2008) Multiple oncogenic pathway signatures show coordinate expression patterns in human prostate tumors. PLoS One 3:e1816

DePrimo SE, Diehn M, Nelson JB, Reiter RE, Matese J, Fero M, Tibshirani R, Brown PO, Brooks JD (2002) Transcriptional programs activated by exposure of human prostate cancer cells to androgen. Genome Biol 3:RESEARCH0032

Fischer U, Struss AK, Hemmer D, Michel A, Henn W, Steudel WI, Meese E (2001) PHF3 expression is frequently reduced in glioma. Cytogenet Cell Genet 94:131–136

Fox MA, Jensen CL, Gallagher PS, Murphy DL (2007) Receptor mediation of exaggerated responses to serotonin-enhancing drugs in serotonin transporter (SERT)-deficient mice. Neuropharmacology 53:643–656

Han M, Partin AW, Pound CR, Epstein JI, Walsh PC (2001) Long-term biochemical disease-free and cancer-specific survival following anatomic radical retropubic prostatectomy. The 15-year Johns Hopkins experience. Urol Clin North Am 28:555–565

Heidenreich A, Aus G, Bolla M, Joniau S, Matveev VB, Schmid HP, Zattoni F (2008) EAU guidelines on prostate cancer. Eur Urol 53:68–80

Ilic D, O'Connor D, Green S, Wilt T (2007) Screening for prostate cancer:a Cochrane systematic review. Cancer Causes Control 18:279–285

Johansson JE, Andren O, Andersson SO, Dickman PW, Holmberg L, Magnuson A, Adami HO (2004) Natural history of early, localized prostate cancer. JAMA 291:2713–2719

Kitanaka N, Kitanaka J, Takemura M (2006) Modification of morphine-induced hyperlocomotion and antinociception in mice by clorgyline, a monoamine oxidase-A inhibitor. Neurochem Res 31:829–837

Korenchuk S, Lehr JE, MClean L, Lee YG, Whitney S, Vessella R, Lin DL, Pienta KJ (2001) VCaP, a cell-based model system of human prostate cancer. In Vivo 15:163–168

Liu AY, True LD (2002) Characterization of prostate cell types by CD cell surface molecules. Am J Pathol 160:37–43

Ma J, Yoshimura M, Yamashita E, Nakagawa A, Ito A, Tsukihara T (2004) Structure of rat monoamine oxidase A and its specific recognitions for substrates and inhibitors. J Mol Biol 338:103–114

O'Malley KJ, Dhir R, Nelson JB, Bost J, Lin Y, Wang Z (2009) The expression of androgen-responsive genes is up-regulated in the epithelia of benign prostatic hyperplasia. Prostate 69:1716–1723

Peehl D (1992) Culture of human prostatic epithelial cells. In: Freshney R (ed) Culture of epithelial cells. New York, Wiley-Liss

Peehl DM, Sellers RG (2000) Cultured stromal cells:an in vitro model of prostatic mesenchymal biology. Prostate 45:115–123

Peehl DM, Coram M, Khine H, Reese S, Nolley R, Zhao H (2008) The significance of monoamine oxidase-A expression in high grade prostate cancer. J Urol 180:2206–2211

Pflueger D, Rickman DS, Sboner A, Perner S, LaFargue CJ, Svensson MA, Moss BJ, Kitabayashi N, Pan Y, de la Taille A et al (2009) N-myc downstream regulated gene 1 (NDRG1) is fused to ERG in prostate cancer. Neoplasia 11:804–811

Pietrangeli P, Mondovi B (2004) Amine oxidases and tumors. Neurotoxicology 25:317–324

Rubin MA, Varambally S, Beroukhim R, Tomlins SA, Rhodes DR, Paris PL, Hofer MD, Storz-Schweizer M, Kuefer R, Fletcher JA et al (2004) Overexpression, amplification, and androgen regulation of TPD52 in prostate cancer. Cancer Res 64:3814–3822

Sellers WR, Loda M (2002) The EZH2 polycomb transcriptional repressor–a marker or mover of metastatic prostate cancer? Cancer Cell 2:349–350

Sherlock G, Hernandez-Boussard T, Kasarskis A, Binkley G, Matese JC, Dwight SS, Kaloper M, Weng S, Jin H, Ball CA et al (2001) The Stanford microarray database. Nucleic Acids Res 29:152–155

Shih JC, Chen K, Ridd MJ (1999) Monoamine oxidase:from genes to behavior. Annu Rev Neurosci 22:197–217

Thomas DM, Francescutti-Verbeem DM, Kuhn DM (2008) The newly synthesized pool of dopamine determines the severity of methamphetamine-induced neurotoxicity. J Neurochem 105:605–616

Tomlins SA, Rhodes DR, Perner S, Dhanasekaran SM, Mehr R, Sun XW, Varambally S, Cao X, Tchinda J, Kuefer R et al (2005) Recurrent fusion of TMPRSS2 and ETS transcription factor genes in prostate cancer. Science 310:644–648

True L, Coleman I, Hawley S, Huang CY, Gifford D, Coleman R, Beer TM, Gelmann E, Datta M, Mostaghel E et al (2006) A molecular correlate to the Gleason grading system for prostate adenocarcinoma. Proc Natl Acad Sci USA 103:10991–10996

Tusher VG, Tibshirani R, Chu G (2001) Significance analysis of microarrays applied to the ionizing radiation response. Proc Natl Acad Sci USA 98:5116–5121

Wang Q, Li W, Zhang Y, Yuan X, Xu K, Yu J, Chen Z, Beroukhim R, Wang H, Lupien M et al (2009) Androgen receptor regulates a distinct transcription program in androgen-independent prostate cancer. Cell 138:245–256

Youdim MB, Edmondson D, Tipton KF (2006) The therapeutic potential of monoamine oxidase inhibitors. Nat Rev Neurosci 7:295–309

Yu J, Cao Q, Mehra R, Laxman B, Tomlins SA, Creighton CJ, Dhanasekaran SM, Shen R, Chen G, Morris DS et al (2007) Integrative genomics analysis reveals silencing of beta-adrenergic signaling by polycomb in prostate cancer. Cancer Cell 12:419–431

Zhao H, Peehl DM (2009) Tumor-promoting phenotype of CD90(hi) prostate cancer-associated fibroblasts. Prostate 69:991–1000

Zhao H, Nolley R, Chen Z, Reese SW, Peehl DM (2008) Inhibition of monoamine oxidase A promotes secretory differentiation in basal prostatic epithelial cells. Differentiation 76:820–830

Zhao H, Flamand V, Peehl DM (2009) Anti-oncogenic and pro-differentiation effects of clorgyline, a monoamine oxidase A inhibitor, on high grade prostate cancer cells. BMC Med Genomics 2:55–69
Acknowledgments
Dr. Flamand was supported by an Association Francaise d'Urologie Fellowship. Dr. Zhao is supported by the National Cancer Institute (Grant number 1 K01 CA123532). Dr. Peehl is supported by the National Cancer Institute (1 R01 CA121460) and a Challenge Award from the Prostate Cancer Foundation. The authors thank Sarah Young and Zuxiong Chen for technical assistance.
Conflict of interest statement
We declare that we have no conflict of interest.
Electronic supplementary material
Below is the link to the electronic supplementary material.
About this article
Cite this article
Flamand, V., Zhao, H. & Peehl, D.M. Targeting monoamine oxidase A in advanced prostate cancer. J Cancer Res Clin Oncol 136, 1761–1771 (2010). https://doi.org/10.1007/s00432-010-0835-6
Received:

Accepted:

Published:

Issue Date:
Keywords
Prostate cancer

Monoamine oxidase

Differentiation

Oncogenes

Androgen