Abstract
Purpose
Leptomeningeal metastases (LM) are associated with very poor prognosis and data on outcome are limited. We evaluated prognostic factors and treatment options in patients (pts) with LM of different malignancies in a single center experience.
Methods
Single center data on characteristics, treatment and outcome of 135 consecutive pts (73 solid tumors and 62 hematologic malignancies) with LM between 1989 and 2005 were retrospectively analyzed.
Results
Treatment consisted of systemic chemotherapy (SC) plus intrathecal chemotherapy (ITC) in 28%, ITC alone in 22%, radiotherapy (RT) plus ITC in 12% and other modalities (SC, RT, SC + RT) in 7%. Thirteen percent of pts received supportive care only (4% not evaluable on treatment). Median survival from diagnosis of LM was 2.5 months. Univariate analysis revealed age >50, interval between diagnosis of primary tumor and LM ≤12 months, lung cancer and malignant melanoma, and Karnofsky performance status ≤70 as significant negative predictors for overall survival. Positive predictive factors were response in cerebrospinal fluid and application of SC. In multivariate analysis, only SC was significantly associated with longer median survival (5.6 vs. 1.7 months).
Conclusions
In patients with LM an age >50, performance status ≤70%, interval between diagnosis of primary tumor and LM ≤12 months, primary tumor (lung cancer, malignant melanoma) and lack of cytologic response present negative prognostic factors. Systemic chemotherapy is significantly associated with longer survival time than local treatment modalities.
This is a preview of subscription content, log in to check access.
Access options
Buy single article
Instant access to the full article PDF.
US$ 39.95
Price includes VAT for USA
Subscribe to journal
Immediate online access to all issues from 2019. Subscription will auto renew annually.
US$ 199
This is the net price. Taxes to be calculated in checkout.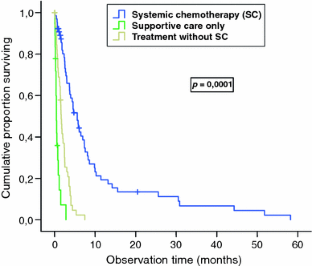 References
Altundag K, Bondy ML, Mirza NQ, Kau SW, Broglio K, Hortobagyi GN, Rivera E (2007) Clinicopathologic characteristics and prognostic factors in 420 metastatic breast cancer patients with central nervous system metastasis. Cancer 110:2640–2647

Bokstein F, Siegal T, Lossos A (1998) Leptomeningeal metastases from solid tumors, a comparison of two prospective series treated with and without intra–cerebrospinal fluid chemotherapy. Cancer 82:1756–1763

Boogerd W, van den Bent MJ, Koehler PJ, Heimans JJ, van der Sande JJ, Aaronson NK, Hart AAM, Benraadt J, Vecht CJ (2004) The relevance of intraventricular chemotherapy for leptomeningeal metastases in breast cancer: a randomised study. Eur J Cancer 40:2726–2733

Chamberlain MC (2005) Meningitis neoplastica. J Clin Oncol 23:3605–3613

Chamberlain MC, Kormanik PR (1997) Carcinomatous meningitis secondary to breast cancer: predictors of response to combined modality therapy. J Neuro Oncol 35:55–64

De Angeles LM, Boutros D (2005) Leptomeningeal metastases. Cancer Invest 23:145–154

Fizazi K, Asselain B, Vincent-Salomon A, Jouve M, Dieras V, Palangie T, Beuzeboc P, Dorval T, Pouillart P (1996) Meningeal carcinomatosis in patients with breast carcinoma. Clinical features, prognostic factors, and results of a high-dose intrathecal methotrexate regimen. Cancer 77:1315–1323

Gaspar L, Scott C, Rotmann M, Asbell S, Phillips T, Wasserman T, Mc Kenna WG, Byhardt R (1997) Recursive partitioning analysis (RPA) of prognostic factors in three radiation therapy oncology group (RTOG) brain metastases trials. Int J Radiat Oncol Biol Phys 37:745–751

Glantz MJ, Cole B, Recht L, Akerley W, Mills P, Saris S, Hochberg F, Calabresi P, Egorin MJ (1998) High-dose intravenous methotrexate for patients with nonleukemic leptomeningeal cancer: is intrathecal chemotherapy necessary? J Clin Oncol 16:1561–1567

Glantz MJ, LaFollette S, Jaeckle KA, Shapiro W, Swinnen L, Rozental JR, Phuphanich S, Rogers LR, Gutheil JC, Batchelor T, Lyter D, Chamberlain MC, Maria BL, Schiffer C, Bashir R, Thomas D, Cowens W, Howell SB (1999) Randomized trial of a slow-release versus a standard formulation of cytarabin for the intrathecal treatment of lymphomatous meningitis. J Clin Oncol 17:3110–3116

Gleissner B, Chamberlain M (2007) Treatment of CNS dissemination in systemic lymphoma. J Neurooncol 84:107–117

Grossman SA, Finkelstein DM, Ruckdeschel JC, Trump DL, Moynihan T, Ettinger DS for the Eastern Cooperative Oncology Group (1993) Randomized prospective comparison of intraventricular methotrexate and thiotepa in patients with previously untreated neoplastic meningitis. J Clin Oncol 11:561–569

Herrlinger U, Förschler H, Küker W, Meyermann R, Bamberg M, Dichgans J, Weller M (2004) Leptomeningeal metastasis: survival, prognostic factors in 155 patients. J Neurol Sci 223:167–178

Kaplan EL, Meier P (1958) Non-parametric estimations from incomplete observations. J Am Stat Assoc 53:457–481

Kim DY, Lee KW, Yun T, Park SR, Jung JY, Kim DW, Kim TY, Heo DS, Bang YJ, Kim NK (2003) Comparison of intrathecal chemotherapy for leptomeningeal carcinomatosis of a solid tumor: methotrexate alone versus methotrexate in combination with cytosine arabinoside and hydrocortisone. Jpn J Clin Oncol 33:608–612

Lassman AB, Abrey LE, Shah GG, Panageas KS, Begemann M, Malkin MG, Raizer JJ (2006) Systemic high–dose intravenous methotrexate for central nervous system metastases. J Neurooncol 78:255–260

Pentheroudakis G, Pavlides N (2005) Management of leptomeningeal malignancy. Expert Opin Pharmacother 6:1115–1125

Raizer JJ, Hwu WJ, Panageas KS, Wilton A, Baldwin DE, Bailey E, von Althann C, Lamb LA, Alvarado G, Bilsky MH, Gutin PH (2008) Brain and leptomeningeal metastases from cutaneous melanoma: survival outcomes based on clinical features. Neuro Oncol 10:199–207

Rudnicka H, Niwińska A, Murawska M (2007) Breast cancer leptomeningeal metastasis—the role of multimodality treatment. J Neuro Oncol 84:57–62

Siegal T, Lossos A, Pfeffer MR (1994) Leptomeningeal metastases: analysis of 31 patients with sustained off-therapy response following combined modality treatment. Neurology 44:1463–1469

Taillibert S, Jerzy H (2006) Treatment of central nervos system metastases: parenchymal, epidural, and leptomeningeal. Curr Opin Oncol 18:637–643
Conflict of interest statement
We all declare that none of us has any financial and personal relationships with other people or organizations that could inappropriately influence the work on the underlying retrospective analysis titled "Prognostic factors and treatment options in patients with leptomeningeal metastases of different primary tumors."
About this article
Cite this article
Oechsle, K., Lange-Brock, V., Kruell, A. et al. Prognostic factors and treatment options in patients with leptomeningeal metastases of different primary tumors: a retrospective analysis. J Cancer Res Clin Oncol 136, 1729–1735 (2010). https://doi.org/10.1007/s00432-010-0831-x
Received:

Accepted:

Published:

Issue Date:
Keywords
Leptomeningeal metastases

Meningeosis carcinomatosa

Intrathecal chemotherapy

Radiotherapy