Abstract
Purpose
The leukemias account for the largest number of cases of childhood cancer and remain the primary cause of cancer-related mortality among children in the United States. There is a need for novel antileukemia agents due to toxicity and resistant to existing chemotherapeutic agents. In this study, the effects of pseudolaric acid B (PAB) on three human leukemia cell lines, acute promyelocytic leukemia HL-60 cells, acute lymphoblastic leukemia CCRF-CEM cells, and human chronic myeloid leukemia blast-phase K562 cells were investigated in vitro, compared to normal human peripheral blood mononuclear cells (PBMC).
Methods
Cell viability was determined using CellTiter-Glo luminescent reagent. Colony formation was assessed by Microtitration cloning assay. Cell cycle analysis was carried out by flow cytometry. Tubulin polymerization was measured by recording the increase in absorbance. Inhibition of topoisomerase I (topo I) and topoisomerase II (topo II) enzyme activities was measured by DNA relaxation assay using topo I and II drug screening kit. Apoptosis was observed by DAPI staining assay and Caspase3/7 activities was measured using Caspase-Glo® 3/7 assay kit.
Results
Pseudolaric acid B selectively inhibited the growth of human leukemia HL-60, CCRF-CEM and K562 cells, but not normal PBMC. PAB suppressed colony formation in HL-60 cells. Cell cycle analysis showed that PAB blocked the cell cycle at G2/M phase in HL-60 cells, suggesting that it suppresses mitosis. DNA topo I and topo II were not inhibited, but tubulin polymerization was inhibited. PAB-induced apoptosis and activated caspase-3/7 activity.
Conclusions
This study indicates that PAB has a potential for use against leukemia and its effects might be mediated by inhibiting tubulin polymerization, preventing cell division and activating caspase-3, which leads to apoptosis.
This is a preview of subscription content, log in to check access.
Access options
Buy single article
Instant access to the full article PDF.
US$ 39.95
Price includes VAT for USA
Subscribe to journal
Immediate online access to all issues from 2019. Subscription will auto renew annually.
US$ 199
This is the net price. Taxes to be calculated in checkout.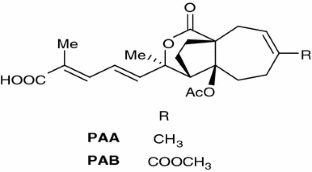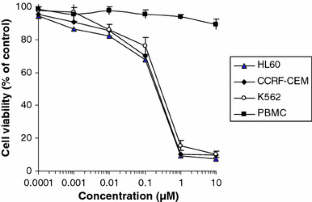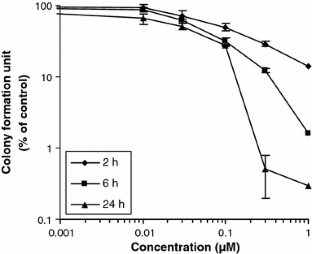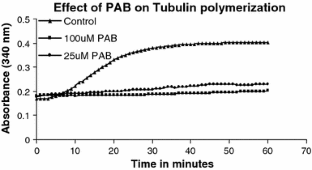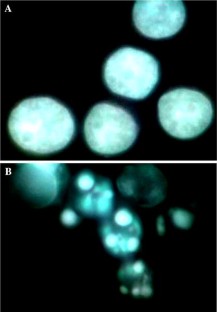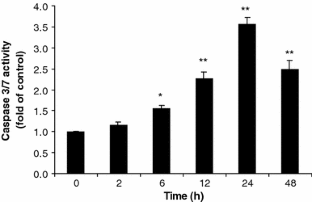 References
Cohen GM (1997) Caspases: the executioners of apoptosis. Biochem J 326:1–16

Cragg G, Suffness M (1988) Metabolism of plant-derived anticancer agents. Pharmacol Ther 37:425–461. doi:10.1016/0163-7258(88)90006-X

Cragg GM, Newman DJ, Snader KM (1997) Natural products in drug discovery and development. J Nat Prod 60:52–60. doi:10.1021/np9604893

Desagher S, Martinou JC (2000) Mitochondria as the central control point of apoptosis. Trends Cell Biol 10:369–377. doi:10.1016/S0962-8924(00)01803-1

Gerber DE (2008) Targeted therapies: a new generation of cancer treatments. Am Fam Physician 77:311–319

Gong XF, Wang MW, Wu Z, Tashiro S, Onodera S, Ikejima T (2004) Pseudolaric acid B induces apoptosis via activation of c Jun N-terminal kinase and caspase-3 in hela cells. Exp Mol Med 31:551–556

Gong XF, Wang MW, Tashiro S, Onodera S, Ikejima T (2005a) Pseudolaric acid B induces apoptosis through P53 and Bax/Bcl-2 Pathways in human melanoma A 375-S2 cells. Arch Pharm Res 28:68–72. doi:10.1007/BF02975138

Gong XF, Wang MW, Tashiro S, Onodera S, Ikejima T (2005b) Pseudolaric acid B induces human melanoma A 375-S2 cell apoptosis in vitro. Zhongguo Zhong Yao Za Zhi 30:55–57

Jordan MA (2002) Mechanism of action of anticancer drugs that interact with microtubule and tubulin. Curr Med Chem Anticancer Agents 2:1–17

Jordan MA, Thrower D, Wilson L (1991) Mechanism of inhibition of cell proliferation by Vinca alkaloids. Cancer Res 51:2212–2221

Khan SI, Nimrod AC, Mehrpooya M, Nitiss JL, Walker LA, Clark AM (2002) Antifungal activity of eupolauridine and its action on DNA topoisomerases. Antimicrob Agents Chemother 46:1785–1792

Larson S, Stock W (2008) Progress in the treatment of adults with acute lymphoblastic leukemia. Curr Opin Hematol 15:400–407. doi:10.1097/MOH.0b013e3283034697

Li E, Clark AM, Hufford CD (1995) Antifungal evaluation of pseudolaric acid B, a major constituent of Pseudolarix kaempferi. J Nat Prod 58:57–67. doi:10.1021/np50115a007

Li XC, Elsohly HN, Nimrod AL, Clark AM (1999) Two auronols from Pseudolarix amabilis. J Nat Prod 62:767–7669. doi:10.1021/np980469w

Li KS, Gu XF, Li P, Zhang Z, Zhao YS, Yao ZJ, Qu NQ, Wang BY (2005) Effect of pseudolaric acid B on gastric cancer cells: inhibition of proliferation and induction of apoptosis. World J Gastroenterol 11:7555–7559

Lowe SW, Lin AW (2000) Apoptosis in cancer. Carcinogenesis 21:485–495. doi:10.1093/carcin/21.3.485

Ma G, Khan SI, Mustafa J, Walker LA, Khan IA (2005) Anticancer activity and possible mode of action of 4-O-podophyllotoxinyl 12-hydroxyl-ocadec-Z-9-enoate. Lipids 40:303–308. doi:10.1007/s11745-005-1386-0

Ma G, Khan SI, Fisher NH, Khan IA, Pasco DS (2007) Inhibition of NF-κB-mediated transcription and induction of apoptosis by melampolides and repandolides. Cancer Chemother Pharmacol 60:35–43. doi:10.1007/s00280-006-0344-0

Pan D, Li ZL, Hu CQ, Chen K, Chang JJ, Lee KH (1990) Antitumor agents: 109. The cytotoxic principles of Pseudolarix kaempferi: pseudolaric acid A and B and related derivatives. Planta Med 56:383–385. doi:10.1055/s-2006-960989

Pui CH, Evans WE (2006) Treatment of childhood acute lymphoblastic leukemia. N Engl J Med 354:166–178. doi:10.1056/NEJMra052603

Pui CH, Jha S (2007) New therapeutic strategies for the treatment of acute lymphoblastic leukaemia. Nat Rev Drug Discov 6:149–165. doi:10.1038/nrd2240

Sen S, D'Incalci M (1992) Apoptosis: biochemical events and relevance to cancer chemotherapy. FEBS Lett 307:122–127. doi:10.1016/0014-5793(92)80914-3

Sherr CJ (1996) Cancer cell cycles. Science 274:1672–1677. doi:10.1126/science.274.5293.1672

Shi Q, Chen KC, Morrist-Natschke SL, Lee KH (1998) Recent progress in the development of tubulin inhibitors as antimitotic antitumor agents. Curr Pharm Des 4:219–248

Tseng CJ, Wang YJ, Liang YC, Jeng JH, Lee WS, Lin JK (2002) Microtubule damaging agents induce apoptosis in HL-60 cells and G2/M cell arrest in HT 29 cells. Toxicology 175:123–142. doi:10.1016/S0300-483X(02)00073-2

Wang HK, Morris-Natschke SL, Lee KH (1997) Recent advances in the discovery and development of topoisomerase inhibitors as antitumor agents. Med Res Rev 4:367–425. doi:10.1002/(SICI)1098-1128(199707)17:4<367:AID-MED3>3.0.CO;2-U

Wong VKW, Chiu P, Chung SSM, Chow LMC, Zhao YZ, Yang BB, Ko BCB (2005) Pseudolaric acid B, a novel microtubule-destabilizing agent that circumvents multidrug resistance phenotype and exhibits antitumor activity in vivo. Clin Cancer Res 11:6002–6011. doi:10.1158/1078-0432.CCR-05-0209

Yang SP, Dong L, Wang Y, Wu Y, Yue JM (2003) Antifungal diterpenoids of Pseudolarix kaempferi, and their structure-activity relationship study. Bioorg Med Chem 11:4577–4584. doi:10.1016/S0968-0896(03)00531-5

Zhang YL, Lu RZ, Yan AL (1990) Inhibition of ova fertilizability by pseudolaric acid B in hamster. Acta Pharmacol Sin 11:60–62

Zhou BN, Ying BP, Song GQ, Chen ZX, Han J, Yan YF (1983) Pseudolaric acids from Pseudolarix kaempferi. Planta Med 47:35–38. doi:10.1055/s-2007-969944
Acknowledgments
This study was supported in part by USDA Agricultural Research Service Specific Cooperative Agreement No. 58-6408-2-0009.
Conflict of interest statement
We declare that we have no conflict of interest.
About this article
Cite this article
Ma, G., Chong, L., Li, X. et al. Selective inhibition of human leukemia cell growth and induction of cell cycle arrest and apoptosis by pseudolaric acid B. J Cancer Res Clin Oncol 136, 1333–1340 (2010). https://doi.org/10.1007/s00432-010-0784-0
Received:

Accepted:

Published:

Issue Date:
Keywords
Pseudolaric acid B

Leukemia

Peripheral blood mononuclear cells

Cytotoxicity

Cell cycle

Apoptosis