Abstract
Purpose
This study was designed to determine the usefulness of procalcitonin (PCT) as a predictive marker of infections in neutropenic patients following chemotherapeutic treatments.
Methods
Over a 6-month period, 65 patients (34 affected by a solid tumor, 31 by a hematological disorder) were enrolled. Serum PCT concentrations were measured by an automated immunoassay on the leucocytes nadir and on the third day, when patients were checked for any sign of infection.
Results
Procalcitonin values were not affected by gender, age, therapeutic approach, use of G-CSF or performance status and did not differ between patients who subsequently developed a localized infection and those who did not. PCT concentrations resulted higher in patients affected by hematological disorders than in those affected by solid tumors (mean value 0.09 vs. 0.05 μg/L; p < 0.0015) and in those who were hospitalized than in the outpatient group (0.10 vs. 0.05 μg/L; p < 0.0013). PCT levels correlated with the type of neoplastic disease (p = 0.016), the highest concentrations being detected in patients affected by acute leukemia.
Conclusions
These findings suggest that PCT is not a useful predictive marker of infection in oncohematologic neutropenic patients, even though higher serum PCT concentrations are associated with hematological tumors as well as in-hospital admission.
This is a preview of subscription content, log in to check access.
Access options
Buy single article
Instant access to the full article PDF.
US$ 39.95
Price includes VAT for USA
Subscribe to journal
Immediate online access to all issues from 2019. Subscription will auto renew annually.
US$ 199
This is the net price. Taxes to be calculated in checkout.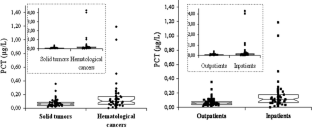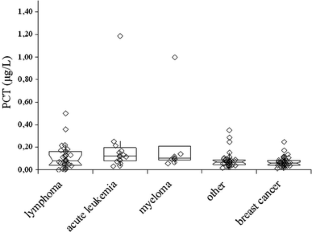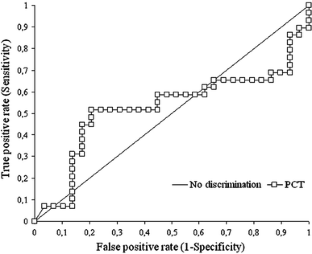 References
Giamarellou H, Giamarellou-Bourboulis J, Repoussis, Galani N et al (2004) Potential use of procalcitonin as a diagnostic criterion in febrile neutropenia: experience from a multicentric study. Clin Microbiol Infect 10:628–623. doi:10.1111/j.1469-0691.2004.00883.x

Hambach L, Eder M, Damman E et al (2002) Diagnostic value of procalcitonin serum levels in comparison with C-reactive protein in allogenic stem cell transplantation. Haematologica 87:643–651

Jimeno A, Garcia-Velasco A, del Val O et al (2004) Assessment of procalcitonin as a diagnostic and prognostic marker in patients with solid tumors and febrile neutropenia. Cancer 100:2462–2469. doi:10.1002/cncr.20275

Linscheid P, Seboek D, Nylen ES, Langer I, Schlatter M, Becker KL, Keller U, Müller B (2003) In vitro and in vivo calcitonin I gene expression in parenchymal cells: a novel product of human adipose tissue. Endocrinology 144:5578–5584. doi:10.1210/en.2003-0854

Muller B, White JC, Nylen ES, Snider RH, Becker KL, Habener JF (2001) Ubiquitous expression of the calcitonin-i gene in multiple tissues in response to sepsis. J Clin Endocrinol Metab 86:396–404

Penel N, Fournier C, Clisant S, N'Guyen M (2004) Causes of fever and value of C-reactive protein and procalcitonin in differentiating infections from paraneoplastic fever. Support Care Cancer 12:593–598. doi:10.1007/s00520-004-0602-9

Pizzo PA (1993) Management of fever in patients with cancer and treatment-induced neutropenia. N Engl J Med 328:1323–1332

Sakr Y, Sponholz C, Tuche F, Brunkhorst F, Reinhart K (2008) The role of procalcitonin in febrile neutropenic patients: review of the literature. Infection 36:396–407. doi:10.1007/s15010-008-7374-y

Schuttrumpf S, Binder L, Hagemann T, Berkovic D, Trumper L, Binder C (2006) Utility of procalcitonin concentration in the evaluation of patients with malignant disease and elevated C reactive protein plasma concentration. Clin Infect Dis 43:468–473. doi:10.1086/505394

Simon L, Gauvin F, Amre DK, Saint-Louis P, Lacroix J (2004) Serum procalcitonin and C-reactive protein levels as markers of bacterial infections: a systematic review and meta-analysis. Clin Infect Dis 39:206–217

Talcott J, Finberg R, Mayer RJ, Goldman L (1998) The medical course of cancer patients with fever and neutropenia. Arch Intern Med 148:2561–2568

Tang BMP, Eslick G, McLean A (2007) Accuracy of procalcitonin for sepsis diagnosis in critically ill patients: systemic review and meta-analysis. Lancet Infect Dis 7:210–217. doi:10.1016/S1473-3099(07)70052-X

Uys A, Rapoport BL, Fickl H, Meyer PWA, Anderson R (2007) Prediction of outcome in cancer patients with febrile neutropenia: comparison of the multinational association of supportive care in cancer risk-index score with procalcitonin, C-reactive protein, serum amyloid A, and interleukins-1, -6, -8 and -10. Eur J Cancer Care 16:475–483

van Rossum AM, Wulkan RW, Oudesluys-Murphy AM (2004) Procalcitonin as an early marker of infection in neonates and children. Lancet Infect Dis 4:620–630
Conflict of interest statement
None among the authors of the article has any financial and personal relationships with other people or organisations that could inappropriately influence the presented work.
About this article
Cite this article
Carnino, L., Betteto, S., Loiacono, M. et al. Procalcitonin as a predictive marker of infections in chemoinduced neutropenia. J Cancer Res Clin Oncol 136, 611–615 (2010). https://doi.org/10.1007/s00432-009-0699-9
Received:

Accepted:

Published:

Issue Date:
Keywords
Procalcitonin

Neutropenia

Infection markers

Chemotherapy