Abstract
Purpose
To determine the involvement of ZIC2 in oral squamous cell carcinoma (OSCC).
Methods
ZIC2 mRNA and protein expression in primary OSCCs (n = 74), oral premalignant lesions (OPLs, n = 20) and five OSCC-derived cell lines (HSC-2, HSC-3, OK-92, H1, and Sa3) were analyzed by quantitative reverse transcriptase-polymerase chain reaction, Western blot and immunohistochemistry (IHC). In addition, we evaluated the correlation between ZIC2 IHC scores in OSCCs and the clinicopathologic status.
Results
Significant up-regulation of ZIC2 was detected in OSCC-derived cell lines (P < 0.05), primary OSCCs (P < 0.05) and OPLs (P < 0.05) compared with normal counterparts. Among the clinical variables analyzed, ZIC2 expression was associated with the histopathologic types of OSCC. Furthermore, the survival rates differed significantly between ZIC2-positive cases and ZIC2-negative cases.
Conclusions
These results suggested that ZIC2 expression is correlated with the differentiation type of OSCC and diagnosis and might be a potential prognostic indicator and therapeutic target for OSCCs.
This is a preview of subscription content, log in to check access.
Access options
Buy single article
Instant access to the full article PDF.
US$ 39.95
Price includes VAT for USA
Subscribe to journal
Immediate online access to all issues from 2019. Subscription will auto renew annually.
US$ 199
This is the net price. Taxes to be calculated in checkout.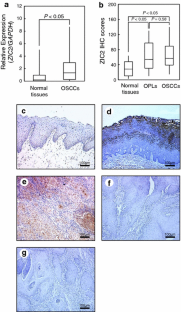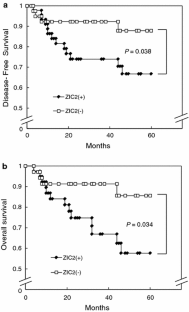 References
Bidus MA, Risinger JI, Chandramouli GV, Dainty LA, Litzi TJ, Berchuck A, Barrett JC, Maxwell GL (2006) Prediction of lymph node metastasis in patients with endometrioid endometrial cancer using expression microarray. Clin Cancer Res 12:83–88. doi:10.1158/1078-0432.CCR-05-0835

Brown L, Brown S (2009) Zic2 is expressed in pluripotent cells in the blastocyst and adult brain expression overlaps with makers of neurogenesis. Gene Expr Patterns 9:43–49. doi:10.1016/j.gep.2008.08.002

Endo Y, Uzawa K, Mochida Y, Shiiba M, Bukawa H, Yokoe H, Tanzawa H (2004) Sarcoendoplasmic reticulum Ca2 + ATPase type 2 downregulated in human oral squamous cell carcinoma. Int J Cancer 110:225–231. doi:10.1002/ijc.20118

Fearon ER, Vogelstein B (1990) A genetic model for colorectal tumorigenesis. Cell 61:759–767

Fernebro J, Francis P, Eden P, Borg A, Panagopoulos I, Mertens F, Vallon-Christersson J, Akerman M, Rydholm A, Bauer HC, Mandahl N, Nilbert M (2006) Gene expression profiles relate to SS18/SSX fusion type in synovial sarcoma. Int J Cancer 118:1165–1172. doi:10.1002/ijc.21475

Grinberg I, Millen KJ (2005) The ZIC gene family in development and disease. Clin Genet 67:290–296. doi:10.1111/j.1399-0004.2005.00418.x

Gure AO, Stockert E, Scanlan MJ, Keresztes RS, Jager D, Altorki NK, Old LJ, Chen YT (2000) Serological identification of embryonic neural proteins as highly immunogenic tumor antigens in small cell lung cancer. Proc Natl Acad Sci USA 97:4198–4203

Kasamatsu A, Uzawa K, Nakashima D, Koike H, Shiiba M, Bukawa H, Yokoe H, Tanzawa H (2005) Galectin-9 as a regulator of cellular adhesion in human oral squamous cell carcinoma cell lines. Int J Mol Med 16:269–273

Kato Y, Uzawa K, Yamamoto N, Kouzu Y, Koike H, Shiiba M, Bukawa H, Yokoe H, Shibahara T, Tanzawa H (2007) Overexpression of Septin1: possible contribution to the development of oral cancer. Int J Oncol 31:1021–1028

Kouzu Y, Uzawa K, Koike H, Saito K, Nakashima D, Higo M, Endo Y, Kasamatsu A, Shiiba M, Bukawa H et al (2006) Overexpression of stathmin in oral squamous-cell carcinoma: correlation with tumour progression and poor prognosis. Br J Cancer 94:717–723

Lippman SM, Sudbo J, Hong WK (2005) Oral cancer prevention and the evolution of molecular-targeted drug development. J Clin Oncol 23:346–356

Macfarlane GJ, Zheng T, Marshall JR, Boffetta P, Niu S, Brasure J, Merletti F, Boyle P (1995) Alcohol, tobacco, diet and the risk of oral cancer: a pooled analysis of three case–control studies. Eur J Cancer B Oral Oncol 31:181–187

Mashberg A, Boffetta P, Winkelman R, Garfinkel L (1993) Tobacco smoking, alcohol drinking, and cancer of the oral cavity and oropharynx among U.S. veterans. Cancer 72:1369–1375

Missale C, Nash SR, Robinson SW, Jaber M, Caron MG (1998) Dopamine receptors: from structure to function. Physiol Rev 78:189–225

Mizugishi K, Hatayama M, Tohmonda T, Ogawa M, Inoue T, Mikoshiba K, Aruga J (2004) Myogenic repressor I-mfa interferes with the function of zic family proteins. Biochem Biophys Res Commun 320:233–240. doi:10.1016/j.bbrc.2004.05.158

Nagai T, Aruga J, Takada S, Gunther T, Sporle R, Schughart K, Mikoshiba K (1997) The expression of the mouse Zic1, Zic2, and Zic3 gene suggests an essential role for zic genes in body pattern formation. Dev Biol 182:299–313. doi:10.1006/dbio.1996.8449

Nishida T, Katayama S, Tsujimoto M, Nakamura J, Matsuda H (1999) Clinicopathological significance of poorly differentiated thyroid carcinoma. Am J Surg Pathol 23:205–211

Nomura H, Uzawa K, Yamano Y, Fushimi K, Ishigami T, Kouzu Y, Koike H, Siiba M, Bukawa H, Yokoe H et al (2009) Overexpression and altered subcellular localization of autophagy-related 16-like 1 in human oral squamous-cell carcinoma: correlation with lymphovascular invasion and lymph-node metastasis. Hum Pathol 40:83–91

Okamoto M, Nishimine M, Kishi M, Kirita T, Sugimura M, Nakamura M, Konishi N (2002) Prediction of delayed neck metastasis in patients with stage I/II squamous cell carcinoma of the tongue. J Oral Pathol Med 31:227–233

Onda T, Uzawa K, Endo Y, Bukawa H, Yokoe H, Shibahara T, Tanzawa H (2006) Ubiquitous mitochondrial creatine kinase downregulated in oral squamous cell carcinoma. Br J Cancer 94:698–709

Pfister S, Schlaeger C, Mendrzyk F, Wittmann A, Benner A, Kulozik A, Scheurlen W, Radlwimmer B, Lichter P (2007) Array-based profiling of reference-independent methylation status (aPRIMES) identifies frequent promoter methylation and consecutive downregulation of ZIC2 in pediatric medulloblastoma. Nucleic Acids Res 35:e51. doi:10.1093/nar/gkm094

Sabater L, Bataller L, Suarez-Calvet M, Saiz A, Dalmau J, Graus F (2008) ZIC antibodies in paraneoplastic cerebellar degeneration and small cell lung cancer. J Neuroimmunol 201–202:163–165. doi:10.1016/j.jneuroim.2008.01.018

Saito K, Uzawa K, Endo Y, Kato Y, Nakashima D, Ogawara K, Shiba M, Bukawa H, Yokoe H, Tanzawa H (2006) Plasma membrane Ca2 + ATPase isoform 1 down-regulated in human oral cancer. Oncol Rep 15:49–55

Sakuma T, Uzawa K, Onda T, Shiiba M, Yokoe H, Shibahara T, Tanzawa H (2006) Aberrant expression of histone deacetylase 6 in oral squamous cell carcinoma. Int J Oncol 29:117–124

Shimada K, Uzawa K, Kato M, Endo Y, Shiiba M, Bukawa H, Yokoe H, Seki N, Tanzawa H (2005) Aberrant expression of RAB1A in human tongue cancer. Br J Cancer 92:1915–1921

Tanaka C, Uzawa K, Shibahara T, Yokoe H, Noma H, Tanzawa H (2003) Expression of an inhibitor of apoptosis, survivin, in oral carcinogenesis. J Dent Res 82:607–611

Vural B, Chen LC, Saip P, Chen YT, Ustuner Z, Gonen M, Simpson AJ, Old LJ, Ozbek U, Gure AO (2005) Frequency of SOX group B (SOX1, 2, 3) and ZIC2 antibodies in turkish patients with small cell lung carcinoma and their correlation with clinical parameters. Cancer 103:2575–2583. doi:10.1002/cncr.21088

Weinberg MA, Estefan DJ (2002) Assessing oral malignancies. Am Fam Physician 65:1379–1384

Yamano Y, Uzawa K, Shinozuka K, Fushimi K, Ishigami T, Nomura H, Ogawara K, Shiiba M, Yokoe H, Tanzawa H (2008) Hyaluronan-mediated motility: a target in oral squamous cell carcinoma. Int J Oncol 32:1001–1009

Yang Y, Hwang CK, Junn E, Lee G, Mouradian MM (2000) ZIC2 and Sp3 repress Sp1-induced activation of the human D1A dopamine receptor gene. J Biol Chem 275:38863–38869. doi:10.1074/jbc.M007906200
Acknowledgments
This study was supported by a Grant-in-Aid Scientific Research (No. 20592353) from Ministry of Education, Culture, Sports, Science and Technology of Japan. We thank Lynda C. Charters for editing this manuscript.
Conflict of interest statement
We declare that we have no conflict of interest.
About this article
Cite this article
Sakuma, K., Kasamatsu, A., Yamatoji, M. et al. Expression status of Zic family member 2 as a prognostic marker for oral squamous cell carcinoma. J Cancer Res Clin Oncol 136, 553–559 (2010). https://doi.org/10.1007/s00432-009-0689-y
Received:

Accepted:

Published:

Issue Date:
Keywords
Oral squamous cell carcinoma

Zic family member 2

Oral premalignant lesion

qRT-PCR

Immunohistochemistry