Abstract
Purpose
GPR56 is an orphan G-protein-coupled receptor of the adhesion family involved in brain development. In some cancer cells and tissues, GPR56 is highly expressed and may contribute to tumorigenesis phenotypes such as cell adhesion and metastasis. Although the ligand for GPR56 is unknown, the overexpression of the receptor induces the activity of several transcription factors. We identified five splicing forms of GPR56 by searching the genome database. In this study, we tried to assess the properties of the splicing variants on the activation of the transcription factors.
Methods
Genome structure of human GPR56 genes was analyzed using the Ensembl genome browser. All splicing variants were constructed using PCR with the GPR56 wild-type gene as template and the appropriate primers and their expression was verified by western blotting. We examined the effect of GPR56 splicing forms on the cellular responses through reporter gene assay with various promoters. We also confirmed the GPR56-mediated transcriptional activity by silencing GPR56 expression through shRNA-mediated RNA interference.
Results
We found that the coding sequence of GPR56 consist of 13 exons and alternative splicing occurs in the second and tenth exons. In reporter gene assays, GPR56 overexpression increased the activity of the serum-response element, NFAT, and E2F response elements, whereas this overexpression downregulated c-myc and p53 response element activity. Furthermore, increased promoter activity of the COX2, iNOS, and VEGF genes was observed. Variants 1 and 2 potently enhanced SRE-mediated transcription compared with wild-type GPR56. Variants 3 and 4 hardly affect the activity of the promoters.
Conclusion
These results suggested that the splicing of GPR56 may induce differential tumorigenic responses owing to their varied ability to activate transcription factors.
This is a preview of subscription content, log in to check access.
Access options
Buy single article
Instant access to the full article PDF.
US$ 39.95
Price includes VAT for USA
Subscribe to journal
Immediate online access to all issues from 2019. Subscription will auto renew annually.
US$ 199
This is the net price. Taxes to be calculated in checkout.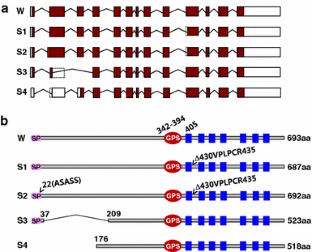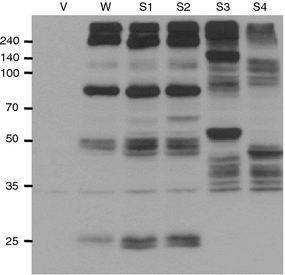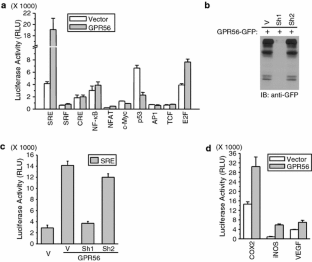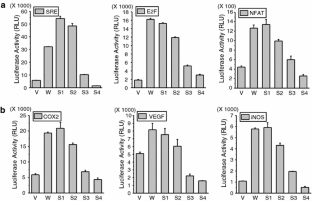 Abbreviations
GPCR:

G-protein-coupled receptor

BFPP:

Bilateral frontoparietal polymicrogyria

SRE-Luc:

Serum response element-Luciferase

shRNA:

Short hairpin ribonucleic acid

MAP kinase:

Mitogen-activated protein kinase

NFAT:

Nuclear factor of activated T cell

iNOS:

Inducible nitric oxide synthase

VEGF:

Vascular endothelial growth factor
References
Ali H, Ahamed J, Hernandez-Munain C, Baron JL, Krangel MS, Patel DD (2000) Chemokine production by G protein-coupled receptor activation in a human mast cell line: roles of extracellular signal-regulated kinase and NFAT. J Immunol 165:7215–7223

Bjarnadottir TK, Fredriksson R, Hoglund PJ, Gloriam DE, Lagerstrom MC, Schioth HB (2004) The human and mouse repertoire of the adhesion family of G-protein-coupled receptors. Genomics 84:23–33

Dorsam RT, Gutkind JS (2007) G-protein-coupled receptors and cancer. Nat Rev Cancer 7:79–94

Fosslien E (2001) Review: molecular pathology of cyclooxygenase-2 in cancer-induced angiogenesis. Ann Clin Lab Sci 31:325–348

Galle J, Sittig D, Hanisch I, Wobus M, Wandel E, Loeffler M, Aust G (2006) Individual cell-based models of tumor-environment interactions: multiple effects of CD97 on tumor invasion. Am J Pathol 169:1802–1811

Hamm HE (1998) The many faces of G protein signaling. J Biol Chem 273:669–672

Harris SL, Levine AJ (2005) The p53 pathway: positive and negative feedback loops. Oncogene 24:2899–2908

Iguchi T, Sakata K, Yoshizaki K, Tago K, Mizuno N, Itoh H (2008) Orphan G protein-coupled receptor GPR56 regulates neural progenitor cell migration via a G alpha(12/13) and rho pathway. J Biol Chem 283:14469–14478

Jin ZH, Tietjen I, Bu LH, Liu-Yesucevitz L, Gaur SK, Walsh CA, Piao XH (2007) Disease-associated mutations affect GPR56 protein trafficking and cell surface expression. Hum Mol Genet 16:1972–1985

Ke N, Sundaram R, Liu GH, Chionis J, Fan WF, Rogers C, Awad T, Grifman M, Yu DH, Wong-Staal F, Li QX (2007) Orphan G protein-coupled receptor GPR56 plays a role in cell transformation and tumorigenesis involving the cell adhesion pathway. Mol Cancer Ther 6:1840–1850

Ke N, Ma HW, Diedrich G, Chionis J, Liu GH, Yu DH, Wong-Staal F, Li QX (2008) Biochemical characterization of genetic mutations of GPR56 in patients with bilateral frontoparietal polymicrogyria (BFPP). Biochem Biophys Res Commun 366:314–320

Nishimori H, Shiratsuchi T, Urano T, Kimura Y, Kiyono K, Tatsumi K, Yoshida S, Ono M, Kuwano M, Nakamura Y, Tokino T (1997) A novel brain-specific p53-target gene, BAI1, containing thrombospondin type 1 repeats inhibits experimental angiogenesis. Oncogene 15:2145–2150

Pelengaris S, Khan M (2003) The many faces of c-MYC. Arch Biochem Biophys 416:129–136

Piao XH, Hill RS, Bodell A, Chang BS, Basel-Vanagaite L, Straussberg R, Dobyns WB, Qasrawi B, Winter RM, Innes AM, Voit T, Ross ME, Michaud JL, Descarle JC, Barkovich AJ, Walsh CA (2004) G protein-coupled receptor-dependent development of human frontal cortex. Science 303:2033–2036

Polager S, Ginsberg D (2008) E2F-at the crossroads of life and death. Trends Cell Biol 18:528–535

Sharrocks AD (2001) The ETS-domain transcription factor family. Nat Rev Mol Cell Biol 2:827–837

Shashidhar S, Lorente G, Nagavarapu U, Nelson A, Kuo J, Cummins J, Nikolich K, Urfer R, Foehr ED (2005) GPR56 is a GPCR that is overexpressed in gliomas and functions in tumor cell adhesion. Oncogene 24:1673–1682

Spiegel AM, Weinstein LS (2004) Inherited diseases involving G proteins and G protein-coupled receptors. Annu Rev Med 55:27–39

Spiegelberg BD, Hamm HE (2007) Roles of G-protein-coupled receptor signaling in cancer biology and gene transcription. Curr Opin Genet Dev 17:40–44

Wang T, Ward Y, Tian LH, Lake R, Guedez L, Stetler-Stevenson WG, Kelly K (2005) CD97, an adhesion receptor on inflammatory cells, stimulates angiogenesis through binding integrin counter receptors on endothelial cells. Blood 105:2836–2844

Xu L, Begum S, Hearn JD, Hynes RO (2006) GPR56, an atypical G protein-coupled receptor, binds tissue transglutaminase, TG2, and inhibits melanoma tumor growth and metastasis. Proc Natl Acad Sci USA 103:9023–9028

Yona S, Lin HH, Siu WO, Gordon S, Stacey M (2008) Adhesion-GPCRs: emerging roles for novel receptors. Trends Biochem Sci 33:491–500
Acknowledgments
This work was supported by the Korea Research Foundation Grant to J.-I. H. funded by the Korean Government (Ministry of education, science and technology: MEST) (no. 2009-0073875) and by the Korea University Grants to J.Y. S.
Conflict of interest statement
We declare that we have no proprietary, financial, professional or other personal interest of any nature or kind in any product, service and/or company that could be construed and influencing the position presented in, or the review of, the manuscript entitled.
Additional information
J.-E. Kim and J. M. Han contributed equally to this work.
About this article
Cite this article
Kim, J., Han, J.M., Park, C.R. et al. Splicing variants of the orphan G-protein-coupled receptor GPR56 regulate the activity of transcription factors associated with tumorigenesis. J Cancer Res Clin Oncol 136, 47 (2010). https://doi.org/10.1007/s00432-009-0635-z
Received:

Accepted:

Published:
Keywords
GPR56

Splicing variants

Reporter gene assay

RNA interference

Tumorigenesis