Abstract
Purpose
We sought to investigate the efficacy of in vitro extreme drug resistance (EDR) assay for the prediction of drug response, platinum-resistance (progression-free survival, PFS <6 months) and survival in patients with epithelial ovarian cancer (EOC) who received taxane- and platinum-based chemotherapy after surgery.
Methods
Between December 2005 and August 2007, 43 patients were enrolled prospectively. They underwent staging laparotomy followed by six or nine cycles of taxane- and platinum-based chemotherapy, and their tumors were submitted for in vitro EDR assay to taxanes (paclitaxel or docetaxel) and platinum compounds (carboplatin or cisplatin).
Results
The rates of EDR to taxanes and platinum compounds were 20.9% (9/43) and 23.3% (10/43). Patients with EDR to platinum compounds showed a lower rate of overall response (60 vs. 100%), a higher rate of platinum-resistance (50 vs. 18.2%) and poor overall survival (OS) (median OS; 29.2 vs. 33.7 months) than those without EDR to platinum compounds (P < 0.05), whereas patients with EDR to taxanes showed poor PFS than those without EDR to taxanes (12.5 vs. 19 months, P < 0.01). Moreover, suboptimal debulking surgery and EDR to taxanes were poor prognostic factors for PFS (adjusted hazard ratio 3.215 and 3.984; 95% confidence interval 1.845–7.895 and 3.814–11.674, respectively) although there was no independent risk factor for poor OS by the multivariate Cox's proportional hazard analysis.
Conclusions
In vitro EDR assay to taxanes and platinum compounds may be helpful for predicting drug response, platinum-resistance and survival in patients with EOC who received taxane- and platinum-based chemotherapy after staging laparotomy.
This is a preview of subscription content, log in to check access.
Access options
Buy single article
Instant access to the full article PDF.
US$ 39.95
Price includes VAT for USA
Subscribe to journal
Immediate online access to all issues from 2019. Subscription will auto renew annually.
US$ 199
This is the net price. Taxes to be calculated in checkout.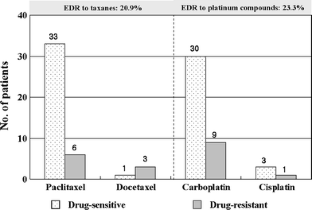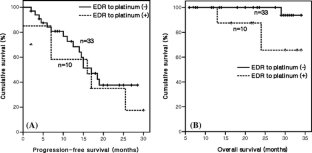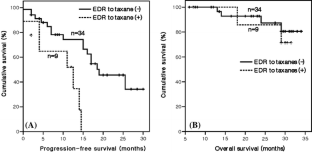 References
Albrecht M, Simon WE, Hölzel F (1985) Individual chemosensitivity of in vitro proliferating mammary and ovarian carcinoma cells in comparison to clinical results of chemotherapy. J Cancer Res Clin Oncol 109:210–216. doi:10.1007/BF00390360

Berek JS (1992) Second-look versus second-nature. Gynecol Oncol 44:1–2. doi:10.1016/0090-8258(92)90001-Y

Chen Y, He M, Wu Y, Li H, Yu D (2001) Investigation on marking method for phenomenon on regrowth drug resistance in relapsed acute myelogenous leukemia. J Tongji Med Univ 21:286–288

Cortazar P, Johnson BE (1999) Review of the efficacy of individualized chemotherapy selected by in vitro drug sensitivity testing for patients with cancer. J Clin Oncol 17:1625–1631

d'Amato TA, Landreneau RJ, McKenna RJ, Santos RS, Parker RJ (2006) Prevalence of in vitro extreme chemotherapy resistance in resected nonsmall-cell lung cancer. Ann Thorac Surg 81:440–446 (discussion 6–7)

Eitan R, Levine DA, Abu-Rustum N, Sonoda Y, Huh JN, Franklin CC, Stevens TA, Barakat RR, Chi DS (2005) The clinical significance of malignant pleural effusions in patients with optimally debulked ovarian carcinoma. Cancer 103:1397–1401

Eltabbakh GH (2000) Extreme drug resistance assay and response to chemotherapy in patients with primary peritoneal carcinoma. J Surg Oncol 73:148–152

Eltabbakh GH, Piver MS, Hempling RE, Recio FO, Lele SB, Marchetti DL, Baker TR, Blumenson LE (1998) Correlation between extreme drug resistance assay and response to primary paclitaxel and cisplatin in patients with epithelial ovarian cancer. Gynecol Oncol 70:392–397

Fan CW, Fan HA, Hsu SH, Chan CC, Chen SY, Hsu YH, Chan EC (2004) An in vitro short time-high dose drug exposure assay for predicting 5FU-resistance of colorectal cancer. Cancer Lett 214:181–188

Friedman JB, Weiss NS (1990) Second thoughts about second-look laparotomy in advanced ovarian cancer. N Engl J Med 322:1079–1082

Fruehauf JP (2002) In vitro assay-assisted treatment selection for women with breast or ovarian cancer. Endocr Relat Cancer 9:171–182

Geisler JP, Linnemeier GC, Thomas AJ, Manahan KJ (2007) Extreme drug resistance is common after prior exposure to paclitaxel. Gynecol Oncol 106:538–540

Hayward IP, Hurst T, Parsons PG, Khoo SK (1992) Combination chemotherapy tested in a short-term thymidine incorporation assay in primary cultures of ovarian adenocarcinomas. Int J Cell Cloning 10:182–189

Hillner BE (1987) Medical decision making: a Bayesian approach to laboratory testing. Med Sect Proc 2:7–37

Holloway RW, Mehta RS, Finkler NJ, Li KT, McLaren CE, Parker RJ, Fruehauf JP (2002) Association between in vitro platinum resistance in the EDR assay and clinical outcomes for ovarian cancer patients. Gynecol Oncol 87:8–16

Kern DH, Weisenthal LM (1990) Highly specific prediction of antineoplastic drug resistance with an in vitro assay using suprapharmacologic drug exposures. J Natl Cancer Inst 82:582–588

Kim HS, Kim TH, Chung HH, Kim JW, Park NH, Song YS, Kang SB (2008) Clinical analysis for the prognostic factors in patients with recurrent epithelial ovarian cancer who underwent secondary cytoreductive surgery. J Gynecol Oncol 19:75–80

Loizzi V, Chan JK, Osann K, Cappuccini F, DiSaia PJ, Berman ML (2003) Survival outcomes in patients with recurrent ovarian cancer who were treated with chemoresistance assay-guided chemotherapy. Am J Obstet Gynecol 189:1301–1307

McAlpine JN, Eisenkop SM, Spirtos NM (2008) Tumor heterogeneity in ovarian cancer as demonstrated by in vitro chemoresistance assays. Gynecol Oncol 110:360–364

McGuire WP, Hoskins WJ, Brady MF, Kucera PR, Partridge EE, Look KY, Clarke-Pearson DL, Davidson M (1996) Cyclophosphamide and cisplatin versus paclitaxel and cisplatin: a phase III randomized trial in patients with suboptimal stage III/IV ovarian cancer (from the Gynecologic Oncology Group). Semin Oncol 23:40–47

Mehta RS, Bornstein R, Yu IR, Parker RJ, McLaren CE, Nguyen KP, Li KT, Fruehauf JP (2001) Breast cancer survival and in vitro tumor response in the extreme drug resistance assay. Breast Cancer Res Treat 66:225–237

Orr JW Jr, Orr P, Kern DH (1999) Cost-effective treatment of women with advanced ovarian cancer by cytoreductive surgery and chemotherapy directed by an in vitro assay for drug resistance. Cancer J Sci Am 5:174–178

Ozols RF, Bundy BN, Greer BE, Fowler JM, Clarke-Pearson D, Burger RA, Mannel RS, DeGeest K, Hartenbach EM, Baergen R (2003) Phase III trial of carboplatin and paclitaxel compared with cisplatin and paclitaxel in patients with optimally resected stage III ovarian cancer: a Gynecologic Oncology Group study. J Clin Oncol 21:3194–3200

Panici PB, Maggioni A, Hacker N, Landoni F, Ackermann S, Campagnutta E, Tamussino K, Winter R, Pellegrino A, Greggi S, Angioli R, Manci N, Scambia G, Dell'Anna T, Fossati R, Floriani I, Rossi RS, Grassi R, Favalli G, Raspagliesi F, Giannarelli D, Martella L, Mangioni C (2005) Systematic aortic and pelvic lymphadenectomy versus resection of bulky nodes only in optimally debulked advanced ovarian cancer: a randomized clinical trial. J Natl Cancer Inst 97:560–566

Piver MS, Eltabbakh GH, Hempling RE, Recio FO, Blumenson LE (1998) Prospective sequential trials of induction weekly cisplatin followed by monthly cisplatin, doxorubicin, cyclophosphamide and paclitaxel and cisplatin in optimal (< or =1 cm) stage III and IV ovarian cancer. Eur J Gynaecol Oncol 19:5–10

Schrag D, Garewal HS, Burstein HJ, Samson DJ, Von Hoff DD, Somerfield MR (2004) American Society of Clinical Oncology Technology Assessment: chemotherapy sensitivity and resistance assays. J Clin Oncol 22:3631–3638

Sondak VK, Bertelsen CA, Tanigawa N, Hildebrand-Zanki SU, Morton DL, Korn EL, Kern DH (1984) Clinical correlations with chemosensitivities measured in a rapid thymidine incorporation assay. Cancer Res 44:1725–1728

Sondak VK, Korn EL, Morton DL, Kern DH (1988) Testing chemotherapeutic combinations in the human tumor colony—forming assay. J Surg Oncol 37:156–160

Tanigawa N, Kern DH, Hikasa Y, Morton DL (1982) Rapid assay for evaluating the chemosensitivity of human tumors in soft agar culture. Cancer Res 42:2159–2164

Therasse P, Arbuck SG, Eisenhauer EA, Wanders J, Kaplan RS, Rubinstein L, Verweij J, Van Glabbeke M, van Oosterom AT, Christian MC, Gwyther SG (2000) New guidelines to evaluate the response to treatment in solid tumors. European Organization for Research and Treatment of Cancer, National Cancer Institute of the United States, National Cancer Institute of Canada. J Natl Cancer Inst 92:205–216

Vasey PA, Jayson GC, Gordon A, Gabra H, Coleman R, Atkinson R, Parkin D, Paul J, Hay A, Kaye SB (2004) Phase III randomized trial of docetaxel-carboplatin versus paclitaxel-carboplatin as first-line chemotherapy for ovarian carcinoma. J Natl Cancer Inst 96:1682–1691

Villman K, Blomqvist C, Larsson R, Nygren P (2005) Predictive value of in vitro assessment of cytotoxic drug activity in advanced breast cancer. Anticancer Drugs 16:609–615

Yang L, Klint A, Lambe M, Bellocco R, Riman T, Bergfeldt K, Persson I, Weiderpass E (2008) Predictors of ovarian cancer survival: a population-based prospective study in Sweden. Int J Cancer 123:672–679
Acknowledgments
The authors in the current study wish to appreciate Innocell Company for taking charge of in vitro EDR assay to study successfully. Moreover, we deeply appreciate the committee of the International Symposium on Novel Strategies for Targeted Prevention and Treatment of Cancer for giving us the opportunity to present with young scientist award (December 19–20, 2008).
Conflict of interest statement
The authors declare that there are no conflicts of interest.
About this article
Cite this article
Kim, H.S., Kim, T.J., Chung, H.H. et al. In vitro extreme drug resistance assay to taxanes or platinum compounds for the prediction of clinical outcomes in epithelial ovarian cancer: a prospective cohort study. J Cancer Res Clin Oncol 135, 1513–1520 (2009). https://doi.org/10.1007/s00432-009-0598-0
Received:

Accepted:

Published:

Issue Date:
Keywords
In vitro extreme drug resistance assay

Taxanes

Platinum compounds

Epithelial ovarian cancer