Abstract
Purpose
To clarify clinicopathologic differences between patients with intrahepatic cholangiocarcinoma (ICC) and hepatocellular carcinoma (HCC), and identify potential factors influencing survival after hepatectomy for ICC.
Methods
Comparison of clinicopathologic data was made between patients who underwent hepatectomy for ICC (n = 272) and HCC (n = 5,829) during the same period. Twenty-five clinicopathologic variables were selected for univariate and multivariate analyses to evaluate their influence on prognosis of ICC.
Results
Compared with patients with HCC, ICC patients were more common in females and more elderly, had a lower proportion of asymptomatic tumors, lower serum alpha-fetoprotein, higher serum carcinoembryonic antigen, carbohydrate antigen 19–9 and alkaline phosphatase levels; lower incidence of hepatitis history, associated cirrhosis and serum hepatitis B surface antigen; lower proportion of small tumors, well-encapsulated tumors and tumor emboli in the portal vein; higher proportion of single tumor, perihila lymph node involvement and poor differentiation; and less frequency of limited resection (all, P < 0.0001). Distant metastasis was less frequent in patients with ICC (P = 0.027). A total of 5-years overall and disease-free survival (in brackets) after resection was 26.4% (13.1%) and 44.5% (33.1%) (P < 0.0001, P < 0.0001) for patients with ICC and HCC, respectively. Factors influencing survival after resection of ICC can be divided mainly into two categories: early detection of asymptomatic ICC (P < 0.0001) and curative resection (P = 0.002).
Conclusion
ICC Patients have distinct clinicopathologic features as compared with HCC patients. Surgery remains the only effective treatment for ICC. Early detection of asymptomatic ICC and curative resection were the key to achieve optimal survival.
This is a preview of subscription content, log in to check access.
Access options
Buy single article
Instant access to the full article PDF.
US$ 39.95
Price includes VAT for USA
Subscribe to journal
Immediate online access to all issues from 2019. Subscription will auto renew annually.
US$ 199
This is the net price. Taxes to be calculated in checkout.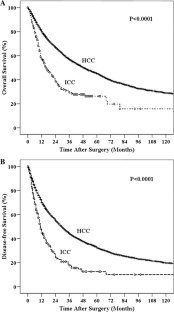 Abbreviations
ICC:

Intrahepatic cholangiocarcinoma

PLC:

Primary liver cancer

HCC:

Hepatocellular carcinoma

AFP:

Alpha-fetoprotein

CEA:

Carcinoembryonic antigen

CA19-9:

Carbohydrate antigen 19-9

γ-GPT:

Gamma-glutamgl transpeptidase

ALP:

Alkaline phosphatase

ALT:

Alanine aminotransferase

AST:

Aspartate aminotranferase

TBIL:

Total bilirubin

DBIL:

Direct bilirubin

ALB:

Albumin

HBsAg:

Hepatitis B surface antigen

Anti-HCV:

Antihepatitis C virus
References
Berdah SV, Delpero JR, Garcia S, Hardwigsen J, Le Treut YP (1996) A western surgical experience of peripheral cholangiocarcinoma. Br J Surg 83:1517–1621

Chen MF, Jan YY, Wang CS, Jeng LB, Hwang TL (1989) Clinical experience in 20 hepatic resections for peripheral cholangiocarcinoma. Cancer 64:2226–2232

DeOliveira ML, Cunningham SC, Cameron JL, Kamangar F, Winter JM, Lillemoe KD, Choti MA, Yeo CJ, Schulick RD (2007) Cholangiocarcinoma: thirty-one-year experience with 564 patients at a single institution. Ann Surg 245:755–762

Gores GJ (2003) Cholangiocarcinoma: current concepts and insights. Hepatology 37:961–969

Harrison LE, Fong Y, Klimstra DS, Zee SY, Blumgart LH (1998) Surgical treatment of 32 patients with peripheral intrahepatic cholangiocarcinoma. Br J Surg 85:1068–1070

Inoue K, Makuuchi M, Takayama T, Torzilli G, Yamamoto J, Shimada K, Kosuge T, Yamasaki S, Konishi M, Kinoshita T, Miyagawa S, Kawasaki S (2000) Long-term survival and prognostic factors in the surgical treatment of mass-forming type cholangiocarcinoma. Surgery 127:498–505

Jan YY, Jeng LB, Hwang TL, Wang CS, Chen MF, Chen TJ (1996) Factors influencing survival after hepatectomy for peripheral cholangiocarcinoma. Hepatogastroenterology 43:614–619

Kawarade Y, Yamagiwa K, Das BC (2002) Analysis of the relationships between clinicopathologic factors and survival time in intrahepatic cholangiocarcinoma. Am J Surg 183:679–685

Meyer CG, Penn I, Jams L (2003) Liver transplantation for cholangiocarcinoma: Results in 207 patients. Transplantation 69:1633–1637

Ohashi K, Nakajima Y, Tsutsumi M, Kanehiro H, Fukuoka T, Hisanaga M (1994) Clinical characteristics and proliferating activity of intrahepatic cholangiocarcinoma. J Gastroenterol Hepatol 9:442–446

Patel T (2001) Increasing incidence and mortality of primary intrahepatic cholangiocarcinoma in the United States. Hepatology 33:1353–1357

Pichlmayr R, Lamesh P, Weimann A, Tusch G, Ringe B (1995) Surgical treatment of cholangiocellular carcinoma. World J Surg 19:83–88

Shaib Y, EI-Serag HB (2004) The epidemiology of cholangiocarcinoma. Semin Liver Dis 24:115–125

Suzuki S, Sakaguchi T, Yokoi Y, Okamoto K, Kurachi K, Tsuchiya Y, Okumura T, Konno H, Baba S, Nakamura S (2002) Clinicopathological prognostic factors and impact of surgical treatment of mass- forming cholangiocarcinoma. World J Surg 26:687–693

The Liver Cancer Study Group of Japan (1990) Primary liver cancer in Japan. Ann Surg 211:277–287

Weber SM, Jarnagin WR, Klimstra D, DeMatteo RP, Fong Y, Blumgart LH (2001) Intrahepatic cholangiocarcinoma: resectability, recurrence pattern, and outcomes. J Ann Coll Surg 193:384–391

Yamamoto M, Takasaki K, Nakano M, Saito A (1998) Minute nodular intrahepatic cholangiocarcinoma. Cancer 82:2145–2149

Yamanaka N, Okamoto E, Ando T, Oriyama T, Fujimoto J, Furukawa K, Tanaka T, Tanaka W, Nishigami T (1995) Clinicopathologic spectrum of resected extraductal mass- forming intrahepatic cholangiocarcinoma. Cancer 76:2449–2456

Zhou XD, Tang ZY, Yu YQ, Ma ZC, Xu DB, Zheng YZ, Zhang BH (1993) Microwave surgery in the treatment of hepatocellular carcinoma. Semin Surg Oncol 9:312–322

Zhou XD, Tang ZY, Yang BH, Lin ZY, Ma ZC, Ye SL, Wu ZQ, Fan J, Qin LX, Zhang BH (2001) Experience of 1000 patients who underwent hepatectomy for small hepatocellular carcinoma. Cancer 19:1479–1486

Zhou XD, Tang ZY, Ma ZC, Wu ZQ, Fan J, Qin LX, Zhang BH (2003) Surgery for large primary liver cancer more than 10 cm in diameter. J Cancer Res Clin Oncol 129:543–548
Acknowledgments
We thank Wei-De Zhang, M.D., for conducting the statistical analysis; Qiang Gao, MD, Ph.D., and Wan-Xia Xiong, M.D., for preparing the manuscript.
Conflict of interest statement
We declare that we have no conflict of interest.
About this article
Cite this article
Zhou, X., Tang, Z., Fan, J. et al. Intrahepatic cholangiocarcinoma: report of 272 patients compared with 5,829 patients with hepatocellular carcinoma. J Cancer Res Clin Oncol 135, 1073–1080 (2009). https://doi.org/10.1007/s00432-009-0547-y
Received:

Accepted:

Published:

Issue Date:
Keywords
Intrahepatic cholangiocarcinoma

Hepatocellular carcinoma

Prognosis